I do beleive we're closing in on a lot of teams locally, says Phoenix Sports boss Steve O'Boyle
Friday 10th April 2015
PHOENIX SPORTS' manager Steve O'Boyle says the club has come a long way in a short space of time.
It was Friday 19th August 2011 when the Barnehurst based club kicked off the new Step Six Kent Invicta League when they defeated Erith & Dartford Town (now Kent Football United) 4-0 at Oakwood.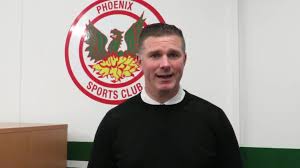 PROGRESS: Steve O'Boyle has guided Phoenix Sports to the brink of promotion into the Ryman League for the first time in the club's history
Dominic Websdale went down in history by scoring the first ever goal in the Kent Invicta League, when he scored inside the opening eight minutes for Scott Saunders' side.
But the previously unknown club are on the verge of claiming the Southern Counties East Football League title inside the next week and with it a dream promotion into the Ryman League for the first time in the club's history.
Phoenix Sports are delighted to announce that yesterday they received confirmation from The Football Association Ground Grading Technical Panel that their Mayplace Road ground has been awarded an E Grade and the club are now fully cleared to play at Step Four (Ryman League) should the club win promotion from the Southern Counties East Football League.
The club have played 49 competitive games this season and have maintained an impressive 27 clean sheets.
O'Boyle's side can move a giant-step towards claiming the league title when they entertain second-placed Ashford United tomorrow, before travelling to third-placed Erith & Belvedere next Wednesday.
Phoenix Sports have claimed 85 points and have yet suffered a league defeat this season and have five games to cross the finishing line in first place.
"I took over with no lights, stones in the car park, no stand, no hard standing, no turnstiles," recalled O'Boyle.
"This club has come a really long way in the short time I've been here.
"I did say to you, three years' ago, in ten years' this club will outgrow a lot of teams locally and I do believe that and we're closing in on a lot of teams locally.
"I think people are taking us seriously now. Maybe people didn't when we was in the Invicta, they thought we'll see. It's a reality now."
O'Boyle was full of praise for club sponsor Mid Kent Metals for building the club's new seater stand at their ground at Mayplace Road East.
"This new stand, Mid Kent Metals, our sponsor, is responsible for that," said the Phoenix manager, who has guided the club to an unbeaten league record in one calendar year.
"He built that from scratch and I tell you what, it looks outstanding. He's done a lot for the club and I'd like to go on record and thank John Powell. He's our sponsor and he's done so much for us.
"I've got to say to you, not many clubs can say that's cost us like next to nothing, basically that's got to be down to our sponsor."
Visit Phoenix Sports' website: www.phoenixsportsfc.com
Phoenix Sports v Ashford United
Southern Counties East Football League
Saturday 11th April 2015
Kick Off 3:00pm
At Mayplace Road East, Barnehurst, Kent DA7 6JT