Peckham Town 2-1 Long Lane - Title chances are a banana skin thing because of the evening games, says Peckham Town boss Alan Jacobs
Wednesday 08th April 2015
Peckham Town

2 – 1

Long Lane

Location
Peckham Town FC, 37 Dulwich Common, London SE21 7EU
Kickoff
09/04/2015 18:15
PECKHAM TOWN 2-1 LONG LANE
NRG Gym Kent County League Division One West
Thursday 9th April 2015
Stephen McCartney reports from Dulwich Common

PECKHAM TOWN manager Alan Jacobs says his club's late title push may suffer because he may not get his players' to midweek matches in time.

The Dulwich Common outfit leapfrogged over Farnborough Old Boys Guild into sixth-place in the NRG Gym Kent County League Division One West table on 30 points from 14 games after winning this feisty south-east London derby.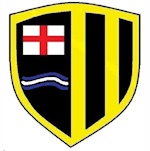 RIVALS: Referee Kaine O'Beirne dished out 11 cards - a red for each team - in the south-east derby clash between Peckham Town and Long Lane

Kidbrook based outfit Long Lane went into this game in fifth-place on 32 points from 20 league games, although they only have a couple of league games left to play.

Long Lane deserved their lead at the break, scored by former Erith & Belvedere striker Joe Diggins, who scored inside the opening three minutes.

But the hosts hit back and claimed a deserved victory, courtesy of a brace from substitute striker Schaveize Williams.

Both teams finished the game with ten-men as they both had a substitute red-carded by referee Kaine O'Beirne, who produced eleven cards.

The Bexleyheath official sent off Peckham Town striker Ade Omosanya, before Long Lane substitute Antonio Mattio was sent-off at the end of the feisty encounter.

"My thoughts, if I'm totally honest? I thought we were diabolically bad in the first half," admitted Peckham Town's manager Jacobs.

"We played some good progressive football from the keeper. As soon as we got to the final third in and around their box we switched. We was clueless and I said to them at half-time we're just trying to force the play!

"We were pushing it down the same little alleyways. We didn't have a clue dragging defenders around and creating space for other people and it was really, really frustrating because I thought we was going up a blind alley all the time. Our shooting was wayward. Everything went miles off the target.

"All the basic things we feel our players' can do, they didn't do in the first 45 minutes and it's very frustrating.

"It did not happen! If I'm honest it's been a little bit of an Achilles heel for us but we are a group of players in transition. Our biggest problem at the moment is we can't get these group of players together and train with them to force our ideas on to them.

"I'm trying to get things across to them before we go out to play games and at half-times and it's hard to do."

"I thought we were a bit unfortunate," admitted Long Lane's manager Richard Edwin, after his side's sixth league defeat of the season.

"We commanded the game. We played some really good football, popped the ball around and took an early lead and we came in at 1-0 and I thought it was a very good game.

"Second half, I thought the referee made a few dubious decisions, definitely a good offside he should have looked along the line.

"I think there's maybe one or two penalty decisions that had they gave our way it would have changed the game."

Peckham Town started the game on the front foot and they really should have scored with their first attack.

Playing with an attacking 4-3-3 formation, Jacobs' side squandered an excellent opportunity as central striker Femi Dada cut the ball back to Ibrahim Abdullami, whose right-footed curler, which was heading towards the top corner, was headed behind by Paul Bradbury.

But Long Lane escaped that scare and raced up the other end and took the lead with only two minutes and 34 seconds on the clock.

Chris Johnston clipped a long ball over the top and a slip from full-back Bolaji Olatunde let in Diggins who cut inside to steer his left-footed drive into the bottom right-hand corner from 15-yards.





GOALSCORER: Joe Diggins (right) scored Long Lane's early opener. Photograph: Adrian Swan

"We're definitely creating and the boys up front have been playing lovely touch football," said Edwin.

"We put a long ball through, controlled it very well and he's flicked it over the fella's head and he's put it away nicely.

"We've got a few players from Erith & Belvedere, Erith Town and Slade Green. You're right, it's good that they're enjoying their football and they're getting the buzz. It's a good buzz about it in this league."

Jacobs added: "What minute was that? In the third minute? There you go, so we're playing catch up straight away!

"Just before that I thought we was on the front foot. We was getting down their third but the same thing. We couldn't kill it and put it in the back of the net and you're always suspect to that.

"Anybody can play long ball over the top! If you don't deal with it. I thought my full-back slipped more than anything and you start blaming the grass or your boots. He defended it all wrong basically!"

Craig Cook squandered an excellent chance to double Long Lane's lead inside eleven minutes.

Set-piece specialist Johnston curled in a free-kick form the right but Cook's glancing header from six-yards was blocked by the grateful Peckham Town keeper Martin Porter.

Edwin added: "That's football at the end of the day. A little bit more composure and he would have put it away nine times out of ten."

Jacobs added: "I've got to say, they came here to battle. To go 1-0 down that early, it could have been two! You ride your luck but sometimes in sport you do create your own luck, don't you?"

Peckham Town ventured forward at ease but some of their finishing at times was woeful, much to Jacobs' frustration.

Alan Blue unleashed a 35-yard drive just wide of the near post, before Abdulllami played the ball into Femi Dada, whose skilful drag-back took Long Lane central defender Jamie Clark out of the game before slicing his right-footed shot past the post from 22-yards.

Peckham Town produced a slick attacking move which included Lukmon Mojeed and Abdullami, which wasn't finished off inside the six-yard box by Dada.

Peckham skipper Mojeed cracked his right-footed free-kick sailing harmlessly over the top of the near post from 25-yards.

But Peckham Town's best chance arrived just before the half-hour mark.

Dada swung in a corner from the right and Ali Amisu's free-header from eight-yards was clawed out by visiting keeper Ben Ashton, who grabbed the ball on the line, before the loose ball was picked up by Abdullami, who cut inside and curled his shot over the top of the far post.

Jacobs added: "Straight at the keeper. Good chance. Either side. They're the sort of things you've got to put away aren't they?

"It's exactly what we've been saying! If you create chances you've got to deal with them. You've got to put them where they should be and that's in the back of the net. If you make it easy for the keeper, what's the point?"

Long Lane ventured forward and Johnston's fine ball forward was brought under control by Steve Williams' chest, before the central midfielder stroked his right-footed half-volley straight at Porter from 12-yards.

Porter then made a smart save to palm over Johnston's left-footed inswinging free-kick from 35-yards from the right over his crossbar.

Edwin said: "He's actually had a good game all game Chris. He's taken up the ball and its put into the areas that we asked him to put it into and the goalkeeper's pulled off a good save out of it."

The Long Lane manager was pleased with his side's first half performance.

He asked them to: "Just keep their composure, keep their shape, keep doing what we're doing. Peckham are a strong side but I felt we were playing some good football in the first half and we deserved to be 1-0 up."

Peckham Town's manager simply wasn't best pleased.

"I've got people pointing at each other and I said to them to cut it out!

"I don't want that! You're all in it all together! A team is a team and it isn't about 11 individuals. If you're not all together on it then don't bother about being out there at all. I don't like in-house (complaining). I said you're not doing it as a unit so you've got to back your ideas up!

"It was like we was all kids in school and they're running around in the playground! I said to them we're playing it too tight. I said why haven't you got the brains to take it a few places to the left or the right to create space?

"I went with three at the back. I played with a back four in the first half. Midweek games can sometimes come back and bite you on the bum because people have got their own private things that they need to do. We're not a pro club or a semi-pro club – we don't pay the players' money. I'm asking people to leave work to get here from anywhere they are and that's why I wrote three or four different sides down before we finally got on to the pitch."

Peckham Town made a double substitution at the break, by going three at the back with Michael Keen adding strength to the defence and Williams adding power and pace at the other end of the pitch.

Williams latched onto Amisu's pass and caused Long Lane trouble down the left before Dada found Abdullami, who flashed his shot across goal and past the far post from a tight angle.

Taiwo Ikponja went close for Peckham with a left-footed drive which screamed just over the crossbar after he burst through the heart of Long Lane's defence.

Bolaji Olatunde progressed down the right to whip in a cross into the Long Lane box but Williams rose to nip in front of Ashton but looped his header over the bar.

But Long Lane went close to doubling their lead when Williams rode Anderson's challenge to slip a ball through for Tom Mayfield but the substitute drilled his left-footed drive over the top of the near post from a tight angle.

Peckham Town equalised in the 63rd minute from the penalty spot after Ikponja's jinking run was ended by Bradbury's foul and Williams maintained his composure to find the bottom left-hand corner (just past Ashton's despairing dive) from the resulting penalty.

Both managers were asked their thoughts on the tackle.

Jacobs said: "I thought (Ikponja) did alright. I was about to scream out "pass" but once you've jinked and you're inside the eighteen-yard box with that type of side that do like to tackle, there's always a chance that somebody's going to be a little bit volatile.

"The referee I thought had an in and out game tonight but it was a stonewall penalty and it opened the door for them.

"He's put it in the bottom corner. I'll be honest with you, I do panic because I don't take it for granted because you've got a penalty you're going to score - you've still got to put it in the back of the net! The way we've been going tonight, I said we can't hit a barn door, so he did well, kept his composure and buried it!"

Long Lane boss Edwin added: "It was a foul. It's a penalty. He's taken his goal well. He's taken the penalty well and we've just got to learn from it for next time."

Long Lane's chances of getting back into the game appeared to have vanished as soon as they lost Diggins through injury.

Peckham Town were reduced to ten-men in the final fifteen minutes when former Belvedere striker Omosanya collected his second yellow for a late challenge on Mickey Ship.

Jacobs admitted Omosanya hasn't fitted into Peckham Town's way of playing.

"Ade's joined us this season from Belvedere. We played them and somebody said to me one of their players wants to come across and I said alright, fair enough and he did.

"He hasn't started a game for us yet but he's had a couple of runs. I actually said to him I was going to take Ibrahim off who was playing just behind Troy because Ibrahim's not a forward. Ade supposedly is and I said to him I was disappointed in him in his last run out. He's not fit.

"The red card. Ade's was late. There was no malice there as such but it happens. He's half a yard fitness wise."

When asked about Long Lane's red, Jacobs simply added: "The boy got frustrated, swiped out and caught him. It's a red card."

Long Lane manager Edwin added: "The truth is he's made a couple of bad challenges and I think this time the referee had to take action against him. A couple of things that he did was pretty high and he had to go."

But despite being a man down, Peckham Town looked the more likely to go on and win the game.

Williams cut in from the left and drilled in a powerful angled drive which flashed past the far post.

Dada swung in a corner from the left and Alan Blue came up from the back to loop his header over the bar.

There was controversy when Peckham's attempts to make a fourth substitution was blocked by the referee in the 80th minute when Jacobs wanted to reintroduce Abdullami for Dada but the substitution wasn't allowed to be completed – despite this division operating an roll-on-roll-off substitute policy.

But Peckham Town claimed their tenth league win of the season and moved into sixth-place in the table, courtesy of Williams' fine solo finish with 88 minutes on the clock.

Williams picked the ball up out on the left and cut inside the darkened penalty area before drilling his low right-footed drive into the bottom near corner causing a ripple of applause from behind the goal. The goalscorer was booked for taking off his shirt.

Jacobs said: "You wouldn't have been (impressed) if you saw him during our last game because he missed some sitters!

"Out of nothing! You watched the game. Do you think we deserved that?

"Over the course of the game we did play the football. I've got good players but you've got to have the end product or you could play all night long.

"We've built a good reputation for ourselves for being a good football side. We didn't want to go out there kicking or punching people or breaking legs. I don't like that!

"What I want to do is sit there with my cup of tea – I don't drink alcohol – I like a cup of tea and watch my side go out and entertain me because if I'm being entertained, we do get quite a few people come and watch our games when we're at home and they don't do that because we're rubbish. If you're whacking the ball in the air and it's crap, they'll be walking off down the street and go down the pub."

Edwin revealed: "He had some pace and a little bit of power. Actually he used to play for us at Long Lane and he's gone to this team and he's scored against one of his old sides."

In a desperate attempt to salvage a last-gasp equaliser, Long Lane threw bodies forward but substitute Mattio's shot from 25-yards was gathered by Porter, before Long Lane also finished the game with ten-men after Mattio was sent-off for a challenge on Williams as the pair tusselled down the right.

Edwin spoke of his disappointment of his side's red-card, saying: "Just stupidity at the end of the day. It was the last couple of minutes. He should know better than that and again we've got to learn from that for next time.

"This encounter always is (feisty). It's always solid. There's always strong (tackles). There's a lot of passion and a lot of determination."

Edwin was disappointed that his side failed to pose concern for Peckham Town in the final third.

"Do you know what, in the second half the game got a little bit dark out there. It was a little bit hard, although they were playing well, we was still holding our own. No clear cut chances. Joe Diggins had to come off because he picked up an injury and we had to change our team slightly."

Both manager's relished playing in front of 45 people who took advantage of midweek Kent County League football.

"It's nice to have a few people," said Edwin. "At Long Lane we normally get 30-40 people so it's been a nice turnout on a Thursday evening. Long may it continue. It was quite a nice rowdy crowd and that's what we need.

"On a fair reflection of the game I think we won the first half and they won the second half but dubious decisions and the night sky is getting a bit dark but I think the team played very well.

"We lost ten players last season so it's been a rebuilding progress. I've brought in maybe 12 players for this season. On reflection we're a good, strong side.

"Peckham have been going a while now and I'm sure we can bounce back and move further up the table next season.

"We've got Farnborough (Old Boys Guild) and Halstead away, again both of these games will be big, solid games and you should turn up for the next two!"

Peckham Town have now collected 30 points and are 11 points adrift of leaders Bexlians, who have one game left, although Peckham have eight games to cram in.

When asked whether his side can snatch the league title from Bexlians, Jacobs replied: "Yes, double question mark! We got beat by (second-placed) Halstead 1-0 in our last game and played some good football. I can accept losing if we lost the right way and we did lose the right way. We tried to play the game, keep the ball on the floor, played some good stuff and we lost the game.

"I think some people lose sight it's still a sport. To be a good winner, you've got to be a good loser. I can accept defeats if my side play the right way.

"We've still got to play them over at their ground. We've still got eight games to play. Anything can happen. But it's a banana skin thing because of the evening games. I don't know what side I'll be able to put out until basically 45 minutes before kick-off which is unfortunate."

"We beat (bottom side) Mottingham 3-0 and played rubbish. I wouldn't have watched it but we won the game. I wasn't happy. I still want a performance to go with it, a basic level of performance and we never had that in any shape or form."

Peckham Town: Martin Porter, Bolaji Olatunde, Dwayne Simpson (Michael Keen 46), Alan Blue, Hirim Laud Anderson, Lukmon Mojeed, Ali Amisu, Ibrahim Abdullami (Ade Omosanya 63), Sulyman Bah (Schaveize Williams 46), Taiwo Ikponja, Femi Dada.
Subs: Tobi Ijaola, Christopher Lock

Goals: Schaveize Williams 63 (penalty), 88

Booked: Ibrahim Abdullami 37, Hirim Laud Anderson 61, Ade Omosanya 68, Lukmon Mojeed 82, Schaveize Williams 89

Sent Off: Ade Omosanya 75

Long Lane: Ben Ashton, Andy Russell, Mickey Ship, Steve Williams (Tom Mayfield 59), Paul Bradbury, Tom Morgan, Craig Cook, Barry Langford (Antonio Mattio 73), Joe Diggins (Andy Browne 53), Chris Johnston, Jamie Clark.

Goal: Joe Diggins 3

Booked: Chris Johnston 43, Jamie Clark 57, Ben Ashton 62, Andy Russell 75

Sent Off: Antonio Mattio 90

Attendance: 45
Referee: Mr Kaine O'Beirne (Bexleyheath)