In five years' we'll be knocking on the Ryman League, says ambitious Peckham Town founder Bryan Hall
Friday 10th April 2015
PECKHAM TOWN founder Bryan Hall says the club have ambitions to play in the Ryman League within five years'.
The Menace leapfrogged over Farnborough Old Boys Guild into sixth-place in the NRG Gym Kent County League Division One West table following last night's 2-1 home win over Long Lane.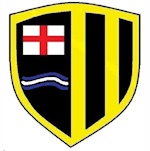 AMBITIOUS: Peckham Town's ambitions is to play Ryman League football within five years - to play against their more illusturious neighbours Dulwich Hamlet (below)


Long Lane opened the scoring inside three minutes through former Erith & Belvedere striker Joe Diggins, but striker Shaveize Williams came off the bench to score twice in the second half to deservedly win the game for Peckham.
Both clubs had a substitute sent-off as Peckham lost striker Ade Omosanya to a 75th minute red-card, while Long Lane substitute Antonio Mattio saw red at the end of the game, which saw Bexleyheath based referee Kaine O'Beirne issue 11 cards during a feisty south-east London derby on Dulwich Common.
Peckham Town manager Alan Jacobs said last night that the club's title hopes could be damaged, getting his players' to midweek games in time.
They are 11 points adrift of leaders Bexlians, who have one game left to play, although Peckham Town have eight games remaining, starting with a visit from second-from-bottom Blackheath United tomorrow.
Peckham Town are renovating their main pitch – last night's game was played on the club's second pitch and parts of their clubhouse has been condemned due to asbestos.
"The facilities that we're trying to get here, there's £100,000 being spent on this pitch out here – it's going to be lovely – but it's not here yet," said manager Jacobs.
"Our training area is going to be built out here at the back – it's not here yet so when it's all done I'm like a kid at Christmas. I want it to be here!
"Once this is done out here, the pitch out here, the training area, we can go Step Six - we can go higher than that!
"We're ambitious. There's a level for everybody! The sky's the limit! Where did Wimbledon start? Why can't we play in the Ryman League?
"If we added one or two in the right areas, where do you think we can play? The quality of football we can play?"
Peckham Town have the potential with regards to catchment area for players to follow their more illustrious neighbours Dulwich Hamlet - and play Ryman League Division One North/South football – which is four levels higher than their current level.
"Unfortunately what I have been told, the higher you go up the more physicality comes into the game when it is win at any cost," said Jacobs.
"I don't like that! That's why I think English football isn't very good!"
But installing floodlights around their main pitch is not proving a stumbling block for the Dulwich based outfit.
"If we get them down the back in the training area, we've got to get them out here (the main pitch)," said Jacobs.
"If we want to go anywhere we've got to get them, but it's whether the powers at be let it. Red tape. We're applying but you've got to get the green light."
Founder Hall spoke about the club's successful link with Sky Bet Championship outfit Brentford.
"Brentford approached us and asked us if we was interested in working with them a couple of years' ago," said Hall.
"At the time we was working with Crystal Palace and it never quite worked out. Brentford offered us a brilliant deal. They looked after the kids we've got. A lot of our kids' play in the Brentford programmes now."
But through Hall's tireless efforts, who is in the process of building a new 100-seater stand around the main pitch, you can sense Peckham Town are on their way up.
"Basically, it's a patient build at the moment," said Hall, who is a keen follower of non-league football, even watching a Vanarama Conference South game between Maidenhead United and Hayes & Yeading United.
"We want to build a facility that is good enough for that kind of (Ryman League) level. That's going to take a little while. If we can hit Step Five (Southern Counties East Football League) I'll be happy.
"We can definitely play Invicta football at the club. If we can push on to the Southern Counties East Football League once the facilities are in place, then Peckham's on the right track.
"I founded the club 33 years ago. We've been going a long time from little kids' playing on the Old Kent Road to now playing decent football. I'm really happy with what we've done so far."
There was a large following of Dulwich Hamlet supporters at last night's game and Hall appreciates the support from their highly-successful Ryman Premier League neighbours.
"We're always getting support from Dulwich Hamlet," said Hall.
"If you see tonight there was loads of people from Dulwich watching us when they haven't got games they come up and they're really supportive of the club.
"It's very difficult because you need a lot of money to punch at that level and then again you need quality players as well.
"We do have a lot of quality players coming through this football club. I haven't got a problem in the boys coming. We always attract good players but again it's just the facilities like a little club like Peckham. We just have to be patient and build what we're trying to do. It will definitely come."
Hall is confident once the training lights go up in the adjacent Dulwich Park, then the sky's the limit for progress up the leagues at the Southwark Sports Ground.

Speaking about the floodlighting situation, Hall said: "We are definitely trying to build down that road. Once again it's just got one or two little hurdles to go by. We've got timescales to sort that out. We've given ourselves a proper timescale.
"In terms of the pitch, that pitch should be ready by next season latest and then we've got this building to be replaced.
"We've got floodlights to put (around the main pitch).
"I've given myself a three-year redevelopment plan. We've got a five-year development plan but within three years' we should be meeting one or two of these targets.
"In five-years if we had everything in place, I'd say we'd be one of the sides to come and watch. We'll be knocking on maybe South East Counties Football League, Ryman's, something like that.
"There's a lot of boys coming through from the Peckham area, even Dulwich and Brixton, the boys' are coming to us."
Visit Peckham Town's website: