The National League extend title sponsorship deal with Vanarama for a further three years
Saturday 09th June 2018
The National League have announced an extension of title sponsorship with Vanarama for a further three years.
News of Vanarama's renewal as title sponsors was broken to the 68 member clubs during this morning's annual general meeting at Celtic Manor.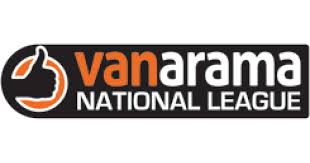 The extension outlines the long-term commitment of Vanarama to The National League, with the new deal taking the working relationship to seven years.
By extending their winning partnership to 2021, The National League and Vanarama will continue to innovate and grow the competition, which signifies Vanarama's continued desire to be at the heart and soul of football.
National League chairman Brian Barwick told www.thenationalleague.org.uk: "We're immensely proud and delighted to announce a further renewal of our title sponsorship with Vanarama.
"The last four years have proven to be transformational for both The National League and Vanarama and we look forward to continuing our unique and highly rewarding partnership."
Andy Alderson, the chief executive of Vanarama, added: "Since we decide to take title sponsorship of The National League back in 2014, we've seen growth as a company, but also growth in the popularity of non-league football.
"These leagues are formed of real, honest clubs with real, honest fans and that resonates with us here at Vanarama and the services we offer."
Visit The National League's website: www.thenationalleague.org.uk