Coronavirus Crisis: Free tea or coffee for NHS Staff at Meridian Sports Club in Charlton
Wednesday 18th March 2020
A sports club in Charlton has offered a free cuppa to NHS and Emergency services staff in the midst of the Coronavirus outbreak crisis.
Meridian Sports Club, based at Charlton Park Lane, are offering support to NHS and emergency services staff, who are working tirelessly to treat ill people during the current crisis.

The sports club is based less than a half-a-mile from the Queen Elizabeth Hospital and are opening their facilities to allow staff to come and relax during this stressful time.

The coronavirus death toll in the UK has risen to 104.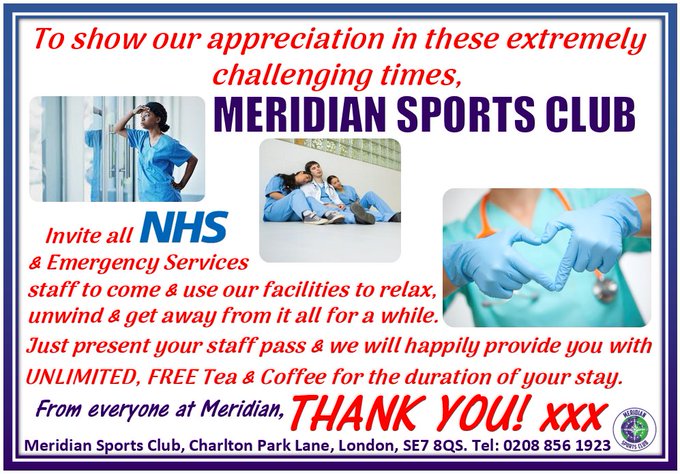 "With our NHS and Emergency Services staff currently being pushed to their limits, Meridian Sports Club would like to offer our facilities and unlimited free tea and coffee to our valuable, hard-working angels. We are extremely grateful for all you are doing," said a statement from the venue.

NHS staff have been asked to present their staff pass and the club will happily provide our true heroes with unlimited tea and coffee during their stay at the venue.

Meridian Sports Club stages football matches for Meridian VP and Bridon Ropes, whom both play in the tenth-tier of English football in the Southern Counties East Football League First Division.