Simon Austin and Kane Rice return to Maidstone United to manage Suburban League Development squad
Tuesday 02nd July 2019
MAIDSTONE UNITED have appointed a management team of Simon Austin and Kane Rice for their new under 23 development squad – just a couple of days after quitting Snodland Town.
Two players from the Stones' recent past are back with a mission to develop future talent for the club.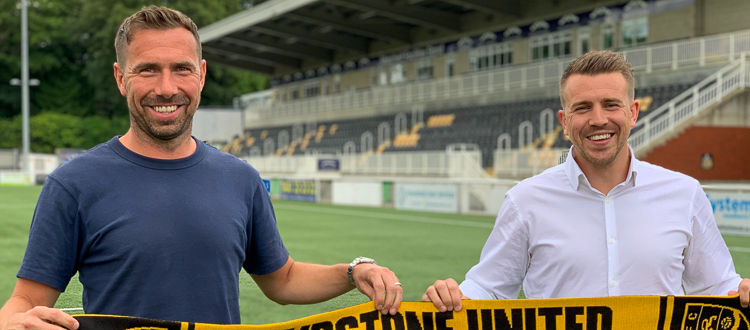 Simon Austin and Kane Rice have returned to Maidstone United to manage the clubs newly-formed development side that will play in the Suburban League Premier Division.
Photo: Maidstone United FC
Austin moved into coaching as player/assistant manager at Folkestone Invicta and then into management in his own right at Canterbury City and Erith Town, where he brought Kane in as his captain.
Working well together, the pair then decided to enrol in a longer-term project with Kings Hill with a remit of developing the club's young talent while progressing through the leagues.

A move across to Snodland Town to save them from relegation from the Southern Counties East Football League First Division came next, which was achieved with focus on a young squad, before quitting the club at the weekend.

Austin made more than 150 appearances and scored 46 goals for the Stones between 2003 and 2007.

During that time he won league championships and cups and was nominated as FA Cup player of the round in October 2004.
"I am really excited," Austin told www.maidstoneunited.co.uk.

"Having discussed the opportunity initially with Bill Williams this is something that just felt right. The role is a key link between the fantastic youth section at the club and the successful first team – it's a massive opportunity for all.
"My aim is to provide the best stage possible for the boys to perform, develop and progress as players, and people. The league is strong, which will provide a good test and stepping stone into senior football.
"We will work closely with the youth section and hopefully get the opportunity to learn from Hakan Hayrettin, John Still and Bill.
"Maidstone have a fantastic fan base and have done since way back as far as I remember – the good old Sittingbourne days. With the games being played at home on alternate weeks to the first team I am hopeful we can get supporters through the door to support the team.
"Our focus now is on getting all aspects of our pre-season planned, making ourselves ready for the first league game in mid-August."

Rice, who played for Maidstone United in the 2006-07 and 2010-11 seasons, added: "It's a privilege to be associated with Maidstone again. Being ex-players, we understand what the club means to the local area.
"Progressing young, hungry, local talent will only benefit the club longer term and you know what, if it's not to be at Maidstone it will benefit the Kent football scene.
"This was all part of the huge pull for us, our staff and the players. It's important that the club and the fans get behind the team, we want to replicate that feeling of playing and winning in front of supporters – it's something that not every club could replicate, but at Maidstone we can. I look forward to seeing and meeting as many of you as possible."
Antonio De Vivo (coach), Matt Grant (goalkeeper coach), Luke Jenner (physio) and Steve Routledge (kit man), have also joined the pair at the National League South club.
The Stones' development squad will compete in the Suburban Football League Premier Division, with home games being played at the ground on alternate Saturdays to the first team. The season will get under way in mid-August.
Club chief executive Bill Williams said: "Simon and Kane are really ambitious in their managerial aspirations, as we are for this development squad – it's the perfect match.
"It's great to bring two former players back to the club and I am sure their brand of football will help this young squad progress, while being an attractive and exciting proposition for those coming to watch the games."

Visit Maidstone United's website: www.maidstoneunited.co.uk