Lordswood 0-1 Bracknell Town - I can't ask any more of them because they've given me absolutely everything. The only thing we didn't do was score, says hurting Lordswood boss Richard Styles
Saturday 02nd December 2017
Lordswood

0 – 1

Bracknell Town

Location
Martyn Grove, North Dane Way, Walderslade, Chatham, Kent ME5 8YE
Kickoff
02/12/2017 15:00
LORDSWOOD 0-1 BRACKNELL TOWN
The Buildbase FA Vase Third Round
Saturday 2nd December 2017
Stephen McCartney reports from Martyn Grove

LORDSWOOD boss Richard Styles says his players gave him everything after they were knocked out of The FA Vase in the Last 64 by Bracknell Town.
Bracknell Town arrived at Martyn Grove on a 10-match unbeaten run, winning their last five games and scoring 33 goals. Jeff Lamb/Paul McGrott's side were in third-place in the Hellenic League Premier Division with 41 points from 18 goals, scoring 60 league goals and were 12 points behind leaders Highworth Town, but with a couple of games in hand.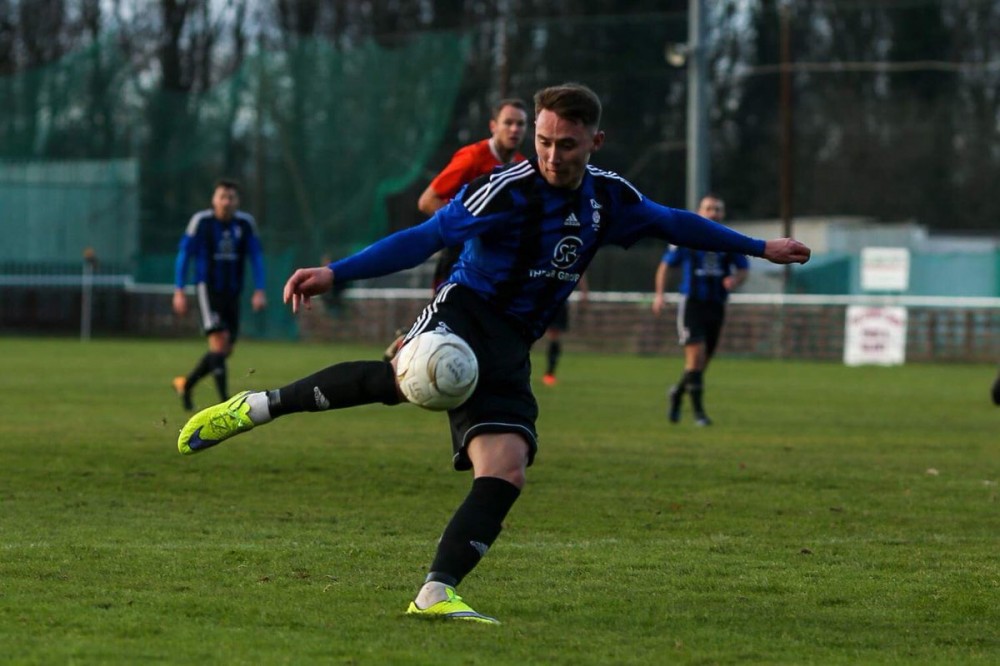 Bracknell Town winger Joe Grant hooks in his thirteenth-goal of the season to knock Lordswood ouf of The Buildbase FA Vase in the Last 64 clash at Martyn Grove.
Photo: Bracknell Town FC Twitter

Lordswood, who won away at Arundel (1-0); Billingshurst (2-1); Spelthorne Sports (1-0) and Southall (2-1) to reach this stage of the competition, were in fifth-place in the Southern Counties East Football League Premier Division table with 28 points from 15 games, four points adrift of leaders Sevenoaks Town, who do have two games in hand.

Bracknell Town progressed through courtesy of route-one football. Right-winger Joe Grant hooked in his thirteenth-goal of the season inside the opening 11 minutes at Martyn Grove.

Lordswood were a dominant force during the second half, twice hitting the post, but Bracknell Town held on to make it a day of woe for Kent sides.

Much-fancied Sevenoaks Town went down to a 3-1 defeat at second-placed Hellenic League side Thatcham Town, while Whitstable Town went down to a 2-0 home defeat to Chichester City, while Eastbourne Town needed extra-time to win 3-2 at Beckenham Town.

Crowborough Athletic fly the Southern Counties East Football League flag as they stunned Combined Counties League Premier Division leaders Westfield, courtesy of Sam Crabb's second half goal, which was enough to beat Tony Reid's Woking-based outfit.

"It hurts! It hurts, the reaction is it hurts. It just wasn't to be, that's my first inclinations," said Styles.

"Second half, I can't ask for any more the boys gave me. I thought we were superb, I think we've done everything but score a goal.

"I think if we score a goal, I fancy us to go on and win it, but it is what it is. We've very unfortunate to come off losing.

"I've just said to the boys in there, I can't ask any more of them because they've given me absolutely everything. The only thing we didn't do was score!"

Lordswood created the first opening after only 101 seconds when right-back Frank Griffin played the ball into Jack Mahon's feet and his strike partner Jordan Wells swept his shot high across and over the keeper, only for the ball to curl around the top of the far post.

A rash challenge by George Blake on McClurg saw referee Rick Bloy play advantage and impressive left-winger Seb Bowerman cut inside Griffin and his low drive from 20-yards shaded the foot of the near post.

Bracknell Town went route-one as they scored the winning goal with only 10 minutes and five seconds on the clock.

Goalkeeper Chris Grace thumped a big kick straight down the middle of the pitch, the ball was flicked on by striker Adam Cornwell and dropped nicely for Grant, to hook his right-footed shot across the keeper from 15-yards, the ball nestling inside the bottom far corner of the net.

"It's just a mistake, it's a defensive mistake and we know it, we knew about it as soon as it happened," said Styles.

"We spoke about it at half-time and it's just what happens. The one time you switch off you get punished. It's exactly what we've done. Peter (Huggens) has missed a header and the cover wasn't there, it's gone over him and the lad's finished it!"

Bowerman was giving Griffin a torrid time, cutting in off the left-wing and his fine through ball put Grant in on goal but his right-footed dipping drive from 20-yards was held by Ryan Chandler.

"That's all he did, cut in on his right-hand side every time because he was right-footed and after about 15 minutes we noticed that and cracked on to it," added Styles.

Lordswood central defender Peter Huggens slid in to win the ball off Bracknell right-back Jack Smillie, who had strode over the half-way line and Wells played in Mahon but the 12-goal striker dragged his shot across the keeper and past the far post after 19 minutes.

"I think he's got to hit the target really and he probably could've gone on another five to ten feet before hitting it," added Styles.

The game then turned into an uninspiring midfield battle, as Lordswood were poor down the right with Griffin and winger Helge Orome failing to link up to cause Ryan Parsons (who was on a booking) any problems.

Lordswood created the final chance of the half when Wells drove down the right channel and reached the by-line to whip in a cross, which was palmed away by goalkeeper Grace, high to his right. Liam Newton recycled the ball, his left-wing cross sailing towards the far post for Orome to sweep his first time shot over the crossbar from 16-yards.

"It's just another chance, it's another half-chance that we got. We were trying to nick one before half-time. It could've gone anywhere really," added Styles, who expected more from his side during the first half.

"I wasn't happy with us first half," he said.

"I didn't think we played as well as we could. I didn't think we were sharp as we were.

"I thought out wide we haven't played as good football, what we have done and I feel that was letting us down a little bit so that was a major one.

"Apart from that I said it wasn't game over, we're still in the tie. It's all to play for and I still believed we could still get something out of the game and that we'd go on and win if we score.

"But I just said when the game wares on make sure we're still in the game, don't let them score another one, we'll get our chance and hopefully we can take it!"

Bracknell Town could have wrapped the game up with a second goal within the opening three minutes of the second half.

Lordswood left-back Carl Harrold's shot pass was intended for his central defender Tom Montgomery, but he slipped on the bobbly pitch and this let in Cornwell. The striker strode forward and played the ball inside to Bowerman and his first time shot was cleared off the line by Montgomery.

Styles admitted: "He's got himself out of jail there a little bit to be fair, so I'm just glad that they didn't score from that because it wouldn't have been nice for the lad, it wouldn't have been nice for anyone so I'm glad that he's redeemed himself."

Lordswood started to increase their desire levels after an hour-mark and looked the more likely team to score.

Mahon fed James Huggins, who drove forward and the central midfielder did well to dig the ball out from underneath his feet, dinking his left-footed shot past Grace, only for the ball to kiss the foot of the right-hand post before rolling behind for a goal-kick.

"James can do that and that's what he's capable off, again, eight times out of 10 that probably nestles in the bottom corner," said Styles.

"At that point we started upping the ante a little bit and we were on top, we were well on top. We were camped in their half. We were playing all the football, we kept winning all the battles and we were creating chances so I still believed at that point we were ok, that's why I didn't change it."

Bowerman easily cut past a poor Griffin only to drive his shot into the base of the side netting after cutting into the box from the left-hand side.

Blake played the ball out to Harrold, who fed Wells inside the box and he shrugged off his man and went for goal from a tight-angle, the shot being spilt by Grace as he stooped down low to his left.

Lordswood were cursing their bad luck when the post saved Bracknell Town again at the halfway point of the half.

Mahon stroked his left-footed shot across the beaten keeper and watched on in despair as the ball dinked against the base of the far post, before rolling across the goal-line and Bracknell's central defender Justin Clayton managed to dig the ball off the line and behind for a corner.

"I've got no idea now how that's not gone in and I think anyone watching that game wouldn't," agonised Styles, who was part of the Lordswood team that reached the Fourth Round, losing 3-1 at Spennymoor Town in 2013.

"Mahon couldn't do any more than with that than what he's done. How that's not hit the post and gone in, I've got no idea but that's how cruel football can be sometimes!"

When asked how he was feeling at that point, Styles replied: "I'm still positive, I'm quite a positive person so I'm still saying, I'm still thinking, it will come, it will come!

"I'm trying to get that message out to the boys because their heads could've dropped but I still believed that we'd get another one."

Grace's kicking was poor during the second half, finding the touchlines on four occasions.

Bracknell's management team urged Grant to go down as he rode a couple of challenges inside the Lordswood box only for Chandler to rush off his line and make himself big to make a vital block.

"There were always going to be a moment in the game, being 1-0, where I'd had to make a change to have a gamble because there's nothing to lose so I did that," explained Styles.

"It opened up a little bit for them because it allowed their wide men to have more space but it's one of those things you have to do. I wouldn't have done it in a league game but you have to do it.

"You're relying on your defence and you are up against it and just relying on your goalkeeper to help you out and he has done this.

"Bracknell hanging on? That's the best way to describe it. They were!

"We couldn't have done any more. I don't think I could've done any more and it just wasn't to be."

How Griffin lasted the whole 90 minutes was a mystery as he once again allowed 15-goal Bowerman to cut inside him and his two angled drive was pushed towards safety by an alert Chandler on a couple of occasions.

Styles changed it for the final nine minutes bringing on Jason Horlick to partner Peter Huggens in defence and Charlie Plummer was a central targetman alongside Mahon and Orome, as Wells dropped in behind them.

Referee Ricky Bloy booked seven players (six of them being Lordswood) and how the Essex man could only add only one minute and 44 seconds of time added in the entire game needs looking at by The Football Association.

Styles said: "I'm not happy with the referee. I don't think the referee played the game very well. When you look at how slow they were taking every set-piece they had, says it all. I was expecting at least five minutes!"

Reflecting on their FA Vase elimination, the Lordswood boss said: "Obviously the players are down, hurt because it hurts. We've lost 1-0 in a game we feel we could've drawn or won but I've just said to them you can't get down in the dumps, you can't be negative.

"I can't criticise anyone purely because they've given me everything. It tough, but it's my job to lift them up a little but and to be positive and to get the negativity out and we'll have a moment but we look forward now and we push on."

"I'm pleased how far we've got and you look at where we've come in a short space of time, the progress we have made but at the same time, in time I'm disappointed and it hurts that we didn't progress because I would've loved to have taken these boys further in the competition, not for me but for the boys and the club.

"It goes national after this one, I would've loved to have that experience for the boys and for the club to see where we can go.

"I think we can be extremely proud when you look at their goalscoring record and their reputation and the size of their club compared to ours and they've come off and they've had a tough game today and they know it!

"I'll be reflecting for a long time how we haven't scored a goal in that game but it's my job to move on and to be positive and to take us on to the remainder of the season," added Styles, who's side host First Division side Fisher in the Southern Counties East Football League Challenge Cup Second Round on Wednesday night, after scooping £3,375 in prize money from their FA Vase run.

Lordswood: Ryan Chandler, Frank Griffin, Carl Harrold, George Blake, Tom Montgomery (Jason Horlick 81), Peter Huggens, Liam Newton (Charlie Plummer 81), James Huggins, Jack Mahon, Jordan Wells, Helge Orome.
Subs: Tom Carter, Adam Hooper, Danny Smith

Booked: George Blake 29, Peter Huggens 33, Carl Harrold 38, Jordan Wells 45, Helge Orome 50, Ryan Chandler 90

Bracknell Town: Chris Grace, Jack Smillie, Ryan Parsons, Carl Withers (Colin Mugoya 77), Justin Clayton, Carl Davies, Joe Grant, Adam Kirby, Adam Cornwell, Jamie McClurg, Seb Bowerman.
Subs: George Short, John Bennett, Joe Gater

Goal: Joe Grant 11

Booked: Ryan Parsons 29

Attendance: 80
Referee: Mr Rick Bloy (Basildon, Essex)
Assistants: Mr Christopher Cooper (Basildon, Essex) & Mr Michael Scott (Stanford-le-Hope, Essex)

Coverage Sponsored by: