Leicester City: The primary thoughts of everyone at the club are with the Srivaddhanaprabha family and the families of all those on-board at this time of unspeakable loss
Sunday 28th October 2018
LEICESTER CITY have announced that their chairman was one of five people who lost their lives in the tragic helicopter accident following their Premier League home game against West Ham United yesterday.
The helicopter took off inside the centre circle of the pitch at around 20:30 last night but a bang was heard shortly after and the helicopter was seen spiralling out of control, then crashing in flames in a car park beside the stadium.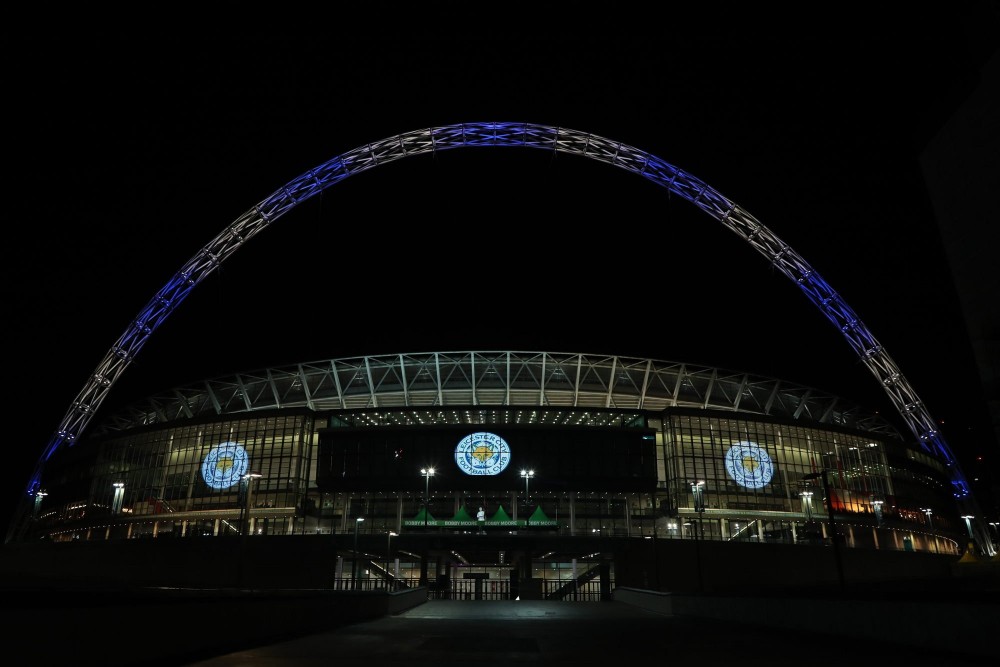 Wembley Stadium pays its own tribute to Leicester City, following tonight's tragic news
Photo: Wembley Stadium/Twitter

Mr Vichai Srivaddhanaprabha purchased Leicester City for £39m while a Championship club in 2010 before they pulled off a shock Premier League title win in 2015-2016, beating off odds of 5000-1 to do so.

The Premier League club paid tribute to their Thailand-born owner, who tragically lost his life, aged 61, in a statement published on www.lcfc.com.

"It is with the deepest regret and a collective broken heart that we confirm our chairman, Vichai Srivaddhanaprabha, was among those to have tragically lost their lives on Saturday evening when a helicopter carrying him and four other people crashed outside (the) stadium. None of the five people on-board survived.

"The primary thoughts of everyone at the club are with the Srivaddhanaprabha family and the families of all those on-board at this time of unspeakable loss.
"In Khun Vichai, the world has lost a great man. A man of kindness, of generosity and a man whose life was defined by the love he devoted to his family and those he so successfully led.

"Leicester City was a family under his leadership. It is as a family that we will grieve his passing and maintain the pursuit of a vision for the club that is now his legacy.

"A book of condolence, which will be shared with the Srivaddhanaprabha family, will be opened at stadium from 08:00 on Tuesday 30 October for supporters wishing to pay their respects.
"Supporters unable to visit the stadium that wish to leave a message can do so through an online book of condolence, which will be made available via the club website in due course.
"Both Tuesday's first team fixture against Southampton in the EFL Cup and the development squad fixture against Feyenoord in the Premier League International Cup have been postponed.
"Everyone at the club has been truly touched by the remarkable response of the football family, whose thoughtful messages of support and solidarity have been deeply appreciated at this difficult time."

Hundreds of football clubs, supporters, former players and current ones have paid tribute to the man who turned Leicester's fortunes around.

Current right-back Danny Simpson, 31, said on Twitter: "Thank you for everything you have done for me, the players, the fans, the club and the whole city of Leicester.

"You made mine and everyone else's dream come true. I am devastated and can't quite process what has happened but we will do our best to help this club grow. RIP."

Leicester City goalkeeper Kasper Schmeichel, 31, said on his Twitter account: "You changed football. Forever! You gave hope to everyone that the impossible was possible, not just to our fans but to fans all over the world in any sport! Not many people have done that.

"When you signed me back in 2011 you said to me we would be in the Champions League within six years and we would do great things.

"You inspired me and I believed in you. You made me feel nothing was impossible. Without you and your family, all this, everything we did together, everything we achieved would never have happened. You gave me experiences that only happen in fantasy. You literally made my dreams come true."

A statement from current Premier League leaders Liverpool said on www.liverpoolfc.com: "It is with great sadness that we today offer our heartfelt sympathies to Leicester City after confirmation their owner Vichai Srivaddhanaprabha has tragically passed away.
"Our thoughts and condolences are extended to the families and loved ones of all those lost in this dreadful accident.
"The admiration we have for Vichai, his family and colleagues is as high as you can imagine, both professionally and personally.
"He was the ultimate custodian for the club he bought and then gracefully served. The Premier League title win, one of world football's all-time great stories, is of course the standout achievement. But beyond that, he led his club in a manner which all of us in this privileged position aspire to. Success on the pitch, allied with outstanding governance off it.
"Vichai is a great loss not just to his club but to the Premier League and English football as a whole.
"The thoughts of everyone connected with Liverpool Football Club are with our friends in Leicester and Thailand."

Locally, Maidstone United striker Blair Turgott, added on Twitter: "Whether you like football or not, it's amazing to see how a sport can bring people together from such a wide walk of life. Such a beautiful thing! All together we put life into perspective."

Leicestershire Police confirmed that two members of Mr Srivaddhanaprabha's staff, the pilot and a passanger also lost their lives.