The potential is there to push Larkfield & New Hythe Wanderers the right way, says newly-appointed boss Kris Browning
Monday 25th November 2019
KRIS BROWNING has been appointed joint first-team manager at Larkfield & New Hythe Wanderers.


Browning will be joined by his former K Sports' coaching staff including Graham Martin and will work alongside the current manager Michael Betts.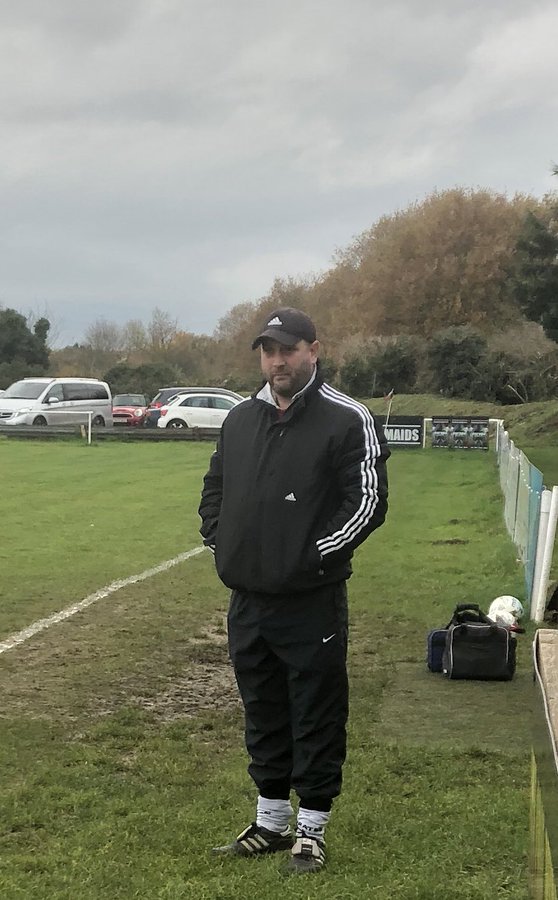 Kris Browning enjoyed a
successful start in joint-charge
of Larkfield & New Hythe
Wanderers on Saturday.

Browning spent 10 years at neighbouring K Sports but stepped down from the role just nine days before the start of the new Southern Counties East Football League Premier Division campaign.

Browning took joint-control of his new side on Saturday when they beat second-placed Tenterden Town 3-2 at New Hythe Lane, which proved to be a shock result especially as the side were thrashed 10-0 at West Farleigh seven days earlier.

One of the scorers was Richard Butler, who was at K Sports under Browning and also played in the Isthmian League for Thamesmead Town, among others.

As a result, Larkfield & New Hythe Wanderers climbed off the bottom of the Andreas Carter Kent County League Division Two Central & East table and have leapfrogged over Rochester City Reserves and Southborough in the pecking order with six points from seven games.
"I would like to thank Larkfield & New Hythe Football Club for the opportunity to step back into management," said Browning.

"This role is stepping down a few divisions but I feel after speaking to the directors of the club, John Michel and Adam Handy, the potential to push this club forward in the right way and put my own stamp on the way we do things has been very encouraging and I thank them for this opportunity.
"I'm happy that most of my previous coaching staff will be re-joining me and I am looking forward to attracting both experienced and younger players to the club and building for a bright future."

Michel added: "Larkfield & New Hythe Football Club has exciting plans for the future and we are pleased to have Kris Browning and his coaching staff on board to help realise our clubs true potential."

Browning takes his side to the side immediately above them in the table, Cuxton 1991 Reserves, on Saturday (14:00).

Meanwhile, former Kent Football United joint-manager Richmond Kissi, has been appointed the new manager of Orpington & Bromley District Sunday Football League side Hatcham Beckenham Manor.

Metrogas manager Mike Jones has returned to his former club Welling Town to snap up striker Harry Main.

Harry is the nephew of former VCD Athletic, Cray Wanderers, Tonbridge Angels and AFC Wimbledon prolific striker Jon Main, who finished his senior career playing with the Boots.

Welling Town chairman Kevin Oakes said: "Good luck Harry. We tried to get a sell on clause but no joy. Remember us when you replicate your uncle's achievements. All the best."