Kent Football Association: It is everyone's responsibility to call out discriminatory behaviour from football
Saturday 12th October 2019
The Kent Football Association is calling on all of their clubs and League's to join them as they launch a campaign taking a stand against discrimination in football today.


The Football Association are currently investigating allegations of racist abuse and violence towards the end of Beckenham Town's 2-1 win at Tunbridge Wells at Culverden Stadium last Saturday that brought shame on the Southern Counties East Football League and non-league football here in Kent.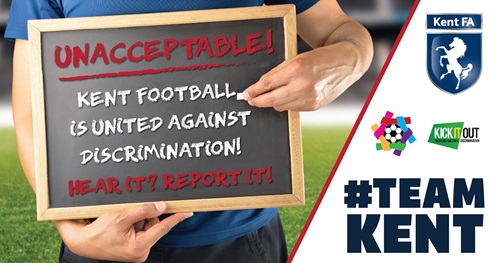 A Kent FA statement said: "While grassroots football celebrates Non-League Day today, the Kent FA is launching an anti-discrimination campaign that we believe is an opportunity to raise awareness and challenge discrimination in non-league football across the county.
"Kent FA is determined to provide an inclusive football experience for anyone who wishes to play, coach, officiate, administer, support or be involved in any role in football. An experience that is reflective of our diverse communities, safe for all and free from abuse and discrimination.
"It is everyone's responsibility to call out discriminatory behaviour from football."

If you hear it, report it!
Discriminatory abuse includes a reference whether express or implied to any one or more of the following:
Ethnic origin
Colour
Race
Nationality
Religion or belief
Gender
Gender reassignment
Sexual Orientation
Disability
The statement added: "Kent FA is calling all affiliated club's and League's to join us, spreading this message that it is unacceptable to use discriminatory language on or off the pitch.
"When discriminatory behaviour takes place, those who witness it – or are the victim of it – need to be able to report it quickly, and to the right people. Instilling confidence in reporting discrimination is a key goal of our collective inclusion and anti-discrimination work in football.
"We recognise there is under-reporting of incidents of racism and discrimination in the game and we encourage those who feel that they have been discriminated against or witness discrimination to report their concerns.
"To find out more about how to report discrimination please read the reporting discrimination guide created by Kent FA's Equality Advisory Group.
"We encourage club's and League's across Kent to get involved in spreading the message."
If you have any concerns or questions please contact Kent FA directly on info@kentfa.com or call 01622 791850.

Visit the Kent Football Association's website: www.kentfa.com