I'm looking up the table and I'm more focused about catching Punjab than I am worried about whose catching us so that's what I've told the players, says Hollands & Blair boss Darren Blackburn
Sunday 10th February 2019
HOLLANDS & BLAIR manager Darren Blackburn says he is looking up rather than over his shoulder during their last 16 league games of the season.


The Gillingham-based club were knocked out of the Kent Senior Trophy in the Semi-Finals after losing 2-0 at treble-chasing Chatham Town yesterday.

The return of former Greenwich Borough and Sheppey United striker Rob Denness will be the key ingredient to get Blair up the Southern Counties East Football League Premier Division table.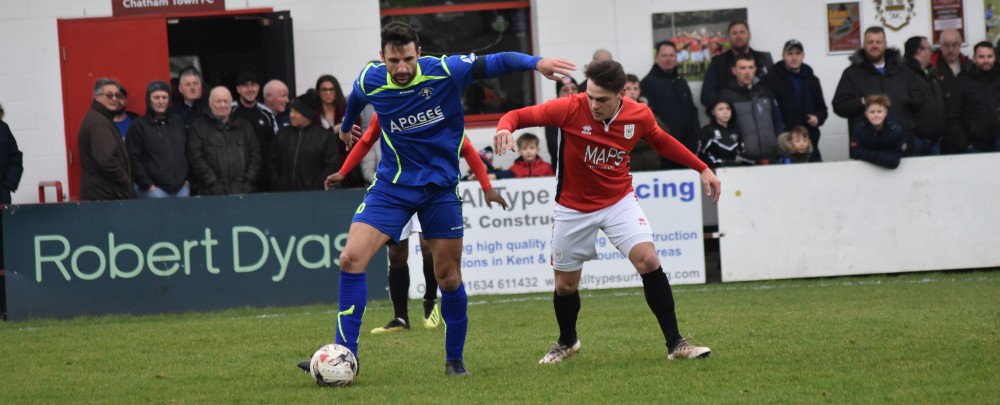 Rob Denness (blue) made his return to Hollands & Blair yesterday but the striker couldn't prevent his side going down to a 2-0 defeat to local rivals Chatham Town in the Kent Senior Trophy Semi-Finals.
Photo: Alan Coomes

Hollands & Blair are in the bottom three with 12 points on the board from their 22 games and they are six points clear of Croydon and Rusthall, who appear to be struggling to get out of their present predicament at this stage.

Blackburn takes his side to their Medway rivals Lordswood on Tuesday night.

Richard Styles' side went down to a 2-0 defeat at K Sports last Wednesday and are in thirteenth-place in the table with 32 points on the board from 23 league outings.

"They've got some quality players, Richard Styles' has got them well-organised," said Blackburn.

"They're well-drilled there, got a little bit of everything in their squad. When you look at them week-to-week they've had a mixed bag of results of late but I'm pretty sure they've been working hard on that at training to get that more consistent.

"I expect a similar sort of game (than Chatham Town yesterday), similar atmosphere and a close fought affair and whoever takes their chances on the night first will come out victorious."

Blackburn insists his club will not be one of the two that will be suffering relegation in 11 weeks time and is keen to catch the side immediately above them in the table, Punjab United, who have collected eight more points.

"I'm not looking down to be honest with you. I don't want to sound naïve or arrogant or disrespectful to any of the teams below us because they're two very, very good sides and they will be two very tough games when we play them.

"But the squad I've got together now, I know full well and if we started with that squad we're not where we are.

"I'm looking up the table and I'm more focused about catching Punjab than I am worried about whose catching us so that's what I've told the players.

"I've told them what I'm expecting out of the last 16 games, what points tally I expect and how many games I expect them to win and keep that mentality until the end of the season."

When asked to reveal the numbers involved, the Blair stalwart replied: "That will be telling! I'll keep that between me and the players. I'll tell you at the end of the season whether we've got them!"

Visit Hollands & Blair's website: www.hollandsandblair.co.uk

Lordswood v Hollands & Blair
Southern Counties East Football League Premier Division
Tuesday 12 February 2019
Kick Off 7:45pm
at Martyn Grove, North Dane Way, Walderslade, Chatham, Kent ME5 8YE