I'm delighted to bring someone of Rob Denness' calibre and ability back to the club, says Hollands & Blair boss Bryan Greenfield
Saturday 03rd June 2017
HOLLANDS & BLAIR manager Bryan Greenfield has confirmed that he has brought striker Rob Denness back to the club.
The 28-year-old left Blair on the eve of last season to sign for Ryman League Division One South side Greenwich Borough and scored 18 goals to help Gary Alexander's side finish in third-place in their debut season at that level.

The Eltham-based club's promotion dream was dashed when they suffered a 4-3 home defeat to Corinthian-Casuals, who then lost on penalties to Dorking Wanderers in the play-off Final.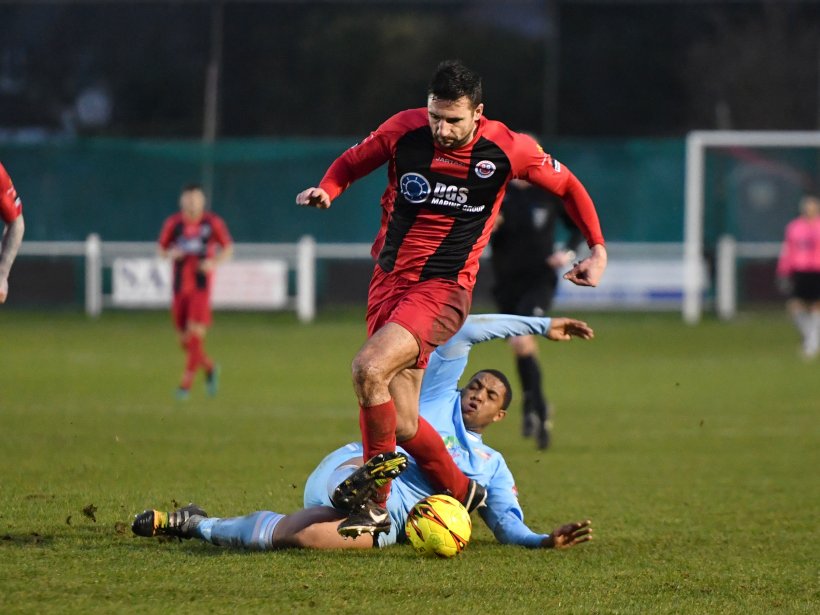 COMING HOME: Striker Rob Denness (red) has
returned to Hollands & Blair after a season playing
for Greenwich Borough in the Ryman League.
Photo: Greenwich Borough FC

Alexander told Greenwich Borough's website: "It's been a pleasure to work with Rob. I appreciate his honesty when coming to this decision and want to thank him for all the hard work and dedication he put in over the season."

Denness, who lives in Gillingham and is a school teacher, has decided to re-sign for his home town club and Greenfield is delighted to welcome him back to Darland Avenue.

"I'm delighted to bring someone of Rob's calibre and ability back to the club," said Greenfield, who guided the club to a top eight finish in the Southern Counties East Football League Premier Division table in his first season in charge after being Paul Piggott's left-back when Blair finished runners-up to Greenwich Borough the previous season.

"He was a man in very high demand all summer, as you would expect, so for him to choose to come back to Blair and play with his mates says a lot about the club and the impression that it left on Rob from his previous spell here.

"He's had a year in the League above playing in a very professionally organised team in Greenwich Borough where he more than held his own and impressed so it'll be interesting to see what he can bring to the table, not just in terms of his ability on the pitch, but what he can teach us from his time at Greenwich off the pitch too."

Striker James McDonald, who scored 30 goals for Hollands & Blair last season, has re-signed for the club, as has winger Louis Valencia and goalkeeper Tom Benham.

Greenfield revealed that Ronan Forde has moved onto Isthmian League Division One South side VCD Athletic, while midfielder Gary Lockyer has returned to Southern Counties East Football League First Division side Lydd Town.

"Both of which leave with our best wishes and we thank them both for their time with the club, both are really good lads," added Greenfield.

Hollands & Blair open their pre-season campaign with a trip to Whitstable Bay on Saturday 1 July (15:00).

Blair's first home friendly will be against Isthmian League Division One North side Romford on Wednesday 12 July (19:45).

Visit Hollands & Blair's website: www.hollandsandblair.co.uk