Sittingbourne grant Hicham Akhazzan a Testimonial: They were the best days of my footballing career
Monday 03rd July 2017
SHEPPEY UNITED midfielder Hicham Akhazzan says playing for Sittingbourne were the best days of his footballing career.
Akhazzan, 29, a PE teacher, who is moving back to live in Rainham tomorrow after living in Sittingbourne, has left the Brickies to drop down a division to play for Southern Counties East Football League big guns Sheppey United this coming season.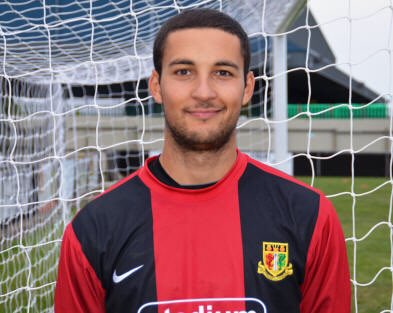 Hicham Akhazzan says he enjoyed the best days of his
footballing career at Sittingbourne.
Photo: Sittingbourne FC

Akhazzan scored his 100th goal for Sittingbourne in their 2-2 home draw against Herne Bay on 14 February 2017.

Sittingbourne have granted Akhazzan a Testimonial Match against Chatham Town at Woodstock Park on Saturday 15 July (15:00).

"Chatham Town was a learning curve, having come straight out from Gillingham, where I was for nine years, you kind of expect to play every game, but that wasn't to be so I decided to move on," said Akhazzan.

"I felt I should have been playing so (then Sittingbourne manager) Steve Lovell, who knew me from Gillingham, enticed me down, which was the start of my time at the Bourne."

Reflecting on his time at Bourne Park and then onto Woodstock Park, Akhazaan recalled: "They were the best days of my footballing career. The club is genuinely a family. They look after each other with the resources they have.

"The resources are not that deep but this was a factor for why we do so well as we are all there for each other and that is from the board to the fans.

"The fans at Sittingbourne, are in my opinion, the best in the League and Kent as they sing non-stop, whether they are winning or losing."

Reflecting on his milestone of scoring 100 goals for Sittingbourne, Akhazzan replied: "The milestone was a relief as you do think about it and to miss a penalty proved I was thinking about it too much but to get it in the same game was just as sweet and to celebrate with my dad was good as he watched pretty much all of my games from when I began playing."

Akhazzan is keen to get in contact with all of his former Sittingbourne team mates for his Testimonial Match.

"It's a great touch from Bourne," said Akhazzan.

"I would love old players to turn out but this could be hard due to their current club commitments and age but I look forward to it and will be a good moment for me to say bye and to play in front of the Sittingbourne fans one more time.

"I would love Bradbrook, Joe Dowley, Bradley Spice to play, but it all depends on their commitments."

Akhazzan is no stranger to the Southern Counties East Football League Premier Division, having played for Lordswood on loan last season.

When asked why he has signed for Sheppey United, a side that finished in the top six last season, Akhazzan said: "The Ryman League was too quick and the challenge presented was exciting, as I was close to re-signing for Lordswood. Sheppey United's average gate, ground and the plans, the word project springs to mind.

"I have always aims for at least scoring double figures but to perform the best as I can really."

Akhazzan offered this advice for any young footballer.

"Bide your time and if you're confident in your ability it will shine through when you get your chance," he said.

"Too many youngsters, especially at this level, think they should play straight away and then end up hopping from club to club.

"I learnt that from Chatham but figured out at Sittingbourne, hence 10 years later I have played so many games."

Players in the Bostik South have full-time jobs and Akhazaan is a PE teacher and was then asked what he enjoys – and dislikes – about non-league football.

"The feeling of being in a team and giving fans a little bit of joy for the week, as well as scoring goals," were his plusses.

And his negatives?

"The travelling, especially with a family now, as you have to meet one hour and a half before the kick-off. It's like one manager did that and then everyone copied him! Even ex-players hated meeting so early then when they manage they do the same, but that's me probably as I hate doing warm-ups!"

Akhazzan, who will bring plenty of experience to Sheppey United as they bid to improve on last season's league position, added: "Just a massive thanks for anyone who has supported me and my family, for allowing me to play."

Meanwhile, The Bostik League will publish their fixtures for their three divisions on Thursday 13 July. The new season will kick-off on Saturday 12 August 2017.