Heath aims for three out of three - EXCLUSIVE INTERVIEWS
Wednesday 23rd August 2006
Tonbridge Angels sit proudly at the top of the Ryman Premier League table today following an enthralling night and top-drawer finishing at the Betterview Longmead Stadium last night, writes Stephen McCartney.
New signing Andy Martin's eleventh minute goal on his debut at Hendon on the opening day of the season, was followed by 407 fans being entertained as Tony Dolby's side thumped Worthing 6-1.
Four goals (including two penalties) were scored by Jon Main before late strikes from Scott Gooding and substitute Adam O'Neil made it an excellent night for the west Kent club.
Main, 25, dedicated his four goals to his mother who sadly passed away last month.
But as the former VCD Athletic and Cray Wanderers' lightening quick striker grabbed the limelight, winning the man-of-the-match award, one performance that stood out came from blonde haired left-back Jon Heath.
Heath, whose worked his way up from under 7s to first team football at the club, relished playing his second game of the season, alongside skipper Steve Aris.
Speaking in an EXCLUSIVE INTERVIEW with www.kentishfootball.co.uk after what he called "a brilliant night" he admitted: "I'm getting more comfortable in each game and playing next to Steve Aris is excellent for me as I feel it's really helped my game."
Main opened the scoring after 12 minutes with an exquisite lob from the edge of the box, and although Gooding claimed he got the final touch, poking it home despite pressure from Worthing defender Ben Andrews from close in, boss Tony Dolby and club officials credited Main the goal - it was that good!
And after Worthing's capitulation against Margate, where the Thanet side scored their five goals in the opening 31 minutes during their 5-2 win, Heath revealed the Angels wanted to score early.
"We discussed it before, we said with a good start and an early goal they could collapse but obviously the first half was always going to be the test to see if that was going to happen," he said.
Worthing's Mark Knee did is side no favours when he got sent off with 15 minutes remaining - the Angels' were 2-0 up at the time - after Main's second of the night eight minutes into the second half.
Main netted two penalties in the space of four minutes before Gooding and O'Neil slammed home late goals.
"As you saw tonight he can change a game with his pace," Heath said.
"He can frighten any defence so its really good to know that you can do your job at the back and Mainy can nick you one up front."
Main's strike partner, Martin, meanwhile, admitted he's settled in at the club following his move from Ryman League Division One South outfit Croydon Athletic.
"I've really enjoyed it," said the long-haired striker, who lives in Caterham. "The lads have made me feel welcome.
"We've started well so hopefully we can continue it. Me personally I hope to do well and score a lot of goals.
"I've played at this level -and higher - before so I feel I can do it. It's just doing it week in, week out.
"I feel I'm at the age where I can help the youngsters and also give them some experience and hopefully it will work out for everyone."
Martin, 26, whose played Nationwide Conference South football for Sutton United, also heaped praise on the four-goal hero.
"To be fair I felt Mainy was outstanding tonight," he said.
But now they're top of the table after just two games, the hardest thing it to stay there.
Relegated side Carshalton Athletic visit the Betterview Longmead Stadium on Saturday, before a trip to Ramsgate follows on Bank Holiday Monday (3pm).
Jim Ward's Rams came away from AFC Wimbledon with a point in their goal-less draw last night after beating last season's runners-up Heybridge Swifts 2-0 on Saturday.
But Angels' player-boss Tony Dolby recalled his side took four points from the division one champions last season.
"It's going to be tough, it's a lot of football, four games in ten days, something like that, but it's the same for the other clubs," he said.

"We've got no qualms about that. Hopefully we'll be injury free come Saturday as we've got a couple of knocks.
"Saturday, Monday is going to be two very tough games so if we can come away with some points it will be a very good start to the season."

Looking ahead to their first Kent derby of the season at Southwood Stadium on Monday, Dolby recalled: "We drew 3-3 at their place last year so hopefully it will be an entertaining game again but hopefully we can come out on top."

But Dolby has done his homework on Saturday's opponents, Carshalton Athletic.
"They're a good side, obviously come down from the Conference South," he said. "They picked up at the end of last year and played some good football and beat a lot of teams.
"I know a few people that know them and they're a very accomplished side and they're going to be a tough side to beat."

With Main revealing last night that his goal target is 30 for the season, Dolby has every faith that he can reach it.
"Obviously his ambitious, he wants to do well and he wants to score goals and that's what you want in a striker," he said.
Dolby also praised his defence, having only conceded one goal in 180 minutes of football.
He was, however, disappointed with the way Worthing scored their 78th minute consolation as former Gravesend & Northfleet goalkeeper Aaron Kerr was beaten by a quickly taken free kick from Stafford Browne.
"I think the back four played very well as a unit again," he said. "They played superbly on Saturday to get a clean sheet and they deserved a clean sheet tonight."
Praising Heath, Dolby added: "Jon has done a great job at left-back for us. The two centre halves have been excellent and Ray Powell's been at right-back and they've looked very solid, very accomplished and very minimal chances in the two 90 minutes have been given away to the opposition."

"We'll go into the Carshalton game with a confident mood," added Heath, who turns 21 in two weeks time. "We're confident we can make it three out of three."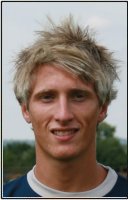 Jon Heath impressed during Tonbridge Angels' 6-1 win over Worthing on Tuesday night.
Photo courtesy of Dave Couldridge - www.tonbridgeafc.co.uk

Meanwhile, the Angels' medical team will be fully prepared for the new campaign. Melvin Slight will be looking after the first team with the help of Tina Hawkins, who is well qualified in massage and will be taking further courses in sports injuries over the next few years.
Chris Dunk has put his sponge and bucket away after 19 years with the Angels, but he will be along for holiday cover etc and will attend home games whenever possible.
The medical unit should be at the club soon. This will house a gym and treatment rooms. The club are just waiting for planning permission from the council.
Visit the Tonbridge Angels' website: www.tonbridgeangels.co.uk
Tonbridge Angels v Carshalton Athletic
Ryman Premier League
Saturday 26th August 2006
Kick Off 3:00pm
At Betterview Longmead Stadium, Darenth Avenue, Tonbridge