If you turn up with the right attitude that's half the battle, says promoted Glebe striker Ryan Golding
Thursday 13th April 2017
GLEBE striker Ryan Golding says he's feeling great after helping the club to deliver their first promotion on Tuesday night.
The Chislehurst-based outfit have fought tooth and nail for promotion from the Southern Counties East Football League First Division and Golding's brace ensured promotion was secured after coming away from Phoenix Sports Reserves with a 3-2 win.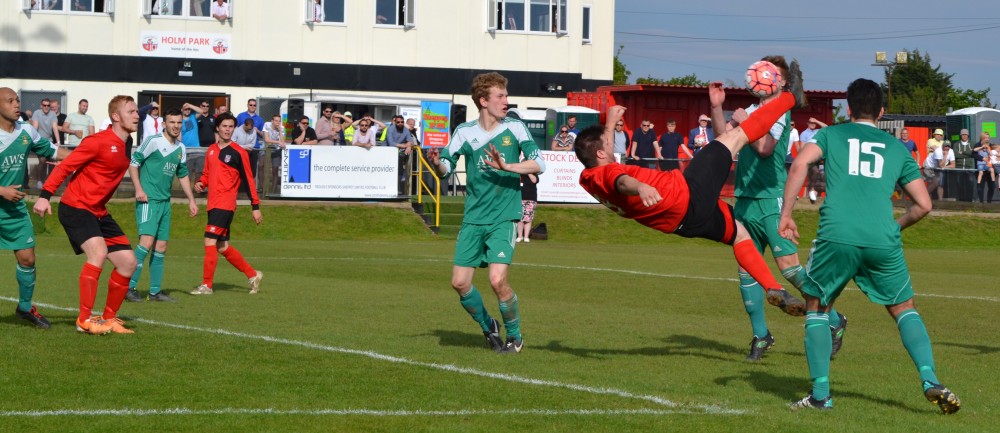 GOAL MACHINE: Ryan Golding (right, red) scores an over-head kick during Glebe's Kent Invicta League Challenge Trophy victory over Sutton Athletic last season.
Photo: Alan Coomes

"It was a tough game against Phoenix Sports Reserves because they all want to play for the first team, so they were out to impress their first team manager," said Golding, 25.

"We came out with all guns blazing for the first 15-20 minutes as we raced into a two-goal lead, then we seemed to stop pressing as much and we let them have the ball and this let them back into the game to get it back to 2-2.

"We won a free-kick and George King does what he does and scored from the free-kick to help us win the game and gain promotion."

Glebe first joined the Kent Invicta League for the 2013-14 season where they finished in tenth-place and they improved the following season by finishing in the top-seven.

Last season they had to settle for a third place finish – nine points adrift of champions Bearsted – but Simon Copley and his assistant Ian Varley were sacked with three games left to play, although the pair won two trophies after being given notice of their departures.

The club appointed Adam Woodward in the summer and he has delivered promotion at the first attempt.

"It's great," said Golding, who has scored 31 goals this season.

"Not many people can say that they have won promotion with teams. It's a much better feeling than I had this time last season missing out on promotion whilst being top of the league due to us having good cup runs, so it's a great feeling."

When asked about his goalscoring targets for the season, Sidcup resident Golding, who runs his own courier firm, said: "I set myself a target at the beginning of the season to get 40 goals as I got 31 last season, but I got a bad injury (a broken leg) in December and I missed quite a few games, but we still have five games left and I have 30 so you never know, especially with the bunch of boys in our team and the management team behind me."

Glebe play two games over Easter. A trip to tenth-place Forest Hill Park on Saturday, before hosting third-placed Kent Football United at Foxbury Avenue on Easter Monday. Both games kicking off at 15:00.

"We are just taking one game at a time so Forest Hill on Saturday is the game we are preparing for," said Golding.

"We will just all give 100% and I believe it comes from attitudes. If you turn up with the right attitude that's half the battle."

Glebe go into their final four league games of the season sitting proudly at the top of the table on 82 points – five clear of Rusthall and with two games in hand.

The talisman added: "I'd just like to say a big thank you to Adam Woodward, Sam Long, Charlie McCarthy, Timmy Warden, Emily Sawyer (physio), Rocky McMillian (chairman), the ladies that sort the food out at the ground after the game, Grace and Ailish and everyone else in and around the club and most importantly the fans who come to watch us home and away they all deserve the applause."

The club have a shot of retaining the London Senior Trophy that they won last year by beating Tooting Bec at Enfield last season. They play Balham at Corinthian-Casuals on Saturday 6 May.