Fisher 1-2 Glebe - We haven't quite hit the standards that we expect, admits Glebe boss Gary Alexander
Saturday 02nd November 2019
Fisher

1 – 2

Glebe

Location
St Paul's Stadium, Salter Road, Rotherhithe, London SE16 6NT
Kickoff
02/11/2019 15:00
FISHER 1-2 GLEBE
The Buildbase FA Vase Second Round
Saturday 2 November 2019
Stephen McCartney reports from St Paul's Stadium

GLEBE manager Gary Alexander says his side haven't quite hit the standards that he expects despite reaching the last 64 of The Buildbase FA Vase.
On a wet and windy day on the banks of the River Thames, which made conditions tough, all three goals came from goalkeeping mistakes as Glebe inflicted Ajay Ashanike's first defeat in charge of Fisher since taking over from Allan Fenn on 8 October 2019.

Glebe took an early lead through winger Anthony Dwyer's penalty, to score his 13th goal of the season, before central midfielder Toby Ajala drilled a 26-yard free-kick into the top far corner.

Fisher pulled a goal back through a cross from right-back Luke Thomas, which sailed over the visiting keeper into the far corner, in a game where Fisher struck the woodwork twice during this disappointing game.

Fisher went into this Second Round tie sitting in the bottom five in the Southern Counties East Football League Premier Division table with 11 points from 13 games, but unbeaten in Ashanike's first six games in charge.

Glebe, meanwhile, were in the top six in the table with 20 points from 11 game. The two sides met each other at Foxbury Avenue on Tuesday night, which ended in a 1-1 draw in the league, but Fisher put in a decent performance against a disappointing Glebe side here today.

"We're in the hat for the next round," said Alexander after his 12th game in charge of the Chislehurst-based outfit.

"It's Cup football, it's never easy. We know Fisher make it hard and are in a false position in terms of the league. They've got some good players, they've got plenty of power and pace and I expect to see them picking up.

"Conditions were tough, it wasn't pretty at times. There weren't loads of chances.

"Two moments of quality, Jamie Philpot closes the keeper down and was quick to do so for the penalty and Toby Ajala takes a free-kick and hits the target and puts it in the top corner but I think overall was our quality on the ball good enough? Probably not!

"But little bits of quality like Toby's free-kick obviously puts us 2-0 up and it was a little bit of quality and that's what I have within my squad but we can be miles better!"

Fisher manager Ajay Ashanike added: "Well, I thought over the two games that we've played against Glebe this week, I thought we were the better side, especially today.

"A big mistake from Daniel West in goal, giving them a penalty, which leaves us on the back foot, that's all the game plan out of the window but over 90 minutes I was really impressed and I thought they (my players) did really well."

Glebe created the first opening after only 29 seconds when left-back Matthew Parsons was released down the flank to whip in a cross towards the near post where Dwyer got across his man to find a pocket of space at the near post to send his header down into the slick artificial surface and looping wide of the left-upright.

Fisher won a free-kick wide on the right some 30-yards from goal and left-back Chris Lockwood stroked his left-footed set-piece towards the bottom near corner, which was gathered in his midriff by Glebe goalkeeper Patrick Ohman before dropping to his knees to grab hold of the ball.

Ashanike said: "I know what I'm going to expect from them (my players). They're going to work hard and they're going to really push teams and to play a side like Glebe - and give them what we've just given them - is really impressive. I was really impressed with them (my players)."

Alexander added: "Listen, the left-back is a good player but he never looked like he wanted to score, for me. It was pretty easy, it was a routine save for Pat."

Fisher gifted Glebe the lead when three of their players made the wrong decision following a throw-in inside their final third.

Thomas threw the ball back to centre-half Adebola Oluwo who rolled the ball back to his goalkeeper Daniel West.

Glebe striker Jamie Philpot pressed the keeper, whose first touch of the ball was poor and lost possession to Philpot inside the box before the keeper tripped Philpot.

Referee Michael Coen blew his whistle for a penalty but should have waited because Philpot slotted the ball into an open goal.

The original foul was committed with four minutes and 30 seconds on the clock but West required treatment and was shown a yellow card before he was picking the ball out of the net with seven minutes and 38 seconds on the clock.

West dived to his right but failed to prevent Dwyer slotting his right-footed penalty into the bottom left-hand corner.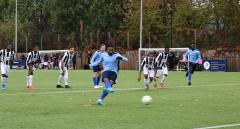 Glebe wideman Anthony Dwyer slots home the penalty to give his side the lead.
Photo: Alan Coomes

"I think the ref was pretty quick to blow up at times today, there was some good advantage for both teams but he was pretty quick to blow up," said Alexander.

"Surely, in that situation you just wait and see how it unfolds and he never gave Philpot a chance to let it unfold and put it in the back of the net."

On Dwyer tucking home the penalty and scoring his 13th goal of the season, Alexander added: "Anthony's tucked away a few penalties this season, a good penalty in the corner, so I was confident when he steps up.

"Listen, he should have a lot more. He knows he should have a lot more goals but Anthony's a quality player when he's on song. The last couple of games he hasn't quite been there, we haven't quite hit the standards that we expect but the front boys know that. Before (this game) we've created plenty of chances and they should have a lot more goals but at the moment we're just on a little dip and it's up to us to get back."

Ashanike added: "It was a mistake from our side. The game was really fresh and I thought while I look at it, the first throw, I thought Luke Thomas should've worked the line instead of putting it back to Ade and Ade then giving it to the keeper, so it's like a catalogue of mistakes before the goal so it's something that we have to address and it's something I have to speak to the boys about.

"While it's so early in the game, we've just have to manage the game. They were already scared of us so if we pushed the ball forward we don't concede that goal, so it's the right decisions at the right time.

"Three people so that's three mistakes in one go and that's the way I look at it. Everyone looks at the last one but I look at where it starts from.

"It was a really good pen, really, really good pen. He had no chance with that!"

Fisher swiftly moved back on to the front foot despite their early set-back and went close to equalising in the 13th minute.

Central midfielder Flavio Jumo, who played wide right in the second half, found himself down the left touchline in midfield and used the outside of his right-boot to play the ball up to wideman Gregory Akpele, who chested the ball down for Julio Da Mata to hit a right-footed volley flashing just past the foot of the left-hand post from 22-yards.

"They worked that really well, it's something that we worked on," added the former Tower Hamlet's manager.

"The last six games our decision making has not been the best but today I was really impressed with their combination play."

Alexander added: "It wasn't a game of loads of clear-cut chances. It's another half-chance, conditions played a part."

Glebe weathered the early storm from Fisher before the game turned into a scrappy affair, played on a horrible November Saturday afternoon.

Ajala's first time pass released Parsons down the left channel and his deep cross was met by Philpot's header at the far post. Fisher left-back Lockwood smacked his clearance into Philpot's face, the ball dropped across the keeper and around the far post for a goal-kick, only for the referee to award Glebe their first of two corners, while Fisher took seven flag-kicks during the game.

Glebe's left-winger Jesse Darko endured a frustrating game but he won his side a foul after Fisher's centre-half Melvin Adesida leaned over him from behind.

Glebe doubled their lead from the resulting free-kick, which was only their second attempt on target, timed at 32 minutes and 29 seconds.

Ajala drilled his right-footed angled free-kick from 26-yards over the wall and left keeper West rooted to the spot as the ball flew into the top far corner of the net.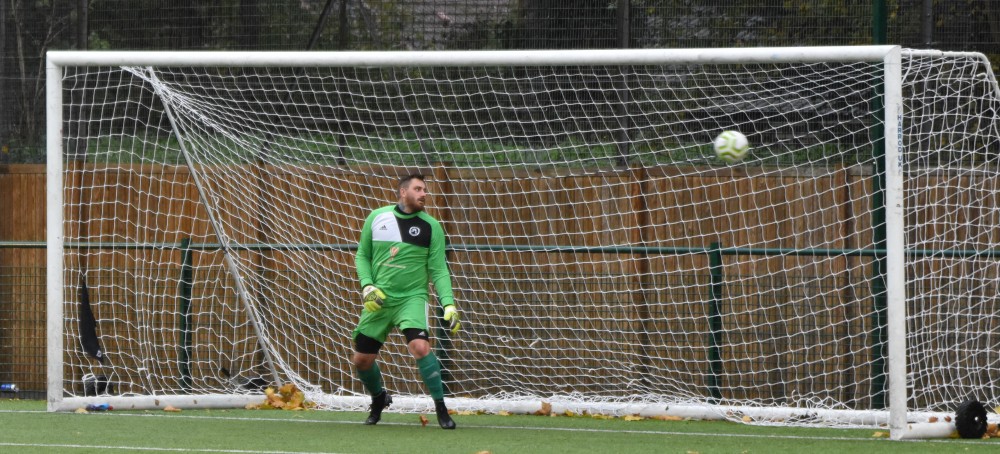 Fisher keeper Daniel West failed to save any of the two shots on target that Glebe could muster during this disappointing FA Vase Second Round tie at St Paul's Stadium.
Photo: Alan Coomes

"A bit of magic from Toby and it puts us 2-0 up and I've got plenty of quality in there," said Alexander.

"At the moment have we reached the standards we wanted to today? Probably not but conditions dictate and we can be miles better but we have to be happy with a win."

When asked his thoughts with a two-goal lead, Alexander replied: "Can we get a third because we led against Fisher the other night and they keep going, they keep throwing people forward, they throw bodies forward and they're full of pace and power and they can cause anyone problems."

Ashanike added: "On Tuesday they had the same free-kick in the same area, same free-kick and different personnel today and I just spoke to Dan in there and he was wary of it and I thought he should've done a lot better than that! Standing at the back of the wall wasn't good enough so we gifted them that goal."

Fisher produced a good move just 104 seconds later when Katonia fed Akpele, who cut inside and played in striker Elias Armah-Tackie, who lacked composure with a dinked shot which was easily gathered by Ohman.

Fisher were to be denied a goal in the 39th minute, courtesy of Ohman's fingertips and the crossbar, during a decent spell from the home side.

Glebe right-back Siao Blackwood tripped Armah-Tackie as he cut in towards the corner of the penalty area and Armah-Tackie stroked his right-footed free-kick towards the top left-hand corner from 19-yards, only for the ball to deflect off Stacy Long in the wall and for Ohman to flick the ball onto the top of the crossbar before the ball was dealt with.

Ashanike said: "When we get chances like that, I feel we have to be more clinical and have more desire to want to win that ball when it bounces back off the crossbar and if we had more desire there we could've got that goal there and that would've put them on the back foot early doors."

Alexander said: "I think we have to give our keeper credit, he's made an incredible save there. I think he's got his hand to it and Pat's made an incredible save and kept the ball out and Denzel Williams was a rock."

Katonia floated in the resulting corner from the right, which was met by an acrobatic scissor kick from Adesida, which flew over the Glebe crossbar from 16-yards.

Fisher had more possession of the ball but no central striker who could hold the ball up and be a threat for Glebe's back-four. Glebe on the other hand failed to impress but were clinical in front of goal.

Both manager's were asked their thoughts at the break.

Ashanike said: "I spoke to the boys and we changed the formation straight away and we pushed higher a bit more. It's a cup game and I don't care if we lose nine or ten-nil today, it's going for it from the word go. Some managers will leave it until the 80th or 85th minute to change it but I changed it at 45 minutes straight away, trying to go for it. I asked them to win the second half and they've gone out and won the second half so I praised them."

Alexander added: "We said at half-time, we have to go out there and match them in terms of physicality and compete with them because that's what they're good at. We needed to match them for their work-ethic and their passion and their desire and for their strength and if we do that hopefully our quality will come through. The conditions were horrendous and there wasn't much quality out there today."

Fisher upped their tempo at the start of the second half and started on the front foot and Glebe keeper Ohman was almost caught out after only 70 seconds.

Jumo, now playing wide on the right, released Katonia down the right and he sliced a poor cross which was destined to sail over the crossbar and behind for a goal-kick, only for the ball to dip and clip the top of the near post, with the keeper struggling.

"Jacob was playing in the number eight role and we told him to play out wide. He's been doing a good job there the last couple of games and I thought today he's done really well in the second half and he was so unlucky for it not to creep in," added Ashanike.

Alexander added: "Someone shouted 'it was wide' and Pat was there covering it but I don't know whether the wind's dragged that in and it's hit the post. It's a free cross and if it's hitting the post, it's not a good cross, is it?"

That indecision from Ohman should have given Fisher the confidence to put dangerous crosses into the Glebe box and Katonia swung in a corner from the left for Oluwo to tower over his marker at the far post to head down and past the far post from eight-yards.

Oluwo, who was one of nine former Tower Hamlet's players in Fisher's 18-man squad, was outstanding at the heart of the Fisher defence and his manager revealed he has been subject to seven-day approaches for the non-contracted highly-rated centre-half.

"Ade is on a different level. I had him at Tower Hamlets last season and since he's been with me he's a player you can't replace in your team so it's massive that we actually try to keep hold off him," said Ashanike.

"We've had a couple of seven-day approaches, which he's rejected so far, so I'm happy with that. No doubt there will be another seven-dayer coming in this week for him again but he's going nowhere, he's happy here!"

Fisher received a huge slice of luck as they deservedly pulled a goal back with three minutes and 46 seconds on the clock.

Katonia released Thomas charging down the right and he was given oceans of space to whip in a CROSS, which somehow sailed over Ohman's right shoulder into the top far corner of the net.



Glebe goalkeeper Patrick Ohman was beaten by a cross from Luke Thomas (out of picture) which sailed over him to find the far corner. Neither keeper impressed in terrible conditions as all three goals came from goalkeeper mistakes.
Photo: Alan Coomes

Ashanike admitted: "It was a massive cross! I've just spoke to him, he didn't mean it! It was a cross but we needed a bit of luck.

"We're creating chances and if we're doing the right things, because it was the right decision to make, just put it in and we've got that luck to get it back in the net, so really good.

"The conditions were really, really tough today but both sides have got to play in it and I thought the two sides did really, really well in the conditions."

Alexander added: "They're always going to start on the front foot when the wind's howling like that, anything under the crossbar blowing in.

"I can't see from that side but I imagine he's definitely not meant that. The cross has flown into the top corner at pace. Look at the speed that Toby's free-kick went in. It's going in at pace with that wind. It's given that extra speed.

"Listen, I imagine Ajay's given them a little bit at half-time and told them to keep doing what they were doing. They've got speed, they've got power, they've got pace and they've got little bits of quality and they're capable on their day and I'm sure we'll see them pick up."

Glebe offered very little in an attacking sense during the entire game and they created an opening in the 12th minute when Long played a low ball in from the right into holding midfielder Jordan Johnson. Space opened up in front of him but his left-footed drive from 30-yards flashed past the right-hand post.

"It's a shot from 30-yards, we haven't created loads today," admitted Alexander.

"We've created plenty of chances of late but we're not finding the standards set as I first came in but look we've played Saturday-Tuesday-Saturday-Tuesday, we've had a lot of the same 11-13 players at times and it's been difficult for the boys. Fatigue has been settling in and we'll address that before the next game. We have to make sure that we're refresh and ready to go again in the league."

Ashanike felt his side should have not lost to a side that created so few chances.

"We've played them two times this week and they haven't had a shot on target, apart from the free-kick they had on Tuesday and the penalty today and the free-kick.

"In the last six games I don't think my keeper's worked, so credit to Adebola Oluwo, Melvin Adesida, Luke Thomas and Chris Lockwood. They've really, really keeping the shop closed, they're really doing well."

Glebe keeper Ohman blocked two shots from Fisher centre-half Oluwo as the ball was worked out wide on the right-hand side of the penalty area by Jumo after a short corner routine, which should have been put into the box by Katonia, given Glebe's flapping goalkeeper.

Blackwood floated in a deep free-kick from the right touchline by the halfway line which was met by a rising Philpot, which sailed across goal and past the far post as the Glebe striker didn't look like adding to his eight-goal tally.

Philpot was a lot closer in the final 13 minute when he received a diagonal pass along the deck from Long, who oozed quality in his defensive midfield role, and Philpot took a touch before curling his miss-hit left-footed shot around the foot of the far post from 15-yards, with West scrambling on his line to his right.

Alexander said: "Again, listen, they're half-chances. If he takes it, it's great but I wouldn't say they were clear-cut chances. Jamie will be disappointed he hasn't hit the target but they're not clear-cut chances where you say he has to score. It's a half-chance and that's what the game was full off today."

Fisher SHOULD have been awarded a penalty in the 81st minute when substitute striker Abdulwahid Zerrouki was clearly pulled back by Glebe keeper Ohman.

Ashanike said: "I thought that was a pen, stone cold pen. If you're going to give a pen for what we've done, you've got to give a pen there. He's turned them and the next thing was to have a shot and I thought the keeper's pulled him down. From the angle I was in, even Gary said 'we got away with that'. It just shows, we're unlucky."

The otherwise quiet Dwyer sprung into life when he spun his man before smacking a right-footed half-volley dipping just over the crossbar from 25-yards.

Fisher didn't look like scoring an equaliser as they lacked quality up front, despite having three men in forward positions and they were caught on the break at the death when Philpot's flick pass released Dwyer in behind Oluwo for the first time but his left-footed shot was gobbled up by West as he advanced off his line.

Fisher, who beat Greenwich Borough 3-0 here in the First Round, have banked £1,125 in FA Vase prize money.

Glebe have now banked £3,000 after previously beating Guildford City (3-0); K Sports (3-0) and Peacehaven & Telscombe (5-3).

Glebe must improve their performance if they want to progress through to the latter stages of the competition this season.

"Listen, it's cup football and sometimes you see that in any cup competition. It's difficult. It's an one-off game, it's a knock-out so you've got that added pressure of knowing it's a knock-out, you lose, you're out of the cup so full credit to Fisher for giving us a game like they did. They've been good over the last week against us and made it difficult and they made it difficult today but we're the ones in the hat on Monday.

"If you're going to go a long way in the competition, you've got to beat anyone so whoever we draw, we draw. We have to go there and see where it takes us."

Fisher travel to second-from-bottom side Punjab United next Saturday, while Glebe, now down to eighth-place in the table, travel to eleventh-placed K Sports.

"We keep asking the questions," said Ashanike.

"If we keep doing the right things, I'm always going to be happy with them and they've done the right things today. Looking at it, it's not a league game, it's a cup game so we've got something to build on in the league so we can start climbing up the table, that's my expectation this year, anything extra was really good but the cup wasn't part of my priority, my priority is to get into the top half of the league very quick.

"They gave my hard work, they gave me a bit of desire and in spots they did do the right things and they worked well as a team and that's what I ask."

Ashanike has described his first Fisher defeat as a wake-up call.

"It's a defeat but it's something we were getting carried away as a team where the defeat wasn't coming and this is a wake-up call. Luckily, it's a cup game and that's not going to affect our league. We needed that little wake-up call to see where we are but we're competing with the boys in the top half of the league and that's where we want to come the end of the season so I'm really impressed with my players today. It's a defeat, you can't go the whole season unbeaten so we'll take it on the chin and we'll work on it again on Thursday."

Fisher: Daniel West, Luke Thomas, Chris Lockwood, Jacob Katonia, Adebola Oluwo, Melvin Adesida, Emmanuel Barnett (Abdulwahid Zerrouki 59), Flavio Jumo, Elias Armah-Tackie (Manny Sackey 74), Julio Da Mata, Gregory Akpele (Jamie Yila).
Subs: Daniel McKimm, Danny Childs, Daniel McCarthy

Goal: Luke Thomas 49

Booked: Daniel West 8, Jacob Katonia 54, Melvin Adesida 89

Glebe: Patrick Ohman, Siao Blackwood, Matthew Parsons, Jordan Johnson, Denzel Williams, Chris Parr, Anthony Dwyer, Stacy Long, Jamie Philpot, Toby Ajala, Jessie Darko (Tom Heaver 76).
Subs: Jake Britnell, Hassan Nalbant, Mackenzie Foley, Briggs Ojemen

Goals: Anthony Dwyer 8 (penalty), Toby Ajala 33

Booked: Anthony Dwyer 90

Attendance: 116
Referee: Mr Michael Coen (Worcester Park, Surrey)
Assistants: Mr Ben Wright (Walworth, London SE17) & Mr Lanray Alapafujah (Dagenham, Essex)