Fisher 2-0 Beckenham Town - If the worst comes to the worst and we go down I'll take full responsibility, says Beckenham Town coach Billy Walton
Tuesday 27th December 2016
Fisher

2 – 0

Beckenham Town

Location
St Paul's Stadium, Salter Road, Rotherhithe, London SE16 6NT
Kickoff
27/12/2016 15:00
FISHER 2-0 BECKENHAM TOWN
Southern Counties East Football League Premier Division
Bank Holiday, Tuesday 27th December 2016
Stephen McCartney reports from St Paul's Stadium

BECKENHAM TOWN coach Billy Walton says he will take full responsibility if the club suffer relegation at the end of the season.
Fisher boosted their survival hopes with a deserved derby day victory, which was watched by a record crowd of 279 at St Paul's Stadium in Rotherhithe.

Winger John Ufuah accepted a late Christmas gift from Beckenham Town keeper Adam Highsted to settle their nerves before Fisher wrapped up only their second league win of the season through a controversial headed goal from central defender Dwayne Agyemang in the final nine minutes.

Fisher remain at the foot of the Southern Counties East Football League Premier Division table with 11 points from 22 games, just one point adrift of Beckenham Town, who have a couple of games in hand but Jason Huntley's side have now extended their miserable run to 15 games without a win.

"I didn't think we deserved anything out of the game to be honest with you," admitted Walton during the post-match press conference. Huntley was not at the game due to family issues.

"In the three games that I've been here and helping it's been the most disappointing one out of the three really, not much to talk about.

"I just said to the boys' in there, it's very difficult when you lose a derby, no-one wants to lose it. You've just got to take it on the chin. There's 18 other games to play so it ain't going to define the season. All it does is just close the gap between them and us to a point. That's not going to keep Fisher up or it ain't going to send them down. It's not going to send us down or keep us up. We've got to do better against Croydon Athletic on Monday."

Fisher went into this must-win game with a run of 10 games without a win, but Dean Harrison has lost two and drawn one before today since replacing Gary Abbott at the helm.

"It's a massive win. It's a great win for the club. It's a game that we needed to win today," admitted Harrison during the post-match press conference.

"I told the boys before the game and training all week it's a must-win game and we won it.

"We did well, we stuck to a game plan, we defended well. We limited them opportunities and we knew we'd be dangerous at set-pieces and we could hit them on the break.

"It was a really good crowd. This is a great club and everyone knows that. It's a sleeping giant now we're back in Rotherhithe. We've got every opportunity if we can stay up this year to get the club on the up again."

Harrison was also delighted with a clean sheet.

"We've changed a little bit of personnel but what we've changed mainly is the mentality of the boys, the organisational side of it. We've worked really hard for four weeks on defensive shape and being hard to break down."

Fisher created the game's first chance after only 120 seconds.

Right-back Mikel Thompson-Martelly's long ball out of defence wasn't cut out by James Fitchett and gave an opportunity for Fisher striker Hamid Bangura, whose right-footed drive from 16-yards brought a comfortable low save from Highsted.

Harrison added: "He's working really hard Hamid, he's worked his socks off today."

Beckenham Town linked up well down the left through Amadu Warity and Jamie Humphries and striker Alex Arif nipped in at the near post to hit his overhead kick over the crossbar from six-yards.

Walton was spitting feathers when Humphries wasted a great chance to call Nic Taylor into making a real save in the eighth minute.

Beckenham were awarded a free-kick some 35-yards from goal, but Humphries produced a woeful shot, placing his right-footed shot into the keeper's hands.

Walton said: "Powderpuff free-kick! All I say to them make the goalkeeper work, hit the target, follow up, try to get something from the rebound if it don't go straight in. A free-kick like that, Jesus."

Harrison agreed, adding, "It was a pass-back, I think it was a Christmas present from Jamie."

Fisher were always a threat with pace down the flank and Trey Williams sprinted down the left, cut inside and flashed his shot across goal and past the far post.

But Highsted put his side in a deep black hole when he gifted Fisher the lead with 16 minutes and 32 seconds on the clock.

Fisher left-back Toyo Adeshina delivered a cross into the penalty area, which should have been meat and drink to any keeper, but Highsted advanced to the edge of his box, dropped the ball and Ufuah kept composed to steer his shot into the bottom far corner with a left-footed drive from a tight angle.

Harrison said: "He did really well John. I told him before the game, both the wide boys, when the ball's coming from the other side you've got to get inside there and have a gamble and he did. He gambled and it paid off for him. I thought he had a great game today John."

Walton admitted Highsted's mistake proved costly.

He said: "There again in the games that I've been involved in, it always seems like an individual error, it's not a team error. It's another error from Adam. He's made a few saves to make up for it but that's cost us when he makes a mistake, it costs you a goal. Unfortunately for him, it's cost us."

Fisher were given a massive boost following their opening goal and were the better side from that moment.

They should have doubled their lead in the 21st minute. Harry Bugden, who was bossing the middle of the park, pinged the ball over Marlon Patterson's head to pick out Ufuah, who whipped in a deep cross and Williams controlled the ball at the far post and was denied by a smart save by Highsted.

Williams has returned on a dual-registration deal with Welling United.

"Trey should've scored as well. I think he was six-yards out and the keeper made a good save but he's got to bury that," said Harrison.

"He was here anyway, he's gone into Welling and he hasn't been playing, he's been in the squad but he hasn't been starting for them so I think Jamie Day wanted to get him out and give him some game time."

Beckenham Town were to be denied an equaliser on the half-hour mark, courtesy of a fine diving save from Nic Taylor.

Warity released Humphries down the left channel and he got the better of Agyemang to cut inside to whip in a cross. The ball was sliced towards his own goal by Daniel Flemming, but Taylor dived to his left to turn the ball away towards safety.

Harrison said: "Great save from Nic Taylor. Nic's been a good addition to the squad, he's good in the dressing room and he's a good signing."

When asked about the chance, Walton revealed that Beckenham Town do not train, which is poor for a club at this level of football.

"It's very difficult what we're trying to do, to play the style of football I'm asking them to play and the shape that I'm asking them," said Walton.

"Listen, we don't work at it. We only work at it on matchdays so there's no chance trying to work on it.

"It's difficult for footballers at this level. At the moment there's not a facility to train, not a proper facility so we don't really train and work on the shape and stuff. It's difficult. I'm asking them to play and play and play and if you don't have a training session where you don't have everyone there, it's difficult."

Daniel Lawson, one of two holding midfielders for Fisher, strode forward and tried to stroke his left-footed shot into the bottom corner from 35-yards, bringing a comfortable save from Highsted.

Nic Taylor made a comfortable catch to prevent the impressive Chan Quan scoring with a deflected looping shot after more good play from Warity.

Fisher should have increased their lead on the break in the 37th minute.

Williams pinged a diagonal ball over to Bangura, who powered his right-footed shot just over the crossbar when he only had Highsted to beat.

Walton admitted: "He should've scored the lad should definitely scored but he's hit it over the bar, which is good for us and bad for them!"

Fisher captain Flemming was always a threat from set-pieces. Bugden swung in a free-kick with his left-foot from the left and Flemming's towering header from inside the six-yard box was caught by Highsted.

Bugden clipped the ball down the line to Ufuah, who played the ball inside to Williams, who drilled his right-footed drive past the diving keeper and past the far post from 25-yards.

A clever turn in the middle of the park from Ufuah, saw him play Williams through the heart of the pitch but the striker (who has scored 14 goals for Fisher and one for Welling United) dragged his shot past the post when he really should have played in Bangura, who was in a better position on the outside.

Both camps were asked their thoughts at the break.

Harrison admitted: "To be honest with you, I wasn't over the moon at half-time! I was happy with the score, but I thought we looked sluggish all over the park. We were defending far too deep and giving them too much time in the middle of the park. At the same time they weren't causing us any problems. I thought we were a little too slow to react to some things."

Walton added: "I said to them I wasn't happy with how we was keeping the ball and how we was passing it. Our passing in the final third was absolutely terrible, terrible. We had some good build-up play and then we got to the final third and we wasted it."

Beckenham Town created the first chance of the second half after only 57 seconds.

Humphries swept the ball from left to right to striker Alex Arif, who played the ball inside to Quan, who swept his first time shot past the far post from 25-yards.

Walton added: "There again, got to hit the target! It's simple. Hit the target, make the goalkeeper work. If he spills it or it goes straight in."

Bangura chased the ball down the right channel and hit a deep cross to substitute Joseph Adesina, but his cut back from the by-line was easily gathered by Highsted at the foot of his near post.

Bugden's last play as a central defender before slotting in at left-back, was to flash a right-footed angled drive across the keeper and past the far post from the right-hand corner of the box.

Quan cut in from the right to feed the ball into Warity's feet, but the former Dartford and Greenwich Borough man took a touch before hitting a left-footed deflected drive which was saved comfortably by Nic Taylor.

Bangura did well to cut in from the left channel into the box to reach the by-line but the angle was too tight and Highsted palmed the ball around his near post, high to his right.

Beckenham Town were now playing with a front three with Humphries and substitutes Lakan Bakare and Richmond Kissi.

Quan slipped the ball over to an unmarked Kissi, who hit a right-footed angled drive straight at Taylor, who made a routine save at his near post.

Fisher were to be denied a deserved second goal in the 69th minute.

Substitute holding midfielder Antwon McKenzie ventured forward with the ball before spreading the ball out wide to Ufuah down the right. He played the ball inside to McKenzie who placed his first time shot towards goal, which was superbly smothered by Highsted.

Harrison said: "Lovely move, probably our best move of the game in their final third, a nice little bit of football, popped it off, the keeper did really well. I thought he made a great save there to get his body on top of that. I thought it was in!"

Walton added: "Once they got the lead they've got something to defend so they tried to hit us on the counter-attack, which they did a couple of times in all fairness and Adam's made a save that I expect him to make."

Adesina swung in Fisher's fifth corner from the right and Flemming's towering header looped into Highsted's hands.

Beckenham Town felt they had snatched an equaliser in the 73rd minute but assistant referee Mark Jenkins waved his offside flag.

Humphries played the ball out to Warity down the right and he was given time and space to whip in a deep cross towards the far post. Kissi steered the ball towards the bottom corner of the net and would have scored had the ball not struck Humphries on the knee before crossing the line.

"The goal we scored, the lads are telling me we weren't offside. Richmond's knocked it in and Jamie's sort of standing beside him and he's given Jamie as offside but for me it's a goal. They said it was offside.

"But what I'm more disappointed about, which the linesman (Mark Jenkins) can't see that but if he's looking across the line we get a free-kick on the edge of the box and Jamie's already received the ball two yards inside the penalty area. The guy's fouled him and he's given a free-kick on the edge of the box. Why can't the linesman see he was inside the box. It's a blatant penalty and he's given it right on the edge."

Harrison, a former member of Huntley's coaching staff at Beckenham Town, added: "They are always going to create chances, we knew that. Beckenham are good going forward, we know that. They're an attacking side, they always have been an attacking side."

Thompson-Martelly whipped in a cross into the Beckenham box, the ball was cleared away by Quan but Lawson poked his first time shot into Highsted's hands.

Walton was seething when he claimed the ball did not cross the line when Fisher scored their second goal with nine minutes left.

Williams swung in Fisher's sixth and penultimate corner from the right which was headed back across goal by Flemming and his central defensive partner Agyemang's header clipped the underside of the crossbar and assistant referee Daniel Wyatt flagged to award the goal.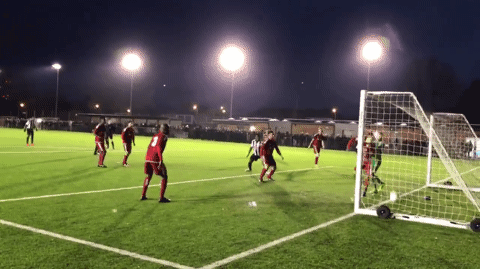 Beckenham Town coach Billy Walton claimed Dwayne Agyemang's 81st minute header did not cross the line after hitting the underside of the crossbar.
Photo: Simon Johnson


Harrison was full of praise of his two central defenders who played a big part in the goal.

"We're alright at set-pieces, the boys are good up there, the two of them. We could've had a couple last week against Croydon Athletic and our goal came from a set-piece last week as well. We know we can cause problems. We said that before the game as well. We set-up well on our corners and stuff, good goal, really pleased for both of the boys."

"There again, you pick out people to mark and then they don't mark up, pick up. It's just a lack of concentration and how they switch off when they should be marking," said Walton.

"Can he really see it goes over the line? I don't think you can. There's a melee of players and without technology you can't tell me if that went over the line? No one can tell if that went over the line. Everyone shouts, there's a big crowd here today and everyone shouts and he gave it!"

Beckenham Town's luck was out when Humphries was to be denied his fourth goal of the season by the crossbar at the death.

Warity floated in a deep cross and Humphries smacked a brilliant right-footed hooked volley from 15-yards, which crashed against the crossbar with Taylor beaten.

Harrison said: "I don't think there was anything clear cut until Humphris hit the bar in the 90th minute so I was more than pleased with our defence today.

"Great effort, a great strike. He's a good player Jamie. A nice effort but I think Nic had it covered anyway."

"It would've been a great finish from him wouldn't it?," said Walton.

"It was a great shot on the turn but we just didn't do enough of that. I don't think our front players did enough of that, shoot on sight and get little rebounds and knock downs and the reflection of the game we would most probably have 60% of possession and passing and this that and the other but we didn't create nothing from it!"

Lordswood (20 points from 21 games); Bearsted (18 points from 20); Erith & Belvedere (17 points from 19); Deal Town (17 points from 18); Tunbridge Wells (15 points from 17) and Erith Town (15 points from 20) games are all looking over their shoulder although Beckenham Town (12 points from 20) and Fisher (11 points from 22) remain in the drop zone going into the New Year.

"I'm hoping from what I've seen today and seen in this league over the last two months there are four or five teams that are a lot worse than us but we need to get a win and get in and amongst them and then push on," said former Fisher man Walton.

"We've got to win a game, hopefully (at home to AFC Croydon Athletic) on Monday and leapfrog above two or three teams and then put other teams under pressure.

"If I wanted to lose to someone personally I'm glad it was Fisher. I want them to stay up. I'm at Beckenham now and I want to do well at Beckenham."

Walton has issued a rallying cry to his players' to buck their ideas up to start climbing the table.

He said: "It's not always the managers fault. Players' have got to take responsibility as well. They've got to go on the pitch, they've got to concentrate. They've got to put in performances. I question some of the players. Have they got the desire or the determination or do they want a game of football?

"I've had a good response from them since the two or three weeks that I've been here. I'm trying to teach, preach my style of football which is very difficult in this league to win games playing the way we do. You've got to be good footballers. It's just not kick it up the pitch and hit a big target man up the top and work off him, anyone can do that."

When asked about Beckenham's predicament, Walton admitted: "It's not very good. I will be here until the end of the season and that will give me and Jason (Huntley) and Jason Clews 18 games together and if the worst comes to the worst and we go down I'll take full responsibility because I've got 54 points to play for and that's more than enough to keep you up."

This was Fisher's second league win of the season and Harrison knows his side must work hard if they are to get out of deep water.

"A lovely Christmas present. I don't know the last time we won. Since I've been here this is my first win so it's a nice Christmas present and hopefully things are on the up," said Harrison.

"It's a battle to the end and we want to fight. No one expects us to get out of it. It's a tough ask but the boys are buying into what we're doing. They're working hard for each other and anything's possible. Staying up would be nice. Hard work, discipline, being a little bit more clinical in front of goal, simple.

"I don't know what happened before I was here and we've worked hard and kept a clean sheet today and that's all we can do, just keep working hard. We've got a lot of work to do."

When asked about the difference between managing the club while groundsharing at Dulwich Hamlet and being back home in Rotherhithe, Harrison replied: "I think it's got a better feel about it. Since I've been back here it just seems to have a little bit of a buzz. I see some really good local faces today who you wouldn't have seen at Dulwich, so hopefully people came out and get behind the club and give the boys and the club the support."

Fisher: Nic Taylor, Mikel Thompson-Martelly, Toyo Adeshina (Antwon McKenzie 62), Daniel Lawson, Daniel Flemming, Dwayne Agyemang, John Ufuah, Harry Bugden, Hamid Bangura, Trey Williams (Daniel Taylor 90), Alfie Roche (Joseph Adesina 33).
Subs: Michandress Mackangou, Juan David Devia Pineda

Goals: John Ufuah 17, Dwayne Agyemang 81

Booked: Harry Bugden 69, Hamid Bangura 90

Beckenham Town: Adam Highsted, Jordan Clarke, Marlon Patterson, Jamie Taylor (Frankie Warren 76), Jack Hope, James Fitchett, Chan Quan, Amadu Warity, Alex Arif (Lakan Bakare 57), Jamie Humphris, Damian Ramsamy (Richmond Kissi 43).
Subs: Kelvin Ogboe, Adam Wadmore

Booked: Marlon Patterson 82

Attendance: 279
Referee: Mr Piotr Zachwieja (Chatham)
Assistants: Mr Daniel Wyatt (Woolwich, London SE18) & Mr Mark Jenkins (Welling)

Coverage Sponsored by: