Money will be key if we want to survive in our first year back in the Prem, says Fisher boss Dean Harrison
Friday 25th May 2018
FISHER manager Dean Harrison says he needs a competitive playing budget if they are to avoid a season of struggle next season.
The Fish suffered relegation by a point from the Southern Counties East Football League Premier Division in April 2017 without a playing budget but Harrison had a £300 per week budget which helped them finish in third-place in the First Division last season.

Punjab United won the league title on 90 points from their 36 games, a couple of points clear of K Sports, who were deducted three points for fielding a suspended player in March, and lost those points just hours before their final game of the season. Fisher finished outside the promotion zone on 76 points but were today promoted thanks to a change of heart from The Football Association.

Elsewhere, Premier Division champions and runners-up Sevenoaks Town and Whitstable Town, will be in the 20 club Bostik South East Division next season.

Bottom-of-the-table side Rochester United will be the only side that are relegated from the Premier Division to the First Division, as Rusthall, who finished in the drop zone on 29 points, a couple of points adrift of safety, were reprieved and will have a second campaign in the top flight.

There are three new sides in the 18-club First Division. Kennington and Greenways have been promoted from the Kent County League Premier Division and will hire Ashford United and K Sports' grounds respectively. Welling Town, who play at Bayliss Avenue in Thamesmead and won the Kent County League Division Two West and a cup double, have been elected into Step Six following a successful application to play in Step Six.

Kent Football United and Crockenhill have lost their First Division status owing to ground grading measures, although Dartford based Kent Football United have submitted an appeal.

Harrison said: "That's what's called bouncebackability!

"We knew around February time, with all of the League restructuring going on, there would be a possibility of a third place going up from the First Division.

"There were a cluster of games around that time where we had to play K Sports twice, Punjab and Kent Football United. We came off second best and sprits were quite low knowing it would take a miracle now to finish in the top two.

"What I kept getting into the players' heads was 'imagine if we toss it off now, don't finish third and then third goes up. How down would we all feel?'

"We had eight games left and after the 2-0 defeat at K Sports, we won the next seven and drew the last, finishing in third place, 13 points clear of Erith & Belvedere in fourth.

"That's the type of character we have in our dressing room!"

Interview follows below..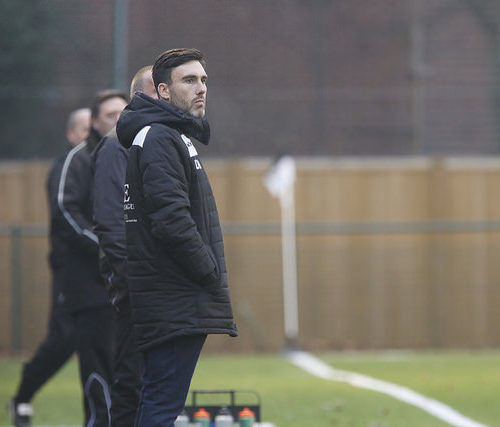 GOING UP: Fisher manager Dean Harrison has guided the club back to the SCEFL Premier Division at the first attempt.
Photo: Fisher FC

Dean Harrison CV:
Stansfeld:
Assistant manager: Kent County League Premier Division title winner
Beckenham Town:
Assistant manager: League Cup winner; Kent Senior Trophy winner; Challenge Shield winner
Fisher:
Manager: Twice avoided relegation from the Southern Counties East Football League Premier Division without a playing budget; Promoted, as third-placed finishers, back to the Premier Division after suffering relegation the previous season.
Harrison knows £300 will not go far in the Premier Division and has challenged the club's board to dig deep into their pockets.

"It's now down to the board at Fisher to work really hard and get things in place for next season," said Harrison.

"Money will be key if we want to survive in our first year back in the Prem. For now though, mission accomplished and we prepare for another tough season at St Pauls."
Visit Fisher's website: www.fisherfc.org