Erith Town 0-2 Whitstable Town - We want to get to the Cup Final and we'll do everything we can to do that, vows Whitstable Town boss Scott Porter.
Wednesday 31st January 2018
Erith Town

0 – 2

Whitstable Town

Location
Oakwood, Old Road, Crayford, Kent DA1 4DN
Kickoff
31/01/2018 19:45
ERITH TOWN 0-2 WHITSTABLE TOWN
Kent Reliance Senior Trophy Quarter-Final
Wednesday 31 January 2018
Stephen McCartney reports form Oakwood

WHITSTABLE TOWN boss Scott Porter says he wants to win trophies for the club this season.

The Oystermen will host Cray Valley in the Kent Reliance Senior Trophy Semi-Finals on Saturday 10 February after comfortably beating nine-man Erith Town at Oakwood.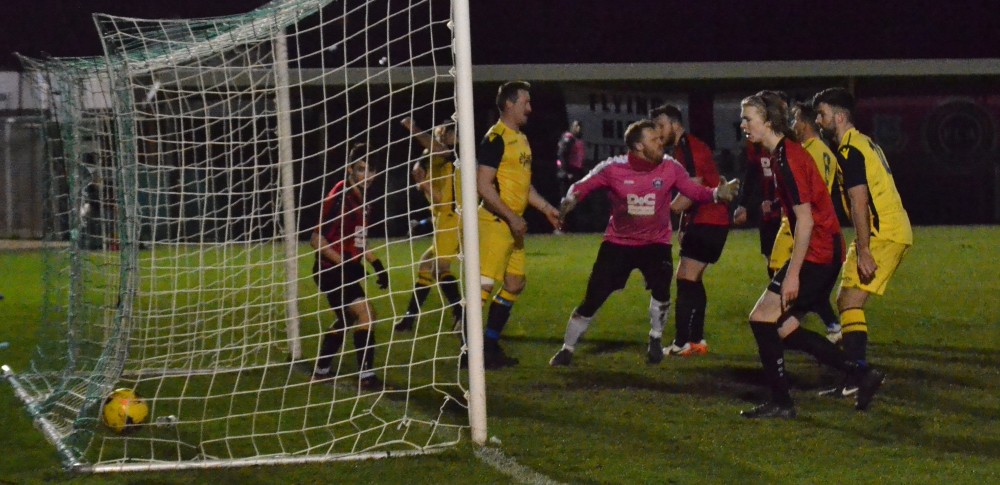 Whitstable Town defender Rob Gilman (parly hidden, yellow shirt, first left) scores the second goal to defeat Erith Town as Scott Porter's side reach the Kent Reliance Senior Trophy Semi-Finals.
Photo: Alan Coomes

Ricky Freeman drilled home his tenth-goal of the season from the penalty spot to give Whitstable an early lead before the Dockers lost central midfielder Harrison Hume to two yellow cards in the 23rd minute.

Freeman had a second penalty saved by the excellent Adam Molloy in the second half before Erith Town were reduced to nine men when Jack Hooper picked up two bookings.

Whitstable Town should have won by a greater margin but they had to settle for a 2-0 victory with Rob Gilman coming up from the back to score his first goal of the season.

Porter said: "Job done! We were pretty light on numbers tonight. Charlie Smith's away, Macauley Murray's away, James Morrish is suspended, Ted Nelson's cup-tied and Chris Saunders was struggling a little bit, so to come here, I know this was their Cup Final because of their league position and this was the only thing to go for them.

"We've drawn them twice in the league so it was always going to be difficult on a night like tonight but we just done a professional job.

"The sending's-off play a part in the game but it can be a bit of a banana skin when people get sent-off but the experience I've got in that changing room we just kept doing the same job right to the end, even with 15 minutes left when the game's done and we're just doing the same job and people are switching on and we don't want to concede a goal.

"It was pleasing to keep the run going and get into the semi-finals of the Cup."

Erith Town boss Adam Woodward claims his side didn't get the rub of the green in the game's key moments.

"Obviously I'm incredibly proud of the players tonight. They showed me a little bit of character from Saturday and unfortunately we've been beaten by two goals tonight that were controversial in my eyes.

"It's incredibly difficult (playing with nine men) but I thought we defended really well, we kept our shape and worked tirelessly until the end."


Whitstable Town arrived in Crayford sitting in fourth-place in the Southern Counties East Football League Premier Division table with 42 points from 21 games, two points adrift of leaders Sevenoaks Town, who have two games in hand and Porter's men are on a six match unbeaten run.

Erith Town, meanwhile, had lost back-to-back games going into this game sitting in the bottom six on 28 points from 23 games.

Dan Palfrey launched a long throw into the Whitstable box and the ball was cleared out to Osman Proni on the edge and he smacked his volley over the bar after only 84 seconds.

Whitstable Town play a direct style of football and Gilman thrashed a long ball out of defence which was chased by Freeman down the right channel and he was brought down by Palfrey inside the box after bringing the ball down with a good piece of skill.

Freeman got up to drill his right-footed penalty nicely into the bottom right-hand corner, with Molloy stepping in the other direction, to give Whitstable Town the lead with only nine minutes and 51 seconds on the clock.

"It was a great ball. Ricky brought it down well and he's a threat in the box so you can't argue with it and it's a great penalty," said Porter.

"It was pleasing to get an early goal. It's always good to get an early goal and it was good for Ricky as well because it was a good penalty."

Woodward added: "The linesman (Daniel Blades) is 10 yards away, he doesn't move! That's my thoughts!

"Was it the right decision? Player reaction you usually go off and my players' are saying it wasn't a penalty. There weren't many Whitstable players saying it was a penalty, there you go. It was a good penalty from Ricky."

Molloy took a whack from Stuart West, who was deployed as an emergency target man in Danny Williams' absence. The versatile West jumped up with the Erith Town keeper and directed his header past the left-hand post and Molloy needed treatment on the edge of his six-yard box.

Erith Town's only real chance of the night arrived in the 17th minute.

Molloy's kick was flicked on by right-back Ben Fitchett and Andres Felipe Losado Tobon swept a great deep cross over to left-winger Osman Proni, who unleashed a low angled drive that was parried by visiting keeper Dan Eason at his near post.

Woodward was full of praise for his two wingers, who had to do more defensive work tonight.

He said: "I thought Osman and Andres done really well tonight. They had jobs to do, which they done incredibly well and they stuck to their tasks and worked tirelessly, like the rest of the team."

"They didn't cause us many problems tonight to be fair," added Porter, praising his vastly experienced three centre halves of Gilman, Craig Cloke and Tom Bryant.

"We frustrate teams, we get in people's faces and the lads' we've got at the back and with Dan (Eason) in goal, they don't give many chances away.

"Sometimes you can't buy experience because it showed tonight and it shown for long stages of the season. Craig Cloke was immense at the back. Dan Eason showed his quality and you look at our clean sheets this year. Rob Gilman keeps going and Tom Bryant as well. Our back three has been a credit to us and Dan Eason."

West made space for himself to stroke a low right-footed drive across the keeper, which was held well by Molloy, low to his right.

Erith Town faced a mountain to climb when Hume lunged in on Whitstable's left-wing-back Josh Burchell from within the right-back position in the 23rd minute.

Porter ordered his players' to surround the referee, which put pressure on the referee to issue the punishment. It should have been a straight red, but out came a second yellow and then the red. Let's hope the observer picks up on that.

Porter insisted: "It's a straight red! It's a straight red all day long! He's too footed and left the floor and gone straight into him. I think the ref's given him a little bit of sympathy there with another yellow card and it's easy for him. It's a red card, a straight red card all day long, no qualms about that at all."

Woodward was rather critical of Burchell, adding: "Played it well, didn't he? The left-back. He went down, went to get back up and went back down again.

"It was always going to be tough against a Whitstable side you need to get a bit of luck and I'd like to know what Harrison's first booking was for, which I don't know yet. The decisions speak for itself really. The referee thinks it's a second yellow, it's a second yellow."

Burchell powered forward a first-time clearance which was chased by West. He had a couple of defenders swarming around him so he held the ball up and played the ball on his outside to Freeman, who took a touch before drilling a right-footed shot which was tipped around the post by Molloy, diving to his left.

"Not taking our chances, that was the only frustrating thing. I thought we were getting frustrated with each other and I said that to the boys at half-time," said Porter.

"We had so many chances and no word of a lie, if you would have said five or six nil you wouldn't have argued about that. That was the only thing but I said keep doing what we're doing, don't get frustrated, just a little bit more quality in the final third and it still carried on to be fair in the second half."

Woodward added: "Adam Molloy was kept busy. I thought we still kept our shape well. I thought we done well against a strong wind and we didn't get the rub of the green on two or three decisions.

"Look, we're a young side, there of my starting 11 played last night for Margate under 23s (Fitchett, Hume, Warden) and Ken Charles played for Maidstone 18s last night and Lewis Scotter on the bench played for Maidstone Academy today so yes the young lads done really well."

Another direct ball out of defence played in West, who skipped past the keeper but lost his composure from a tight angle and ran out of room as the ball rolled out of play.

West strode forward and drilled a low right-footed drive from 30-yards, which the busy Molloy held diving low to his right, before another chance was missed by the away side on the stroke of half-time.

West played the ball out to Burchell, who from inside the left-hand channel, whipped in a deep cross towards Freeman, who drilled his shot across the keeper and past the far post.

Whitstable Town should have gone into the interval with more than a single goal advantage.

Porter added: "It was chance-after-chance and I lost track of every chance we did have and that's the only thing at the moment.

"I take us to win most games if we get the first goal because of the experience and the quality I've got at the back. The only doubt was we didn't finish the game earlier."

When asked what he told his experienced players during the interval, Porter replied: "Just a bit more quality in the final third and don't get frustrated and that was it really. We all had a chat in there, there's a lot of experience in the changing room so you always listen to each other. The main thing was just keep doing our jobs and try to kill the game off as soon as possible and we did."

Woodward added: "Keep going, keep doing what you're doing, keep your shape, keep working hard and don't roll over and get beaten easily and I don't think we was beaten easily tonight."

Whitstable Town dominated the game and a big kick from Eason was flicked on by West and Freeman drilled another low shot, this time from 30-yards, towards the bottom left-hand corner, only for Molloy to dive to his right to tip the ball behind for a corner after 51 minutes.

"He's a good goalkeeper to be fair," said Porter.

"The game's he's played against us, he's always made a good account of himself and he's made a string of saves tonight. It's just another chance, another save!"


It was one of these games where Erith Town would snatch an equaliser from a set-piece and holding midfielder James Day missed the opportunity.

Sidney Warden swung in their first corner from the right and Day looped his header over the crossbar.

Referee Jamie Eacott awarded Whitstable their second penalty of the night in the 56th minute and booked central defender Jack Hooper for pulling down West as the last defender after West chased down a long ball out of defence from Tom Bryant.

Freeman stepped up and tried to find the bottom left-hand corner and Molloy dived to his right to parry before grabbing hold of the loose ball bravely and took a whack on the head from Freeman's boot, which resulted in a yellow card for the striker.

Porter said: "I think he was looking around to see if anyone else wanted to take it. It's always difficult taking the second penalty but he hasn't taken it well. You want him to finish it off and that does kill the game at this part of the second half and that's just the frustration of the night really, taking our chances."

Woodward just calls for consistency from referees at this level.

"Good save from Adam Molloy. What happened after that though? Kick in the head, which is a yellow card nowadays, which Ricky Freeman was booked for and then two minutes later he back heals the ball over the fence and the referees response is to stop his clock!

"Did we get the decisions? I'd like to know how many players Whitstable had booked and how many players we had booked?

"People say it's our discipline or we can take a real look at it. As you've said in your Tweets (about poor refereeing in non-league football) and see where the problems lying at the moment – consistency!"

Tobon whipped in a great curling cross from the left which isolated lone striker Ken Charles failed to get the decisive touch at the far post on the hour-mark.

Erith Town's chances of progress were blown out of the water when Hooper picked up a deserved second yellow for a tackle on Chris Saunders on the half-way line in the 65th minute.

Porter said: "It's a booking! I thought the ref had a good game tonight. He couldn't have done anything else than what he did for the red cards. The geezer didn't need to make that tackle, it's another yellow card, it's as simple as that!"

Woodward claimed: "What happened straight away? Did he lay down or did he get straight back up? Played the game. It's clever, the referee got bought again."

Erith Town put in a spirited, courageous performance with nine players but Whitstable created chances inside the final 20 minutes to give the scoreline a more honest reflection of this one-sided game.

Porter said: "That's the only thing, we haven't taken our chances, we haven't finished the game off earlier. One-nil is a dodgy score, whether they've got nine men, 11 men or 10 men, it don't matter because anything could happen from a set-piece, a corner, a mistake."

Right wing-back John Walker released West down the right channel and his cross was met by Freeman's right-footed drive form 15-yards, which forced Molloy to dive to his right to make another save.

Whitstable Town killed the game off via an unlikely source with 29 minutes and 25 seconds on the clock.

Burchell swung in their fifth corner from the right, the ball bounced around the six-yard box and Gilman stroked his shot across the keeper into the bottom far corner.

"It takes my oldest centre half to go and get the goal just to take the pressure off really, which wasp leasing really because Rob Gilman gives me eight out of 10 every week," said Porter.

"He's just kept it alive and takes the pressure off and makes the last 15 minutes a bit more enjoyable."

Woodward claimed the goal should have been disallowed.

He said: "Players' reaction again! What was the players' reaction? I thought it was a foul on my goalkeeper. Four or five of my players appealed. In my opinion when decisions are given and you don't know whether they are or they're not, you usually go off player reaction. Both instances tonight for their goals, look at player reactions!"

Ronnie Dolan swept a superb diagonal pass to pick out Burchell out on the left in acres of space and his angled drive was tipped around the post by Molloy.

"He's a good goalkeeper, I like him, he's done well," said Porter.

"The build-up play was good and you expect that when they've got nine men and you're 2-0 up, you expect us to keep the ball better in those areas. The most disappointing thing was not to get three or four, maybe five!"

West then put Burchell in behind and he wrapped his foot around the wall to pick out substitute striker Shaun Welford at the far post but his bullet header didn't find the back of the net.

Dolan and Burchell linked up well again and Welford brought the ball under control before hitting a shot screaming past the post.

Holding midfielder Louis Sprosen then tried his luck from 35-yards on the half-volley, only for the ball to whistle past the left-hand post at the death.

"I come here tonight and win 2-0 – you'd take that all day long!

"They didn't create an awful lot because they didn't have a chance to because we do the same job. Everyone knows their jobs for 90-95 minute and that's the experience I've got this year. We didn't have it last year and it showed. This year I've got that and that's what I wanted to bring in and a lot of teams don't get many chances against us because we're doing the same jobs for 95 minutes."

Whitstable Town can now look forward to hosting Cray Valley in the Semi-Finals for the right to play Canterbury City or Sheppey United in this season's Kent Reliance Senior Trophy Final.

Whitstable also host Deal Town in the Challenge Cup Quarter-Finals and are chasing Sevenoaks Town for the League title.

"You're in the Semi's – I want to win them! You don't go into Cup games not wanting to win them. I want to win trophies for this football club and that's what I'm here to do and that's what the players are here to do.

"It's going to be tough because Cray Valley's league position (14h) doesn't see where they are because Kevin Watson has brought in his own players. It will be tough but every game is tough in this league. It doesn't matter who you play but we want to get to the Cup Final and we'll do everything we can to do that."

Erith Town return to action next Wednesday when promotion chasing Crowborough Athletic visit Oakwood in the Challenge Cup Quarter-Finals.

"We're out of the Cup, which is not great but look we can take credit from that performance and we can build on that performance and we go again next Wednesday," said Woodward.

"We've lost to a side that are in the top four with a big budget through two decisions that were controversial.

"I'll be going out on Saturday with the family and having a rest and we're going into next Wednesday with two players down. Tamer Bilal is out with concussion still but we won't give up. We'll keep going because that's the spirt we have."

When asked how you improve standards of refereeing in this league, Woodward replied: "That's not what I'm paid to do! That's why we have these assessors for! They're there to improve the referee's not me. A Bostik League manager (VCD Athletic's Keith McMahon) said on a podcast what he thinks should happen, I agree with him."

Erith Town: Adam Molloy, Ben Fitchett, Dan Palfrey, James Day, Jack Duffy, Jack Hooper, Andres Felipe Losada Tobon (Lewis Risk 84), Harrison Hume, Ken Charles (Ollie Milton 76), Sidney Warden, Osman Proni (Hamid Bangoura 81).
Subs: Lewis Scotter, Cameron Lovatt

Booked: Harrison Hume 10, Dan Palfrey 42, Jack Hooper 57

Sent Off: Harrison Hume 23, Jack Hooper 65

Whitstable Town: Dan Eason, John Walker, Josh Burchell, Craig Cloke, Tom Bryant, Rob Gilman, Ronnie Dolan, Louis Sprosen, Ricky Freeman (Shaun Welford 71), Stuart West, Chris Saunders (Owen Fitt 77).
Sub: Brendon Cass

Goals: Ricky Freeman 10 (penalty), Rob Gilman 75

Booked: Ricky Freeman 58

Attendance: 60
Referee: Mr Jamie Eacott (Walderslade)
Assistants: Mr Liam Vittoria (Sevenoaks) & Mr Daniel Blades (Wrotham)

Coverage Sponsored by: