Erith & Belvedere 2-6 Ashford United - They were so bad it was a bit easy at times for us, admits table-topping Ashford United boss Danny Lye
Sunday 05th February 2017
Erith & Belvedere

2 – 6

Ashford United

Location
Park View Road, Welling, Kent DA16 1SY
Kickoff
05/02/2017 15:00
ERITH & BELVEDERE 2-6 ASHFORD UNITED
Southern Counties East Football League Premier Division
Sunday 5th February 2017
Stephen McCartney reports from Park View Road

ASHFORD UNITED manager Danny Lye says the title will go down to the wire after returning to the top of the Southern Counties East Football League Premier Division with 16 games to go.
Lye admitted he was suffering with a hangover after celebrating his 36th birthday on Saturday and his side completely outclassed a poor Erith & Belvedere side that are still involved in the relegation dog-fight.

Adrian Stone opened the floodgates inside the opening eight minutes but Erith & Belvedere grabbed an equaliser against the run of play through a beautiful volley from central midfielder Danny Akers to open his goalscoring account for the club.

Rory Hill slotted home a controversial goal despite being in an offside position, before David Botterill and then Stuart West headed in goals to ease to a commanding 4-1 lead going into the break.

Striker Shaun Welford slotted in his 30th goal of the season, before Erith & Belvedere lost central midfielder Spencer Forte to two yellow cards and watched the last six minutes from the stand, before striker Stone tapped in the sixth.

Erith & Belvedere's Yinka Salami put in a woeful display at the heart of defence but he drove home an injury-time consolation in front of a crowd of crowd of 127 at Park View Road.

Under-pressure John Wilfort has seen his side lose 10 of their last 11 games and they remain in the bottom four with 20 points from 25 games, five points clear of the relegation zone.

Ashford United, meanwhile, have collected 58 points from their 24 games and are now a point ahead of Crowborough Athletic, who have a game in hand. Sevenoaks Town remain third (53 points from 23 games) and Sheppey United are next on 51 points from 25 games, while Cray Valley have climbed up to fifth with 47 points from their 25 fixtures.

Lye said: "A big gulf between the two teams weren't there. I think last year we came here we struggled and we drew 2-2 and a year on it sort of shows you how far we've come really as a team and as a club because we're strong throughout now."

Wilfort held a meeting with his coaching staff inside the physio's room within the home dressing room and didn't emerge until 17:30.

"I knew it was going to be tough. I know exactly what they were going to do, just lump balls into the box, win seconds," said Wilfort.

"They were a lot more physical than us, they were good at what they were doing, but you know, it was a difficult day.

"Listen, there's no excuse, we wasn't good enough! They're e a good side, they're at the top for a reason because they're a good side and very hard to compete with teams of that ability."

Ashford United set the tone early on and Ben Davisson's free-kicks were causing Erith & Belvedere issues straight from the off.

The man-of-the-match floated in a free-kick from the right and the ball came out to Pat Kingwell on the edge of the box, who hooked the ball into Stone's path but he drilled his shot past the near post after only 161 seconds.

Defensive blocks from Jeff Allen and Akers ensured low driven shots from inside the box from Davisson and Botterill flashed behind for corners, delaying the inevitable but Ashford United's opening goal with seven minutes and 29 seconds on the clock.

Davisson floated in a free-kick from close-by to the centre circle and Stone was allowed to loop his header in off the foot of the left-hand post from 15-yards, the ball trickling over the line.

"Make sure you put in Stoney's miss in there, it was a major miss weren't it," said Lye, on Stone's first attempt at scoring.

"But he made up with a great header. His header was harder than the first chance. It was a good header, that's what he does Stoney. He's been around a long time, he's good in the air, it's hard for defenders."

Wilfort added: "Stoney had a few chances. We had a period where we were consistently giving away free-kicks. They didn't want to play it short, they put it in the box. The ball wasn't even driven, it was just floated with a purpose of getting bodies around it and bullying out players and they did it well.

"I think the keeper has got to do better than that to be honest with you. I think where the balls been put in the box it's just floated in, come down with ice on it, there's nothing on it. He's jumped and headed it. I think Sam's got to be at his near post, I think he should've done better, again it's a sloppy goal."

But Erith & Belvedere showed character by grabbing an equaliser – against the run of play – with 12 minutes and 13 seconds on the clock.

It was a quality goal that belied Erith & Belvedere's position in the table.

Grant Brown, who wasn't good enough to cope with Davisson's class in the middle of the park, floated in a right-footed free-kick some 35-yards out and Akers hooked his right-footed volley across the keeper and into the bottom right-hand corner from 10-yards.

Wilfort said: "I thought it was a really good goal. I think the movement was good and we've deserved that goal. I think at one-all we've got a chance here but we consistently gave free-kicks to them in dangerous areas where they can affect it, which they did."

Lye added: "It's just a sloppy goal we've conceded there. We've done that for a few weeks now, just not concentrating. It's a good finish but we should deal with that."

But that was as good as it got for the home side as Ashford United went on to dominate.

Hill's deep free-kick from the left sailed over towards the far post where West issued a warning by ghosting in to stab the ball past the near post from a tight angle.

Welford played the ball into Hill, who dinked his shot towards goal which was comfortably picked up by Samuel I'Anson in the Deres goal.

A pacy run from Erith & Belvedere's lone-striker Sebastian Schoburgh took him into the Ashford box before drilling his shot wide, but he had a quiet game, as did Bromley Academy prospect, left-winger, Trey Small.

But Ashford United deservedly regained the lead in the 18th minute through Hill's 16th goal of the season – although it should have been ruled out if assistant referee Jamie Paternoster done his job properly!

George Savage played the ball over the top of a sleepy defence and Welford and Hill were in behind the Erith & Belvedere defence as the ball was played. Welford used his experience not to go for the ball, but an offside Hill did, the flag stayed down as Hill raced on and slotted his shot into the bottom right-hand corner.

It took some probing for Lye to admit that Hill was in an offside position before running into the box to score.

He said: "Good finish, again good build-up to it. Debatable weren't it if it was offside? Yes, probably was offside. It's one of them. You get some decisions some weeks. Tuesday we didn't get the decisions and today we got them.

"It was a good finish. That's what he does Rory. He knows where the back of the net is and when you've got people like Adrian Stone, Ryan Palmer, Shaun Welford, who can score, it doesn't matter if one has an off day, the other one is going to come through."

Wilfort added: "Listen, there were two of them offside! I had a little debate with the linesman about it but what can you do? Listen, it's part of the game, it's happening week in week out, mistake after mistake by them but listen, they make mistakes, we make mistakes and you've just got to get on with it, it's one of those things."

Ashford United's left-back Frazer Walker clipped the ball up to Welford, who turned in the box and swept his left-footed shot flash past the foot of the near post. Erith & Belvedere's right-back Allen had a game to forget.

Ashford United raced into a 3-1 lead with 29 minutes on the clock, through a woeful piece of defending from the woeful Salami.

Davisson floated in another free-kick from the right and found Stone in space on the right-hand side of the box. His shot was blocked, Erith & Belvedere failed to clear their lines and Salami's attempted clearance from inside the box was sliced up high in the air and the ball dropped down on to Botterill's head, which looped over I'Anson's head and into the net.

Lye said: "He attacked it, didn't he? He wanted to win the header more than their defence did so that's what we've got now, we've got some big lumps in there to attack it."

Wilfort added: "Again, our goalie's said to us it's his fault. He's should've done better but at the moment where we are where we are it's because we're making mistakes like that.

"Listen, I can't fault them for their hard work but I keep telling them we're consistently making the same errors and good teams punish you when you're down the bottom you don't get any luck. Where they are, they're a good side but they get them little touches, which they deserve because of where they are."

Erith & Belvedere's defending was embarrassing during the first half as Ashford United looked like scoring every time they probed the final third.

Stone swept the ball out to Hill on the right wing, who cut the ball inside to an unmarked Jason Goodchild, who dragged his right-footed shot past the left-hand post from 30-yards.

Ashford United's fourth goal arrived in the 38th minute through West's third of the season.

The home side switched off as Davisson played a short corner to Hill, who sped past poor right-back Allen to wrap his foot around the ball to whip in a cross, which sailed over Welford at the near post but West dived in to steer his header into the roof of the net from inside the six-yard box.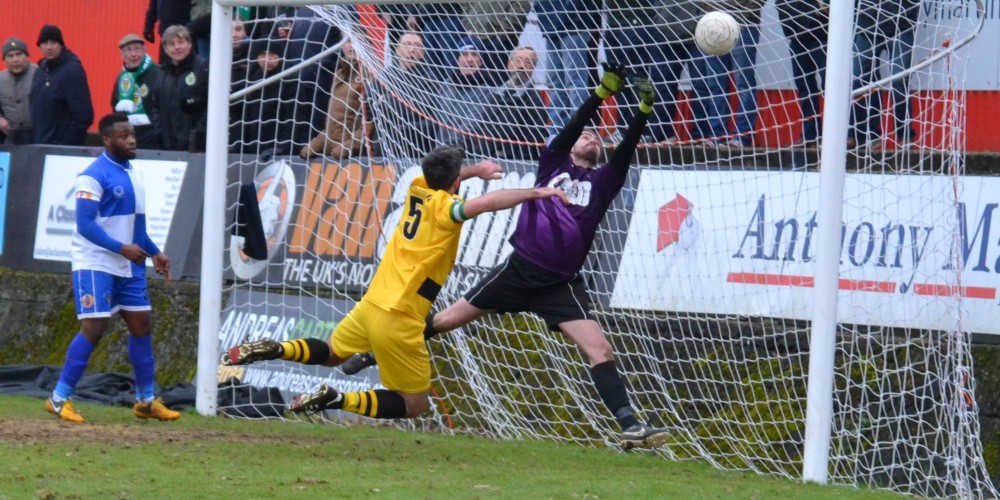 LEADING BY EXAMPLE: Ashford United captain Stuart West (yellow)
heads in his side's fourth goal in their 6-2 win over struggling
Erith & Belvedere at Park View Road.
Photo: Alan Coomes

Lye said: "It was just behind him, the header, it nearly took his head off getting the header in. Again, good physical strength from us to attack it."

Wilfort added: "I mean they crossed it in, we haven't even seen the runners coming in. I mean look, I could go on all day about it, it was a comedy of players' not seeing things."

Even Kingwell came up from the back to plant his header wide at the far post after meeting another corner from Davisson, as the home side's defence lacked knowhow to compete at this level.

Davisson attempted to score with a right-footed free-kick from the halfway line, but I'Anson saved further embarrassment by catching the ball.

"He tried it, didn't he? He's got so much energy Davisson. When we've got Jason Goodchild and Dave Botterill in there (midfield), it sets him free so he can go gallivanting around the pitch and he does it as well."

Wilfort admitted Brown and Akers gave Davisson too much time to prove his class.

"He had time to do that didn't he. If you give him time of course he's going to look a good player. He had all the time in the world to do what he wanted in there. I don't really know him so I can't comment on him but yes he used the ball wisely. I think more so when they went a few up and the game opened up a bit. He had even more space in there to dictate things but they're movement was better than ours, that was the difference."

Ashford United went in at the break with a commanding 4-1 lead and if they carried on with the same tempo during the second half then they would have won by more than eight.

Lye, though, wanted more, saying, "I just said we haven't really started to be honest because they were so bad it was a bit easy at times for us. We didn't press the ball well today, so I just said we've got to move the ball quicker, we've got to press them better and we want some more goals!

"They (Erith & Belvedere) shouldn't be too hard on themselves because we've got a good side and a lot of teams we come up against we're too strong out there and we cause teams problems."

There was a lot of soul-searching to do inside the Erith & Belvedere dressing room at the interval and the body language of the players as they re-entered the field of play was evidently negative.

Wilfort used the excuse of having young players, but you can still have heart and desire when you wear your club's shirt on a football pitch.

"They're a young bunch of lads of not a lot of experience and I said to them you've got to do the basics well ok and work hard because if things aren't going right for you, work-rate beats most things.

"I said to them if you come out and work hard maybe you get something out of it, even if it's a bit of pride."

Now, Alex Anderson and Anthony Adesite must look at themselves tonight and ask themselves if they have enough commitment for this level of football as they were both dropped to the bench after arriving at Park View Road 40 minutes before kick-off.

When they came on they showed glimpses of decent attacking play, but their lateness didn't help their team-mates and Wilfort was incensed with their attitude.

Anderson ran with the ball straight down the middle of the pitch in a 53rd minute counter-attack and played the ball inside to Brown, but his weak 30-yard shot was never going to trouble keeper George Kamurasi.

"The two lads who came on would've started but they never turned up until twenty-past-two, Alex and Anthony. They were down to start but they never got here until then. This is the problem I'm having at the moment, the abilities there but the discipline isn't. The discipline with a lot of these young players needs to be better because they've got the ability. This is up to me to try to instil it into them. They're good players, I need to set the stall out and if they don't abide by the rules then they're not going to play."

Ashford United produced an eye-catching sweeping three-man move shortly afterwards.

Hill played the ball inside to Goodchild, who sprayed the ball out to an unmarked Stone inside the penalty area on the right-hand side, the striker stroking his right-footed angled drive across I'Anson, only for his shot clip the outside of the far post.

Lye said: "That was a good strike and good build-up for that. We moved the ball better. In the first half we were too slow on the ball. Second half we moved it around better and when we move it around quickly, we're at our best."

Ashford United celebrated their fifth goal in the 58th minute through Botterill's sublime low defensive splitting pass in behind Aaron Leacock for Welford to latch onto and slot his right-footed shot past I'Anson's left-leg into the bottom right-hand corner of the net.

"He was under pressure because he knew he was coming off so he was under pressure to get a goal and he got it," Lye said of Welford.

"It's 30 he's scored now. It's February, he's unreal, week-after-week he puts it in the back of the net."

Wilfort said: "Listen, you're not going to come back against a side like that who are constantly keep putting the ball down your throat. It was difficult, very hard to get out in stages."

Lye brought on winger Ryan Palmer and the fans' favourite had a couple of instant chances, one wide, one hit on the turn, which I'Anson stooped to grab hold of the bouncing ball, low to his left.

All three of Erith & Belvedere substitutes were involved in a chance in the 64th minute.

Adesite broke through the heart of the pitch and played the ball to Anderson, who played the ball inside to George Reed, who sliced his shot wide from 25-yards.

And at the other end, Goodchild played the ball in from the left to an unmarked Palmer, who stroked a right-footed drive towards the corner from 25-yards, forcing I'Anson to dive to his left to parry behind for a corner.

"I mean we're privileged aren't we, to bring on Ryan Palmer. I could keep him on the bench today, we brought him on because we went with the two big men (Stone and Welford) up top and the strength of the bench was evidently what we had. We could change it and what a player to bring on, he really caused them problems."

Wilfort added: "I think when Ryan came on, he normally causes a lot of problems, but he was just coming inside and giving it away! He wasn't the normal Ryan Palmer I normally see, or maybe we were lucky enough to nick the ball off him.

"Sam made a good save there but I think today was a comedy of errors and once a team like that gets on you and with a team I've got of youngsters, it's just going to end up one way."

Botterill played the ball out to Palmer, in acres of space down the right channel and he whipped in a cross towards the edge of the box, but Goodchild smacked his hooked volley on the turn over the crossbar and into Park View Road.

Akers swept in a free-kick with his right-foot but Salami's poor header went wide of the near post.

Palmer cut back Ashford's ninth and final corner in the 79th minute to Botterill who teed up substitute Danny Stubbs, who drilled his shot just past the foot of the near post .

The right-back then dragged his shot just past the foot of the far post after being played in behind by Goodchilld's nice pass.

Erith & Belvedere's poor day was summed up in the 84th minute when Forte picked up his second yellow card, for a foul on Ashford substitute Brett Ince and watched the rest of the game in the stand.

Both managers were asked their thoughts on the sending off.

Wilfort said: "I think it was harsh because I think the first yellow card he had wasn't a yellow card and I thought the ref was poor today – when you're at the top you get these decisions, where we are you don't get those decisions."

Lye simply added: "No need to send him off really, he's gone off, it didn't really change anything, we were dominating anyway."

Akers swung in the home side's second corner towards the near post where Salami's stooping header was saved by Kamurasi.

Ashford United's sixth goal came in the 89th minute.

Davisson swept the ball out to Palmer in space down the right and he drilled his low shot across the face of goal towards the far post and Stone gleefully tapped the ball into the bottom left-hand corner from close range.

Lye said: "Stoney's done well, he's been around long enough, he knows where the goal is and you give him a couple of chances and he'll put it away."

Wilfort added: "He always gets goals. He just knows where the goal is. He's in the right place at the right time. The movement was good. If you put the ball in the box someone like him will always get a chance of scoring."

Davisson showed his class again, seeing I'Anson off his line and trying his second chip from the halfway line, this time the ball sailed over the crossbar.

Erith & Belvedere's second goal was simply too little too late as it arrived two minutes and 46 seconds into time added on.

Inevitably, it came from a set-piece, swung in by Akers from the right, the ball sailed towards the far post where Salami turned to drill his shot into the bottom left-hand corner.

Wilfort said: "The game was gone by then. They took the ball off the pedal. They knew the result's over, so late consolation goal, good for Yinka. It's still not good for us as a team conceding so many goals and giving away so many free-kicks in silly areas against a side of their ability."

"Another sloppy goal for us really," admitted Lye.

"We switched off and it's disappointing because big George didn't have (more than) one save to make and we've let two goals in. We've got to work on that. We've got to cut the sloppy goals out and get some more clean sheets on the board."

Maybe the burly man needs to play up front as a target men and Wilfort can sign a couple of central defenders to avoid a repeat of their heaviest defeat of the season because this must go down as one of the worst performances by Erith & Belvedere since the Chris Cosgrove days.

Lye revealed that he was feeling worse for wear for today's game after celebrating his 36th birthday on Saturday.

"I said to the boys 'let's get three points'. I was a big hangover for the team talk today and they were laughing and joking.

"It's nice where we was from a year ago with the team and what we've got now. We've got the best, we've got the strongest squad we've had since I've been here, probably the best we've ever had as a club. It's good, it's positive. We just keep winning to keep making the fans' and the directors' happy."

When asked about the title race, the Ashford United boss replied: "It's going to go down to the wire, I think. Us, Crowborough and Sevenoaks, we're stronger than most of the teams in the division – so I don't see many of us dropping too many points."

While Erith Town (24 points from 25 games) and Deal Town (22 points from 24 games) have eased the pressure, Bearsted (21 points from 23 games) have lost their last three games; Lordswood (21 points from 25 games) have gone six games without a win; Erith & Belvedere (20 points from 25 games) have dire form at present; Tunbridge Wells (19 points from 22 games) have gone three without a win and should not be involved in the relegation dog-fight with a club of their stature; while Fisher (15 points from 26 games) have won two and drawn two of their last six games and on current form look good to get out of the relegation zone; while Beckenham Town (13 points from 24 games) have gone 19 games without a win and are favourites to crash through the trap door.

Wilfort said: "Listen, it's tough. It's tough to take and when we're down where we are looking over our shoulders and every point counts. We've got a run of games now where we're playing top sides and we need to try to get something out of them.

"Listen, we are in a run of bad form and so are a couple of others down there and there's reasons behind why our teams are down there, but listen, you've just got to stick with it."

Erith & Belvedere: Samuel I'Anson, Jeff Allen, Nad Nwitua, Danny Akers, Yinka Salami, Aaron Leacock, Luke Miller (Anthony Adesite 56), Spencer Forte, Sebastian Schoburgh (Alex Anderson 53), Grant Brown (George Reed 62), Trey Small.
Subs: Max Williams, Sherrif Babatunde

Goals: Danny Akers 13, Yinka Salami 90

Booked: Danny Akers 8, Spencer Forte 68

Sent Off: Spencer Forte 84

Ashford United: George Kamurasi, George Savage (Danny Stubbs 66), Frazer Walker, David Botterill, Stuart West, Pat Kingwell, Jason Goodchild, Ben Davisson, Shaun Welford (Ryan Palmer 59), Adrian Stone, Rory Hill (Brett Ince 71).
Subs: Luke Eldridge, Ryan James

Goals: Adrian Stone 8, 89, Rory Hill 18, David Botterill 59, Stuart West 38, Shaun Welford 58

Attendance: 127
Referee: Mr Joe Stokes (Dover)
Assistants: Mr Jamie Paternoster (Sidcup) & Mr Chris Price (Bromley)


Coverage Sponsored by: