FC Elmstead Reserves 0-4 Welling Town - I think there's something a little bit special happening down here and I want to be a part of it, says Welling Town star striker Jon Main
Wednesday 26th April 2017
FC Elmstead

0 – 4

Welling Town

Location
Greatness Park, Mill Lane, Seal Road, Sevenoaks, Kent TN14 5BX
Kickoff
26/04/2017 19:30
FC ELMSTEAD RES 0-4 WELLING TOWN
NRG Gym Barry Bundock West Kent Challenge Shield Final
Wednesday 26th April 2017
Stephen McCartney reports from Greatness Park

STAR STRIKER Jon Main says he's staying at ambitious Welling Town next season after helping the club win their first trophy in their debut Andreas Carter Joma Kent County League campaign.
The Boots arrived in Sevenoaks in third-place in the Division Three West table with 51 points from their 24 league games and they travel to champions Sydenham Sports on Saturday, before completing their campaign with a trip to fifth-placed AFC Bexley on 6 May.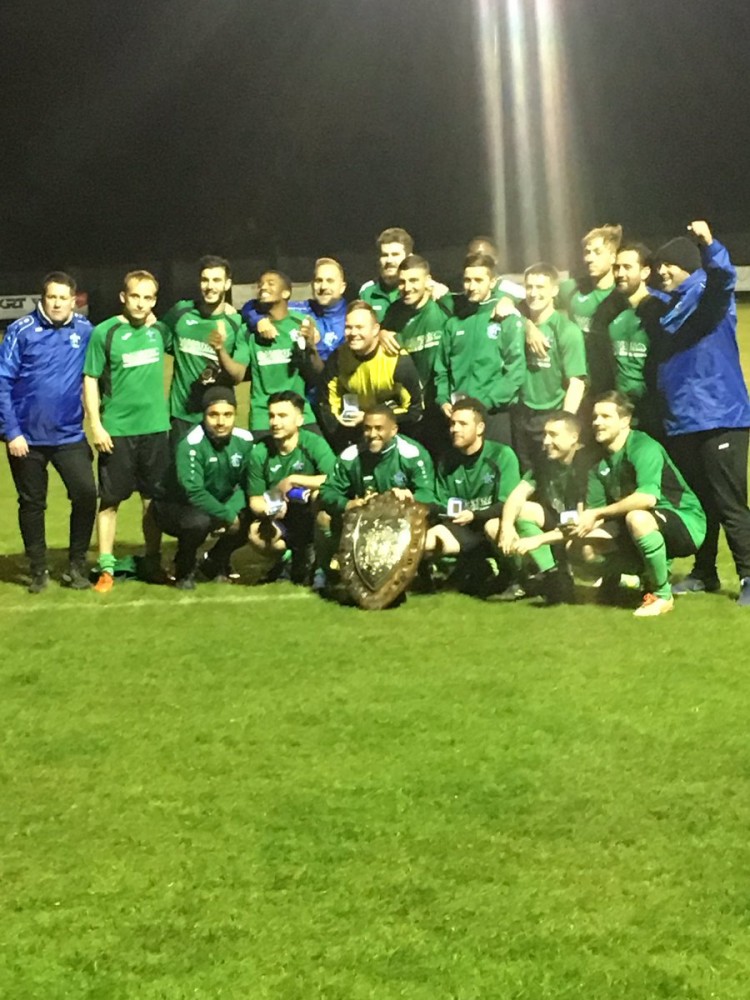 KINGS OF WEST KENT: Richard Dimmock's Welling Town celebrate
winning the West Kent Challenge Shield for the first time.
Photo: Jason Elliott


Despite playing in the lowest tier of non-league football, Welling Town humiliated an FC Elmstead Reserve side that contained six players with first team experience, whom have clocked up 25 first team appearances between them.

Welling Town dominated from start to finish and man-of-the-match striker Lamarl Hubbard converted a first half penalty.

FC Elmstead, who arrived at Greatness Park in the bottom four in the division above (Division Two West) with 22 points on the board from their 18 games, put in a poor performance for the entire game where only their goalkeeper Glen Giles can come out of the game with any credit.

Welling Town's dominance was rewarded when captain Christopher Ware drove in a second, before Hubbard pounced on his second of the night before former Meridian VP skipper Dominic Elmes capped off an impressive personal and collective performance by scoring the fourth.

Main, 36, replaced Joel Weston in the 64th minute, hit the crossbar with his first touch and had a header ruled out for offside at the end of a one-sided NRG Gym Barry Bundock West Kent Challenge Shield Final.

"From the word go it was an absolutely great team performance tonight, thoroughly deserved," said Welling Town's manager Richard Dimmock, who quit Southern Counties East Football League First Division side Meridian VP to drop down four tiers.

"We (assistant Mike Jones) told them what we were going to do before the game and they've gone out and done exactly what we said. We told them to go out there and enjoy it and play good football and that's what we got tonight, absolutely good team performance.

"We've beaten three sides now from the league above so it shows our style of football that we want to play. A lot of teams can't cope with it!

"It's a massive bonus for me and Mike. We've worked hard as a pair and we thoroughly deserved it tonight, the boys, so it's a massive bonus for me. It's the first trophy that I've won in management so it's going to go a long way but that's been and done now. We have to move on. We want to finish runners-up in the league and we can't wait for next season now to get started really."

FC Elmstead Reserve manager Tony Alliband admitted: "I think first half we stuck to our game plan but it just didn't work for a couple of reasons. They pressed us really high, which I didn't expect if I'm being honest. I asked other managers within the league how they'd set up.

"First half, they deserved it. They got the pen, they got in front and at half-time I changed the formation, then going into the second half we changed personnel and formation by then they nicked a second and obviously the third and the fourth and then the last 15-20 minutes we decided to play. I'm a little bit disappointed in terms of performance but they were the better team on the night.

"Getting here we beat the team who are currently top of their division, Sydenham Sports 2-1, so I think we've been in three cups this year and we've done really well. In the league we've turned up one week and not the next so we've won as many games (seven) as we've lost (10) and in the cups we've come alive, beating teams on form.

"So when I reflect on the season, to get to a final, a semi-final and a quarter-final and finish probably middle I think it's not a bad season but I think they deserved it on tonight's performance."

Welling Town, with a number of players that have played at a higher level of football, probed from the off without creating anything until the 17th minute.

Full-back Ashley Cameron received the ball back from his throw in to float in a cross into the box which was met by Ware's glancing header, which sailed across the keeper and past the far post from three-yards.

Welling Town's second chance of the night arrived in the 24th minute and it came from another cross form the left, this time from holding midfielder Robert Hicks.

Hicks put over a cross into the box and Elmes's free-header from eight-yard was placed straight at Giles, who made a comfortable catch.

"Since we've been here our season has been chance-after-chance-after-chance and it's the same again. We missed a few good chances that we really should be putting away," admitted Dimmock.

Alliband added: "It comes down to your basics but you can say whatever to the players in the dressing room but if they don't take it on to the pitch and track their runners then you can set up with your formation and your tactics and so on. If that don't filter onto the pitch where they don't track their runners, there's not much I can do as a manager with that. The goals were a bit disappointing because I think they were cheap goals to give away."

Hicks' fine pass through the heart of the pitch was latched onto by Hubbard, who's pace destroyed a poor FC Elmstead side but a last-ditch saving tackle by last defender Redmond Barnett outside the box delayed the inevitable.

Hubbard floated in a cross from the right and Welling Town won another header in the box, this time Weston glanced his header across goal and agonisingly past the far post from 12-yards.

"Superb delivers from Lamarl, who had another storming game tonight," said Dimmock.

"A lot of the boys, over the last few weeks, have been getting frustrated. As I said to the boys, don't get frustrated, keep playing our football and it will come and eventually we got the first goal and it went on from there really."

Welling Town's deserved breakthrough finally arrived with 32 minutes and 47 seconds on the clock.

Hubbard played the ball out to Weston, who played left-back Mehmet Piro in behind and he was chopped down by Barnett close to the by-line.

Hubbard drilled the resulting right-footed penalty into the bottom left-hand corner.

"Blatant penalty! You can't moan about that! No I'd rather not seen a red-card, it was a booking at the end of the day and Lamarl stepped up and made it 1-0," said Dimmock.

Alliband added: "Leading up to that, I think Red lost the ball on the halfway line. It's got played inside to him, he's then got closed down. It's then gone down the line, it's come back and he's put it past Red and Red's probably should've stayed on his feet but he's tried to actually think he's going to win the ball and then they've made that 1-0."

Cameron pumped a deep free-kick over the top of Tom O'Reiley's head to put in Hubbard, who cut in and from a very tight angle drilled a shot towards goal, which Giles parried low to his left before the ball was hacked to safety.

"Larmarl in the first half was causing them problems and in the end after 30 minutes they started getting four players' on him every time he got the ball. My assistant Mike Jones was saying to the referee 'he was getting bullied' before half-time but he's got that class about him and he proved it."

Alliband said: "I think my goalkeeper had a decent game. As I said to them in the changing room, there's only one or two of them that actually turned up tonight that can walk away from here with their head held high. The rest of them, I think maybe the occasion got the better of them in terms of the stadium. Some of them it's their first final in adult football so they'll be better for it next time in terms of our opportunities going forward and stuff."

FC Elmstead Reserves offered nothing all over the pitch. Lone striker Marcus Black was given no service from his team-mates as Welling Town went in at the break with a comfortable lead.

Dimmock said: "I said to the boys at half-time there's not much I can say. Go out and give me exactly the same second half but you could go up another two or three levels and we came out and we stepped up that two or three levels and Elmstead just couldn't cope with us."

Alliband added: "I basically said my defence all season has been very strong. You don't give many goals as such but we don't really score enough over the course of the season (scoring 24, conceding 29 in the league). We don't score more of an average of say two a game but then we only let in just over one a game so we win or lose a lot of games 2-1.

"I said to them defensive wise I thought we were quite solid. In the first half we didn't give my striker Marcus Black really any service. We tried to go a bit more direct trying to get my wingers up a little bit higher and then we decided to put a player on Robert Hicks because he was picking up a lot of their balls and spraying the passes about.

"It probably worked for about 10 minutes but once they got their second, I think we then started to become very open. We had a couple of people come off with knocks, which didn't help."

In fact, the best it got for FC Elmstead was when O'Reiley hit a first time clearance upfield from 55-yards which dropped out of the sky and landed into Daryl Fishenden's hands 84 seconds into the second half.

But as the rain started to fall, the floodgates opened and Welling Town doubled their lead with four minutes and 18 seconds into the second half.

Once again, the poor FC Elmstead defence went missing. This time it was Matt Faithorn and Charlie McLean who allowed the impressive Elmes to meet Hubbard's deep free kick with a header towards the top far corner, which Giles parried away diving to his right and Ware showed more desire than Elmstead's defenders to nip in to drill his shot into the bottom far corner.

"Does that well Chris," added Dimmock. "Follows anything in and tonight I dropped for him luckily and he got his goal that he deserved."

Alliband added: "It's about reactions to when Glen saved it. It's then the follow up, your reactions say maybe as a defender are not as quick as a strikers instinct to think he's saved it let's get back in there where the defenders more likely ball watching and he's nicked it and put it past Glen."

Ware played a diagonal pass out to Elmes on the right-hand side of the box and his cross was swept towards goal on the volley by Weston and Giles pulled off a brilliant save, using his outstretched right hand to push the ball over the crossbar.

Dimmock added: "The keeper done well tonight, he made a few good saves from some of our play. That was a great move for us. It was a great save. Their keeper made an absolute worldy."

Alliband said: "I think my keeper had a very decent performance tonight. I wish the rest of the team were playing to his level tonight!

"The third goal killed us while we were chasing it at 2-0. We were a bit open. We went a bit more direct but once they got the third that was sort of game over."

Elmes then had a couple of chances when he brought a long ball down with a sublime touch before drilling his shot past the left-hand post from 18-yards, before sprinting pass a poor McLean to be denied by Giles, who dived low to his right to hold onto the ball.

Welling Town's third goal was coming and it duly arrived with 17 minutes and 33 seconds on the clock, as Hubbard scored his 14th goal for the Boots this season.

Hubbard collected the ball inside the final third and he played the ball out to now full-back Rahhem Chentouf, who cut the ball back along the deck for Hubbard to take a touch before stroking his left-footed drive across the keeper, the ball nestling into the bottom far corner.

Dimmock said: "Another great finish. It's just the football we played all night really. They just couldn't cope with it and that's where the goal came from."

Alliband said: "Looking at the third goal, which they done well. They had a game plan and they stuck to it and they were using the two wings very well with their pace and it did trouble us all night where the wingers probably didn't tuck in like their runners so when it was one-on-one the full-backs were isolated and maybe one of my midfielders should've come across just to block the holes up, which they probably didn't do often enough."

Not many teams in the lowest tier of non-league football can bring on someone with a football CV like Main.

"They have got a decent pull of players since Richard's come in. I make no qualms about that," said Alliband, fearing the worst.

"He's changed their fortunes around just coming in after Christmas. Richard's managed to get him in or come out of retirement and he's had a nice cameo role tonight because it was easy for him coming on at 3-0."

Welling Town wrapped up a comfortable game with their fourth goal with 19 minutes and 34 seconds on the clock.

Right-back Chentouf pumped a long ball over the top of the Elmstead defence and Main rekindled his former glories by latching onto the ball and with his first touch lifted his chip over the advancing keeper from 15-yards.

The ball ballooned into the dark sky and dropped down and agonisingly bounced against the crossbar. Hungry Main nipped in and headed the ball goalwards, only to be denied by a goal-line block from Faithorn, who was the only defender in the box.

Elmes failed to read the script by drilling his shot into the bottom right-hand corner, with Main raising both of his arms to ensure that he would not get a touch from an offside position.

Dimmock said: "Literally with Jon Main's first touch and the boys still got it! Professional experience, ball over the top, he's on the shoulder of the centre half and it should've been a goal really, but it's hit the bar, a rebound with a header, clearance of the line and then Dom Elmes come in and finished it off. In my eyes it's Jon Main's goal – but it's not."

Elmes is way too good for this level of football but Dimmock is delighted to have him at the club.

"He was one of the first people I wanted to bring. He's been with me since day one at Meridian. He was my skipper there. Dom loved the idea, with the project with what we wanted to do with the club and he said he wanted to be a part of it so he's joined us and came with us and what you get from Dominic Elmes is 110% week-in-week-out."

The goal was just too easy, again. Most of FC Elmstead's players need to look in the mirror and ask themselves did they play with any desire tonight during tonight's humiliation?

Alliband said: "When Matt's cleared that he was probably looking around for other defenders and there's probably three or four players halfway up the pitch. He's come in and put it into an empty net."

Desire? Alliband's response answered it!

Danny Russell had a shot charged down from the edge of the Elmstead box and Giles was able to gather, before Chentouf played a one-two with Elmes before lashing his first-time volley over the bar from just inside the corner of the box.

FC Elmstead took 74 minutes to register their first chance of the night. Their performance was a shambles and fourth official Gordon Manning was much more busier than Welling Town's goalkeeper by using the electronic sub board as both sides got through nine substitutions between them during the second half.

Barnett threaded the ball to put Black in behind the Welling Town defence and his first time left-footed drive from 10-yards was tipped behind by Fishenden at his near post.

Alliband said: "Red's played up top when Marcus has been with the first team this season. Red has played up there but we just needed a focal point first half. For the first 60 minutes Marcus was quite isolated so Red has done that role before and the last 20 minutes we were giving them a bit more of a game then the rest of the game which was 60 minutes virtually all Welling pressure."

"He didn't have much to do to be honest. That was his first real save," said Dimmock.

"We just got a little bit sloppy at the back. We switched off for literally three or four seconds and they got in behind us but a great save from Daryl, the only one of the night."

Harry Cronin's long throw came out to Elmstead substitute Thomas Mayfield, who lashed his volley high over the crossbar from 25-yards.

Barnett then dragged his right-footed angled drive across the penalty area and past the far post from 30-yards as FC Elmstead's players showed some desire, but it was too little, too late.

A run from Welling Town substitute Damilola Oni deflected past the far post and fellow sub Teddy Prosser swung in a corner towards the near post where Main steered his header wide of the mark.

FC Elmstead went close to pulling a goal back when Cronin drove in a free-kick and substitute Jordan Gallifant glanced his header past the right-hand post.

Main who has scored four goals in four games before tonight and hasn't featured in Welling Town's last three games, was to be denied a goal at the death.

Prosser floated in a free-kick into the box and Main ghosted in to loop his header into the far corner from eight-yards, only to be denied by an offside flag.

"It was never offside, I'm not having that," said Dimmock.

"Another good ball in from the right and Mainy does what he does best, peels of the defender, straight in."

Main then dropped his shoulder and went on one of his trademark runs but his finish was lacking, watching in despair as his left-footed drive from 25-yards flashed agonisingly past the foot of the near post.

"I've been saying for weeks we're going to destroy someone soon with our performances over the last two or three weeks and we've saved it to the cup final," said Dimmock on tonight's stroll.

Champions Sydenham Sports are unbeaten in 24 league games, winning 21 of them and scoring a century of league goals.

"This is out the way now, we have to focus on Sydenham Sports," said Dimmock.

"We will still like to finish second place but Sydenham are very strong, very organised so we can't expect to go there Saturday thinking it's going to be an easy game because it's not. We played them earlier on in the season, we didn't really have a full side, I had a lot of players out injured. Hopefully, we've got a full side like tonight and we play the football like we did tonight, Sydenham are going to be in for a surprise."

For FC Elmstead, Alliband demands a reaction at home to third-placed Nomads on Saturday, before a trip to fourth-placed Crayford Arrows for their last game of the season on 13 May.

"It just didn't click tonight," admitted Alliband.

"Everybody's got here early. The talk leading up to the game was very positive. It's just then a case of a lot of my big players' in my squad probably just didn't turn up tonight. You're here for a final, you should be able to motivate yourself, not just what I'm saying certain things to you in the dressing room. It's a final, you've got 112 people here tonight, a decent turn out for a midweek game, so I think looking back at it some of them have gone home, some of them will reflect and say maybe if we done this and done that.

"I had 18-19 people available tonight and I had to get that down to 16, which was very hard in itself. I picked my best 11 to win a cup competition, maybe I've got one or two of the starting choices wrong tonight.

"We went away to Nomads and beat them 3-1. I'd like to finish the season on a positive. I've got Nomads and Crayford Arrows so we've got a little bit of say on who's going to go up from the division but I want to finish as high as I can so I can say we've finished midtable, reached a cup final, semi-final, quarter-final and then maybe I can reflect on it and say it's not a bad season.

"Some teams haven't even got to a final over a number of years so to get this bunch of lads to a final, they've done well this season."

Despite a glittering non-league football career higher up in the food chain, Main was just as proud winning the West Kent Challenge Shield for the first time in his career tonight.

"It means a lot," he said after the game with a beaming smile on his face.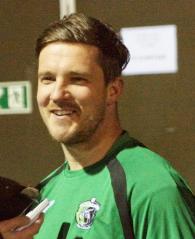 LEGENDARY STRIKER:
Jon Main, 36, says he is
staying at Welling Town
next season after helping
the club win the West Kent
Challenge Shield for the
first time tonight.
Photo: Julie Hoare

"I've had a couple of years out. Richard Dimmock's asked me to help him out. With my college course finished, I fancied it.

"It's good to be back. Yes, I won't lie, I've got a little twinge in my groin as a soon as I came on so my body needs a bit of work but I thoroughly enjoyed it."

Reflecting on his first chance, Main admitted: "Five years' ago Steve that's going in, but it hit the bar. I missed the rebound but we scored from it, so all good mate!

"I thought after 10 minutes you could see we were the better side. It was a matter of how many we were going to score, for me.

"I don't mind (being a substitute). My body can't handle 90 minutes so these little sub appearances are ideal.

"It was onside for the header, I always want to score."

Main is keen to stay at Welling Town, who will be moving into Bayliss Avenue next season as Thamesmead Town vacate to Dartford's Princes Park Stadium.

"I'm going to stay here, I'm going to stay with these boys. I like what they're doing down here and I'm going to stay here," confirmed Main.

"It's not just Richard, it's the other boys. They've got a lot of hard work on their hands but they all push in the same direction. I just think there's a little bit something special happening down here and I want to be a part of it."

Main signed for Welling Town in January and is now playing in the lowest tier of non-league football.

"Do you know what? When I went training I didn't even know what league they were in so I went training and it was a better standard than I was expecting to be honest. I heard there were no linesman and all sort of stuff going on, a roll-on-roll-off league but they're a good side. They've got some good players down there. I think everyone knows I can still score goals so it was alright."
FC Elmstead Reserves: Glen Giles, Tom O'Reiley (Jordan Gallifant 65), Charlie McLean (Adam Edwards 78), Dominic Ryann, Redmond Barnett, Matt Faithorn, Luke Alliband (Lee Alliband 70), Joe Kearney (Thomas Mayfield 60), Marcus Black, Harry Cronin, Darrell Johnson.
Sub: Gary Atkins

Booked: Redmond Barnett 90

Welling Town: Daryl Fishenden, Ashley Cameron, Mehmet Piro, Robert Hicks (Gary Lawson 83), Ricky Hepburn, Rahhem Chentouf (Lamarl Hubbard 90), Danny Russell (Teddy Prosser 72), Christopher Ware, Joel Weston (Jon Main 64), Dominic Elmes, Lamarl Hubbard (Damilola Oni 77).
Sub: Jason Gamble

Goals: Lamarl Hubbard 33 (penalty), 63, Christopher Ware 50, Dominic Elmes 65

Attendance: 112
Referee: Mr Mark Bellamy (Welling)
Assistants: Mr Thomas Fennelly (Chislehurst) & Mr David Hooker (Bromley)
Fourth Official: Mr Gordon Manning (Bromley)

Coverage Sponsored by: