Erith & Belvedere 0-3 Whitstable Town - We was very hungry to go out there and win a trophy, says Whitstable Town boss Will Graham
Thursday 23rd July 2015
Erith & Belvedere

0 – 3

Whitstable Town

Location
Park View Road, Welling, Kent DA16 1SY
Kickoff
25/07/2015 15:00
ERITH & BELVEDERE 0-3 WHITSTABLE TOWN
Martin Tarrant Memorial Trophy
Saturday 25th July 2015
Stephen McCartney reports from Park View Road

WHITSTABLE TOWN manager Will Graham says it was good to claim a piece of silverware after claiming the inaugural Martin Tarrant Memorial Trophy.
The silver trophy – to honour the passing of the Erith & Belvedere club stalwart who died last November aged 58 – was presented by Kellie Discipline to Whitstable Town captain Nick Treadwell following a deserved victory for the Ryman League Division One South side.

Kieron Campbell lashed a fierce drive into the roof of the net after showing pace and trickery which started close to the corner flag to give Whitstable Town the lead.

Ira Jackson capped off an impressive display down the right wing to double their lead early in the second half, before Luke Doherty came up from the back to plant home a diving header towards the end of the Park View Road warm-up.

It was Graham's fifth game in charge of the club and first win.

He said: "It was one of those things. It was coming for a long time to be fair.

"We're slowly seeing signs that we were getting better in front of goal. We were looking more resilient defending. It's really positive that it's come in today's performance.

"Erith & Belvedere are no mugs. They're a good side, a good outfit and we looked quite comfortable throughout the whole game so that's really pleasing for me."

Reflecting on the trophy win, Graham, 29, added: It's always good to win things. The comments to the players before the game was whether it's a friendly or not, it's a trophy on the line and you want to win those sort of things so we was very hungry to go out there and win a trophy. Any trophy that's on the line we want to win so it was a good thing to win."

Erith & Belvedere boss Matt Longhurst admitted he learnt a lot about his players during his eighth pre-season outing.

"Disappointing in terms of our performance today," he said.

"Disappointed with the character of the players which is something I normally don't say about our teams.

"Pleased that we answered a lot of questions that we had about certain players today in terms of performance and in terms of a different system that we tried today and it's given us lots of food for thought but I was disappointed in general.

"First half an hour I thought we was better than them and I thought we created some chances that we should have taken. If we had taken one of them I think it would have been a different game but after that I thought they were better than us for the vast majority of the game, which ultimately they should be, they're a level above us but disappointed when you don't probably do yourselves justice, which I don't think we did today."

Both sets of players and the crowd of 61 paid their own tribute to Mr Tarrant by staging a minutes applause before kick-off.

Erith & Belvedere created the game's first opening inside the opening four minutes when Jake McIntyre hit a deflected near post volley over after Alfie May drove in the game's first corner.

Alfie May then cut the ball back to wing-back McIntyre, who whipped in a first time cross from the left, which was cleared out to Luke May, who cracked over his first time drive.

Whitstable Town midfielder Scott Heard gave the ball away to Chris Hubbard but the winger cut inside before drilling his shot over the bar from 30-yards.

But Whitstable Town should have taken the lead inside the opening seven minutes.

Jackson was released down the right and he played a teasing low cross across the face of goal and Chris Seenan ghosted in and cut the ball towards goal from a tight angle, which was cleared off the line.

Graham said: "We've just signed Chris Seenan from Tunbridge Wells. You know what you're going to get with Chris, he's always going to score you goals and I don't think he would have had an easier chance! It's the first touch of the ball and the lad done well to stop it on the line. It was a good move and it was unlucky."

Whitstable Town started to get themselves back into the game and right-back Brandon Garner released Jackson down the right and he cut the ball back for Sam Bewick to sweep his first time shot across goal, which deflected past the far post.

Alfie May lost the ball on the half-way line and this was the chance for Whitstable to launch another attack down the right. Garner and Heard linked up again and fed Jackson, whose left-footed chip dropped just over the crossbar.

But Erith & Belvedere – who finished in the top three in the Southern Counties East Football League in Longhurst's first season in charge of the club – squandered two excellent chances.

Alfie May was released in behind the Whitstable Town defence in the 21st minute but after composing himself his right-footed shot was saved by Adam Highstead, low to his right.

Longhurst said: "He should've scored! He's got to score, he's got to score!

"But pre-season, I'm certainly going to use the old clichés. I would rather that he missed that chance today and come the first league game he takes his chances."

Erith & Belvedere were presented with another excellent chance only 58 seconds later.

Right wing-back Denzel Gayle found himself in the final third and his cross sailed across goal and found Alfie May at the far post. The striker cushioned his header down to strike partner Brendon Cass, whose shot from eight-yards bounced off the near post.

Longhurst admitted: "I think he should score. It's intelligent play from Alfie. The ball bounced up a little bit but I think he should score! He's six yards out and he should score!

"It's pre-season, people are a little bit rusty. We've played quite a lot of games because we want them to be match fit and now we go into another period of games and some training sessions to do. We've got some work to do on the training ground."

Graham said: "We was a little disappointed how we was a little bit open at the back in the first 20 minutes.

"You can't let Alfie May, someone as prolific as him, have that time and space and someone as experienced as Brendon getting through.

"Adam's done well and made a good save. He got around the ball and managed to stop the goal going in. We need to work on it again."

The hosts were enjoying their best spell of the game and they went close to breaking the deadlock again.

Alfie May cut a corner back from the left and Gayle cut inside before drilling his right-footed angled drive narrowly over the crossbar from 22-yards.

But Whitstable Town weathered the storm and called Dean Nash into making a smart save on the half-hour mark.

Heard collected a loose ball and had time and space to unleash a swerving right-footed drive from 35-yards which he bent towards goal but Nash kept his eyes on the moving ball to parry the shot and grasp at the second attempt.

Graham admitted he is delighted to have Heard back at the club following his trial at Vanarama National League South side Maidstone United.

He said: "It's like a brand new signing. Scotty done his bits at Maidstone and he's done really well there and he's learnt a lot and he's still hungry to progress through the leagues and play the highest standard he can but he understands it might take another year or two. To have him in the starting eleven and available for selection is a massive bonus."

But Campbell gave Whitstable Town the lead for the first time in their pre-season campaign by scoring a beautiful goal after 38 minutes.

Heard broke up an Erith & Belvedere attack inside his own half and released Jackson with a sublime long ball, which cut open Tom Montgomery, who was on the that side of a three-man defence.

Jackson broke down the right and swept the ball inside to Heard, who had made up ground. Heard kept close ball control, showing his skill and talent to twist and turn three players on the edge of the box, but his ball across to left-winger Campbell was poor.

The former Fisher attacker chased a lost cause and kept the ball in play on the by-line, close to the corner flag, before cutting into the penalty area, beating his man and lashing his right-footed power drive over the keeper at his near post to crash a rocket into the roof of the net from 12-yards from a tight angle.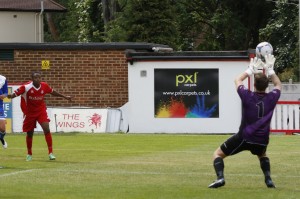 QUALITY: Kieron Campbell (red shirt) beats Dean Nash with a rocket to give Whitstable Town the lead over Erith & Belvedere at Park View Road.
Photo: Whitstable Town FC

Graham said: "We was a little bit critical on Ira because we saw the move developing and we saw Kieron Campbell as probably the first ball that he should put in but he went the other way and went with Scott.

"You know what you're going to get with Scott Heard. He's a magician with the ball sometimes and he still kept the move going and young Kieron done a great bit of skill and finished incredibly well, so it was a good move.

"Kieron Campbell is a young lad that (assistant manager) Simon Halsey recommended to me. He came on the scene when Simon was at Fisher. The boy's got a great future. He's only had a few starts for us in the few pre-season games we've had because we've had so many trialists and under 21s to look at but he's really developing into some player and he will be a big hit this year for us."

Longhurst was not very happy with the goal.

He said: "It's got to be defended better on the far side! Dan Bent got caught one-v-one and the kids got good feet, he's quick and he's done a little bit of magic in the corner and he's run in and smashed it in the goal but it certainly has to be defended better.

"We gave the ball away on the half-way line with no pressure on the ball and we gave the ball away with no pressure on it first of all and then it ends up out wide. Realising the ball is in the corner by the corner flag, he should be no danger to us whatsoever, but it was because he does a bit. Should he be one-v-one, maybe, maybe not!

"I don't know whether the goalkeeper can do a little bit better but he's smashed it in from 12-yards into the roof of the net so fair play to the kid but it's got to be defended a bit better."

The goal helped Campbell explode into life – most of Whitstable's first half play came down the other side of the pitch.

Graham said: "It was and we needed to change it and we was trying to get the ball out to Kieron as much as we can with the shape they were playing.

"They were playing with three central defenders and it give Kieron a chance to get the ball wide. When we did find him you saw the results. We needed to get it out there quicker!"

Both managers were asked their thoughts at half-time and with the league campaign starting two weeks today, things are starting to get more serious.

Longhurst gave central midfielders Jamie Taylor and Luke May an earful.

"I said to the two boys who played in midfield, today was an opportunity for them, with (Colin Richmond) missing, for them to get on it and pass it and we didn't do it!

"I said to the boys, I'm not worried about scores or anything like that. I'm more worried about us doing what we're meant to be doing and we was disappointed in the fact that we didn't get on the ball, so we said second half you need to go and influence the game and get on the ball and I'll be honest, they still didn't do it!

"It's a question asked and a question answered whether or not from a player's point of view it was the right answer or not that remains to be seen when the first game of the season comes and the teamsheet gets put up but for me we got the answers we were looking for.

"We missed Colin Richmond in the team today a million percent but Colin might get injured so we need to know if people can go in there and do that job. On today's evidence, the answer's no!"

Graham said: "We were quite disappointed at half-time. We've sort of gone in there a little bit negative with them. We said there were opportunities when we could have done things a little bit quicker and could have been a little bit more resilient defensive wise at certain times.

"The one with Alfie May and Brendon Cass when they were through and we told them we had to up the performance and we need to be a little bit better and a little bit quicker all over the field.

"You saw the second half performance and we went out and done what I asked and the performance just showed that and we were on top."

Erith & Belvedere created the first chance of the second half after only 85 seconds but their shooting was woeful.

Gayle played a one-two with Hubbard down the right and once near to the corner of the penalty area he dragged his shot across goal and harmlessly wide.

And the home side were made to pay for that missed opportunity as Whitstable Town doubled their lead after 52 minutes.

Jackson cut a left-wing corner towards the edge of the penalty area where Perkins played the ball inside to Heard, who played the ball back to Jackson.

The winger cut inside his man and drilled a low right-footed shot underneath a defender to find the bottom far corner from 15-yards.

"I think it was a great little build-up," said Graham.

"We took the short corner and managed to get the ball back through Ryan Perkins and Scott. Scott got it over to Ira and one-v-one situations I'm constantly telling Ira to beat players. He's a handful and he showed great quality by beating his man, dropping his shoulder and burying it into the bottom corner."

Graham hailed the performance from the best player on the pitch.

"He was fantastic today. He's literally been with us for just over a week. I'm good friends with his dad and spoke to his dad about him coming down. He had a great game against Thurrock last Saturday. He's coming on leaps and bounds and he's definitely someone who's going to be a big hit this season as well."

Longhurst added: "Poor defending! We need to get out to the ball quickly a little bit of organisation going out and pressing the ball.

"It's just got to be defended better. Our midfield players are five-yards off and he's hit it in our box. That can't happen! It hasn't happened over the course of pre-season but it happened today. It's just poor defending. It can't happen but I'd rather it happen today."

The goal killed off Erith & Belvedere and Whitstable Town stamped their dominance on the rest of the game.

Heard played the ball inside to Bewick, who swept his first time shot into the foot of the side netting from the edge of the penalty area just before the hour.

Perkins struck a left-footed curling free-kick from 30-yards, which was caught by Nash high above his head after 66 minutes.

Erith & Belvedere midfielder Luke May gave the ball away and Heard raced forward before setting up Campbell, who struck a fierce low drive which forced substitute keeper George Kamurasi to get down quickly low to his right at his near post to push behind.

The game started to get feisty with challenges going in and Erith & Belvedere created a chance inside the last ten minutes.

Substitute right-back Aaron Lacy launched one of his trademark long throws into the Whitstable penalty area but striker substitute striker Sam May planted his header over the bar.

Longhurst said: "That was about it! That was the only chance. I don't think they really made our goalkeeper really do much, other than give a corner away when he should have caught it.

"There weren't a load of chances in the game, maybe I'm looking at it from our point of view, but we didn't create anything. We didn't make their goalkeeper work. I don't think, apart from the goals, either goalkeeper prominently had a great deal to do."

Graham added: "Without looking down at our noses at Erith & Belvedere because they're a good side. I just thought our performance second half was brilliant! All over we was on top for long periods and we defended very well.

"We limited them to few chances in the second half but that's what I want. I want my defenders to defend first and foremost and we stood up and we put our bodies on the line and we stopped them having chances."

Whitstable Town capped off an impressive performance by adding a third goal in the final four minutes.

Perkins swung in a corner from the right towards the near post and Doherty came up from his defensive duties to plant his diving header into the near corner from six-yards.

Graham said: "Last year being first team coach, we didn't really do a lot on set pieces and we didn't score a lot of goals. It's quite refreshing to see a set-piece actually being taken. It was a great finish by Luke Doherty and a great corner from Ryan Perkins as well."

Longhurst added: "It's just poor defending. We gave three goals away today and gave a goal away against Leatherhead and they haven't scored a good goal.

"From their point of view I would probably suggest they scored two goals from set pieces, which they'll probably be quite pleased with.

"From our point of view it's a near post header. We've got someone on the post, just be braver and go and head it!"

Deres substitute left-winger Thomas Youngs was to be denied a late consolation, as his drive was saved low down by Highstead.

Graham reflected on his first win as Whitstable Town manager.

"It's been coming. We've been needing the goals and we've been needing the wins. It's not been ideal in pre-season. We've been a brand new side for five weeks. It takes time. We've had over 50 trailists come down, we've had to give them a look. Throwing them out in pre-season games just don't always work.

"But we're getting closer to where we want to be now. Today was classed as a league game, that's why we only had sixteen players and Tuesday night we'll have a load of trailists out against Canterbury City (at home) and Thursday and Saturday against VCD and Hornchurch we should be closer to our sixteen."

Longhurst admitted he's getting tired of pre-season games but he insists his side will be ready for the big kick-off in two weeks' time.

"We've had a tough few days. It's been a tough gruelling pre-season but the whole point of it is that we're ready come the first game of the season," he said.

"We put this pre-season in place to be ready. If after four league games into the season we don't look ready, then we've got it wrong, but if we start the season well, then we've got it right."

Erith & Belvedere: Dean Nash (George Kamurasi 70), Denzel Gayle (Aaron Lacy 56), Jake McIntyre (Ben Wilson 19), Charlie Burgess, Dan Bent, Tom Montgomery, Jamie Taylor (Yemi Adelani 56), Luke May, Alfie May (Thomas Youngs 56), Brendon Cass (Sam May 46), Chris Hubbard (Enoch Adjei 56).
Sub: Jamie Wood

Booked: Dan Bent 70

Whitstable Town: Adam Highstead, Brandon Garner (Ollie Gray 72), Ryan Perkins, Nick Treadwell (Adam Woollcott 72), Luke Doherty, Joe Kennett, Scott Heard, Sam Bewick, Chris Seenan (Charlie Smith 49), Ira Jackson, Kieron Campbell (Brad Webb 72).
Subs: Karim Boyle, Kane Rowland

Goals: Kieron Campbell 38, Ira Jackson 52, Luke Doherty 86

Attendance: 61
Referee: Mr Ricky Adams (Higham)
Assistants: David Buck (Istead Rise) & Mr Martin Lehane (Bexleyheath)