Deal at Wembley twice in 20 years would be an achievement not to be sniffed at, says 2000 FA Vase winner Tommy Sampson
Sunday 19th January 2020
DEAL TOWN reached the last sixteen of The FA Buildbase Vase after holding their nerve from the penalty spot to beat Binfield yesterday.


Goalkeeper James Tonkin was to be hero for Derek Hares' side, scoring the winning penalty as the Kent coastal side celebrated a 7-6 win on penalties after the two sides couldn't be separated after 240 minutes of football over the past seven days.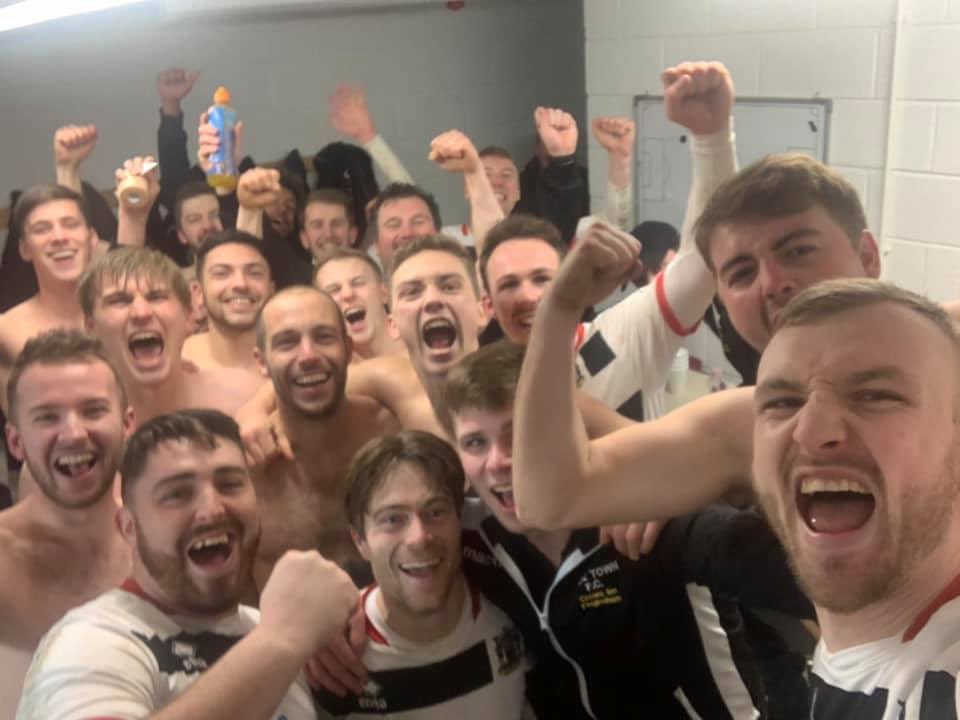 HEROES: Deal Town have released a dressing room photograph of their players' celebrating their FA Vase victory at Binfield.

A crowd of 507 were at The Charles Sports Ground to see the two sides locked at 1-1 after extra time and in Berkshire yesterday the two sides shared six goals in another 120 minutes of football before Deal's goalkeeper scored the match-winning penalty to seal the victory.

Deal Town now travel to County Durham to play Consett, who came away from Thornaby with a 5-0 win in the Ebac Northern League yesterday to extend their impressive unbeaten record to 19 games.
Consett play on an artificial pitch at their Belle Vue ground.

However, Terry Mitchell's side are in fourth-place in the table with 46 points from 24 games, 12 points adrift of leaders Stockton Town, who have a game in hand.

Deal Town are presently in tenth-place in the Sea Pioneer Southern Counties East Football League Premier Division table with 27 points from their 19 league games, 20 points adrift of leaders Beckenham Town, but with two games in hand on Jason Huntley's men.

There are two Kent sides left in The Buildbase FA Vase as Michael Golding's Corinthian welcome Sporting Khalsa to Gay Dawn Farm in Longfield on Saturday 8 February.

Tommy Sampson, who guided Deal Town to Wembley Stadium glory back in 2000, says the class of 2020 have to reach very high standards to replicate his squad, the only Kent team to win the competition, despite Tunbridge Wells (2013) and Cray Valley (2019) tasting defeat to Spennymoor Town and Chertsey Town respectively.

"It's the most fantastic result, I couldn't be more pleased for Derek Hares and Steve King," said Sampson.

"We set a very high bar back in 2000 and now Wembley's closer and closer, it will be fantastic.

"I know it's a difficult game at Consett, they are 19 games unbeaten but you have to go to these places and I've always said you can't win a Vase Final without being able to travel well.

"I mean they've travelled fantastic yesterday – I wasn't there but I would have loved to have been.

"The next game at Consett looks difficult but hey, it's 11-against-11, we were very good in our day, when we played people were frightened of us when we went to our away games, we had such a fantastic record.

"It's a high bar set that's been set by my team and Derek and Steve have done well and I just hope if they got to Wembley, Deal at Wembley twice in 20 years would be an achievement not to be sniffed at."

The Buildbase FA Vase Fifth Round Draw:
(Saturday 8 February 2020)

Corinthian v Sporting Khalsa
Bradford Town v Leighton Town
Consett v Deal Town
Plymouth Parkway v West Auckland Town
Longridge Town v Hebburn Town
Wroxham v Stowmarket Town
Bitton v Sutton Common Rovers
Atherstone Town v Worcester City

Deal Town return to The Charles Sports Ground with a heroes welcome on Tuesday night (19:45) when they play Bearsted in the Sea Pioneer Southern Counties East Football League Challenge Cup Third Round.

Visit Deal Town's website: www.dealtownfc.co.uk