Erith Town striker Danny Gannon: I have bills to pay and I'm going to struggle 100% but I know there are people around me that will help me get through this. It's not good news especially coming up to Christmas
Friday 24th November 2017
ERITH TOWN striker Danny Gannon says being unable to work or play football has hit him hard.
The 25-year-old suffered a broken leg in a 65th minute challenge for the ball with Glebe goalkeeper Dean Nash, in a game that the Dockers 4-2 won at Foxbury Avenue on Tuesday night.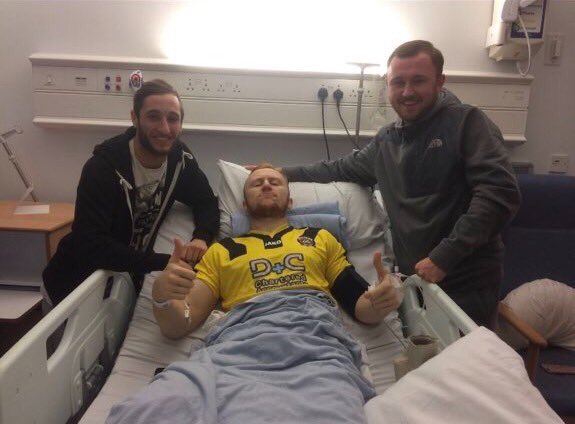 Erith Town striker Danny Gannon is kept in high-spirits alongside his team-mates Adem Ramadan and Jack Hooper
Photo: Twitter

Referee Wally James sent the goalkeeper off for the challenge and the Southern Counties East Football League Premier Division game was held up as an ambulance was called while both sets of players were taken off the pitch before the game re-started.

Gannon revealed on Twitter that he suffered a double fracture of his right-leg and is overwhelmed with the messages of support from the Kent football non-league family, who all pull together during a crisis.

"I thought the game was good, exciting, entertaining and we were playing well. I thought 3-1 up at half-time was a great score line. It's always good to get on the scoresheet as well," recalled Gannon.

"It all happened so quickly, both me and the Glebe keeper went for the ball and I just got there first and unfortunately, he caught me badly.

"I have no hard feelings against Dean. He has messaged me privately wishing me all the best and I respect him for doing that. That's just football for you sometimes.

"I owe some people special thank you, both physio's Courtney Dobson and Valda, whom kept me warm and calm until the ambulance arrived, along with my captain James Day, who stayed with me for as long as possible, talking to me constantly.

"I've known (Erith & Belvedere coach) Jamie Leggett basically all my life and he was always going to come on the pitch to help me out no matter what other people say. He has been unreal over the whole situation and I can't thank him enough.

"I knew I had some serious damage the moment it happened, the pain was ridiculous!

"Obviously it's not the best news you want to hear, everything negative starts flowing through your head. When can I go back to work? When will I kick a ball again?

"I'm going to stay positive as possible. I have a lot of family and friends and people I don't even know reach out to me offering me help and support."

Erith Town's chief executive Mark Deveney has set-up a fundraising page online, which has raised £1,200 for the non-contracted semi-professional player who will not be earning a living for at least six months.

Gannon said: "I'm still in hospital at the moment and undergoing tests and physio sessions. But the first time I got told was perfect range of normal movements will be six months and playing football again will be one year. It was devastating news to hear and it hit me quite hard, I'm not going to lie.

"I'm a fibre-hand/fivbrous plasterer so that means no work as it's a hands-on physical job. I have bills to pay and I'm going to struggle 100% but I know there are people around me that will help me get through this. It's not good news especially coming up to Christmas.

"Mark set up the page and has said he will do all sorts to fundraising events to help me out. The support he has given me is unbelievable! Raising £1,000 in under 24 hours is unreal! Donations have come in from people I don't even know!

"You can't beat the togetherness of non-league football sometimes. I can't thank people enough, just a massive thank you and I really appreciate every penny.
"To everyone who has messaged me, visited me or shown some sort of support, I can't thank you enough. You have all made this situation 100 times better and positive for me.

"One last thank you goes to all of my team-mates and the management at Erith Town, which is a great club to be a part of."

There will be a collection for the striker on Sunday when Erith & Belvedere host Erith Town at Park View Road, or well-wishers can donate by clicking on the link below:

https://justgiving.com/crowdfunding/dannygannon9