Croydon appoint Craig Davies as their new manager: I'm a winner and that's why I came in to the job, to win games, play good football and promote youth
Thursday 24th May 2018
CROYDON'S newly-appointed manager Craig Davies says he will continue the club's philosophy of promoting young and hungry footballers next season.
Harry Hudson was in charge at Croydon Sports Arena for just one season, where he guided the club to a top-five finish in the Southern Counties East Football League Premier Division.

The Trams collected 65 points, winning 20 games, drawing five and losing 13 games but Hudson's youngsters received plenty of plaudits around the circuit for their attractive brand of passing football from such a young squad.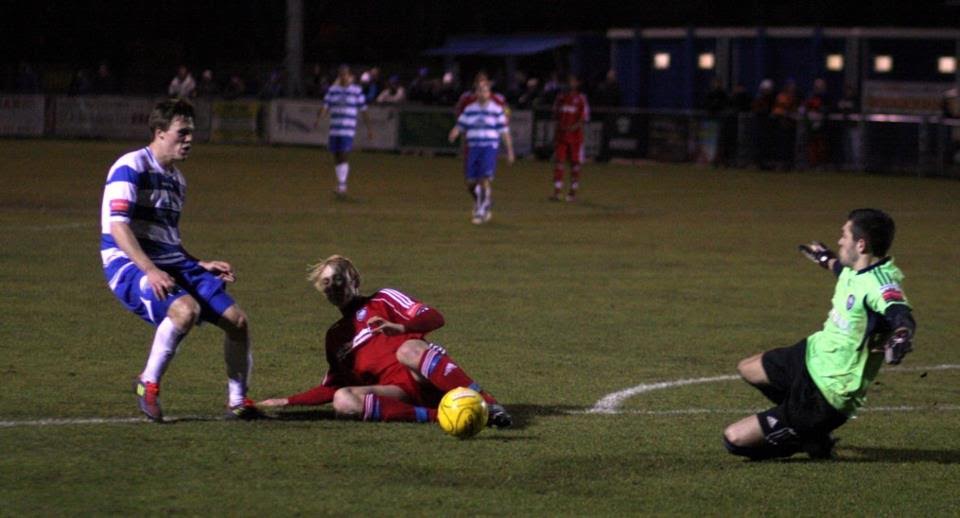 Croydon have appointed Craig Davies, 29, as their new manager, replacing Harry Hudson. Here, Lierpool raised Davies (left) scores for Isthmian League side Margate.
Photo: Margate FC

Davies, 29, played in the Liverpool, Everton and Manchester City Academies before two years at Morecambe and a spell at AFC Bournemouth.

The pacy winger also enjoyed success in the Conference North with Burscough and Stalybridge Celtic, as well as in the United States with New Orleans Jesters.

He also played Isthmian League football for Leatherhead, Horsham, Wingate & Finchley and Margate.

"Last season was an excellent season considering the change in staff, philosophy and push of younger players," said Davies.

"They proved they were capable of mixing it with the bigger teams, with bigger resources and fifth was a very good effort.

"Harry has been very good in helping me consider the role and wishes me and the team the very best.

"He told me that he learnt a lot more about himself and the game when managing at a senior level, something which I have only done at Academy level.

"I obviously have a close working/friendship relationship with him and Calum so I will utilise their experience and knowledge for any advice.

"I'm 29 and originally from Liverpool. I was fortunate enough to play as a professional for Morecombe in League Two and then like many, fall into non-league so I've been around a number of dressing rooms north and south of the country.

"I can't wait to get involved. I'm an aspiring football manager and currently work as a lead coach at AFC Wimbledon in their Academy.

"Having played for Croydon briefly last season I know a few faces and that will make the transition a bit easier.

"A club like Croydon and the level they play at is a good start for me and I have to start somewhere.

"In regards to players, the vision and philosophy will remain the same – promoting young players!

"I'm a firm believer of giving youngsters a chance as you always seem to surprise yourself. Plus working for the brand (Kinetic Academy) I do, it's why we want to push youngsters and give them a real exit route. Naturally, players will move on but at the moment I'm catching up with players to gauge their thoughts.

"I want the players, the staff and supporters to have the belief that yet again we can mix it and look to have a similar season as the last.

"I'm a winner and that's why I came in to the job, to win games, play good football and promote youth.

"Everyone wants to win trophies and what a way to do it with a philosophy of supporting young, hungry players. We need as much support as possible from fans so I'd encourage them to come down. I'm hoping to meet them to put a face to the name."

A club statement added: "The club were keen to promote from within to someone who knows the structure, vision and potential of the club in encouraging youth talent."

Meanwhile, club allocations for Steps Five (Southern Counties East Football League Premier Division), Six (First Division) and Seven (Kent County League Premier Division) across the country will be confirmed on Friday lunchtime.

Visit Croydon's website: www.croydonfc.com