Crowborough Athletic 3-6 Coleshill Town - They absolutely gave it their all today, says Crowborough Athletic boss Sean Muggeridge
Saturday 28th January 2017
Crowborough Athletic

3 – 6

Coleshill Town

Location
Crowborough Community Stadium, Fermor Road, Crowborough, East Sussex TN6 3BU
Kickoff
28/01/2017 15:00
CROWBOROUGH ATHLETIC 3-6 COLESHILL TOWN
The Buildbase FA Vase Fifth Round
Saturday 28th January 2017
Stephen McCartney reports form Fermor Road

CROWBOROUGH ATHLETIC boss Sean Muggeridge says he has a job to raise his players' after suffering back-to-back defeats for only the second time this season.
Coleshill Town – third in the Midlands League Premier Division and on a seven match winning run – booked their place in The Buildbase FA Vase Quarter-Finals for the first time with a 6-3 win at Southern Counties East Football League Premier Division leaders Crowborough Athletic.

The Crows attracted their largest crowd of the season when 605 fans flocked through the turnstiles hoping their side could replicate their 6-0 home win over their Sussex rivals Eastbourne Town in the last round.

Crowborough boy, striker Sam Carrington had his penalty saved, the first of four that were awarded by referee Gary Parsons.

But when Jack Turner headed in to give Crowborough Athletic the lead, the Wembley dream was on.

But the game turned on its head when Coleshill Town striker Dean Rathbone kept his cool from the spot twice in seven minutes to give the Birmingham-based outfit a 2-1 lead going into the break.

It went downhill for Crowborough during the second-half as Reece Leek flicked in a third, before Rathbone drove in his hat-trick to take his goalscoring tally to 16 for the season.

Crowborough Athletic showed desire to get back into the game courtesy of Zac Attwood's sublime free-kick to score his 24th goal of the season before holding midfielder Tom Vickers scored from the fourth spot-kick of the game.

And when Coleshill Town lost their left-back Joshua Quaynor to his second card with 10 minutes remaining, the visitors' were on the ropes.

However, Coleshill immediately scored on the break through striker Jordan Nadat, before substitute Simeon Colbourne sent the vocal travelling fans home happy and dreaming about their maiden Wembley visit with another breakaway goal at the death.

"Very disappointed obviously," said Muggeridge, who has only experienced five defeats in 41 games this season.

"I thought first half we started very well actually. We didn't give them much. We obviously missed a penalty, whether that reflects on the result in the end, I don't know, but we missed a couple of chances, 1-0, then we've had another chance that we really should've finished.

"They went down and got a penalty, which the referee can't tell me why he gave it and he couldn't really see it to be honest with you!

"I don't like going on about referee's but I thought he was shocking all game! Even the other dug-out said he was but there you go, it's one of those days I think.

"It's unfortunate we couldn't give the fans something today. We've given them nine goals so we've given them value for money but as a manager you don't want to give supporters value for money, you want to win games. I just think it wasn't our day today.

"Perhaps we could've done things differently, I could've done things different today maybe. I always look at myself first, whether I could've done things differently. We put the team out there with the players' we had. It didn't quite work.

"If we were going to lose to a side, it was this side because I quite like their management and quite like their supporters and the whole way they conducted themselves and I wish them good luck in the next round."

Muggeridge made four changes to his side for last Tuesday's 1-0 home defeat to Newhaven in the Sussex FA Principal RUR Charity Cup, which ended an impressive unbeaten run of 32 games, which started following back-to-back league defeats at home to Cray Valley (29 August) and AFC Croydon Athletic (3 September), their only league defeats of the season.

Muggeridge had to reshuffle his defensive line to a back-four as Dan Tear injured his knee in training and Jason Barton was cup-tied having played for Tunbridge Wells earlier in the competition.

Wayne Clarke proved to be Crowborough's weak link at left-back, while Sam Crabb slotted in at right-back with Tom Boddy and Turner together at the heart.

Coleshill Town looked a strong side and probed on the front foot during the early exchanges but Crowborough Athletic should have taken the lead in the 12th minute.

Lee Carey (who was later forced off through injury) cut the ball back to Clarke who took a touch before hitting a deep cross, which was palmed away by keeper Paul Hathaway, who tripped Sam Crabb after the Crowborough left-back cut-inside.

Coleshill captain Hataway used his legs to pull off the save as Carrington tried to slot his right-footed penalty just left of centre.

Tom Vickers' swung in the resulting corner from the left and Ross Treleaven rose to plant his header over the crossbar.

"We have a problem with penalties at the moment, we're missing quite a lot. We're missing more than we're scoring actually," admitted Muggeridge.

"I did ask Tom Vickers to take the penalty in the changing room so I don't know why it was changed on the pitch but when they do decide someone else takes them I don't like to interfere because it disrupts the rhythm of it."

But Crowborough Athletic swiftly recovered from that set-back by taking the lead with 17 minutes and 25 seconds on the clock.

Vickers played a free-kick on the outside to Crabb, who was given oceans of space to float in a deep cross which was met by Turner's rising header from 12-yards, which looped across the keeper and dropped in at the far post.

Muggeridge said: "Again, it was a great move. The ball went down the line, the delivery made it all but what a header! What a header! That should've won any game that header. We should've really pushed on from there.

"I thought there was going to be goals in it because we've shuffled our team because of injuries. Even though it was only 1-0 at that time I could definitely see more goals in it!"

Coleshill Town equalised with 20 minutes and 36 seconds from the clock, following their third of nine corners.

Craig Milligan over-hit a corner and Robert Evans went down with Jack Walder close by him on the right by-line and referee Parsons pointed to the spot.

Crowborough keeper Dan Ellis dived to his right and got his hand to Rathbone's right-footed penalty, but the ball nestled into the bottom left-hand corner, leaving Muggeridge incensed.

Something that needs to happen in football – and quick – is for match officials to face the media post-match to explain their decisions.

The Crows boss said: "The referee can't tell me why he gave it, so I'd like to know! He won't even answer me after the game so what can you do?

"Lee Carey, our captain, was standing exactly where the ref was and our captain couldn't see it, nor could the ref, so what he's given it for is a shout and he's given one up the other end for us. I think he's just levelled it up."

Attwood's flicked pass was controlled by Treleaven inside the Coleshill penalty area but his left-footed dinked shot forced Hathaway to dive low to his right to parry.

"We were still creating chances. It just didn't fall for us. The goalkeeper's spilled it and Zac just couldn't get to it and just summed up the whole game really," added Muggeridge.

But Coleshill Town doubled their lead – with 27 minutes and 1 second on the clock – through another clinically taken spot-kick from their number 10.

Central midfielder Thomas Weale threaded the ball in behind for Evans (who had made a run from the heart of their defence) and Clarke stretched to trip his man just inside the right-hand corner of the box.

Rathbone slotted his low right-footed penalty straight down the middle, as Ellis once again dived to his right.

Muggeridge said: "Definite pen. I was more disappointed with the marking before it came to that. That one was a penalty. I will be honest. I'm an honest person and I will say whether it was a pen or not and that was definitely a pen and the first one definitely wasn't!

"Dan got his hand on the first one, I think he's quite disappointed he didn't get to it. Once you get your hand to it it'll be nice to save it but he didn't. The second one went straight down the middle. It's a penalty, if the goalkeeper dives he dives it's a hard one to stop."

Weale swept in a free-kick in from the left wing towards the near post and the Crowborough defence let striker Nadat make space before hooking his shot past the near post from 10-yards, as Ellis spread himself.

Right-winger Leek cut the ball back towards Giovanni Dainty, who allowed the ball roll in between his legs before the ball was cleared out to Coleshill right-back Andre Gonzales, who cracked a first time dipping drive into Ellis' hands from 25-yards.

Crowborough went close in the 41st minute when Vickers played the ball into Treleaven's feet, who turned to drill his right-footed shot just past the foot of the left-hand post from 30-yards.

Carrington's hooked pass from the halfway line sent Attwood charging down the right but a combination of Evans' challenge, a tight angle, and Hathaway grabbing hold of the ball while diving to his right at his near post, frustrated Crowborough.

An alert Ellis palmed over a rasping drive from Nadat from inside the penalty area from 10-yards, as Coleshill created a chance to increase their lead going into the break.

Muggeridge said: "It was such an open game. It was an exciting game for the neutrals. It was end-to-end."

When asked whether he enjoyed it, he replied: "Not very good. I'll be honest with you because we've only conceded 21 goals in the league and I know we've had a few swap arounds it just goes to show we both attacked each other and we've both got quality up front. I knew it was going to be a high scoring game. I was just hoping it was going to be us (winning it).

"I was really disappointed with the marking from corners. The penalty that wasn't, wasn't very good marking and there were a couple of times where we didn't mark properly. I was thinking we were going to beat them because two penalties, that's all they had first half, so I was quite optimistic we'd get back into it."

Crowborough Athletic should have done better with the first chance of the second half in the 50th minute.

Clarke, who was now playing as wing-back after Muggeridge went back to a back three, ventured forward in the final third, before cutting the ball back to Treleaven, who floated over a deep cross towards the far post. The ball was knocked down by Walder and Crabb powered his first time drive wide of the left-hand post from 20-yards.

Muggeridge admitted: "I thought we had more chances than they did, they hit us on the break. These chances, you've got to put away really if you're expecting to win anything. That one was a good chance. It was knocked down and he really should've hit the target and it's just gone wide."

The brilliant Coleshill supporters started to bellow out "Que Sera Sera, whatever will be will be, we're going to Wembley," when Leek scored their third goal in the 58th minute.

Nadat turned Turner and charged down the left channel with the Crowborough defender in hot pursuit. The Coleshill striker held the ball up and waited for support from Rathbone, who delivered a cross towards the near post and Leek nipped in front of Crabb to flick his shot into the bottom near corner.

"Again, they really shouldn't be getting the ball in," said Muggeridge.

"As the ball's come into the box you can say it's probably a good delivery, but we should be defending better than that!"

Clarke delivered a deep cross from the right and Crabb found himself on the edge of the six-yard box but his downward header was poor and was gobbled up at ease by Hathaway.

Crowborough Athletic were facing a mountain to climb as soon as Coleshill added a fourth goal in the 67th minute.

Vickers, who was now playing on the left hand side of a back three, slipped and Nadat's raced forward and the striker delivered a low cross into the box for Rathbone to drill his shot past Ellis from 12-yards.

Muggeridge added: "I think he slipped. They're very dangerous going forward. We knew that. We knew that was going to be the problem. I think when you're chasing the game against this side they're dangerous. If we'd have gone 2-0 up, which we should've done in the first half, I think it would've been a different matter, which is obvious to say. It's 4-1, everyone's saying it's game over!"

Crowborough Athletic accepted a lifeline in the 70th minute, courtesy of a sublime finish from Attwood.

The striker stepped up and stroked his left-footed free-kick screaming into the top left-hand corner of the net from 22-yards, leaving the keeper flat-footed and admiring the special strike.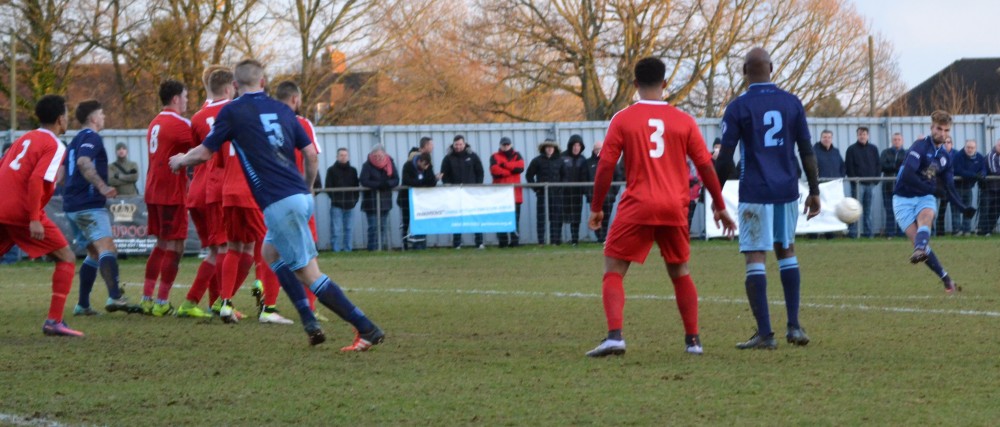 LIFELINE: Crowborough Athletic striker Zac Attwood (right) finds the top left-hand corner with this speicial free-kick to give his side a glimmer of hope during their 6-3 home defeat to Midlands outfit Coleshill Town in the Last Sixteen of The Buildbase FA Vase.
Photo: Alan Coomes

Muggeridge said: "I was feeling positive, honestly, still positive. The only negative was really they were going to get more. I know this side inside out and they never give up so I just knew something was going to happen – and it nearly did!

"Great strike, great strike. We deserved a goal before that. We were knocking on the door. Once that went in the game changed a little bit. They sat back in and especially when that went in I was expecting us to come back."

Crowborough substitute Phillip Appiah went close with a first time left-footed drive from 30-yards, which only just cleared the crossbar, as the home side never threw in the towel.

Craig Millian tripped Carrington inside the box and Vickers kept the Wembley dream alive by slamming his right-footed penalty in the bottom left-hand corner with 75 minutes on the clock.

Muggeridge said: "Again, it was the pressure we was putting them under and they just couldn't handle it at that point and that was even more believable that we were going to get back into it. That's the spirt of the side, they absolutely give it their all today."

Coleshill Town were seemingly on the ropes when they lost left-back Quaynor to a second yellow card for a foul on Clarke in the final third.

"Well, unfortunately he was giving a lot of free-kicks away their three. I think the referee, I don't know, it didn't look like another yellow to me, but I think he had a poor game, the referee," came Muggeridge's reply to the decision.

But give Simon Lyons' side credit as they immediately raced up the other end and killed off Crowborough Athletic by scoring their fifth in the 81st minute.

Leek released Nadat on the break and he clinically despatched his right-footed shot past Ellis, who had a second half to forget.

Muggeridge said: "That was a good breakaway goal actually – but it came from Phillip Appiah. His shot hit somebody and it went straight to one of their players, which emphasised exactly what cup games are all about, their either your day or they're not your day.

"He done really well, Nadat's a quality player. He just showed a little bit of class there."

Crowborough's last chance saw Crabb whip in a cross into the box where substitute Tom Pearson had his back to goal to send his header sailing into Hathaway's grasp.

Coleshill Town wrapped up the scoring four minutes and 43 seconds into time added on.

The talented Nadat skipped past Boddy on the right and played a low cross towards the far post where substitute Colbourne gleefully rolled his shot across goal into the bottom far corner of the net.

Muggeridge revealed that defender Turner was sent-off for protesting to the referee after the final whistle.

"It's a foul 100%. Whether it mattered or not is another thing but that 6-4 looks like they've given us a little bit of a tanking but people who are here know it weren't true.

"That was 100% a foul. I think sometimes people have to hold their hands up, officials and say they've made a mistake. If they can't see that was a clear foul then I don't know what they're seeing!"

When asked about Turner's post-match red-card, Muggeridge replied: "He apparently said something to the ref but my players shouldn't do that but you can understand the frustrations because the last goal was so obviously a foul! The linesman's right there, it was so obvious. Players get frustrated with things like that. If you don't get obvious fouls like that!"

Crowborough Athletic are now a point behind leaders Ashford United (with a game in hand) after Danny Lye's side beat struggling Beckenham Town 4-1 at Homelands Stadium today.

"I've just said to (my players), that's it now! I don't want to hear nothing about it now. We weren't good enough today. Things didn't go for us today but I look at positives and I just think the way we came back at them just shows we've still got a bit of fight in our locker.

"We sat on that pitch when we went out of The FA Cup (to Farnham Town on the opening day of the season) and we decided what we'll do and we went unbeaten for four games and then we had those two defeats when everyone was down and I reminded them.

"We're going to pick ourselves up. We'll get them all into training and just see if we can pick them up because it's going to make an impact this week on the result today but it's my job this week to get them up."

Crowborough Athletic: Dan Ellis, Sam Crabb, Wayne Clarke, Tom Vickers, Jack Turner, Tom Boddy, Lee Carey (Phillip Appiah 64), Jack Walder, Zac Attwood, Sam Carrington (Tom Pearson 84), Ross Treleaven (Henry Muggeridge 59).
Subs: Jonathan Shea, Dan Smith

Goals: Jack Turner 15, Zac Attwood 70, Tom Vickers 75 (penalty)

Booked: Wayne Clarke 27, Sam Crabb 32, Zac Attwood 74, Dan Ellis 90

Sent Off: Jack Turner 90

Coleshill Town: Paul Hathaway, Andre Gonzales, Joshua Quaynor, Thomas Weale, Thomas Fishwick, Robert Evans, Reece Leek (Simeon Colbourne 90), Craig Milligan (Jesse Race 90), Jordan Nadat, Dean Rathbone, Giovanni Dainty (Dale Taylor 65).
Subs: Dom Carter, Tom Cullen

Goals: Dean Rathbone 21 (penalty), 28 (penalty), 67, Reece Leek 58, Jordan Nadat 81, Simeon Colbourne 90

Booked: Joshua Quaynor 53, Craig Milligan 69

Sent Off: Joshua Quaynor 80

Attendance: 605
Referee: Mr Gary Parsons (Lymington, Hampshire)
Assistants: Mr Mike Desborough (Fareham, Hampshire) & Mr Colman O'Meara (Southampton, Hampshire)
Fourth Official: Mr Tom Nicholls (Hither Green, London SE13)

Coverage Sponsored by: