Crowborough Athletic 1-3 Farnham Town - I'm taking responsibility for everything that happened today because I put the players on the pitch, I sign the players, it's 100% down to me to get it right, says Sean Muggeridge
Saturday 06th August 2016
Crowborough Athletic

1 – 3

Farnham Town

Location
Crowborough Community Stadium, Fermor Road, Crowborough, East Sussex TN6 3BU
Kickoff
06/08/2016 15:00
CROWBOROUGH ATHLETIC 1-3 FARNHAM TOWN
The Emirates FA Cup Extra Preliminary Round
Saturday 6th August 2016
Stephen McCartney reports from Fermor Road

CROWBOROUGH ATHLETIC boss Sean Muggeridge says he takes full responsibility for his players' showing a lack of desire during their shock FA Cup exit.
Farnham Town celebrated only their second away win in the competition since their 4-2 FA Cup debut win at McLaren Sports at this stage of the competition back in 1948.

Crowborough Athletic gave six players their debuts and considering that five of them were playing in the Ryman League last season, Farnham Town pulled off a shock but deserved victory to set up a trip to Ryman League Division One South side Carshalton Athletic in the Preliminary Round on 20 August.

Right-back Charlie Slocombe (Tonbridge Angels), central defender Jack Walder (Hastings United), holding midfielder Lee Carey (Hastings United), winger Henry Muggeridge (Lewes) and forward Zac Attwood (Hastings United), found that being paid more than your rivals at this level of football counts for nothing.

Farnham Town kicked-off their Combined Counties League campaign on Tuesday night with a 2-1 win at Badshot Lea, who knocked Sheppey United out of the FA Cup today at Holm Park, while this was Crowborough Athletic's first competitive game of the season.

Farnham Town opened the scoring after 28 minutes when Steve Ramsden headed in from three-yards following a corner.

Paul Tanner's side then raced into a 3-0 lead when striker Mark Corbett scored twice in the space of six minutes to put Farnham Town in the driving seat and leave the home fans in the crowd of 94 stunned to silence.

Henry Muggeridge, who is clearly too good for this level of football, scored a debut goal but it was a consolation goal with five minutes left.

Sean Muggeridge held a meeting with his coaching staff before emerging for the post-match interview where he said he was feeling "very, very disappointed."

He said: "I didn't think we got going. It was just a shock to me really. The way we've been playing in pre-season, we didn't get going. They got at us. I explained to (my players) that this team will battle hard.

"I don't think the desire was there to be honest with you. It's very, very disappointing, obviously we have to pick up the pieces and get on with it."

Crowborough lost just one pre-season friendly and that was 2-1 at National League South side Eastbourne Borough on the recently-laid artificial pitch at Priory Lane last Monday night.

The Crows faithful expected more from their side that contained five players who were playing at a higher level of football last season and suffered a culture shock at grass roots level.

"There's no excuses for that. We had quality players on that pitch that really, really need to give a little more," admitted Muggeridge.

"I'm not saying they're not giving their all. They're really hurting in there. I'm just hoping really that's good for us."

Farnham Town created their first chance inside the opening four minutes on a glorious warm and sunny day in East Sussex.

Max Meaton and Jack Dillon linked up well down the right and Elliott Cardona twisted and turned his man before dinking his cross into the box where Corbett's feint glancing header from eight-yards was comfortably gathered by Nick Collick.

Crowborough Athletic's set-piece specialist Carey floated over a hanging free-kick from the left for Steve Smith to glance his free header wide.

Crowborough Athletic were to be denied by a smart save from visiting keeper Matt Petts in the 16th minute.

Wayne Clarke, who was caught offside on three occasions during the game, linked up well with Callum Ridley down the left and the ball was threaded through to Gianfranco Mici, who cut into the penalty area and powered his left-footed angled drive towards goal, the ball waspalmed over by Petts with his outstretched right-hand.

"To be fair, we had a couple of really good chances and I think if we had got that I think we would've gone on and won the game," said Muggeridge.

"I think what it is, people know what's happening here (a cash injection in to the playing budget) and everyone was a bit nervous and they snatch at things a little bit more in front of goal than they would do normally. We did have the chances to do something today."

Farnham Town should have done better when Dillon's cross from the right should have been headed home by Corbett, who appeared to be distracted by Walder's challenge in front of him from inside the six-yard box.

Winger Clarke cut inside and put over a deep cross, which was hooked back across goal by Muggeridge. The ball failed to drop at Attwood's feet, the ball was poorly cleared to Mici, who drove his first time shot over the bar from 10-yards.

Farnham Town weren't going to let Crowborough Athletic turn them over at ease but the visitors wasted a good opening.

Matt Graham split the Crows defence with a fine pass from left-back to release winger Cardona, who cut inside Slocombe but he scuffed a poor right-footed shot from 25-yards, which rolled into Collick's hands.

But Farnham Town should have taken the lead when Cardona spun his marker on the edge of the Crowborough penalty area and played in Corbett, who stroked his shot towards the bottom far corner from 10-yards, where a quick-thinking Collick rushed off his line to smother the shot, low to his left.

Muggeridge said: "A good save. I'm just hoping that it would have made the difference but yes it was a bit poor. We was a bit poor today all round especially in the first 25 minutes where again we can't get away with our quality get us out of (a hole).

Farnham Town were in front with 27 minutes and 23 seconds on the clock, which was greeted by stunned silence.

Graham swung in a corner from the right towards the far post and Ramsden jumped to easily guide his downward header into the near corner from just three yards out.

"Again, a lack of communication, I didn't see any of this in pre-season," admitted Muggeridge.

"All I can put it down to is first game of the season. You can't be nervous because we've got players out there that shouldn't be nervous.

"We've got video analysis and I need to have a look at that and see exactly what happened. We looked very open in the first part of the game. The goal was, it was very, very poor marking, very poor all round. I'm more disappointed than angry really."

It should have been two when Luke Whiddett swung in a quality cross from the right and Dillon nor Corbett to get the decisive touch at the far post.

Crowborough Athletic were to be denied a 32nd minute equaliser by Petts' second smart save.

Muggeridge, who was Crowborough's main threat, was given time and space to float in a deep cross for Clarke to power his header towards goal, which was palmed away by Petts at his near post.

The Crows manager said: "Great save, we had the same thing last year in the FA Cup, where the (Chessington & Hook United) goalkeeper saved everything but there was no way we deserved to win that game today."

Something was clearly missing for Crowborough Athletic and Mici blasted his right-footed free-kick over the crossbar and out into the adjacent playing field from 26-yards.

Attwood, who picked up an £800 wage when he played for Ryman Premier League side Margate a couple of seasons ago, was in Ben Williams' pocket for most of the game.

But the Crows made 15 passes all over the pitch before giving Attwood a chance on the stroke of half-time.

The ball came back to central defender Steve Smith, who clipped a diagonal pass to Mici on the left and he cut the ball back to left-back Charlie Baitup. He had time and space to float in a cross and Attwood escaped his man to hook his shot on the turn which lacked conviction and was comfortably gathered by Petts.

"We could've had a bit more luck but there's no excuses at all," said Muggeridge.

"They have to realise we are a good footballing side but you have to realise there are other things we need to sort and get down to.

"It was a good move but we didn't do enough of it, the ball wasn't moving quick enough."

You do expect a striker of Attwood's quality to show more interest while playing, although Farnham's central defenders Doug Ford and Williams were immense and kept him quiet throughout.

Muggeridge said: "Maybe we didn't use Zac. I'm not going to say anything like that. I think it's more of the whole team. He (Williams) did well to keep Zac quiet but I think it's more the whole team that Zac didn't get a lot. It's disappointing all around really."

Boss Muggeridge revealed he wasn't happy inside the home dressing room during the interval.

"I let them know it wasn't good enough and that's how we put it," he said.

"I just said if we start moving the ball quicker we can pull them out of positions and we can get back in the game and win it but it just didn't happen until the last 25 minutes where I brought on some subs and they looked a bit lively and we hit the bar. We had a lot of chances in the end but not really good enough!"

Farnham Town doubled their lead on the break just six seconds and 16 seconds into the second half.

Right-back Meaton threw the ball to Stan Staines, who played the ball out to right-winger Dillon, who whipped in a cross which sailed over Collick's right shoulder and an unmarked Corbett guided the ball into the left-hand corner of the goal from three-yards out.

Muggeridge said: "You can analyse these goals all you like but it's just poor. It's not so much the tap-in, it's how easily they crossed the ball in and how easy….

"We were working on these sort of things so we need…."

When asked what he was thinking with his side two goals down, the Crowborough boss replied: "I still didn't think it was out of our reach to be honest with you because of the quality that we've got but it's not an ideal start. I think it was 52 minutes so obviously that's not what you want straight after half-time. You want to get a goal even then I felt we could still do it but when you defend as a team like that, you're not going to win games."

The goal sparked Crowborough into life and Muggeridge put Clarke in down the left and after leaving Doug Ford on his backside, he was denied when keeper Petts kicked the ball away with an outstretched left leg.

Crowborough Athletic suffered their fourth consecutive FA Cup Extra Preliminary Round exit when Farnham Town scored their third in the 58th minute.

Ramsden played a sublime pass from inside his own half to release Dillon down the right, who scuffed his centre to Corbett, who strode forward and an advancing Collick got something to the shot but couldn't prevent the ball trickling over the line.

Muggeridge said: "Again, it's like a broken record for me really. I'm just hoping it was offside. Everyone thought it was but we pushed up. If it wasn't I have to look at the video, it's bad again, bad marking."

Crowborough Athletic improved when their subs came on, a player like Josh Biddlecombe, who scored 25 goals for the club last season when they finished in the top seven without a playing budget.

"It's been happening in pre-season to be honest with you, we've been bringing on the subs and it has livened it up," admitted Muggeridge.

"We gave them a lot of time to try to change it. They did liven it up. We will be looking at that for the next game."

Muggeridge swung in a corner from the right, the ball was flicked on by a towering Smith and dropped for substitute Josh Biddlecombe to hook his left-footed volley across goal and past the far post.

Another substitute, the returning Ross Treleaven, swept a sublime diagonal pass to Muggeridge on the right and he played the ball inside to Biddlecombe, who turned his man and his low shot was Petts, diving low to his left to save.

Farnham Town missed a chance to increase their lead further inside the final 15 minutes.

Cardona's last action of the game was to reach the left-hand by-line to float in a cross for an unmarked Ramsden, who failed to get his header on target.

Treleaven launched a trademark long-throw into the Farnham box, the ball was flicked on by Attwood and dropped down to Walder, who produced a central defenders finish, blasting over from six-yards out.

Pressing Crowborough Athletic were to be denied by the crossbar in the 80th minute.

Muggeridge, who will give SCEFL Premier Division full-backs a nightmare this season and is too good for this level of football, produced another quality ball in from the right for Treleaven to acrobatically volley the ball into the ground, the ball bouncing up and caressing the top of the crossbar and dropping behind for a goal-kick.

"It was quite unlucky, at least we hit the target," said Muggeridge. "We've got to make the goalkeeper make a save really, it was a good strike."

Muggeridge put in yet another cross into the Farnham box, the ball was cleared out by Meaton and Baitup's first time drive forced Petts into making another save.

Muggeridge deserved to score Crowborough's first goal of the season, capping off a very impressive debut for the club.

He played the ball out wide to Biddlecombe on the right and his low centre was swept home first time by the side of the winger's right-foot from 10-yards out.

"Again, a good footballing goal but again, it was too little too late," admitted Muggeridge.

"I have to look at the video analysis to see what happened. It was pleasing that we got something out of it, a goal out of it. To be fair we could've gone 3-2 and three-all, taking our chances but we didn't deserve it from start to finish."

Farnham's sixth and final corner was whipped in by Graham, hit deep and was smacked on the volley by an unmarked Ramsden, which flew into Collick's hands.

Crowborough created a couple of chances inside six minutes and 44 seconds of injury time.

Muggeridge's corner from the right was met by Treleaven's header, which flew through a crowd of players and was gobbled up by Petts, holding onto the ball low to his left on the goal-line.

Biddlecombe's cross from the right was brought under control by Attwood, who teed up Walder, who once again blasted his shot over the bar.

"Again, chances were there, we really did take it too them near the end but there was no quality in the finish. If we had got another one, I think we would've done it but you can't rely on that."

Farnham Town scoop £1,500 in prize money and can now look forward to a trip to Carshalton Athletic in the next round, leaving Crowborough Athletic with a miserable record in the competition over the past four seasons and a SCEFL Premier Division game at Canterbury City next Saturday desperate to put in an improved performance against Ben Smith's side.

"Obviously it's always nice to keep going in a few rounds of The FA Cup but at Crowborough we never seem to do it," said Muggeridge.

"I'm taking full responsibility for everything that happened today because obviously I put the players' on the pitch, I sign the players. It's 100% down to me to get it right."

Money doesn't buy you instant success in the SCEFL – you have to show heart and desire and match your opponents in every single game. League titles aren't handed out on the plate in this League.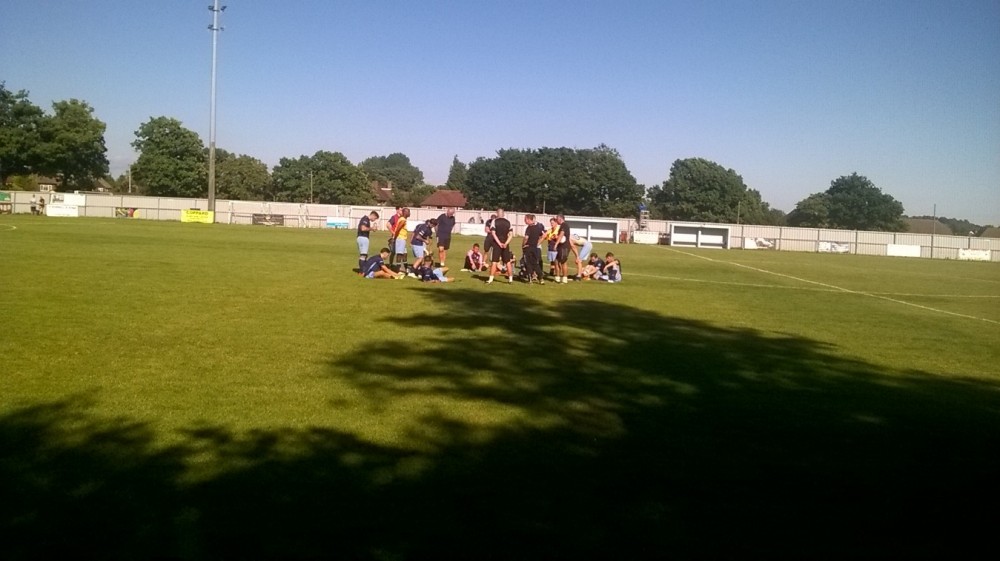 DOWN AND OUT: Crowborough Athletic slummed to a shock defeat to Farnham Town to suffer their fourth consecutive defeat in The FA Cup Extra Preliminary Round.
Photo: Stephen McCartney


Crowborough Athletic: Nick Collick, Charlie Slocombe, Charlie Baitup, Lee Carey, Jack Walder, Steve Smith, Henry Muggeridge, Callum Ridley (Ryan Waterman 73), Zac Attwood, Gianfranco Mici (Josh Biddlecombe 57), Wayne Clarke (Ross Treleaven 60).
Subs: Dan Smith, Paul Butler, Tom Boddy, Sam Crabb

Goal: Henry Muggeridge 85

Booked: Jack Walder 71, Steve Smith 90

Farnham Town: Matt Petts, Max Meaton, Matt Graham, Ben Williams, Doug Ford, Stan Staines, Jack Dillon, Luke Whiddett (Joe Clarke 72), Mark Corbett, Steve Ramsden, Elliott Cardona (Tom Smith 81).
Subs: Dan Spur, Lee Marker

Goals: Steve Ramsden 28, Mark Corbett 52, 58

Booked: Steve Ramsden 86

Attendance: 94
Referee: Mr Jack Owen (Sevenoaks)
Assistants: Mr Jeremy Annandale (Tonbridge) & Mr Ashley Barnes (Bromley)




Coverage sponsored by: