James Collins - sacked as sponsor wanted to pick the team: I feel extremely hurt and let down by the club.
Monday 21st August 2017
AXED James Collins says his controversial sacking as Cray Valley's successful manager has left a sour taste in his mouth.
The 34-year-old guided The Millers to their highest ever league position of fourth-place in the Southern Counties East Football League Premier Division table last season, having collected 75 points from their 38 league outings.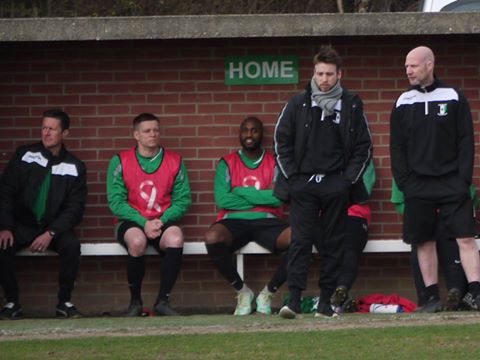 Cray Valley controversially sacked their manager James Collins (wearing scarf) despite winning the London Senior Cup (Sponsored by Coventry Scaffolding) and finishing in the top four in the Southern Counties East Football League Premier Division last season.
Photo: Frank May

The Millers reached the Kent Reliance Senior Trophy Final, where they lost 2-1 to Ashford United on Sunday 9 April 2017. Ashford United went on to win the league title, finishing on 92 points, two more than Crowborough Athletic.

Collins and his men claimed the giant-killing tag as they stunned Welling United (Vanarama National League South), AFC Wimbledon (a League One club), Dulwich Hamlet and Metropolitan Police (both Isthmian Premier) to become the first club at their level to win the London Senior Cup (Sponsored by Coventry Scaffolding).

Cray Valley started this season with a 3-1 win at Abbey Rangers in The FA Cup Extra Preliminary Round and defeated Bearsted 3-1 at Honey Lane and much-fancied Sevenoaks Town 2-1 at Middle Park Avenue, which has them in third-place in the table at this early stage.

It proved to be Collins last game in charge of the club, however, as Collins was controversially sacked by the Eltham-based club.

Collins' close friend, Tony Russell, the manager of Bostik South club Cray Wanderers, revealed on Twitter on Friday morning that something was not quite right.

"Cray Valley, what are you doing? Shame as they would have done bits this season. Makes me thankful of the club I'm at," posted Russell, who suffered a 3-2 home defeat to Sevenoaks Town in The FA Cup Preliminary Round at Hayes Lane yesterday.

Collins was then contacted by text message to ask what happened and he replied "sacked me mate."

A man who was putting in the money was telling Collins which players he should select, sign and Collins refused. The club issued an ultimatum to tow the party line, Collins refused and was therefore sacked, despite a 100% record this season.

Collins said: "Firstly, I would like to start by thanking the committee for affording me the opportunity to manage Cray Valley FC, but in particular I would like to thank all of the players that have played under me in my time as manager.

"Without you all, even those that only played under me for a short period of time, we would never have achieved the success that we did without you.

"To the players that remain and are still in the changing room, we have been on a fantastic journey and I believe we were only at the beginning of a great adventure.

"We brought success to the club in a very short space of time and it has been a thoroughly enjoyable experience for us all.

"Players at this level get a bad press sometimes but I can say nothing but positive things about the boys in that changing room. Thanks again for what we achieved together and for always giving me and the club everything.
"Unfortunately, during my time as manager I have had to deal with as many off-field issues as I have on the field, managing the team as you do at this level of football.

"However, I believe that as a manager you need to be free to pick the team and sign the players that you believe are right in order to get results.

"As manager's we live and die by these decisions and ultimately if you fail you accept the consequences.

"It has become apparent over the past few weeks that certain members of the committee have a slightly different view which I believe has culminated in my dismissal.
"Perhaps the most disappointing aspect is that when I was approached last summer about taking over as manager, I sought assurances from the committee that this wouldn't be the case after speaking to the previous manager Paul Gross. He had warned me of similar experiences that he had encountered throughout his tenure.

"For this reason, I feel extremely hurt and let down by the club.
"I would also like to thank Brad Sandeman and Tony Hine for their fantastic support, without them none of our achievements would have been possible.
"Lastly, although this experience has left a sour taste in my mouth, it has not dampened my desire to return to football management as soon as possible."

Suburban League boss Tommy Osborne took charge of Cray Valley's 4-1 win at Erith & Belvedere in The FA Cup Preliminary Round yesterday, which smashed the Deres 100% record, but former Chatham Town boss Kevin Watson, 36, was appointed Cray Valley's new manager this morning.