When I look at the changing room I have at present, I see an abundance of talent but I also see some truly great people and to be able to play a part in possibly their most memorable moment in football makes me quite humble, says Kevin Watson
Thursday 16th May 2019
CRAY VALLEY (Paper Mills) manager Kevin Watson says he has done his homework on Chertsey Town.
The two sides lock horns at Wembley Stadium on Sunday (12:15) in The Buildbase FA Vase Final.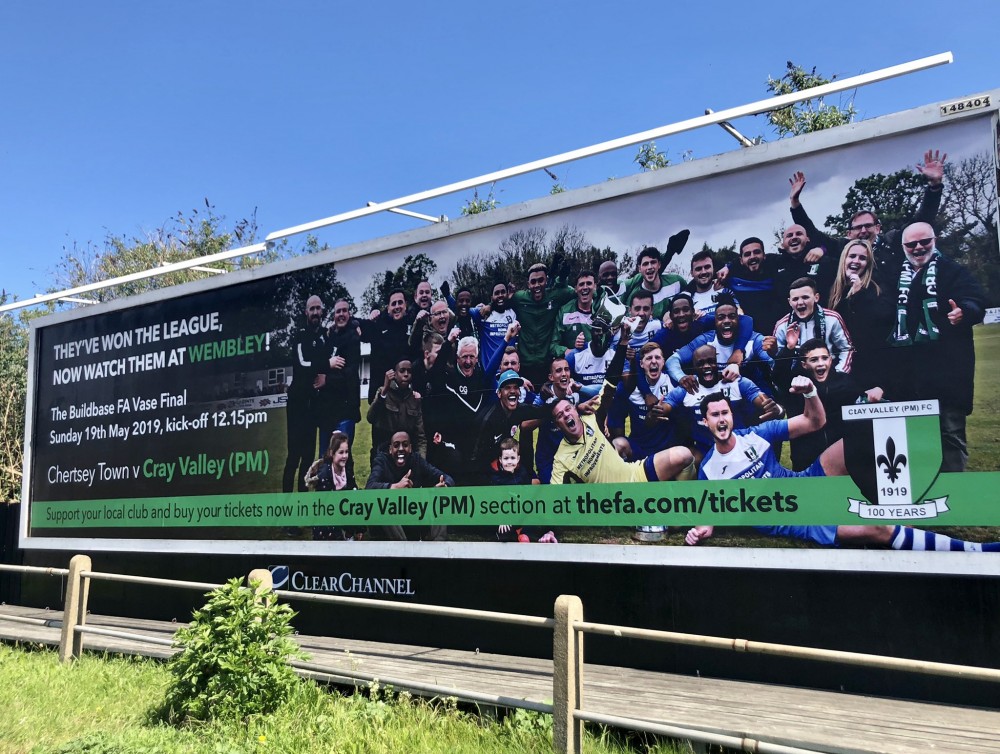 Cray Valley celebrated winning the Southern Counties East Football League Premier Division title, having collected 91 points from their 38 league games, while Dave Anderson's men collected the same number from the same number of league games to win the Cherry Red Records Combined Counties League Premier Division title.
"My assistant manager Tommy Osborne has watched them twice and I have watched them once myself and we sent a contact to watch them once," said Watson.
"They had the luxury of rotating their squad towards the end of the season as their strong hold in their league campaign allowed them to do so and so they didn't play the same personnel in any of those games.
"We know as much as we need to about them in terms of shape etc. We have never really focused too much on opposition as our philosophy and mentality is to concentrate on our own performance as that is the only factor that is in our control.
"But it would have been naive to have not taken the opportunity to watch them, especially due to the magnitude of this game.
"I was not aware that they achieved the same number of points as us in their league campaign. I'm not sure what that statistic would tell us as I'm not sure of the strength of their league, but I do know full well that the Southern Counties East Football League is extremely competitive and full of quality."
When asked what kind of game he is expecting on the hallowed Wembley turf, Watson said: "I have no doubt it will be a tense encounter to begin. Everyone says that the players should relax and enjoy themselves. I would be saying the same but the reality is that the players will be full of emotion; anxiety, nerves, excitement. Both sides like to pass the ball and so the pitch should suit both sides.
"I don't believe you can really call a favourite. I've been informed that the bookies have Chertsey as clear favourites. This is possibly due to the fact that they won their league by a clear margin.
"The circumstances, occasion, venue are so unique and unfamiliar that it's difficult to predict."
Vanarama National League champions Leyton Orient play AFC Fylde in The Buildbase FA Trophy Final later on in the day at 16:15 and O's fans will be watching one of their former players in the shape of Cray Valley striker Kevin Lisbie, 40.
"I believe the club have sold approximately 3,500 tickets and Chertsey have sold more, possibly 5,000," said Watson.
"We are hoping that some relatively neutral support is present in the form of Leyton Orient supporters which will bolster the crowd.
"What's important though is not so much the pure number of the crowd but who the people are actually filling those seats. The people most important to the club and the extended family will be present."
When asked about the expectations placed on his side on Sunday, Watson said: "With regards to handling expectation, the only expectation is what we have within the walls of the dressing room.
"On the exterior, the club and players have surpassed expectation but within the squad we do not limit or cap what we can achieve.
"I continue to openly say that the expectation is to win every game, regardless of the opposition. This should not be read as an arrogant or disrespectful statement in anyway. We are fully aware that we have to perform well to win games.
"To get to a final, you have to consistently perform and portray a winning mentality and so if we changed this mindset in the final we would be doing ourselves an injustice.
"But no doubt, Chertsey will have a similar approach and the reality is that there will be only one winner."
Two players, Joe N'Guessan and Chris Edwards have been ruled-out due to injury and having played for Sheppey United earlier on in the competition respectively.
"We have everyone fit and available for selection," revealed Watson.
"I feel for both Chris and Joe as they have both played a huge part and contribution to the club. Whilst unavailable to play, both players will be part of the day, stay in the hotel the evening before and be in the dug-out, if it's fitting to still call it that at Wembley!
"It was pleasing to receive the news that Joe has been granted the go ahead to pursue with an operation through the funding of the PFA.
"We will support Joe in his journey back to fitness in every way possible."

School teacher Watson says he is feeling proud that he is able to give his players their most memorable day in football, although Lisbie has played at the iconic Wembley Stadium before.
"Once again, I would just like to thank all of those that have worked tirelessly and selflessly behind the scenes this season and also in preparation for this match. Whilst I won't mention them all individually, the important thing is that they know who they are," said Watson.
"It has been extremely difficult, frustrating and at times unenjoyable but I have no doubt that come Sunday all of that sacrifice has been worthwhile. Through my time in football, I have met and worked with some incredible individuals.
"When I look at the changing room I have at present, I see an abundance of talent but I also see some truly great people and to be able to play a part in possibly their most memorable moment in football makes me quite humble."
Visit Cray Valley's website: www.cray-valley.co.uk
Chertsey Town v Cray Valley (Paper Mills)
The Buildbase FA Vase Final
Sunday 19 May 2019
Kick Off 12:15pm
at Wembley Stadium, Wembley, Middlesex HA9 0WS