We turned up today with nothing but fire in our stomachs but we were going out there and we absolutely gave it everything, says Cray Valley keeper Jordan Carey
Sunday 09th April 2017
CRAY VALLEY (Paper Mills) goalkeeper Jordan Carey says his team-mates gave it everything during their Kent Reliance Senior Trophy Final defeat to double-chasing Ashford United.



The Millers suffered their fourth defeat in four meetings against Danny Lye's side but they got off to a flying start when Laurence Collins scored his first goal of the season to open the scoring after only 140 seconds.

Carey was beaten in the 26th minute when Ashford United striker Shaun Welford slotted the ball past him from 15-yards after referee Ben Bowles allowed Jason Goodchild's high-kick on Taylor McDonagh go unpunished.

Carey, 18, made three flying saves in the second half to prevent Rory Hill scoring against his former club, before Welford headed in his 41st goal of the season in the final 10 minutes.

Ryan Palmer cut the ball back to right-back George Savage, who took a touch before whipping in a quality cross towards the far post, which Carey came off his line and failed to collect and Welford buried the header into the empty net from six-yards.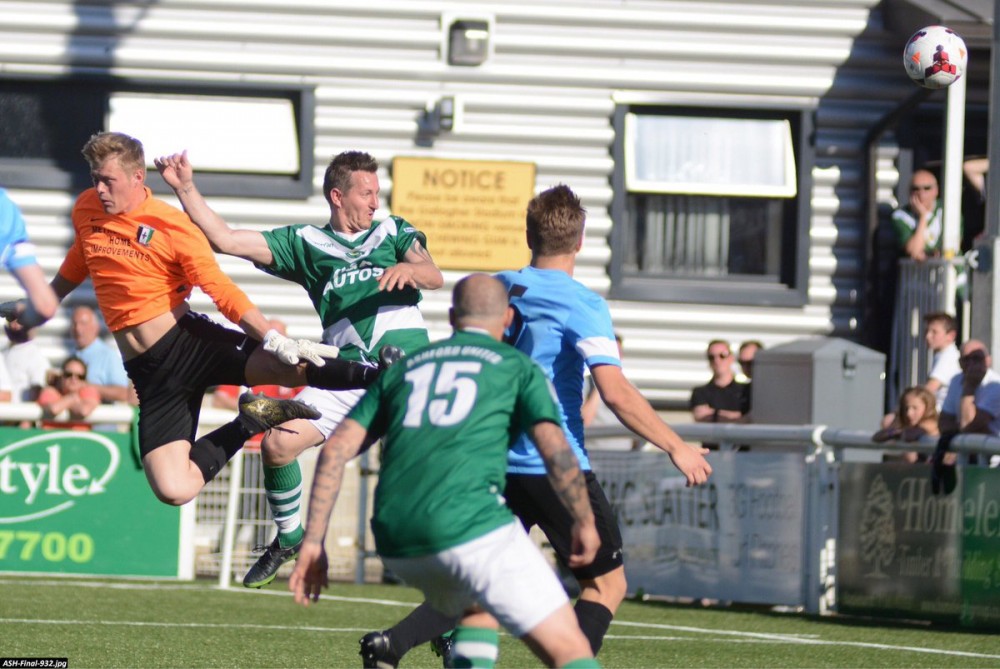 BEATEN: Cray Valley goalkeeper Jordan Carey is beaten by
Shaun Welford's 80th minute header.
Photo: Ian Scammell - www.oysterbayphotography.co.uk

"I think overall today, the boys gave it 100% I guess but the ball didn't roll, I thought," said Carey.

"It's a sad day for the boys but it's a massive achievement to the club."

Reflecting on Laurence Collins' opening goal, Carey said: "He's a good lad. He worked really hard. Obviously, he's the gaffer's brother but we all give him enough stick for that but it's a massive confidence boost for him to be put back into centre half. He's done terrifically well today, for me he's my man-of-the-match."

Carey has received stick from fans of Tunbridge Wells and Ashford United today ever since headbutting his left-hand post three times after being beaten by Adrian Stone in Ashford's 5-2 win at Cray Valley in the league on 26 February.

An Ashford fan recorded the incident in the crowd on their phone and Soccer AM got hold of it via Twitter and invited Carey into their studios to save penalties.

This was the perfect time to ask the keeper why he headbutted the post.

"Well, really and truthfully, it's what I do. It's to channel my anger. I'm quite an impulsive person. The decision (today) was to come out or stay in my goal. It's just one of those things because I brought the geezer down. I thought I was given a lifeline by it (Welford's penalty) hitting the crossbar and I thought the defenders reacted really poorly to let them score a goal, so the next thing I did next, my impulsive instinct."

Reflecting on the stick that Ashford fans dished out to him during the second half today, Carey took it all in his stride and his saves today and during the course of the season proves he is capable of returning to a higher-league club after many impressive displays for Cray Valley.

"I tell you what, I'm 18 years old, it's my first season playing senior football so I guess a Cup Final in general is amazing," he said.

"The Ashford fans to have a fan base like that at this level is just terrific. I think the fans done really well so nothing but praise for the fans."

Cray Valley could have doubled their lead in the 36th minute when Thompson split open the Ashford defence but Aaron Rhule was denied by Ugandan giant goalkeeper George Kamurasi.

"What can I say? George Kamurasi's a colleague of mine coaching but he's a mate. He works so hard as well himself. He does so well for kids. It's a massive plus for him to go on and show the little people who he teaches how to do it. I think he's demonstrated what he can do really well today, so hats off to him, he's done really well."

Ashford United now have a 100% winning record in four games against the Millers this season.

Carey said: "We never turned up expecting to lose. We turned up today with nothing but fire in our stomachs but we were going out there and we absolutely gave it everything. We were so unlucky not to lift the trophy."

Cray Valley are in fifth-place in the Southern Counties East Football League Premier Division table with 63 points and welcome third-placed Sevenoaks Town on Tuesday night.

James Collins' side are nine points adrift of Sevenoaks going into the game and are targeting a top four finish with five league games left to play.

"Sevenoaks have been in good form recently, they've beaten Ashford and they're a very strong side," said Carey.

"I wasn't actually playing in the game we lost away 4-0 but I believe the boys will see this (today's Final) as a massive, massive boost and take everything that we've done right today and use it for Tuesday's game and I'll be very surprised if we don't come out on top on Tuesday night."

Visit Cray Valley's website: www.cray-valley.co.uk

Cray Valley (Paper Mills) v Sevenoaks Town
Southern Counties East Football League Premier Division
Tuesday 11th April 2017
Kick Off 7:45pm
At DGS Marine Stadium, Middle Park Avenue, Eltham, London SE9 5HT