Cray Valley (Paper Mills) 2-1 Metropolitan Police - It's a night that I won't forget, says giantkiller James Collins
Wednesday 03rd May 2017
Cray Valley (Paper Mills)

2 – 1

Metropolitan Police

Location
Champion Hill Stadium, Dog Kennel Hill, Edgar Kail Way, East Dulwich, London SE22 8BD
Kickoff
03/05/2017 19:45
CRAY VALLEY (PAPER MILLS) 2-1 METROPOLITAN POLICE
London Senior Cup (Sponsored by Coventry Scaffolding) Final
Wednesday 3rd May 2017
Stephen McCartney reports from Champion Hill Stadium

CRAY VALLEY (Paper Mills) manager James Collins says his players' were outstanding after they became the lowest ranked club to ever win the London Senior Cup (Sponsored by Coventry Scaffolding) on the club's greatest night.
The Millers produced their fourth giant-killing act to win the prestigious Cup after beating Welling United (3-1), AFC Wimbledon (2-1) and Dulwich Hamlet (3-2 after extra time) to gate crash the Final that was staged at Champion Hill Stadium.

Metropolitan Police defeated Beckenham Town (2-1), Hendon (1-0), Wingate & Finchley (2-1) and Haringey Borough (3-2).

Jim Cooper took the game seriously, making only three changes from his side that came away from Bognor Regis Town on the final day of the season with a point that kept Metropolitan Police in the Isthmian Premier next season.

Cray Valley's 4-3 win at Sheppey United last Saturday ensured they completed their Southern Counties East Football League Premier Division campaign in fourth-place with 75 points from 38 league games.

The Millers went down to a 2-1 defeat to champions Ashford United in the Kent Reliance Senior Trophy Final on 9 April but they joined a long list of famous clubs to become Capital champions tonight.

Coopers men had large amounts of possession during the 90 minutes but they didn't have the quality to smash Cray Valley's resilience and get through 11 men behind the ball for the vast majority of the game.

Cray Valley snatched the lead through a stunning volley from striker Ben Francis, 19, for his 15th goal for the club, before Metropolitan Police deservedly equalised seven minutes later following Ola Sogbanmu's free header at a corner.

Cray Valley winger, Aaron Rhule, 22, slotted home the winner on the hour-mark to score his fifth goal for the club.

"If you're going to win a Cup, do it with the teams that we've beaten," said Collins, 34, who has delivered silverware at the end of his first season in charge of the Eltham-based club.

"We said before the game, to beat the teams that we've beaten we think we deserved it. They (my players') were absolutely brilliant, absolutely outstanding, another outstanding performance.

"I dug them out after that Ashford game (5-2 home league defeat on 26 February), I thought rightly so. I know some of them were annoyed but they proved me wrong.

"I think they deserved it for what they've done this year. They worked hard over the season, it was our 54th game of the season. You don't get nothing finishing fourth but it was still an achievement to finish in our highest position, our highest points, highest goals scored.

"I was really disappointed to lose (the Kent Reliance Trophy Final) against Ashford but we expected to win and everyone thought we were underdogs and we expected to win again tonight for the players, for the club. It's great for the club and the players, they deserve it. They're buzzing in there and rightly so, they deserved that."

Sogbanmu proved to be a threat by winning a couple of near post headers after central defender Ollie Robinson came up to launch a couple of long throws into the Cray Valley box. His first header was steered past the near post, his second sailed across the goal and was cleared off the line by Alastair Gordon.

Metropolitan Police played the ball around their three-man defence and holding midfielders but they couldn't break down their well-organised opponents who play two levels lower.

Collins said: "When you play against these teams, I don't like to say they're better players because I believe in the players we've got in the changing room but for whatever reason some of it will be down to themselves that they're not playing at that level and that's what I said to them.

"It frustrates me because I said you're good enough too but they've got a little bit more experience, a little bit more knowhow.

"I don't think anyone takes anyone lightly in a Final but we're good at defending. We've conceded 57 league goals this season and then you watch us defend like that and we've done that in the big games. We can defend. We just felt we had pace on the counter attack. Yes, we had a game plan. The boys have got to execute it haven't they and I had full belief that they would."

The Police continued to play a slick passing game in front of Cray's back 11 and Robinson played the ball into striker Roman Michael-Percil, who set up Luke Robertson, who hit his right-footed shot over the crossbar from 30-yards.

Cray Valley advanced when Jordan Carey's big kick down the middle was played forward by Francis and Rhule cut across the penalty area from middle to left and from a tight angle his left-footed shot was blocked by keeper Brannon Daly at his near post.

"For all the possession they had, that was the first real chance," said Collins.

"I just know how good we are off the ball and I think the players' grew in confidence after we had that shot."

Cray Valley grabbed the lead with 15 minutes and 14 seconds on the clock through sheer quality from a player who shouldn't be playing at this level.

Set-piece specialist Jason Thompson floated a free-kick into the box from within the centre circle, the ball was headed out of the box at the far post and Francis hooked his beautiful left-footed volley over the keeper's head into the top right-hand corner from 25-yards. It was outstanding brilliance.

Collins said: "You're struggling to see a better goal than that! I thought it was a great finish with his left-foot. What a strike! I was standing right behind it and he connected with it perfectly.

"He's another player who has come in and been brilliant for us and deserves to be playing at a higher level and I hope he does.

"He's twisted his ankle, he rolled his ankle against Ashford in the Cup Final and he played against Dulwich and he done it again and he done it again there. I thought he was fit enough to play but he was fit enough. He's got a little bit of a weakness there."

Goalscorers Francis and Rhule should be playing their last game for Cray Valley tonight.

"I would've thought so. I think Ben will go back to Dartford. I hope for the club's sake it's not but for his sake I hope it is. Tony Burman (Dartford manager) has been really good for us by letting us have him. Hopefully we've helped Dartford out a little bit and Tony deserves a lot of credit by letting us have him.

"Ben went out on loan to a couple of Ryman League clubs and it hasn't quite worked for whatever reason. I spoke to him on the phone and Tony wasn't really keen for him to drop the levels but he came in for a month and he enjoyed it and he scored goals and he's scored 15 goals and he can go back to Dartford now with confidence and a good half a season under his belt."

Former Dulwich Hamlet man Michael-Percil played the ball inside to Sogbanmu, who drilled his left-footed shot wide of the mark from 30-yards.

But Metropolitan Police deserved their equaliser in the 23rd minute.

Charlie Collins swung in their first corner from the left towards the near post where Sogbanmu planted his free header into the top left-hand corner from six-yards.

"Just said at half-time, as well Jordan hasn't made a save in the first half, so I said for a team that's had that amount of possession and they moved the ball around and they're a higher level than us.

"I said at half-time when I spoke about mentality and desire all season, I stuck up for these boys all the time because I think they should be playing higher and I really believe that.

"I just said a quality ball into the box – JT's got that in his locker – but that bit of desire to just want to get in front of your man and win it.

"I would imagine a lot of goals are scored from set-pieces in the Ryman League. I said that's not an ability thing, that's a desire thing."

The Millers squandered an excellent chance to regain their lead exactly 90 seconds later.

They produced a sweeping raid through Laurence Collins, Jamie Miller and out to Rhule, who whipped in a quality cross from the left channel, which flashed across the face of the goal. Denzel Gayle played the ball back in to the box from the right and Francis struggled to get the ball out from underneath his feet, took a touch to place his shot wide of the right-hand post from eight-yards.

"He got the ball struck underneath his feet, I think, but you get a split second to make those decisions," said Collins.

"Denzel was quiet on the ball but his work-rate that boy put in tonight that's more than scoring a goal. He worked so hard. He's an absolute unselfish player. The work-rate he put in was outstanding."

Francis had to wipe the pain or tears from his eyes when he was forced off with his ankle injury five minutes before the break, which was a big loss to Cray Valley for the rest of the game.

Metropolitan Police ensured Jordan Carey made a comfortable save after Robinson's towering header bounced into his hands from just inside the box after Collins' driven cross came in from the right.

When asked about his half-time thoughts, Collins replied: "Ten out of 10. Outstanding. Couldn't have asked for any more. It was perfect!

"I said if we could do things a little bit better? Could Jordan's kicks not keep going down the middle of the park because that was causing a problem? I said I would rather you kick it out of play, which he did second half and I said could Denzel be a bit more advanced?

"We probably needed to deal with the long throw a lot better but apart from that it was absolutely spot on. I couldn't have asked for any more.

"I said forget about the result, think about how well you've played. Can you replicate that again and the result will take care of itself."

Metropolitan Police introduced pacy winger Orlando Smith after the interval and the former Bromley man injected much needed tempo and urgency into his team.

Collins said: "They changed their formation didn't they, they changed the way they played a little bit and it took us a little while to get to terms with it and that's a huge compliment to us as well. We stuck to what we needed to do and the boys have got a result."

Michael-Percil was forced to shoot from 30-yards, his right-footed rasping drive was caught by Carey above his head in the 53rd minute.

Cray Valley then ventured into the Police's area following Rhule's run and he cut the ball back for Gayle, who cut inside to drag his shot past the near post from 12-yards.

Smith sprinted down the right to reach the by-line before cutting the ball back to Michael-Percil, but his shot took a ricochet and Carey was able to gather.

Cray Valley escaped from the Police in the 57th minute when Rhule slipped the ball into substitute Tom Fitzgerald, who skipped past his man to release Gayle through on goal and he cut inside and stroked his left-footed shot towards the far corner, only for Daly to dive to his right to push the ball towards safety.

Collins said: "Good save. A good shot on target and it was a good move. We had a couple of good moves tonight. As much as we didn't have the ball and sat in and people might deem that as negative, I thought we created some good chances and got in to some good positions but that was a good save that one."

But Daly was at fault for Cray Valley scoring the winning goal, which was timed at 14 minutes and 19 seconds into the second half.

Right-back Gordon whacked a clearance up field from the halfway line and Daly called "keepers" but before he could finish saying the word, Rhule showed the desire to nip in to head the ball past him before slotting the ball into the back of an empty net.

Collins said: "I'm pleased for Aaron again because I said to him before the game 'I can't quite get my head round you! You shouldn't be playing at this level.'

"I watched him in the Cup Final against Ashford and I don't why we got the performance we got and I watched him against Sevenoaks, which is a big game but to a player surely against Ashford is the one you really want to turn up for and he's worked his socks off like I've never seen.

"I've said 'it's up to you, you shouldn't be playing at this level, it's up to you. You've got all the ability we can only guide you.'

"That's from chasing down a lost cause. He's got a winner in a Cup Final by chasing down not a lost cause, it was a clearance and now he's got his just rewards fort it.

"I said you can be as skilled and talented as you want but you've got a goal for a bit more desire to get to the ball first."

Cray Valley created another chance to kill the game off when Gordon released Gayle, who was more of a threat after the break, and he cut inside before drilling his low right-footed shot which was comfortably held by Daly at his near post.

"It was another chance and I was thinking maybe we need to get another one but it was a good move," added Collins.

"I said to Denzel before he should be scoring 20-25 goals in a season and that's something that we'd like to work on next season. All the work he did, he probably had tired legs."

Smith played in Robertson in behind down the left and his driven shot deflected narrowly over the Millers' crossbar.

Metropolitan Police went closer to equalising halfway through the second half.

Collins drove in a corner from the right towards the far post and Robinson rose to plant his free header just over the crossbar.

Robinson released Smith, who burst forward and whipped in a low cross towards the far post for Michael-Percil to take a touch before his low shot was gobbled up by Carey.

Cray Valley were tiring the longer the game went on and their desire levels were immense as had Metropolitan Police scored then there was no more fuel left in the tank and extra-time would have seen Cooper's men walk home with the trophy.

Carey was called into action in the final 13 minutes, sticking up his right hand to fist over Robinson's speculative dipping cross-come-shot from 35-yards which was heading towards the roof of the net.

Collins added: "I think that was a cross!"

"A couple of people said 'was you nervous?' Not until the ref said there was eight minutes left and that's when I thought 'come on hold on now."

"Until the last eight minutes we were ok. We do a lot of work on that in training because it helps the front three to break. We're very organised, we can defend balls into the box. I was more worried about when we had the ball, are we going to give the ball away and get hit on the counter attack but all the while they were outside our box they score one from 35-yards you hold your hands up but that's what can happen when you play that way but I was ok until the last eight minutes. I don't know if I fancied us in extra-time so I was just thinking 'just hold out!"

Smith whipped in a cross form the right which was met by another free-header from Robinson, the ball bouncing comfortably into Carey's hands.

Ahmed Abdulla drilled a long ball out of defence, the ball skimmed off Robinson's head, bouncing into Carey's hands, before the Police created one final chance which saw frustrated striker Lloyd Macklin flash his angled drive just past the far post from the right.

Cray Valley players ran into corners to see the game out and after the final whistle Thompson and Jamie Wood held aloft the trophy, while the lid flew off and split open Taylor McDonagh's forehead.

"I'm pleased. It's something that no one could ever take away from me. It's the first trophy they've won in senior football and that's not taking away any of the other achievements that they've done before," said Collins.

"It may help me to keep hold of a couple. If anyone was here I might lose a couple after tonight. I'm ambitious and I want the players to be ambitious and hopefully we can all be ambitious together but I think it's a night that I won't forget and certainly the club or the players will not forget."

Match winner Rhule was delighted to get his hands on a London Senior Cup winners medal for the second time after helping Bromley beat Kingstonian at Imber Court in 2013.

Report continues...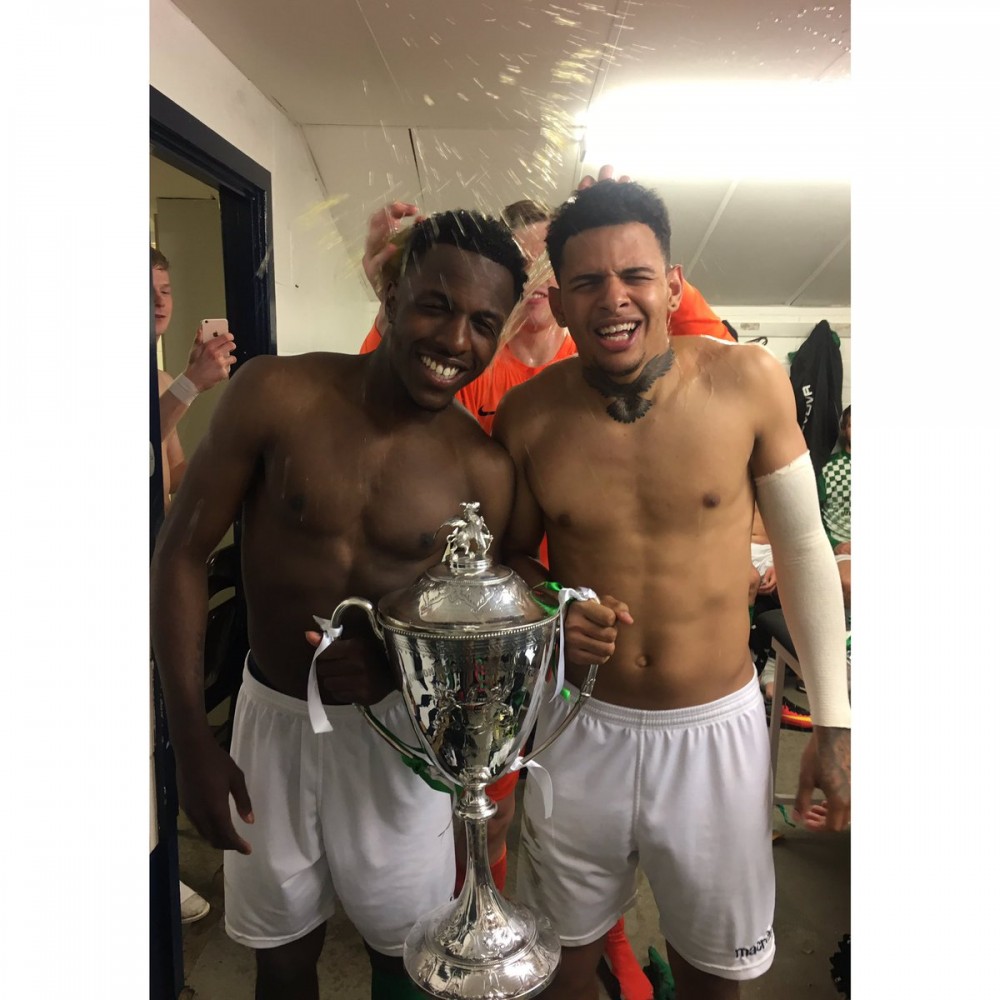 CHAMPIONS: Aaron Rhule (right) celebrates
winning the London Senior Cup for the second
time in his career after scoring Cray Valley's
winning goal against Metropolitan Police.
Photo: Twitter

"Amazing for us to beat another side above us. It's perfect. We played a game against Ashford where we didn't quite make it and we lost 2-1 so it's a good feeling for the boys (tonight), said Rhule.

"It was hard. We were 2-0 down against Dulwich and we came back (to win 3-2 after extra time). The boys showed a lot of fight but it's a good end to a good season.

"We wanted to get fourth-place and we wanted silverware and that's what we've done."

On missing out on the final 21 minutes tonight, Rhule, who has previously played for Bromley, Merstham, Chatham Town and Thamesmead Town, said: "It doesn't really matter, as long as we got the win, that's what we want.

"I pulled my hamstring. It's a bit daunting (watching from the bench) but the group of lads the last couple of games we've been losing and we've come back in it and we've held out for the rest of the game. I had a bit of faith in us and all I can say we have to go into next season and keep the same group of players and push for the title."

Reflecting on his winning goal, Rhule said: "Basically the ball was over the top. I thought it would skid though but then the back spin on it sort of kept it up in the air and I just put my head in there where it counts and Brannon the keeper who is a good friend of mine just couldn't get there!

"Yes, it's great, it's perfect. I loved it. It's another bit of silverware that I've got. I've won it before with Bromley so it's a really nice feeling for the boys who have never won it before. It's a massive feeling."

Rhule hinted that this was, indeed, his last game for Cray Valley.

"Oh I don't know. I couldn't tell you. I don't know. Obviously as much I want to stay here I want to play as high as possible so I'll speak to James in the future, take a bit of time out and go from there and see what the future holds."

Cray Valley skipper Thompson, 28, added: "I thought we deserved it. I think it sets a marker down. We've had a really, really good end to the season. We've had a Cup Final, finished the highest league position the clubs had and to win this one by beating the teams that we've beaten is a credit to the boys.

"It ain't the easiest of little runs. The boys have worked really hard. We've been under the cosh in the games. We've sat back and we've taken a lot of pressure but we've come up with the goods, so quality from the lads."

Thompson admitted he was at fault for Metropolitan Police's leveller.

"I was gutted. It was my man. I let him go, he's got it, a free header. I put my hands up. It's a bit gutting and it deflated us for a couple of minutes. We re-grouped, got over that. I thought we was really good all the way to the end."

Thompson, who helped Whyteleafe win the Southern Counties East Football League title a couple of seasons ago, reflected on Francis and Rhule's strikes.

"I don't think he'll hit any cleaner than that! Right on the button. The keeper had no chance," Thompson said of Francis' stunner.

"I'll be totally honest with you, I don't think I've ever seen Aaron head it before, fair play to him. He's worked his backside off today and he's deserved his goal.

"It's been a good season but as a group, as a team, we still feel that we've under achieved. I think if we had this team together and the togetherness that we've built, at the start, who knows what could've happened but I think the boys have done fantastically well.

"This is the first time I've won this one. It's one of the better ones. The teams in it are all decent teams. We're one of the lowest ranked in it so to come out and win it is really good, really good."

Cray Valley now face a fight to keep hold of Carey, Ashley Sains, McDonagh, Gayle, Francis, Thompson and Rhule this summer after impressing during the season.

But Thompson said: I'm happy with Cray to be honest with you. I'm happy to stay there. They've helped me out this year. I had a year out last year, they've taken me on, helped me gain a little bit more fitness and hopefully I can come back stronger next year and get them a bit of what I can offer."

Cray Valley (Paper Mills): Jordan Carey, Alastair Gordon, Danny Smith, Laurence Collins (Joe Matthews 69), Ashley Sains, Taylor McDonagh, Denzel Gayle, Jamie Miller, Ben Francis (Tom Fitzgerald 41), Jason Thompson, Aaron Rhule (Enoch Adjei 69).
Subs: Frankie Griffin, Jamie Wood

Goals: Ben Francis 16, Aaron Rhule 60

Booked: Laurence Collins 64

Metropolitan Police: Brannon Daly, Sam Williams (Rylan Myers 40), Mekhail McLaughlin, Will Salmon, Ollie Robinson, Rob Bartley (Ahmed Abdulla 69), Ola Sogbanmu (Orlando Smith 46), Luke Robertson, Lloyd Macklin, Roman Michael-Percil, Charlie Collins.
Subs: Ryan James, Jon Nurse

Goal: Ola Sogbanmu 23

Booked: Lloyd Macklin 79

Attendance: 162
Referee: Mr Andreas Anatasiou (Barnet, Hertfordshire)
Assistants: Mr Craig Kissi (Lambeth, London SE11) & Mr Michael Begley (Eailing, London W5)
Fourth Official: Mr Lee Brennan (Westminster, London SW1)