Cray Valley (Paper Mills) 0-2 Hastings United - I don't think it was the best game for the neutral if I'm honest, admits Cray Valley boss James Collins
Sunday 21st August 2016
Cray Valley (Paper Mills)

0 – 2

Hastings United

Location
DGS Marine Stadium, Middle Park Avenue, Eltham, London SE9 5HP
Kickoff
21/08/2016 15:00
CRAY VALLEY (PAPER MILLS) 0-2 HASTINGS UNITED
The Emirates FA Cup Preliminary Round
Sunday 21st August 2016
Stephen McCartney reports from DGS Marine Stadium

CRAY VALLEY (PAPER MILLS) manager James Collins says his side have got to improve after being knocked out of The FA Cup by Hastings United.

Darren Hare had an injury-hit side for this Preliminary Round tie but they comfortably got through courtesy of goals from makeshift strikers Steven Watt (his third goal in three games) and Sam Cole.

"I'm disappointed," said Collins, who guided rivals Lordswood to a fourth-place finish last season.

"I thought defensively we were ok. I didn't think they created loads of chances. I didn't really think we looked after the ball well. It didn't look like we were really ever going to score, we got into good positions.

"I felt people had an off-day off-the-ball but I think some people cheated, some people hid and I think if you hide against a team of that quality, you're not going to get anything out of the game.

"Yes, I go along with it was a comfortable victory for them. Up until the first goal I didn't think there was anything in it to be honest. I thought if we'd had scored first it could've been a different game and we had chance when Leigh Bremner's looped one over the bar but apart from one save that Colin Barnes made in the first half which was a great save, they've scored from a set-piece, maybe that's the difference. I didn't think there was anything in it and the second goal killed the game really.

"They just took their foot of the gas. I didn't think they opened us up loads and that might be down to we were organised defensively. It might be down to the fact they didn't need to get out of second gear but I'd agree with that, it was a comfortable victory for them."

Collins was without Jack Bradshaw, Denzel Gayle, Ben Healy, Aaron Jeffrey, Cisco Mbela, Steve Mills, Memhet Piro and Cem Tumkaya and goalkeeper Colin Barnes was only made available when his paperwork was registered with only six minutes before the deadline on Friday.

The Millers went into the game having won 4-0 at Southwick in the Extra Preliminary Round and they sat in ninth-place in the Southern Counties East Football League table after beating Deal Town 5-1, before suffering a 4-2 defeat at Erith & Belvedere.

Much-fancied Hastings United, meanwhile, arrived in Eltham sitting in fifth-place in the Ryman League Division One South table having beaten South Park (4-1) and being held to a 1-1 draw at Herne Bay in their last game.

With a familiar side of Kent-based players, Hastings United created their first opening inside the opening three minutes.

They played out from the back before right-back Richard Davies fed winger Matt Bodkin, who played in a low centre for Watt's near-post flicked shot to be comfortably gathered by Barnes at his near post.

Collins said: "It was more of a, it rolled back didn't it? I thought it was good defending, it took a deflection and it was a cross into the box. We knew we had to deal with them and it sort of roiled into Colin."

Watt was causing a nuisance to the Cray Valley back four during the early stages and he swept a first time shot towards the bottom far corner from 15-yards – after playing a one-two with winger Sam Cruttwell, which was comfortably saved by Barnes.

But Cray Valley were to be denied by a smart one-handed save from Hastings keeper Ryan Nicholls after 20 minutes.

Peter Smith played the ball out to right-back Jack Hope who rolled the ball back to central defender Joe Matthews, who clipped the ball down the right channel for striker Leigh Bremner to chase.

Bremner cut inside, appeared to be nudged from behind by Hastings' left-back Reece Butler, got back on his feet, turned and steered a low shot towards the bottom right-hand corner from 15-yards, which was pushed around the post by Nicholls, diving smartly low to his left.

"Up until that moment we've drawn the first save of the game and I think from the resulting corner we've put a decent cross in and no-one's got on the end of it," said Collins.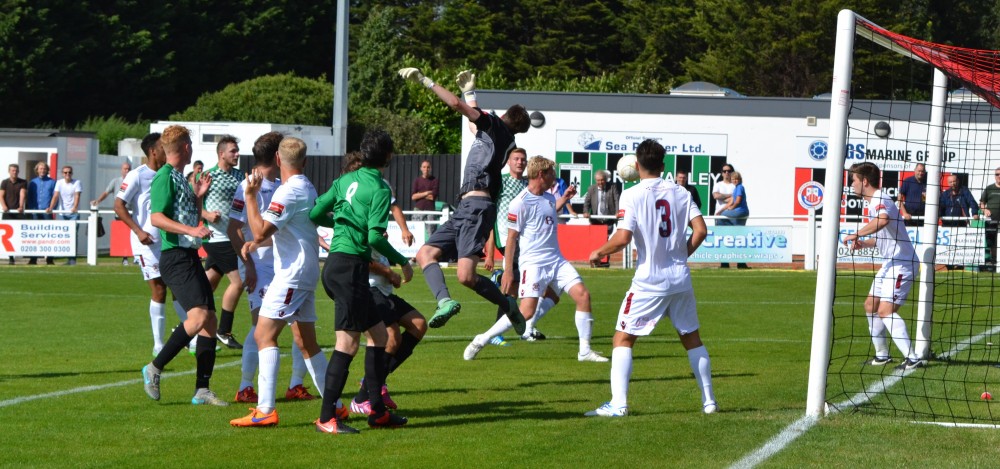 Hastings United keeper Ryan Nicholls flaps at a Cray Valley
corner.
Photo: Alan Coomes

"I think they controlled the game and they had more possession but in terms of a chance if we had a set-piece that went across the goal and they had a set-piece and they had quality in the box and they took theirs."

Hastings United deserved their lead, timed at 23 minutes and 27 seconds.

Australian midfielder Wayne Wilson whipped in a perfect free-kick from the left and an unmarked Watt hooked his volley over his shoulder towards goal, the ball deflected off Millers' central defender Ashley Sains and went in off the underside of the crossbar.

The dubious goals panel sat and awarded the Scottish defender the goal.

"Jack Hope's miscued a header and then he's brought him down and you don't want Wayne Wilson whipping a ball in," said Collins, who has previously managed Erith Town, Sutton Athletic and Lordswood.

"Sometimes I think credit where credit's due and it's a great finish to be fair. I hate conceding goals and I'll be the first one to criticise them but sometimes you have to say 'good delivery, great finish and that's quality', and give Hastings credit for that."

Bremner created another chance for the home side in the 31st minute.

Peter Smith clipped a ball over the top of Butler which Bremner latched on to down the right corner of the penalty area, hitting his dipping volley that dropped down and kissed the top of the roof of the net.

"It was the only time where we had a little bit of quality. I thought Leigh Bremner was outstanding today," said Collins.

"I think that's what I'm talking about cheating. I think it was far too easy to keep whacking the ball long to him and ask him to get on the end of scraps and that was not how we set-up. It was not how I asked them to set-up but we weren't brave enough to get on the ball and anything that came from today it was a bit direct. It was a little bit disappointing. I thought I've played a footballing team in terms of how I know the players and that chance came from scraps. It would've been a great goal but it weren't really a chance."

This was Cray Valley's best spell of the entire game but Hastings United were a threat from set-pieces.

Wilson's first corner was poor though, failing to beat the first man and Laurence Collins cleared his lines. The ball was played back in by Simon Johnson and central defender Oliver Rowe's drive from a tight angle was cut out by Barnes at his near post.

Cray Valley winger Richie Hamill's left-footed dipping free-kick from 35-yards just cleared the crossbar.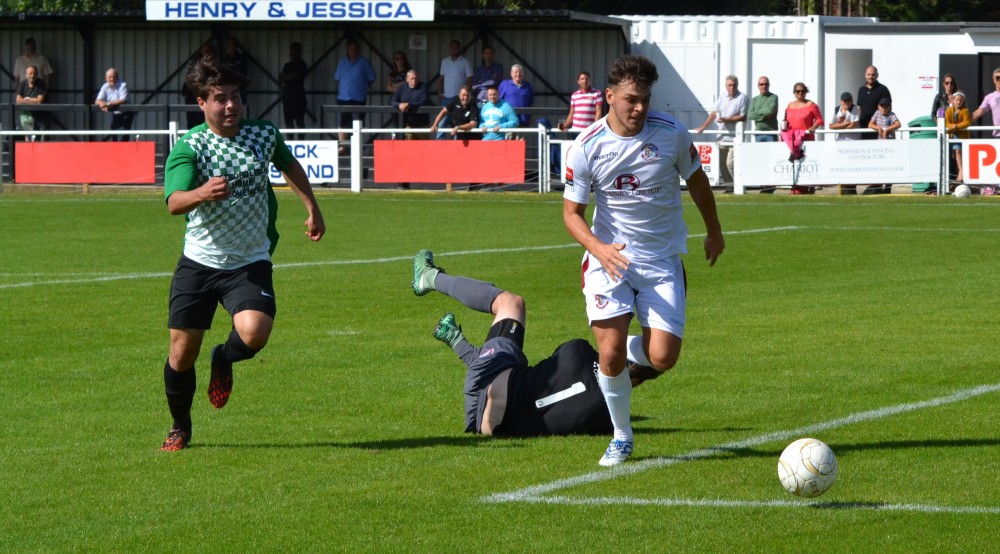 Winger Richie Hamill (left) decided to leave Lordswood
to follow manager James Collins at Cray Valley this season.
Photo: Alan Coomes

"He scored loads for me for Lordswood last year so I don't begrudge anyone having a shot from there," said Collins.

"Ryan (Nicholls), who I had last year, looked a little bit shaky, so I would've liked to have got it on target and made him work."

Butler clipped a ball out of the Hastings defence down the left channel and Cole nipped in front of Matthews and managed to steer his shot straight at Barnes from a tight angle from inside the penalty area.

Barnes pulled off a brilliant save to deny Hastings United a second goal in the 43rd minute.

Bodkin sprinted with the ball through the heart of the pitch and when crowded out on the edge of the box he threaded the ball through to Cole who laid the ball off to Davies, who had got in behind Danny Smith. Davies whipped in a cross towards the far post and an unmarked Cruttwell seemed destined to score with a first time drive, but Barnes pushed the ball around his near post from close range.

Collins said: "That was the only time that they opened us up! We didn't do a great deal wrong and I felt that was more good quality from Hastings as opposed to us not doing the right things, but yes, great save. It should've been 2-0 I guess but I think that would've been harsh for us to go in at half-time 2-0."

Cray Valley's last shot on target arrived on the stroke of half-time when Peter Smith's angled drive from 30-yards was saved comfortably by Nicholls.

When asked his thoughts at the interval, Collins replied: "I thought it's difficult when you're watching it because you're watching your team but I felt in terms of possession we had as much possession. I felt in terms of chances we've had as many chances. I felt it looked like we were never going to score but saying that we were standing in the dug-out and we were saying they wasn't opening us up so we didn't feel they were going to score either.

"But I thought on the ball we were really poor, really poor on the ball, which is disappointing because we've scored a lot of goals in pre-season.

"I don't know if they were concentrating more defensively. I don't think we were brave enough to get on the ball and that was disappointing. If you're not going to be brave and get on the ball, you're not going to create chances."

Hastings United killed the game off as soon as they doubled their lead in the 54th minute.

Davies, Bodkin and Johnson linked up well in the Millers half and Watt swept the ball out to Cole on the right. There appeared to be no danger but Cole cut inside and curled a left-footed shot from 22-yards around the diving Barnes – who should have made the save – the ball nestling into the bottom far corner.

"Possibly, we felt he could've done a little bit better," Collins said of his goalkeeper.

"Funnily enough, I was bending down talking to my assistant (Brad Sandeman) because we were just about to make a change and then that goes in and that just zapped the life out of us I think.

"All the while it's 1-0 you feel you can nick something and that second goal put them firmly in control and probably as boring as it is for people to watch I like that about them. I like the fact that they controlled the game, they took the sting out of it by sitting and I understand and they did what they needed to do and I think credit to them for doing that."

Bodkin and then Cruttwell drove shot just off the target from long-range as the rest of the second half offered poor quality for the crowd of 192.

Cray Valley forced their third and final corner in the 74th minute, which was swung in by Hamill but Sains came up from the back to glance his header harmlessly wide – and that was the best if got for the Millers.

"I don't think it was the best game for the neutral, if I'm honest," admitted Collins.

"I know they had people missing, we've had a tough week with injuries. I had eight players missing today.

"It is hard when you're playing against a decent side. They did what they had to do. I'm pretty sure if they needed to up their tempo and up their levels they would've done.

"There was certain people that came out of it with credit but I've learnt a lot today. I didn't know if we were the team (that beat Deal 5-1) or the team that lost 4-2 at Erith & Belvedere, so I felt I've learnt a little bit today."

Cray Valley's lone striker Bremner cast a frustrated figure as he was well-marshalled by Jerome Roseje and the service up to him was poor and was caught offside on five occasions during the game.

"I don't think we created anything second half. We kept whacking the ball long, which was the complete opposite that we asked them to do," admitted Collins.

"I thought Leigh Bremner was outstanding. I would've been frustrated if I was Leigh Bremner as well! He passed a fitness test this morning, he's not 100% fit and he worked his absolute socks off and I didn't think he had any service at all.

"We're all disappointed. I brought him in (from Ryman League Division One South side Cray Wanderers) because he's a quality player. If you're not going to give him any service, he's not going to be able to impact the game."

Hastings United had chances to increase their lead in the final 15 minutes.

A poor clearance from Barnes went straight to Wilson, who slipped the ball through to Bodkin, who stung the keeper's fingers with a 25-yard drive.

Bodkin played Davies on the overlap and his low centre was almost turned in by Watt at the near post, the ball taking a deflection as he poked the ball past the foot of the right-hand post.

Bodkin then gave Davies another opportunity to put in another cross from the right and Barnes had to make the save to prevent team-mate, substitute Jamie Miller scoring an own-goal.

"Richie had run out of legs, we ran out of legs and we just couldn't get back. We went 4-4-2 (from a 4-2-3-1) straight after the goal so we were always going to leave ourselves a little bit more open."

Hastings United, who beat Cray Valley 3-0 here at the same stage of The FA Cup last season, weren't at their best but got the job done, while Cray Valley host newly-promoted side Bearsted next Saturday, before travelling to much-fancied Crowborough Athletic on Bank Holiday Monday, 29 August.

"Both are going to be tough games," said Collins. "Bearsted are at team that's used to winning after winning the (Kent Invicta) League last year. We've had them watched and they're very, very workmanlike and very organised.

"The players are coming in tomorrow and Thursday and we've got to work through things.

"Crowborough apparently are spending money and they're going to be a decent side so it's going to be a tough game. It's going to be a tough weekend. If you take six points out of the Bank Holiday weekend you've had a good start."

Reflecting on the bumper crowd of 192 today, Collins added: "Good for the club. I don't think too many people have been impressed by us but maybe that's a blessing in disguise and we'll shock a few teams as the season goes on.

"We always get better. We've got a lot of improving to do. But I came here because I felt we could do better with Cray Valley than what I did with Lordswood last year. Top three? I want more than that but we have to decide at the end of the season if that's a good season or not."

Cray Valley (Paper Mills): Colin Barnes, Jack Hope (Jamie Miller 64), Danny Smith, Peter Smith, Ashley Sains, Joe Matthews, Tom Fitzgerald, Laurence Collins, Leigh Bremner, Jason Thompson (Kyle McDowall 57), Richie Hamill.
Subs: Frankie Griffin, Chris Cowdrey, Tommy Osborne, Jamie Wood, Nad Nwitua

Booked: Leigh Bremner 77

Hastings United: Ryan Nicholls, Richard Davies, Reece Butler (Harry Stannard 70), Wayne Wilson, Oliver Rowe, Jerome Roseje, Sam Cruttwell (Bradley Pritchard 87), Simon Johnson, Matt Bodkin, Steven Watt, Sam Cole.
Subs: Liam Foster, Oliver Black

Goals: Steven Watt 24, Sam Cole 54

Attendance: 192
Referee: Mr Jamal Horne (Croydon, Surrey)
Assistants: Mr Daniel Hayes (Croydon, Surrey) & Mr Nigel Walker (Croydon, Surrey)


Coverage Sponsored by:






Pitch Maintained by: