Cray Valley (Paper Mills) 2-5 Ashford United - We've got a lot riding on our results over the next month, says treble-chasing Ashford United boss Danny Lye
Sunday 26th February 2017
Cray Valley (Paper Mills)

2 – 5

Ashford United

Location
DGS Marine Stadium, Middle Park Avenue, Eltham, London SE9 5HP
Kickoff
26/02/2017 15:00
CRAY VALLEY (PAPER MILLS) 2-5 ASHFORD UNITED
Southern Counties East Football League Premier Division
Sunday 26th February 2017
Stephen McCartney reports from DGS Marine Stadium

ASHFORD UNITED boss Danny Lye praised the desire from his players as they came from behind to beat Cray Valley despite playing the entire second half with ten men.
Ashford United had to come away with three points in the bag to leapfrog over Crowborough Athletic to return to the summit of the Southern Counties East Football League Premier Division table on 64 points with 12 games left to play, having won their last ten games.

Crowborough Athletic slipped back down to second-place with 63 points but they do have a game in hand and it seems that whoever wins the top-of-the-table clash at Homelands Stadium on 1 April should go on to win the league title.

A crowd of 170 watched both sides struggle to create chances from open-play on a blustery cold Sunday afternoon, as all seven goals came directly from set-pieces or immediately just after them.

Cray Valley, who slipped down to eight-place on 48 points from 26 games following yesterday's results, took the lead inside the opening six minutes through Jason Thompson's penalty.

But Ashford United swiftly equalised courtesy of Stuart West's fourth goal of the season, coming up from the heart of defence to score from a half-volley.

West was given his marching orders by referee Chris Myatt for picking up his second yellow card in the space of seven minutes and Thompson scored with a sublime curling free-kick from the very edge of the penalty box to score his eighth goal for the club on the stroke of half-time.

But Ashford United recovered from losing their captain by fighting back in true title-winning fashion.

Stuart Welford headed in from a corner and converted a penalty after referee Myatt sent off the wrong man, Thompson instead of Millers' left-back Danny Smith following a handball on the line.

Welford won his side another penalty but he smashed his spot-kick against the crossbar but his strike partner Adrian Stone tucked home the rebound to score, before Welford's hat-trick, another header, was to become his 34th goal of the season.

"Good second half comeback," said Lye, following his side's 21st league win of the season.

"First half, we weren't at it but we sort of changed it after the sending off at half-time and good desire from the boys and it shows you we've got a good camp.

"I haven't even seen the results from yesterday until the boys said Crowborough won (2-1 at home to Erith Town). I don't really follow it but we need to win every game now from now until the end of the season and any game you don't win you're dropping points against the others, against Crowborough, Sevenoaks and Sheppey.

"But the first half we weren't at it. It's not a penalty, definitely not a penalty for them in the first half but he gave one in the second half which probably shouldn't have been as well so it evens out but a good second half."

Cray Valley boss James Collins felt disappointed after falling apart during a woeful second half performance from his side.

"Bitterly disappointed to be fair. We come up short when we play against these top sides and that second half performance suggests where we are in the table, probably the fairest way to say it," said Collins after his side extended their winless run to four games.

"Just everything that we asked to be done and we spoke to them at half-time seemed to go out of the window and we couldn't, for whatever reason, follow the instructions that were given at half-time – capitulation really."

Ashford United created the first opening inside 71 seconds when Stone rolled the ball out to right-back Rory Hill, who drilled his right-footed shot past the far post from 25-yards.

But Cray Valley opened the scoring with five minutes and 26 seconds on the clock.

Winger Aaron Rhule put in a cross from the left and the ball hit the hard surface and bounced up to hit Pat Kingwell on the hand and referee Mr Myatt pointed to the spot.

Thompson stepped up and his left-footed penalty nestled into the bottom right-hand corner, despite big George Kamurasi diving to his left and only just missing the ball with his outstretched left hand.




OPENER: Cray Valley captain Jason Thompson (green shirt wearing number 10), scores from the spot to give his side an early lead against treble-chasing Ashford United.
Photo: Alan Coomes

Both managers were asked their thoughts on the decision.

Collins said: "It was a strange one. It was a little bit of a break. We got the ball into a good area and got a penalty, 1-0, great start really."

Lye said: " I don't think it's a penalty. I mean, unless they chop their arms off, how do you stop the ball hitting their arm on that? It's very difficult, but they scored. We made a good response, got back in the game and went on from there."

Hill pinged a 60-yard diagonal pass out of defence to feed left-winger Ryan Palmer, who cut into the penalty area, but his shot bounced in front of Millers' keeper Jordan Casey, who got down on his knees to make a comfortable low save at hjs near post.

But Ashford United were level, with 10 minutes and 17 seconds on the clock.

Ben Davisson swung in a corner from the left, which was cleared out to him and his deep cross went straight to West at the far post, whose half-volley from 12-yards was helped in by Carey as he dived to his left.

Lye said: "We said a few weeks back he hasn't scored enough goals this year. He's scored a couple now in three weeks so that's pleasing. He's going to get a good spell on the sidelines at some stage with his bookings so he needs to learn how to stand up."

Collins added: "Disappointed on our part really in the sense of conceding the goal. They put balls into areas and I thought they did that for the first 20 minutes and peppered us. We dealt with it quite well but that one that we just didn't deal with and he put the ball in the back of the net. Frustrating to concede a goal like that straight after scoring."

Welford was his usual threat in the air for Ashford United and he met West's long cross with a downward header from 10-yards, which brought a comfortable save from the Cray Valley keeper.

But the strong wind meant both sides struggled to keep the ball on the deck during the first half, hence clear cut chances from open play were at a premium.

However, one came for Ashford when Kingwell clipped the ball down the left channel for Welford, who floated in a cross into the box and Stone flicked his shot towards goal, which rolled across Carey and Laurence Collins kept composure to play the ball out of his own six-yard box and rolled the ball to Smith, who hit the channel with a long ball.

Hill drilled a 35-yard drive through a crowd of players and through a crowd of players, as Ashford United created the first half chances.

West played the ball on his outside to Hill, who looked more like a right-back than a right-winger and he went on a 60-yard run up field, played a one-two with Welford before scuffing a weak right-footed shot straight into Carey's hands from 17-yards.

West collected his first yellow card in the 39th minute for fouling Rhule down the left-channel and the pair shook hands before Thompson swung in the resulting free-kick, which forced Kamurasi to palm the ball towards safety as it dipped towards goal.

Thompson then swept a deep free-kick into Ashford's penalty area from the half-way line where Taylor McDonagh, who had dropped back into the heart of defence after Ashley Sains was forced off through injury, directed his header straight into Kamurasi's hands for a catch.

The quiet Palmer cut inside Sains' replacement Jamie Miller and drove his right-footed drive sailing harmlessly over the crossbar from 35-yards.

A poor clearance from Cray Valley keeper Carey was collected by Welford, who found Ryan James, but the midfielder took a touch, skipped around Miller only to stab his shot straight at Carey from 15-yards.

Cray Valley created an opening following another set-piece.

Thompson's free-kick from midfield was knocked down by quiet lone striker Scott Riley and winger Enoch Adjei swept his shot across the face of goal and past the far post from 20-yards.

But Cray Valley grabbed the lead with the clock showing 46 minutes and 39 seconds.

Riley released the pacy Adjei through on goal and he was tripped by West on the very edge of the penalty area. Out came his second yellow card, followed by a red and Ashford United were down to ten-men for the entire second half.

West took a seat in the away dug-out before assistant referee Mark Cheeseman asked him to leave to make his way towards the dressing rooms.

The ball was positioned on the white markings of the penalty area and Thompson stepped up to score with a sublime curling left-footed free-kick, which screamed into the top far corner of the net.

Both manager's were asked whether the tackle was made inside or outside the box. They both agreed it was outside.

Collins said: "It was outside, definitely outside yes, definitely outside and a great free-kick from JT. We know he can do that.

"I asked him (West) if he won the ball as he was walking off and he said no so you can't have many too complaints about that.

"Great free-kick, he's a quality player and that was a great free-kick!"

Lye said: "I think it's out. I think the ref's right. It was outside the box. Westy gets a second yellow card. I think it's harsh because the first tackle shouldn't have been a yellow card and the second one, what he got a yellow card for was but they've scored from it and it puts you under pressure for the second half.

"They owed us to be fair because we scored two screamers here on Wednesday (in our 2-0 win over Cray Valley in the Macron Southern Counties East Football League Challenge Cup Quarter-Final) and they owed us and it was a great strike, he curled it in."

Despite being a man down, Ashford United put in a dominant second half performance, following Lye's half-time dressing down.

He said: "I gave the boys a dressing down. I told them we haven't got enough desire! We weren't winning seconds. We went braver. We went three at the back, pushed our two wing-backs on. I told them to cheat and stay higher up the pitch and if we get plenty of the ball that will counter act their 11 against our ten and it'll feel like we haven't got ten and the boys done it."

Collins was asked his thoughts at the break too.

He said: "We sort of said it's an excellent first half. They're down to ten men, they're going to throw the kitchen sink at us. They've got a league that they want to win. Can we weather that storm? Can we get them turned? Can we cause them problems? Can we pick them off? The game will stretch, can we pick them off? It's obviously didn't go to plan!"

Cray Valley had a glorious chance to win the game in the 50th minute when Thompson swung in a corner from the left towards the near post where Riley jumped up with Kamurasi to plant his header over the bar from inside the six-yard box.

"This is a corner that we work on. He got in front of him and he probably got too much on it but he's a big keeper George, so he did well," said Collins, who added, "I didn't feel we came out in the second half. I don't think us having too much at all."

"If that goes in, if people take their chances, it changes games. We rode our luck a couple of times," admitted Lye.

"When you're 2-1 down with ten men and you have to take the three points, you need the three points. If you're third or fourth in the league you can settle for a draw but we need a win. You have to go for it."

Carey produced a top save when he dived full-length to his right to tip Stone's angled drive around the post from the right-hand corner of the box after Hill cut into the box and Welford prodded the ball inside to his strike partner.

"We've got character, we've got lots of character, the boys. They knew in the first half we made a couple of mistakes and to come back into it in the second half, they done what they were told at half-time and the desire was there for everyone to see," said Lye.

"I mean, the players we've got up top, if they've been given half-a-chance one's going to take it. Stone sort of huffed and puffed, Welford huffed and puffed as well, so it was only a matter of time."

"He was busy today, so he had to have a good game. He had to have a lot of saves," came Collins' response.

Ashford United drew level in the 58th minute – immediately after Rhule was substituted - and never looked back.

Davisson delivered a deep corner from the left and without Sains presence out on the pitch, Welford ghosted in at the far post to power his header bouncing into the bottom right-hand corner.

"Doing what he does best, puts his head on it. That gets you back in the game when that one went in. That changed the momentum with the game," added Lye.

"I said to the boys at half-time if you put them under pressure and you have a couple of chances from the way we wanted to set-up and cheating their full-back and their 11, won't count.

"It will feel like you've got the same number of players. They done it and Welford scored and that set the momentum in our favour."

Collins said: "It was a little bit of communication for me. The ball got put down the channel, which could've been played back, for me. We know Welford's got a long throw, it's something that we spoke about. We've given away a cheap throw, it's come from a throw-in and they've ended up getting a corner out of it and he's headed it in. It's a great header to be fair but we should be doing better."

Kamurasi made a big save at his near post to deny Millers' substitute Chandler Kasai immediately after Ashford's equaliser.

But Hapless referee Myatt made a controversial blunder in the 69th minute.

Hill set-up Stone, whose hooked shot was handled near to the line at the near post and the referee pointed to the spot.

Cray Valley left-back Smith was the guilty party but the referee booked Ryan Fowler for dissent and then pulled out a straight red card to shell-shocked Thompson.

Assistant referee Mark Cheeseman flagged and the referee walked over to talk to James Collins, who was standing up in front of the home dug-out.

Welford had to pace 12-yards from the goal-line because the penalty spot was worn and keeper Carey tried to put him off by firstly standing in front of him and then swinging on the crossbar.

Try to put Welford off? No chance! Welford stepped up and clinically placed his right-footed penalty into the left-hand corner of the goal, to give Ashford United the lead, timed at 26:42 on the clock.

"Well, the way I see it, Danny Smith was the one that made the block, so it's mistaken identity because it wasn't Jason Thompson that handballed it anyway," confirmed Collins.

"But quite how that can be handball from that close, I think is extremely harsh and then we've had a player sent-off that our captain didn't handball it!

"The ref said it was a red card and a penalty but he said Jason Thompson handled it so he's got a straight red for that for handballing it, for what we've bene told and he's 100% certain that he was the player who handballed it and we got a straight red card for it.

"How? When you throw your body on the line in the six-yard box and make a block for it to be a penalty for it is harsh because I didn't think his arm was out from where I was standing but then to send him off that's, I don't think it was a penalty, but everyone sees them differently and that knocked the stuffing out of us again."

Lye said: "No (it wasn't a penalty). Same as our one in the first half. Same one when Pat Kingwell was blocking the shot and they're blocking the shot. He shouldn't be giving penalties for it but the ref's given both so he's levelled it up with that and Welford put it in the bottom left."

Hopefully this match report will persuade the referee to change his report to The FA and that he puts down that Smith should have been sent off and will serve the suspension instead of Thompson.

"He's sent the wrong player off," insisted the Ashford manager.

"Everyone knows that referee, he makes errors. He's made them again today, definitely. Luckily, he's made them both ways to sort of level the game out a little bit. It's definitely not a penalty! He's charged the ball down, where do you put your hands? It's ball to hand, rather than hand to ball.

"It shows what you're dealing with each week and their mistakes can cost you big. They can cost you points when you're challenging for titles, their challenging for fifth and sixth and it cost you points.

"The boys on the sidelines were saying 'it's been a long time'. I said that's not going to affect Welford, he's been around the block long enough! He knows to stay patient and he's smashed it in the corner."

Davisson's fine through ball put Welford in behind the Millers' back four and Welford poked the ball past the advancing keeper, who made contact and down went Welford.

Hill was booked for dissent, Carey was rightly booked because his fair challenge was made in the box and Welford stepped up and smacked his right-footed penalty against the crossbar.

But Stone showed more desire than two defenders to stab his right-footed penalty into the back of the net from six-yards.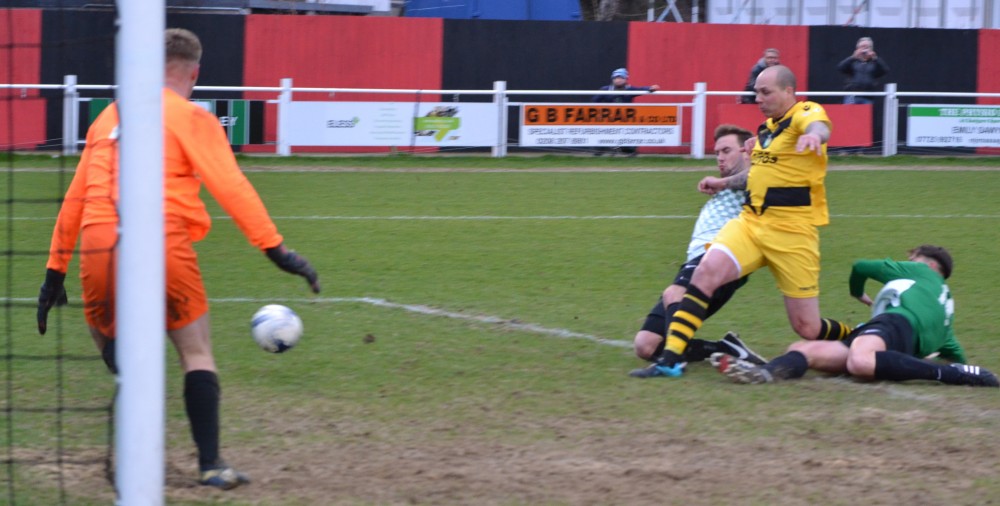 DESIRE: Ashford United striker Adrian Stone (yellow shirt) reacts to Shaun Welford's second penalty hitting the bar to score.
Photo: Alan Coomes

Lye said: "Again, is it a penalty? Is it not a penalty? It's definitely a tough decision. Shaun, with his experience, he's put the ball past him and made sure there was contact. I think they're weak decisions but I'm a bit more old school with it. In the modern game, it is a penalty.

"Shaun's decided to go a different way and it's hit the bar. When you've got Stone on the pitch, he's a poacher isn't he and he's always in the right place and he's nicked in with a goal."

Collins added: "Again, you have to ask them. The linesman didn't give the penalty because I asked him and I said was it a penalty? He didn't give it. They (the Ashford bench) were laughing, whether or not they felt it was a penalty or not, I don't know.

"When the penalty's hit the bar sums us up afterwards. We didn't react first. We weren't interested. We didn't want to know and desire, they had more desire than us and that's why they've won the game."

Carey pulled off a brilliant save to deny Ashford when Kingwell played the ball up from defence, the ball was knocked down by Stone and Davisson's volley from 22-yards was tipped over the bar by the keeper's outstretched right-hand.

Collins said: "That was a good save. He had a lot to do, didn't he, so it was a good save."

Lye added: "By that time we were fully in charge of the game and we sort of got them pinned back. We kept the ball well. It was very hard to get out, the way we set out. It was a good shot from Davo."

Ashford United completed the scoring with ten minutes remaining when Davisson floated in their seventh corner from the left and Welford headed down and in at the far post from six-yards.

Lye said: "By then they had Ashley Sains go off injured in the first half. Ashley Sains is good in the air, he can nullify Shaun up top. By the time he went off, they haven't got enough numbers to mark our men and Welford's aggression and power and desire to get on the end of it, you can't stop them."

Collins added: "Another goal from a corner and he's had more desire to get on the end of it than us. That's what happened in the second half and that was us in the second half."

Cray Valley created a chance from their fifth and final corner, which was swung in by central defender Laurence Collins, Fowler bundled his way through and the ball fell at Austin Gacheru's feet and he shot straight at Kamurasi.

"The game was gone then, wasn't it? I'd like him to score but he didn't. It was just a bad second half," admitted Collins.

Welford almost scored a fourth goal and he once again met Davisson's corner from the left with a thumping header but this time Smith headed the ball off the line.

Gacheru cut in before stinging Kamurasi's fingers with a low drive from 35-yards, before Ashford sub Brett Ince lashed the last shot of the game over the bar from 22-yards after receiving the ball from Davisson's free-kick.

Both sides have now played each other on three occasions with Ashford United winning all three and they lock horns for the final time this season in the Kent Reliance Senior Trophy Final at Maidstone United on Sunday, 9 April.

Collins said: "I said to them we're in a Final but you might as well go out in the first round if you're not going to be winning the Final either so it's as simple as that.

"It's to look forward to but we've got a lot of work to get done before then and we need to start on Saturday (at home to basement side Fisher)."

Lye added: "It's nice, it's a nice dilemma, you go into the Final, they've got to have a little bit of luck but we've got to go into the Final confident. We go into every game confident."

Now a two-horse race for the title because Sevenoaks Town have dropped out now that they are seven points adrift of Crowborough Athletic in third.

Lye, who's side host struggling Lordswood next Saturday, said: "It's going to go right to the end. It's between us and Crowborough, I think. Sevenoaks are a little bit further behind but there's big games. We've got Sevenoaks, Crowborough, Whitstable and AFC Croydon Athletic. We've got all of them now over the next month. Likewise, Crowborough have got to play Whitstable twice, they've got to play Hollands & Blair on the last game of the season so it's going to be a tough one to pick who is going to go for it.

"It's just holding your nerve and make sure you grind your results out. If we win every game, we win the league and we'll win the cups and we've got the treble, simple as that."

Cray Valley (Paper Mills): Jordan Carey, Alastair Gordon, Danny Smith, Taylor McDonagh, Ashley Sains (Jamie Miller 40), Laurence Collins, Enoch Adjei, Ryan Fowler, Scott Riley (Austin Gacheru 63), Jason Thompson, Aaron Rhule (Chandler Kasai 57).
Subs: Frankie Griffin, Jamie Wood

Goals: Jason Thompson 6 (penalty), 45

Booked: Aaron Rhule 48, Taylor McDonagh 59, Ryan Fowler 69, Jordan Carey 75

Sent off: Jason Thompson 69

Ashford United: George Kamurasi, Rory Hill (Dan Stubbs 81), Fraser Walker, David Botterill, Stuart West, Pat Kingwell, Ryan Palmer, Ryan James, Shaun Welford (Brett Ince 90), Adrian Stone (Luke Eldridge 84), Ben Davisson.
Subs: Jason Goodchild, Harry Lavender

Goals: Stuart West 11, Shaun Welford 58, 72 (penalty), 80, Adrian Stone 76

Booked: Stuart West 38, Rory Hill 75

Sent Off: Stuart West 45

Attendance: 170
Referee: Mr Chris Myatt (Dartford)
Assistants: Mr Mark Cheeseman (Teynham) & Mr Paul Franks (Sittingbourne)

Coverage Sponsored by:





DGS Marine Stadium pitch maintained by: