Canterbury City Stadium: There is no Plan B for us. The alternative is the second collapse of Canterbury City Football Club in 20 years and a return to obscurity
Wednesday 26th December 2018
CANTERBURY CITY chairman Tim Clark says the club will suffer their second extinction in 20 years if their new stadium doesn't get the go-ahead.
Mr Clark wants the stadium to be built at Highland Court Farm, Coldharbour Lane, Bekesbourne, Kent CT4 5HN, to keep the club in business.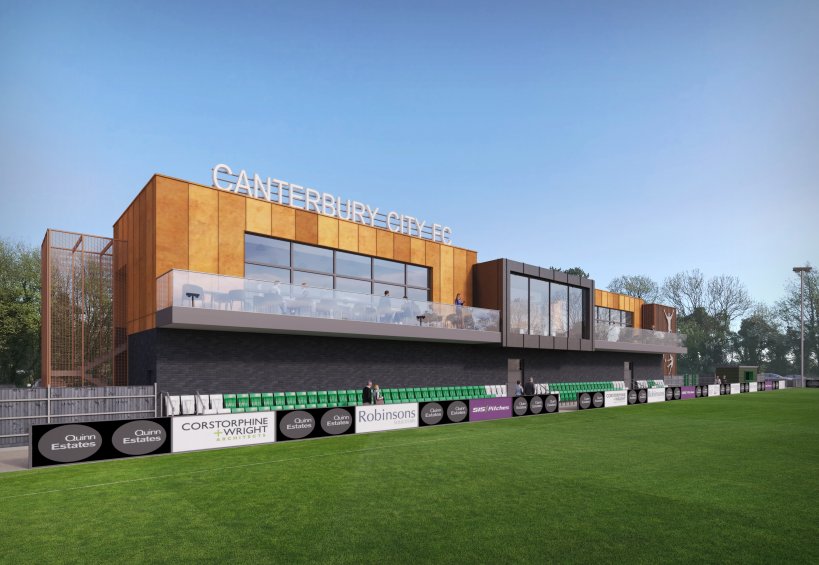 The chairman issued a statement on the club website www.canterburycityfc.net thanking everyone who has been involved with or supported the club during the past year.

"Reflecting on the last year, firstly in football terms it has again been heartening to see us able to provide the physical and mental health and social benefits that participating in football at all levels brings whether it be youth football (boys and girls), disability football, walking football and of course senior football represented by the men's first team.

"It has also been the second year of our very successful association with Canterbury Christ Church University as the rebranded Canterbury City University has continued its endeavours in the Kent County League.
"On the subject of the senior men's team there was of course yet another move for them and our long-suffering volunteers and supporters as we left Deal Town at the end of last season and started a new ground share at Faversham Town in August of this year.

"I would like to extend a special thank you to all of the committee and volunteers at Faversham Town Football Club who have made us feel very welcome and I have to say that match day arrangements run incredibly smoothly.

"I am also pleased to say that Faversham is the closest we have yet got geographically to Canterbury and this has also seen an increase in our match day support, something which I believe is set to increase further when we finally do come home.
"On that, perhaps the most exciting news for the club in 2018 was the submission of the Quinn Estates/HICO planning application which finally went in to Canterbury City Council in September.

"That planning application so far as Canterbury City Football Club is concerned was the culmination of eight years of my involvement and 12 years for Vice Chair, Keith Vaughan, who has been involved from the very beginning since the reformation of the club.

"The clubs fate is now well and truly in the hands of the City Council and our local Councillors.

"Everyone involved with the Football Club knows how difficult it has been to keep things going with our 12 years nomadic existence and notwithstanding those difficulties, it is a tremendous testament to everyone involved that we have still managed to keep all of our community objectives intact and deliver a full football programme which of course we should do as a Community Interest Company.

"With our hands tied however without our own stadium it is frustrating that we cannot do more for the local wellbeing of Canterbury and its district by engaging with so many more youth and adults which we would be able to do with our own football hub facilities.
"Following the submission of the planning application you will of course all now have seen for yourselves the fantastic plans prepared by our architects which would deliver a three pitch community football hub spread over eight acres and even more exciting than the facilities themselves, which alone are quite spectacular, will be the ability in partnership with Canterbury Christ Church University to deliver across the district a full no cost football coaching programme for every single primary and secondary school in the district.

"With an army of some 90 co-branded Canterbury City Football Club/Christ Church Sports coaches we will be able to deliver football coaching as well as healthy lifestyle education programmes to all of the districts youngsters thereby improving and enhancing health and social wellbeing.

"It is also an established fact that if children are encouraged to engage in sport at an early age then the chances are much higher that they will continue that through to adulthood thereby improving wellbeing for many years to come.
"2019 will mark the 20th anniversary of the Football Club's departure from The Kingsmead Stadium in 1999. So exactly 20 years after the Football Club was made homeless and forced to leave the City, the City Council has a once in a lifetime opportunity to not only bring Canterbury City Football Club home but to create a sporting legacy of excellence both for football and let's not forget Canterbury Rugby Club too.

"I do not use the word legacy lightly either but it can be nothing less when the terms that the Football and Rugby Clubs would occupy their allocated sites within the planning application Master Plan would be for a minimum of 250 years!

"There is no Plan B for us. The alternative is the second collapse of the Football Club in 20 years and a return to obscurity.
"My message for 2019 then is that we will work with the same determination that we have shown over the last 12 years to ensure that justice is finally done and we are all involved in finally bringing senior football home to Canterbury creating a sporting legacy for future generations to benefit from and for the City to be truly proud of."

On the pitch, Ben Smith's Canterbury City are in ninth-place in the Southern Counties East Football League Premier Division table, having collected 28 points from 17 games.

They head to sixth-placed Sheppey United today, the only game in the division being played on Boxing Day. Kick-off at Holm Park is at an earlier one o'clock.

Visit Canterbury City's website: www.canterburycityfc.net