Canterbury City stadium: Without embracing this application I do fear that the club is likely to go the way it did in 2001 and cease to exist, warns chairman Tim Clark
Monday 08th October 2018
SINCE Canterbury City FC reformed 11 years ago the intention has always been to submit a planning application for a new football stadium and to bring senior football back to the Canterbury District.
The Southern Counties East Football League Premier Division club are very pleased to announce that at long last the planning application has now been submitted by Quinn Estates.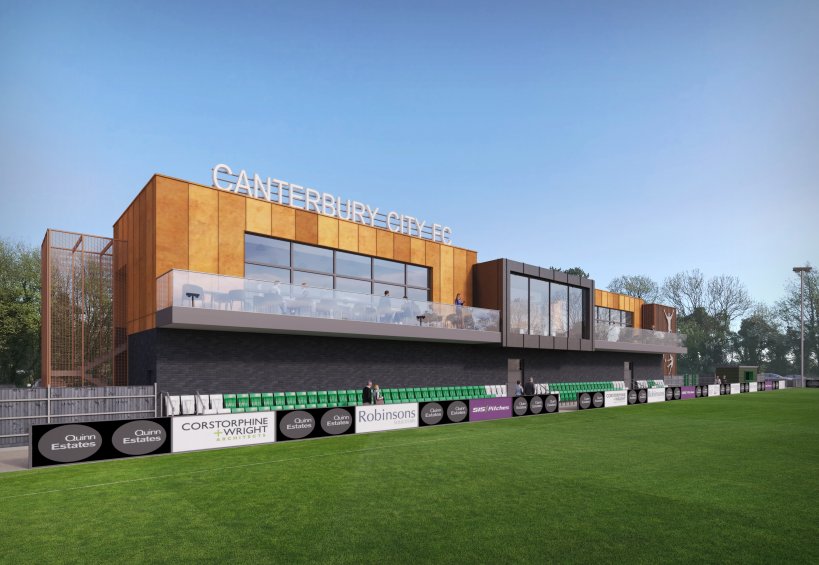 Canterbury City chairman Tim Clark told www.canterburycityfc.net: that he wants the stadium to be built at Highland Court Farm, Coldharbour Lane, Bekesbourne, Kent CT4 5HN, to keep the club in business.

"This is a pivotal moment in the clubs history and the significance of finally going to planning cannot be understated.

"Canterbury City Football Club lost their home stadium at Kingsmead in 1999 and folded in 2001. The club reformed in 2007, so 19 years after the football club was originally made homeless and 11 years since the football club reincorporated as a Community Interest Company a planning application has finally been submitted to resolve this long standing injustice.

"I am delighted to say that the application is not just for a football stadium but a 3G pitch Community Football Hub over an eight acre site and would also involve the relocation of Canterbury Rugby Club to their own 15 acre site.

"The social, physical and indeed mental health benefits of sports participation are well known and if this facility becomes a reality within a year or two we will see a local "explosion" in football participation and so there are long term significant local benefits in granting this application.
"As a club we are mindful that the proposal relates to an Area of Outstanding Natural Beauty (AONB). Firstly I believe the football and rugby clubs would complement the existing sporting facilities which have been there in excess of 50 years already ie Highland Court Cricket Club. Furthermore circa 2000 people are already employed on the industrial estate there.

"The proposed business and tourist facilities as part of this planning application would not only complement this existing commercial use but enhance it by opening up the area to much wider public benefit and enjoyment not to mention creating many 100's of much needed jobs locally and all accessed by a significantly underused major road junction off the A2.
"This well thought out planning application really is the last hope for your City's senior football club and without embracing this application I do fear that the club is likely to go the way it did in 2001 and cease to exist.

"What a wasted opportunity that would be when the alternative is a super sports hub comprising football, rugby and cricket which will serve and benefit all ages of the local community for the next 100 years and beyond.

"This is a once in a lifetime opportunity to put Canterbury on the map both from a sporting and a tourist perspective with the social, health and financial benefits that will bring. This application has my full and unreserved support."
If you would like to help bring senior football back to Canterbury, please show your support for the proposal by clicking this link:

https://publicaccess.canterbury.gov.uk/online-applications/applicationDetails.do?activeTab=makeComment&keyVal=_CANTE_DCAPR_120085
Visit Canterbury City's website: www.canterburycityfc.net