Bromley 1-3 Peterborough United - I still think the players gave me everything today, says Bromley boss Neil Smith
Saturday 10th November 2018
Bromley

1 – 3

Peterborough United

Location
Hayes Lane, Bromley, Kent BR2 9EF
Kickoff
10/11/2018 15:00
BROMLEY 1-3 PETERBOROUGH UNITED
The Emirates FA Cup First Round
Saturday 10 November 2018
Stephen McCartney reports from Hayes Lane

BROMLEY manager Neil Smith says his players gave him everything after playing the entire second half with ten-men after Frankie Raymond was sent-off.
Bromley went into this tie in fourteenth-place in the Vanarama National League table with 23 points on the board from 19 games, while Steve Evans' Peterborough United side were in third-place in the Sky Bet League One table with 53 points from 17 games, behind leaders Portsmouth (38 points) and Sunderland (35).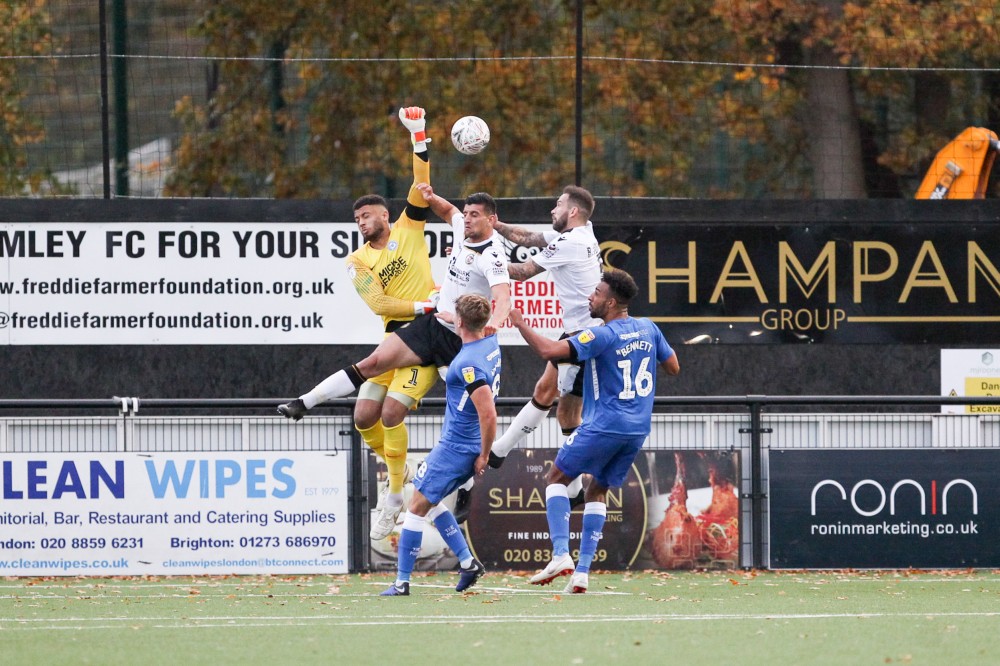 DARE TO DREAM: Bromley defender Roger Johnson (white shirt, right) sends his looping header over Peterborough United keeper Aaron Chapman to give the Ravens a 40th minute lead.
Photo: Ed Boyden - https://www.edboydenphotos.co.uk

Bromley's last win at this stage of the competition was back in 1945 and the Ravens were on course of producing a giant-killing when 35-year-old centre-half Roger Johnson scored his first goal of the season, a looping header from the corner of the six-yard box, in the 40th minute.

However, the game turned in Peterborough's favour when referee Kevin Johnson pulled a red-card out of his right pocket to send Raymond off and the Posh scored from the resulting free-kick, superbly volleyed in by Matt Godden on the stroke of half-time.

Bromley were then facing an uphill struggle from that moment on and to add insult to injury, it was former Ebbsfleet United striker Godden, 27, who smacked in his 13th goal of the season to give his side the lead before Joe Ward slotted in a third with six minutes remaining.

"I'm disappointed obviously. I thought for 46 minutes up until the sending-off, I thought we've done everything that we planned for," said Smith during the post-match press conference.

"To go a goal up as well, we were hoping to go in at half-time with 11 men and then we set up ourselves again like we did in the first half but really disappointed, one the free-kick, it was a needless one, and then two, for the red card."

Bromley attracted an all-ticket sell-out crowd of 3,107 to Hayes Lane and they saw their side put in a well-organised first half display.

Peterborough United, inevitably, had plenty of possession early on as Bromley kept 10 men behind the ball and were difficult to break down.

Bromley holding midfielder Marc-Anthony Okoye failed to cut out Mark O'Hara's low pass forward and George Cooper's left-footed drive from the edge of the D deflected past the left-hand post after only 177 seconds.

Okoye slid in to foul Cooper on the edge of the Bromley penalty area and was relieved when Cooper's left-footed free-kick sailed over the crossbar from 22-yards.

Bromley weathered the early storm and went close to grabbing the lead in the 10th minute.

Raymond swung in a trademark high-quality free-kick into the Peterborough box from 35-yards and the ball sailed over Jack Holland's head and forced visiting keeper Aaron Chapman to scramble to his right to tip the ball behind for a corner.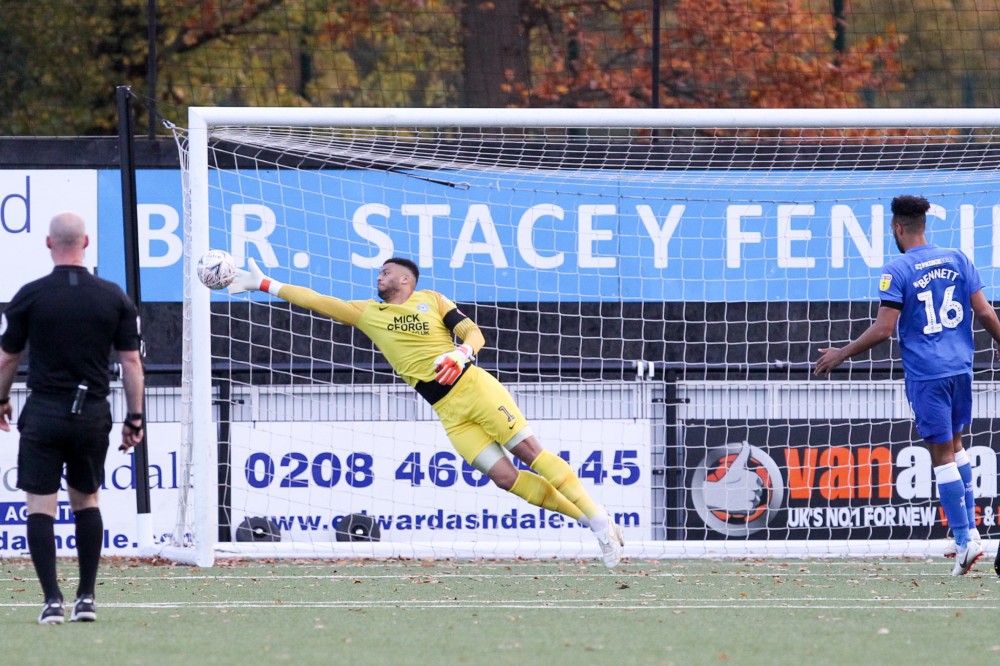 CLOSE: Peterborough United keeper Aaron Chapman keeps out Frankie Raymond's free-kick.
Photo: Ed Boyden - https://www.edboydenphotos.co.uk

"I thought first half we were more than capable of creating something and I thought we proved it. I think our set-pieces are second to none at the moment but they are where they are," said Smith.

Raymond swung in the resulting corner from the left which was knocked back across goal by Johnson at the far post but Omar Bugiel's back-heal with his back to goal was gathered by Chapman at his near post.

Peterborough United's holding midfielder Alex Woodyard was making his side tick and he played the ball inside to Ward, who cut the ball onto his left-foot before flashing his 30-yard drive past the diving keeper and past the foot of the right-hand post.

Jason Cummings's through ball released Ward down the left channel and as Okoye struggled to press, the low ball in flashed across the face of goal and Frankie Sutherland was on hand to sweep the ball behind for a corner.

Bromley were issued a warning in the 17th minute when Peterborough right-back Jason Naismith delivered a deep cross into the box for Godden to place his free header straight into David Gregory's hands from 10-yards.

Gregory kicked the ball forward and winger Adam Mekki cut in from the left and drilled his 35-yard drive just over the crossbar just 33 seconds later.

Gregory was called into action halfway through the first half when Ward was released down the left and centred into the box for Godden, but the Bromley keeper got down low to his left to spill the initial shot before grabbing hold of the ball on the edge of his six-yard box.

Bromley almost grabbed the lead on the half-hour mark, following another set-piece.

Raymond put a free-kick into the Peterborough penalty area from the edge of the centre-circle and the ball was cleared out to Roger Johnson down the right-hand channel.

The defender hooked the ball back to right-back Richard Brindley, who whipped in a first time cross with his right-boot. The ball went over Okoye's head and fell nicely for Bugiel but his low drive, which was destined to nestle inside the bottom far corner, was cleared towards safety by Naismith.

"Another set-play, bounced down. We thought he just needs to make a connection to it, just gets blocked," added Smith.

And just 31 seconds later, Gregory dived to his left to watch Ward's right-footed curler from 25-yards from the left-hand side go around the post.

Bromley then started getting back into the game and hit Peterborough on the break.

Raymond played the ball inside to Mekki, who looked up and played a superb diagonal pass that split open left-back Tyler Denton. Winger George Porter burst a lung to keep the ball in before it rolled behind for a goal-kick but his low centre was cut out by keeper Chapman at his near post.

Ward played a cross-field pass from the left which was intercepted by Mekki, who drove forward before seeing his left-footed chip being plucked out of the air by Chapman at his near post.

A long ball over the top of the Bromley defence from Naismith set-up Ward, who brought the ball down with his left foot and with his next movement he swept his left-footed volley straight at Gregory from the right-hand side of the penalty area.

You could sense the television cameras were left scrambling for the recording of Bromley's magical moment when Johnson gave his side the lead, the goal timed at 39 minute and 17 seconds on the clock.

Bromley won a free-kick 10-yards from the half-way line and Sutherland drove in an excellent ball towards the far post.

Six foot six goalkeeper Chapman went up and tried to punch the ball away with his outstretched left-hand, Bugiel rose, so did Johnson, while Peterborough pair O'Hara and Bennett just didn't fancy it.

Johnson looped his towering header over the keeper from the corner of the six-yard box and the ball dropped into an empty net to send Hayes Lane into wild scenes of celebration and expectation that this was going to be Bromley's year.

Smith said: "We've been working on set-plays. Roger done everything that we've asked for. He was outstanding today defensively and in the oppositions box and to go a goal up you're hoping the dream can carry on but not to be.

"Roger's been superb last couple of games and he comes in and gets his head to it and the keeper's stranded and it goes in the net and you're living the dream."

However, disaster struck Bromley when central midfielder Raymond was sent-off just five seconds before the start of time added on.

Cooper's initial cross was blocked by Raymond's back and the ball was bouncing along the touchline. The pair tussled for the ball – right in front of the Peterborough fans – and Raymond kicked the ball down the line before swinging out his right arm and flicked Cooper's face.

Cooper went down like he had been shot and the referee pulled out the red-card and there was a delay as the conned referee booked Holland and Johnson for protesting the harsh decision.

"I'm disappointed. He didn't need to do what he did Frankie. I thought he was having a sound game and doing everything that I was asking," said Smith.

"It's just a needless sending off and all off a sudden we're put under pressure with 10 men against a League One side who are sitting third. It was always going to be difficult after that.

"Frankie shouldn't have done what he did, whether he (Cooper) makes a meal of it, you're giving an opportunity to a player to do something and you're giving an opportunity for a ref to make a decision.

"If he doesn't want to get caught up with that handbags stuff we go in with 11 men and we're not going in one-all so I'm just disappointed because the discipline of the boys had been absolutely fantastic up until then and you're looking at two minutes into added time, our game management has just got to be better."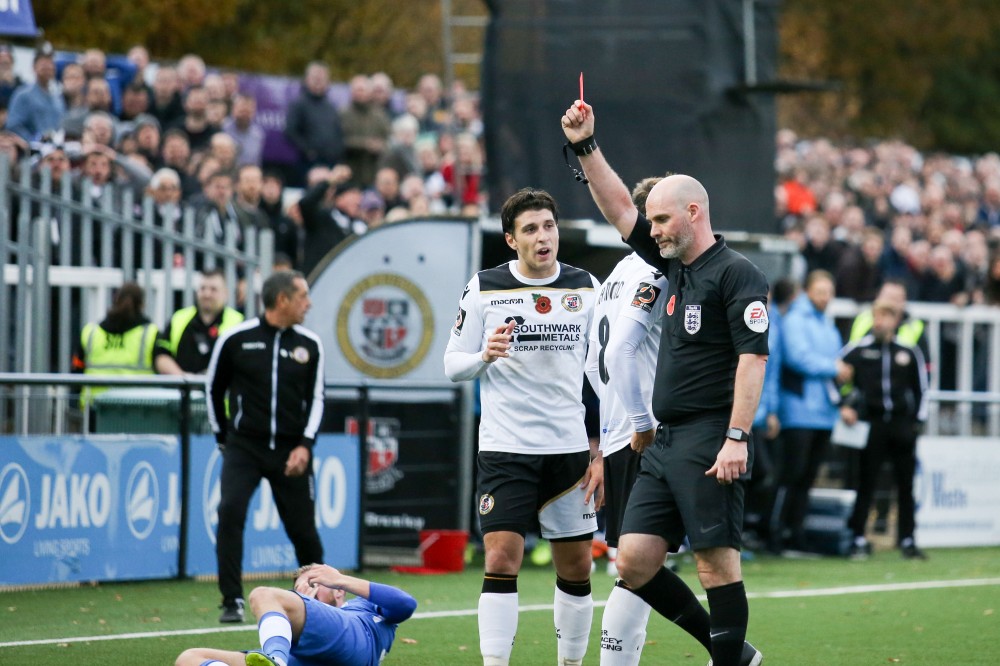 MOUNTAIN TO CLIMB: Referee Kevin Johnson sends off Bromley midfielder Frankie Raymond (number eight) as Peterborough winger George Cooper slumps to the ground like he's just been shot.
Photo: Ed Boyden - https://www.edboydenphotos.co.uk/

Cooper made a swift recovery and swung in the resulting free-kick with his left-foot from the right touchline. The ball was headed out by Porter to Woodyard, who lofted the ball back into a crowded box for Godden to bring down before sweeping his left-footed volley into the roof of the net from 12-yards, as Peterborough smashed Bromley's hearts with the goal timed two minutes and 22 seconds into time added on.

Cooper's display of the dark-arts certainly cost Bromley any chance of creating a FA Cup giant-killing act.

"Exactly, so you're going in at half-time one-all and 10 men. You've got a game plan that you want to set out but with 10 men the boys were always going to tire against a team like Peterborough," said Smith, who then had to pick up his players during the half-time interval.

"At that stage I was saying well done, they've been organised but at the same time we've got to now go out and keep your shape, keep the discipline and don't get something soft away for them, to grab the game. You're playing against a League One side so it's always going to be difficult with 10 men."

Raymond, who curled in a set-piece that sealed a 1-0 win at Gloucester City in Evesham in the Fourth Qualifying Round to set up today's date with Peterborough, sadly cost Bromley a chance of ending their poor run of form at this stage of the competition.

Smith said: "He's gutted in there, he's let himself down. He hasn't let the boys down, he's been outstanding all season. The amount of goals that he's set up but the one occasion you need everyone to keep their heads and play the game, just see it out, he's made an error."

Peterborough's left-back Denton liked to get forward and his driven cross from the left was gathered by Gregory, who dropped down to his knees at the near post in a bid to eat up some time.

But Bromley's dream was shattered when Peterborough United took the lead with 10 minutes and 16 seconds on the clock.

A quickly-taken free-kick was moved back to Woodyard, who picked out Naismith in acres of space down the right and he whipped in a quality cross towards the far post. The ball sailed over Hollands head and Godden nipped in front of Brindley to stick out his right-leg to volley the ball into the far corner from seven-yards.

"They hit us on the break. The ball into the box wasn't the greatest, but it was a great cross and he's took it really, really well," added Smith.

Peterborough were keeping the ball well as Bromley kept men back and Gregory pulled off a fine save in the 64th minute.

Cooper teed up Naismith, who cracked a right-footed drive from 25-yards, forcing the Bromley keeper to palm the ball over the crossbar with a strong right-hand.

A pass from Bromley winger Mekki was intercepted by Ward and the ball was played out to Naismith, who cut onto his left-foot and only just cleared the top of the near post from 22-yards.

Bromley were still in the game and they almost snatched an equaliser with 22 minutes remaining.

Substitute targetman Joe Quigley played the ball back to Porter, who drove through the heart of the pitch to reach the edge of the penalty area. He twisted and turned before curling his shot towards the top right-hand corner from 25-yards but Chapman comfortably plucked the ball out of the air.

Smith said: "Everyone of them, they never stopped going and George was second-to-none driving with the ball getting in and around their box. He had about four different positions today. He's just trying to get a result for the boys."

Bromley received a slice of luck when just 25 seconds later Ward found space to drill a 30-yard shot that rattled the top of the crossbar.

"He's a good player Joe, we know him from the Woking days so we know what he's got about him. You just hope you have that bit of luck, just to see you through for the rest of the game," added Smith.

Denton played the ball inside to Jason Cummings, who took a touch before his left-footed shot was hit straight at Gregory from 16-yards, which was comfortably saved.

Cummings cut inside and set up a chance for O'Hara, which he hit first time and over the Bromley crossbar from 20-yards.

Bromley still had the belief that they could find that opening to earn a second bite of the cherry at London Road and that moment came in the 38th minute.

Ward's free-kick from the left was caught by Gregory, who rolled the ball out to John Goodard, who was in a central position just outside the Bromley penalty area.

The on-loan winger drove down the heart of the pitch and once in the final third he released substitute striker Billy Craske on the left. The 18-year-old had his moment to go down in Bromley folklore but he cut inside and curled his right-footed shot high and wide of the far post.

"What we were doing, we were trying to keep it for the last 10-15 minutes and then see if we can rustle up something, a free-kick, a corner, a throw-in but it wasn't to be," admitted Smith.

"Billy was at Plymouth as a kid. He got released, he came in during the summer and did really well. He's just joined our under 18s, come on Tuesday (a 4-1 home win over Faversham Town in the Kent Senior Cup Second Round), just showed a bit of promise and I had nothing to lose. A game that he could just go out and make a name for himself.

"He had a chance, he's just turned 18, so I think it's a good advert for Bromley Football Club that we'll play our youngsters.

"You're trying to stay in the game for as long as you can and trying to nick something or nick a draw so it was always going to be hard playing a team that were third in their division."

It proved to be a big miss as Peterborough United raced up the other end and killed off Bromley's dream – the goal coming with 38 minutes and 45 seconds on the clock.

It was a slick move from the League One side as Cummings played the ball inside to Denton, who split open the two Bromley centre-halves Holland and Johnson and Ward picked his spot past Gregory from 12-yards.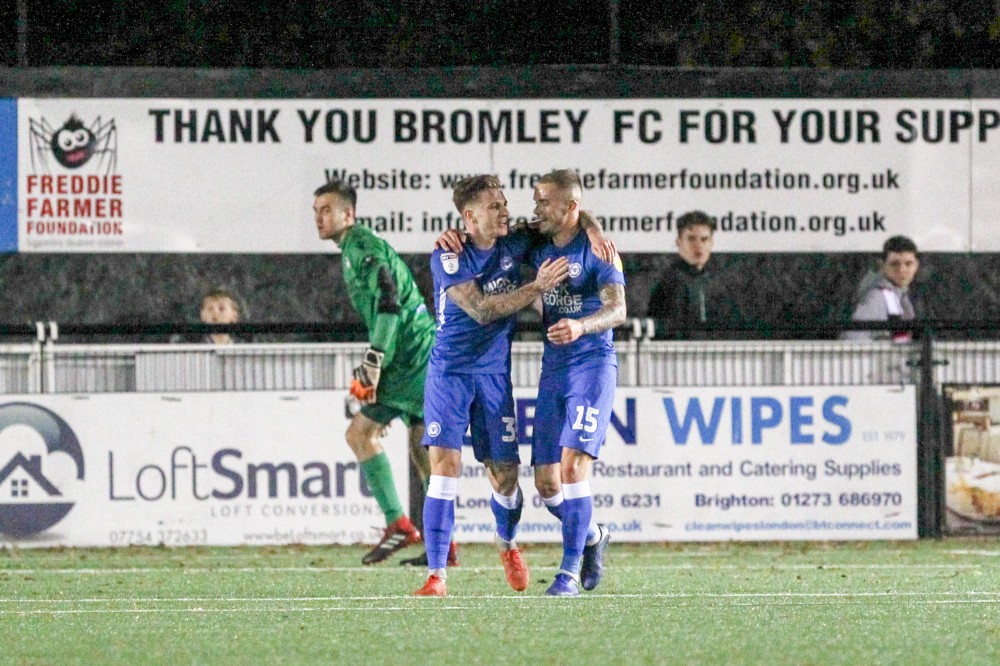 IT'S ALL OVER: Peterborough's Joe Ward (right) celebrates scoring his side's third goal to kill off the brave Ravens.
Photo: Ed Boyden - https://www.edboydenphotos.co.uk

"We're looking to throw bodies forward and we've brought a young kid on Billy, whose just turned 18 and we thought he's got a bit of pace and see what he can do. Obviously, when you're going to go for it you open yourselves up for a counter-attack."

With hope dying, Quigley blasted his shot high and wide into the Peterborough United section in the north bank terrace.

Sutherland clipped a right-footed curler from 30-yards, which was comfortably held by Chapman, diving low to his left, as Bromley kept plugging away.

Smith said: "I think they can see we've given it our all. The supporters are disappointed with the result but they can see the players put it in and go a goal up it gives them something to cherish as well in this FA Cup but it wasn't to be.

"I still think the players gave me everything today. We're disappointed that we've just lost to a League One side. That's great credit to the directors and the board supplying us with everything that we've got, the facilities that we've got and hopefully that we've given something back like putting in a performance like that."

Smith must rally his troops during the week ahead of their trip to second-placed Leyton Orient – another all-ticket clash – at Brisbane Road next Saturday.

The O's are one point behind leaders Wrexham and Bromley need to get their FA Cup First Round curse out of their system.

"That's what we've just said, we're back to the bread and butter next Saturday and we've got to make sure for 44 minutes we do exactly the same against Leyton Orient," said Smith.

"I've heard it's going to be a sell-out so it's going to be a tough game away from home to a team that are flying but I think for a team that are in League One, I thought we handled Peterborough quite well in the first half."

Photographs courtesy of Ed Boyden - https://www.edboydenphotos.co.uk

Bromley: David Gregory, Richard Brindley, Sam Wood, Marc-Anthony Okoye (Billy Craske 76), Roger Johnson, Jack Holland, George Porter, Frankie Sutherland, Omar Bugiel (Joe Quigley 52), Frankie Raymond, Adam Mekki (John Goddard 68).
Subs: Alan Dunne, Tareq Najia, Jake Goodman, Paul Rooney

Goal: Roger Johnson 40

Booked: Jack Holland 45, Roger Johnson 45

Sent Off: Frankie Raymond 45

Peterborough United: Aaron Chapman, Jason Naismith, Tyler Denton, Alex Woodyard, Ryan Tafazolli, Rhys Bennett, Joe Ward, Mark O'Hara, Matt Godden (Louis Reed 90), Jason Cummings (Ivan Toney 86), George Cooper (Siriki Dembele 74).
Subs: Jamie Walker, Marcus Maddison, Connor O'Malley, Sebastian Bassong

Goals: Matt Godden 45, 57, Joe Ward 84

Attendance: 3,107 (594 away)
Referee: Mr Kevin Johnson (Weston-super-Mare, Somerset)
Assistants: Mr Callum Walchester (Lowestoft, Suffolk) & Mr Matthew Lee (Chichester, West Sussex)
Fourth Official: Mr Robert Whitton (Braintree, Essex)