Bromley 6-1 Leyton Orient - No one gave us a chance in this league and we have put a big statement out tonight, says Bromley's two-goal hero Jack Holland
Tuesday 15th August 2017
Bromley

6 – 1

Leyton Orient

Location
Hayes Lane, Bromley, Kent BR2 9EF
Kickoff
15/08/2017 19:45
BROMLEY 6-1 LEYTON ORIENT
Vanarama National League
Tuesday 15th August 2017
Stephen McCartney reports from Hayes Lane

Bromley 6. That's Little Old Bromley. Leyton Orient 1. This result and performance goes down as Bromley's best ever in their 125-year history.
Brilliant Bromley humiliated Leyton Orient on a famous and memorable night as manager Neil Smith pulled off his home town clubs biggest ever scalp.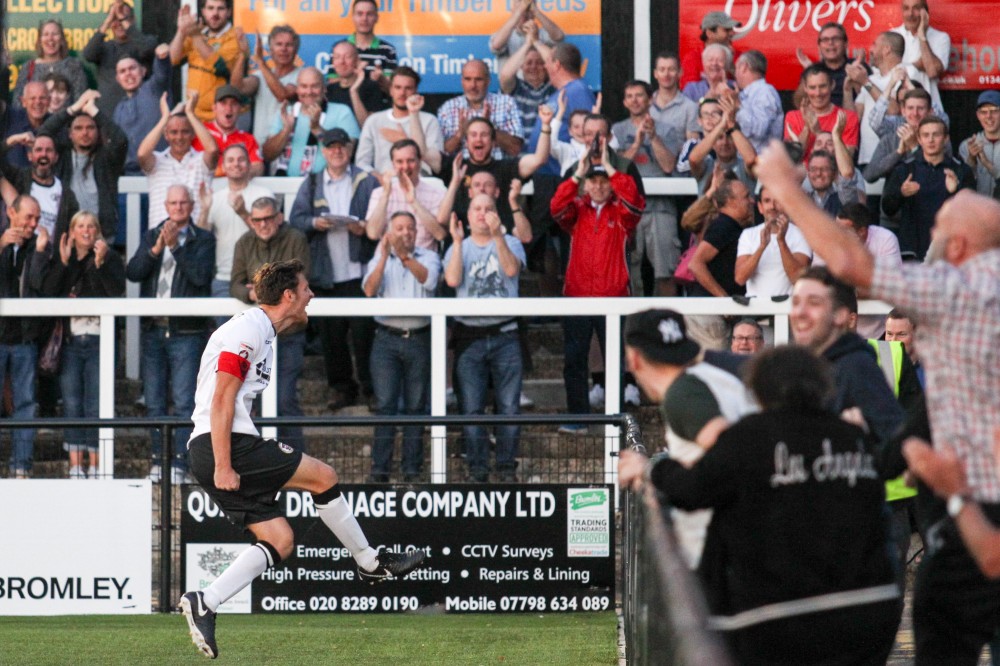 LOCAL HERO: Bromley captain and fans' favourite Jack Holland celebrates his first goal that put the Ravens 2-0 up against Leyton Orient.
Photo: Ed Boyden http://edboydenphotos.co.uk


Most fans who have supported this little non-league club felt this game was a FA Cup tie, like the time when these two sides met at Brisbane Road in the First Round on 12 November 2011. Then in League One, Leyton Orient sealed a comfortable 3-0 win over a Bromley side that were in 17th place in the Blue Square Bet Conference South table.

Bromley have NEVER beaten a Football League side in The FA Cup and although this was Leyton Orient's fourth game as a non-league club following their relegation from League Two in May, this had a feeling of a FA Cup giantkilling where Bromley were simply brilliant during this Vanarama National League clash.

George Porter, 25, who scored the O's second goal against Bromley six years ago, gave this Bromley side a dream start by heading home the opening goal inside the opening 10 minutes.

Bromley central defender, captain, fans favourite, leader, Jack Holland, 25, headed in a second six minutes before the break as the Ravens were on the brink of something magical.

What was to follow in the second half will live in the memory of the Bromley fans for the rest of their lives as they tore Leyton Orient apart.

Shell-shocked O's boss Steve Davis was forced into making a double change at the break by bringing on pace and quality on both flanks and they played at a tempo that they should have started with.

But Bromley weathered the storm, hitting their more illustrious rivals on the break with central midfielder Josh Rees finishing off a counter-attack.

It was four after 62 minutes with a similar goal to a third. Counter attack play and former Tranmere Rovers winger Adam Mekki opening his account for his new club after Charlie Grainger palmed away a shot similar to the third goal.

Leyton Orient striker Macauley Bonne opened his account for his club, with a drilled finish, but Bromley were not finished.

Holland lashed in his second of the night, which helped him win the man-of-the-match award and his partnership with former Orient defender Ben Chorley was simply outstanding.

Brett Williams came off the bench and put the icing on the cake, latching onto a suicidal back-pass to race through on goal, round the keeper and walk the ball into the back of the net to lift the roof of this iconic old non-league stadium as 3,346 fans can say "I was there" when Bromley thrashed Leyton Orient 6-1.

"They were brilliant, the boys. We set out a game plan and they stuck to it to the letter," said Smith during the post-match press conference.

"It was great the strikers to get off the mark as well. They were nervous but we just said to them there was no pressure on us today, it was all on Leyton Orient and we just had to just make the numbers up tonight, it wasn't about us, it was about them and the pitch and I thought to a man, I thought we deserved that from the word go."

The visit of Leyton Orient attracted a crowd of 3,346 to Hayes Lane and Bromley delivered in style on the big stage.

"The good thing is we hope the crowd come again because they were fantastic, that's what we've got to try to do. We've got to try to bring the supporters in to try and kick on again," said Smith.

"I was here as a short time as a player and I remember turning out for a Kent Senior Cup tie with about 100 people here and now we've got 400 season tickets sold and we've got 3,346 people down here in a league game.

"I want it every week now but I've got to give them something for them to come out and come and watch us. There was fantastic support for Leyton Orient but I hope the Bromley supporters spread the word and we'll make this a fortress."

Both teams went into this game unbeaten. Leyton Orient lost 2-0 at Sutton United on the opening day of the season, but beat Solihull Moors 3-1 and Maidstone United 2-0 at Brisbane Road.

Bromley opened with a goal-less draw at home to Eastleigh, before coming away from Dover Athletic (2-1) and Macclesfield Town (0-0) with points.

Leyton Orient started the game on the front foot inside the opening 10 minutes but only had David Mooney's speculative lob that was comfortably caught by David Gregory after only 32 seconds to show for their efforts.

Bromley striker Louis Dennis played the ball out wide to winger Luke Wanadio, who was given space on the right to whip in a cross but Porter's flicked shot from 10-yards looped up and was gathered by Grainger.

But Bromley grabbed the lead, timed at nine minutes and 59 seconds.

Frankie Sutherland ran down the left wing and reached the by-line and wrapped his foot around the ball to pick out Porter at the near post and he glanced his downward header across the keeper, the ball kissing the inside of the far post to score from six-yards.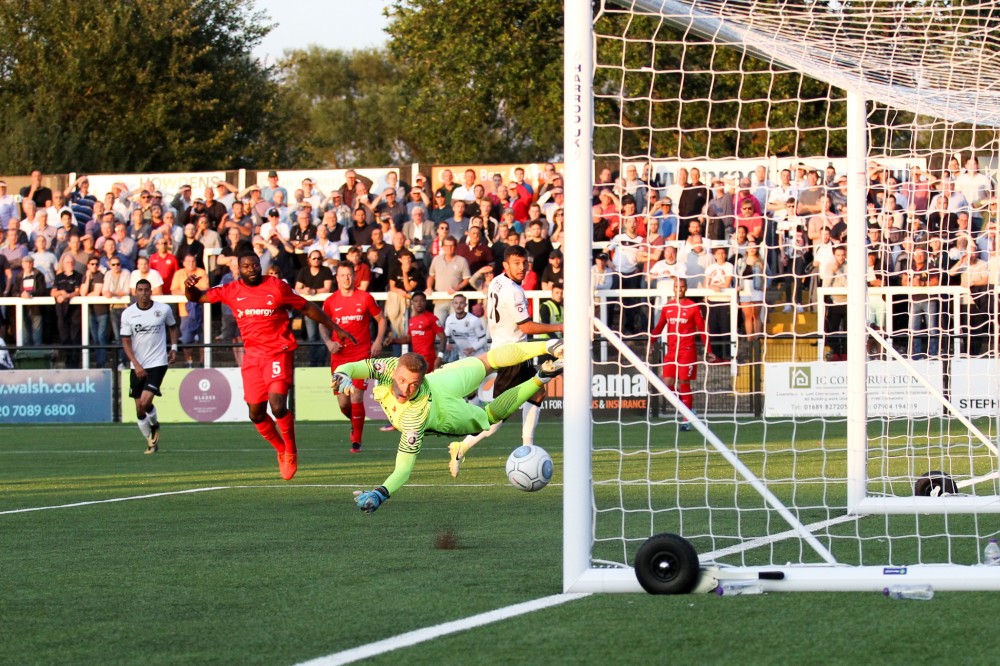 ON THEIR WAY: Bromley striker George Porter (white shirt, right) heads in his side's opening goal.
Photo: Ed Boyden http://edboydenphotos.co.uk

"We started with George. I think George had been training really well and he's been eager to get in and I thought this was the right time to do it," revealed Smith.

"We sat down as a coaching staff and we thought he deserves it. George does what George does, he scored the first goal and I think that started the momentum."

Bromley squandered a glorious chance to double their lead in the 17th minute.

Left-back Tyrone Sterling hit a long ball forward and Dennis shrugged past last defender George Elokobi and raced into the box but Grainger rushed off his line to make a vital block.

Smith said: "Look, in training this week it's been about shooting and having the confidence. I don't care if people miss. What I do care is if they don't want to shoot and I think they showed today, they were willing to have a go but do the right thing."

Sutherland's corners were quality and Holland issued Leyton Orient a warning, glancing his header past the far post from six-yards.

BBC London's biased commentary was in favour of Leyton Orient and were blaming the artificial pitch at Hayes Lane. Bromley's players simply wanted it more, won their battles all over the pitch and were much better than the men in red.

Charlie Lee toe poke deflected past the foot of the far post after the O's build down the right but David Gregory was called into action in the 27th minute.

Romauld Boco's corner from the left was met by a towering far post header from Elokobi, which bounced off David Gregory's chest and Bromley survived.

Smith said: "George Elokobi is always a danger from set-plays. We worked on it. He got away from our player, which we weren't happy about but Greggers has been doing brilliantly today and he pulled the save off. However sharp it was, he was in the right place."

Smith has found an excellent keeper in Gregory and the former Cambridge United stopper got down low to his right as right winger Josh Koroma raced down the right, cut in and tried to bend his low shot around the keeper into the bottom far corner.

Bromley doubled their lead in the 39th minute through one of their own.

Sutherland's intension was evident as he made a couple of signals to his team-mates before swinging in the corner from the left. The ball came off an Orient head at the near post and flew over to Holland, who headed into the bottom corner from a couple of yards out.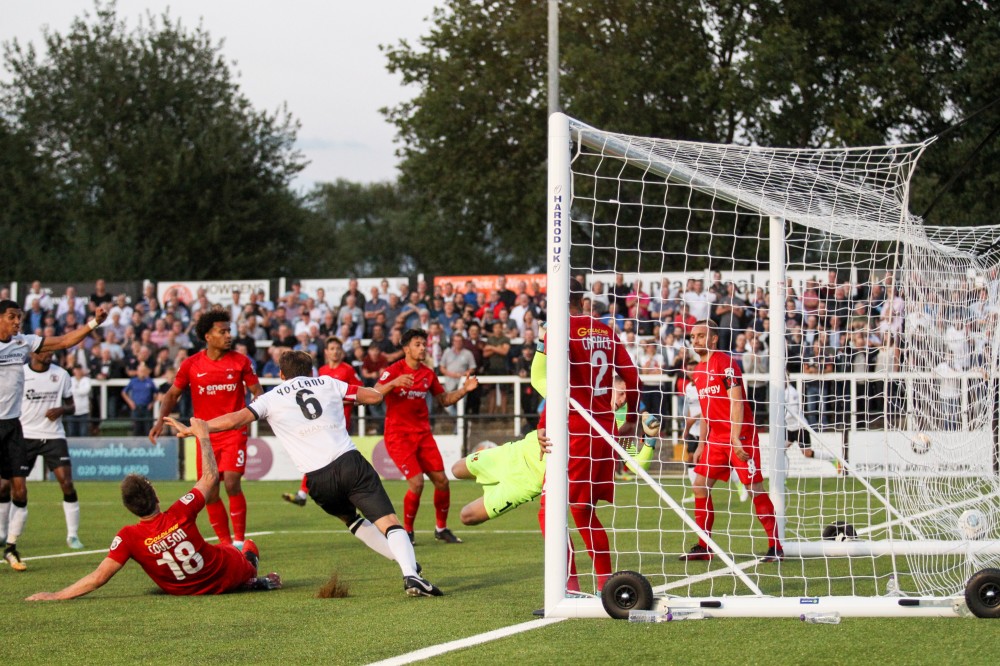 Bromley's Jack Holland (number 6) heads home to leave Leyton Orient - with 112 years' of Football League status behind them - in shell-shock and the Ravens in fantasy world.
Photo: Ed Boyden - http://edboydenphotos.co.uk

Smith added: "And Jack Holland times it brilliantly. Look, we've been working on set-plays. Alan Dunne has been brilliant at that. It's something that we want to do better at. We've got good delivery. He's now getting on the end of it and it worked. One of our set-plays worked. That's full credit to Alan Dunne who's come in as a player-coach. He's helped me out, he's been immense for me and that goal was for him."

Bromley right-back Ben Wynter threw the ball to Wanadio, who cut into the box and his low shot was saved low down by Grainger at his near post.

Josh Coulson's deep cross was headed away by Chorley and Bonne hooked his shot on the turn across Gregory and past the far post from the edge of the Bromley box.

With his side 2-0 up at the break, Smith said: "Don't think it's done! You're playing against Leyton Orient at the moment, they're going to come at you. They're not going to be a wounded solider, they're going to come out and we've got to weather the storm and I think first five to ten minutes they came out at us and we did weather the storm."

Leyton Orient boss Davis added a new threat at the start of the second half and Leyton Orient's tempo and desire levels increased for the opening 10 minutes.

Substitute left-winger Jobi McAnuff drove his low free-kick into the base of the Bromley wall from 25-yards and got a cross over at the second attempt which was met by Coulson's header from 12-yards, which was tipped over the bar by Gregory inside the opening four minutes.

"He's been so good for us Gregory. His reaction save and he's pulled it off and he's kept us in the game, which we knew we had to do coming out for the second half," added Smith.

Good play from another sub, James Dayton, saw him skip past Chorley onto his left foot and his low drive was parried towards safety by Gregory, diving low to his right.

But Bromley hit Leyton Orient on a blistering right-wing counter attack as they raced into a 3-0 lead in the 55th minute.

Dennis burst past left-back Joe Widdowson, cut into the box and drilled a powerful shot towards the top near corner, which was palmed away by Grainger and the ball dropped at Rees' feet, who hooked the ball into the bottom right-hand corner from close range after hesitant defending on the line from Elokobi.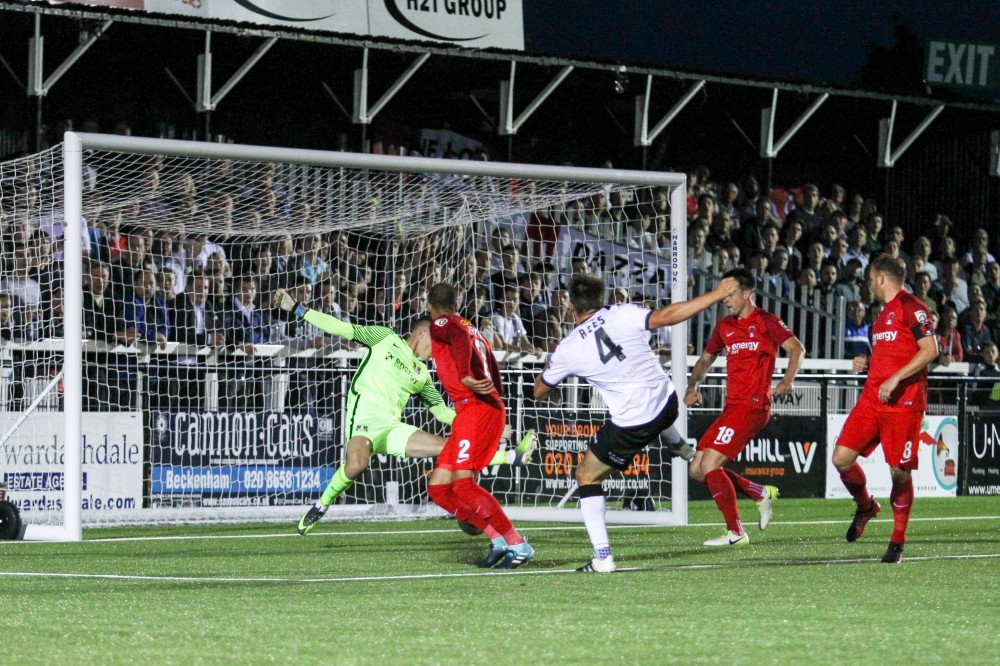 Bromley midfielder Josh Rees capped off an impressive performance by scoring Bromley's third goal.
Photo: Ed Boyden - http://edboydenphotos.co.uk

Smith said: "It was good for Josh. I think him and Frankie Sutherland covered so much ground today, they were everywhere, winning second ball, getting on top of it and for him to score again, he's just been immense. As fast as he was getting forward, he gets back to defend so it was a nice reward for him to get on the scoresheet.

"Three-nil up you're thinking just keep doing what you're doing, don't change it. Maybe last year we might've been sloppy and started over-playing but we just kept to the basic game plan, kept on doing it and it worked."

Bromley's fourth goal was similar to their third, when it arrived in the 62nd minute and plenty of Orient's 1,037 fans started heading for the exit.

Wanadio released Dennis down the right, who cut into the box and his drilled shot was palmed away by Grainger and the ball landed at Mekki's feet and he tucked the ball home into the bottom right-hand corner from close range again.

"Can we play you every week?" the shell-shocked and delirious home fans taunted their rivals, who couldn't bare to watch their humiliation any longer.

Smith said: "Honestly, they're all desperate to score. They haven't shown the supporters what they're all about yet and Mark Hammond (coach) said 'now the supporters know who you are.' It was a great performance.

"For Mekki to get on the scoresheet as well, he's worked hard pre-season and at the start of the season and I think he's deserved it."

Leyton Orient pulled a goal back in the 66th minute, however, with a fine move.

It was a mistake from Davis to leave McAnuff on the bench and his cross was chested down by Mooney and the ball ran into Bonne's path and he took a touch inside the box before drilling his shot across Gregory into the far corner.

Smith said: "Disappointed. We wanted a clean sheet, we'll always work on a clean sheet. The fact that we always work on a clean sheet because it's something to build on so when we let the goal in it took a little bit of a gloss off. We felt we were still in control and you just wanted to go on and get more."

Leyton Orient right-back Jake Caprice floated in a cross which was glanced wide by an unmarked Lee at the far post.

Leyton Orient won the corner count 14-4, but Bromley were better in both boxes.

Smith said: "To a man since we've started, it's something we've been working on. We've worked thoroughly on the defence and they were called into question for the last four games and today was no different."

Bromley scored their fifth goal with their final corner of this glorious night.

Sutherland swung in a corner from the left, Chorley caused a nuisance at the near post and Holland lashed his shot into the right-hand corner.

"Jack should be scoring more goals. I said to Jack we've given him a target of what he should be scoring. He's fantastic in the air so why should it be any different in putting a cross in the box from a corner so he's scored two and thoroughly deserved it."

Dayton reached the by-line and clipped over a cross for Charlie Lee, but his header was brilliantly tipped over by Gregory.

Brilliant Bromley wrapped up the game with a sixth goal in the 88th minute, although gifted by Lee.

Lee's woeful back-pass was intercepted by substitute striker Brett Williams, who kept his composure to race forward, skip past poor Grainger before slotting his shot into the bottom right-hand corner from six-yards.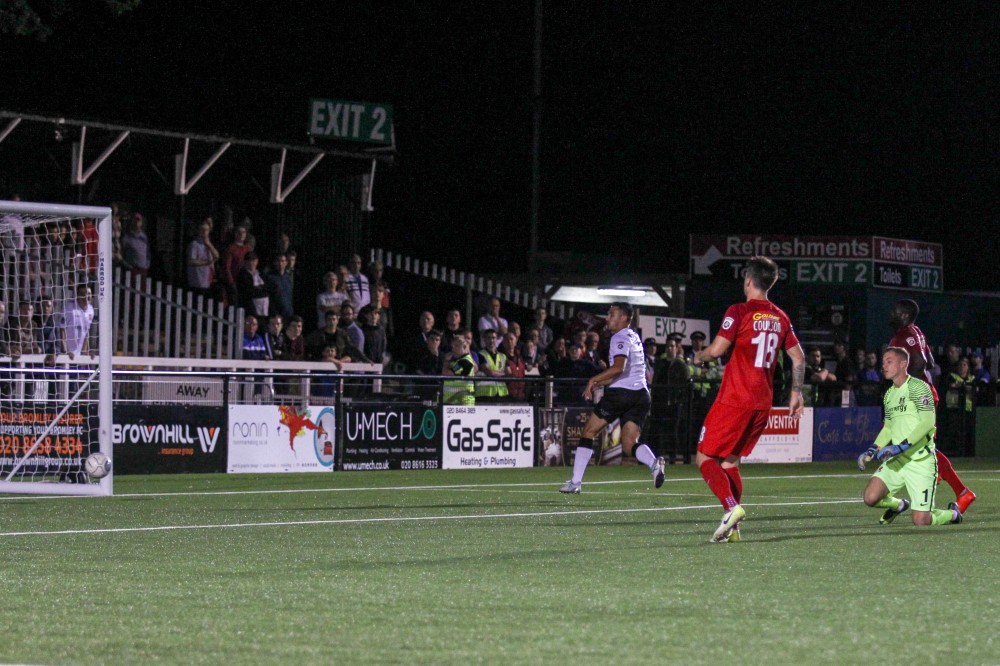 GIANTS LEYTON ORIENT ON THEIR KNEES: Bromley sub striker Brett Williams makes it Bromley 6 Leyton Orient 1 on a memorable night at Hayes Lane.
Photo: Ed Boyden - edboydenphotos.co.uk

"It was one of them, again he's been so desperate to score and think maybe he had a bit of anxiety has crept in so for him to finish it off so well is full credit to him, but we're just hoping now this start is a catalyst now and we go on a run now."

Bromley are now in fourth-place in the Vanarama National League table with 8 points from four games, two points adrift of league leaders Aldershot Town and are higher than Leyton Orient for the first time in their history, who have slipped down seven places into eleventh.

Smith said: "I'm very proud, I'm totally proud of the players. We've been together now nine weeks coming into the start of pre-season and they've not given me anything less than 100% in training and games.

"I think we thoroughly deserved that. We look like we're playing for each other and I'm a proud manager. The coaching staff has been immense, I've got the support of them and that one is a thank you to the board of directors. We've got to the pitch laid and I think it proves a point.

"This one is for the supporters. I've been here six years now. I think that's the first time I can say that's for you, that's for the supporters. They've been immense since I've walked through the door and it's nice to give something back.

"It is a shockwave for us but we've got to take it's just another game. We've got Hartlepool United here on Saturday and it will be another tough game, like tonight was."

Meanwhile, two-goal captain Holland says beating Leyton Orient goes down as his second best achievement, the first was winning the Conference South title for Bromley back in April 2015.

"I was always confident going into the game," said the 25-year-old who lives in West Wickham.

"We've got a really good squad. We all came in, done the work in the week, knew what we had to do, start sharp and we did and we really took it to them and it probed today was a great result for us."

When asked what today means for him, Holland replied: "Everything. Without sounding too mushy about it, as captain of your boyhood club and playing giants like this and scoring a couple of goals, I mean I'm speechless about it.

"All my family and all my friends are here every week and when I was young I couldn't dream about something like this. I really am just speechless."

Holland revealed that both Porter and Chorley, 34, were both keen to beat their old club.

"Just before the start when George's number came up, their fans all booed, you could hear it outside the ground. We came together just before the game started and I told him and he said 'look, I'm going to do something today', and I believed it and he comes out and does that. I'm over the moon for him, he's deserved it. His work-rate is unbelievable and it's such a positive to have a guy like Georgie in the team who can put all of that behind him and perform like he did.

"I think whoever it is, when you come up against your old club there's always a bit of something there and you want to win, without a doubt. These are the games you want to win. Playing with Ben I knew he wants to win every game. I knew he wanted to win this one big time and I'm just glad we've done it."

Reflecting on his two goals, Holland said: "It was one of their players, he's flicked it on and I just attacked the ball really. We've been working on set-pieces a lot. That one's for Alan Dunne. We know we can score from them a lot more than we have so it's great to see that in practice."

Holland admitted he was not happy with Leyton Orient's consolation goal.

He said: "I'm absolutely devastated. As a centre back, as a defender, I can tell you here now all the team are devastated to let a goal in. We do NOT under any circumstances want to let a goal in so although we scored six, personally I'm not happy that we've let one in so we're going to correct that."

Relegated Hartlepool United visit Hayes Lane on Saturday and Holland insists Bromley will keep their feet on the ground, although that seems impossible tonight.

"We don't let this go to our heads now though. We move on to Saturday and we put a marker down again," said Holland.

"From what I saw no-ones given us a chance in this league from the start but we know in that dressing room we have a squad that have put a big statement out in this league tonight.

"We're not going to let it go to our heads. We're going to keep kicking on and we're going to make the nay-sayers think twice.

"It's right up there, it's really up there. Winning the league with Bromley I'd say is up there but this is second to none, this is brilliant."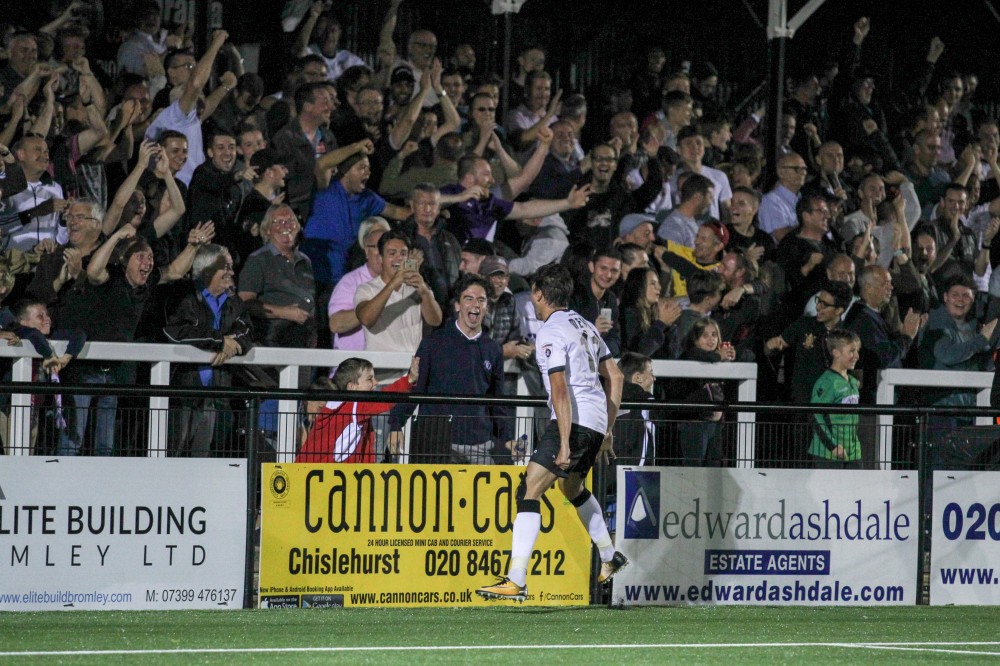 The Hayes Lane crowd go wild as Neil Smith's heroes humiliate giants Leyton Orient on a magical night at the stadium that was opened back in 1938.
Photo: Ed Boyden - http://edboydenphotos.co.uk

Bromley: David Gregory, Ben Wynter, Tyrone Sterling, Josh Rees (Frankie Raymond 82), Ben Chorley (Dan Johnson 76), Jack Holland, Luke Wanadio, Frankie Sutherland, George Porter (Brett Williams 72), Louis Dennis, Adam Mekki.
Subs: Alan Dunne, Iffy Allen

Goals: George Porter 10, Jack Holland 39, 74, Josh Rees 55, Adam Mekki 62, Brett Williams 88

Booked: Ben Chorley 48, Josh Rees 71, Brett Williams 88

Leyton Orient: Charlie Grainger, Jake Caprice, Joe Widdowson, Alex Lawless, George Elokobi, Josh Coulson, Josh Koroma (James Dayton 46), Charlie Lee, Macauley Bonne, David Mooney, Romauld Boco (Jobi McAnuff 46).
Subs: Sam Sargeant, Michael Clark, Craig Clay

Goal: Macauley Bonne 66

Booked: Jake Caprice 59, Alex Lawless 77

Attendance: 3,346 (1,037 away fans)
Referee: Mr Samuel Allison (Trowbridge, Wiltshire)
Assistants: Mr Paul Saunders (Hove, East Sussex) & Mr Craig Simpson (Crawley, West Sussex)
Fourth Official: Mr Ryan Whitaker (Bexleyheath)

Photographs courtesy of Ed Boyden
www.edboydenphotos.co.uk

Coverage Sponsored by: