I'd like to thank Glyn Beverly for giving us the platform to build on his legacy and become the club that we are today, says Bromley owner Jerry Dolke
Sunday 21st July 2019
BROMLEY owner Jerry Dolke paid an emotional tribute to his predecessor on Saturday.
The Lillywhites officially opened their new South Stand at Hayes Lane before beating a youthful Crystal Palace side 1-0, courtesy of Joe Kizzi's far-post header 27 minutes into the game right in front of the new structure.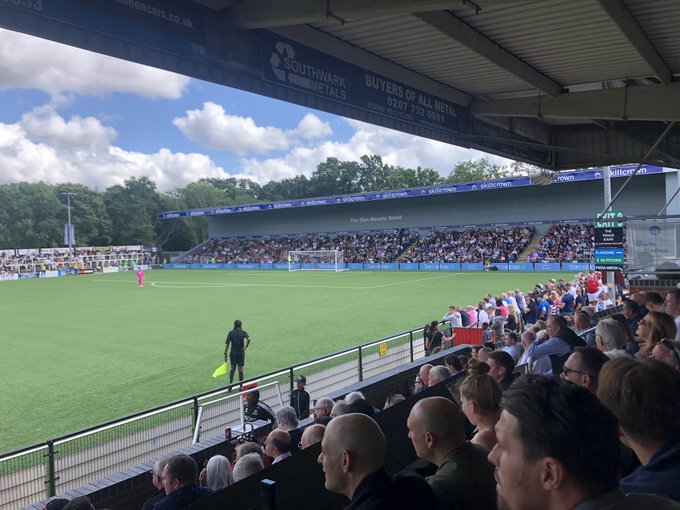 Bromley chairman Jerry Dolke cut the ribbon to officially open the clubs new South Stand at Hayes Lane.
Photo: Bromley FC

The Vanarama National League club have decided not to get the new stand sponsored – but have called it The Glyn Beverly Stadium instead.

Mr Beverly was the former chairman of Bromley and kept the club going during some tough times both on and off the pitch during its Isthmian League days.

Mr Beverly sadly passed away on Tuesday 5 December 2017.

"I'd like firstly thank Crystal Palace officials, management, staff, players' and supporters' for being here today in what is a memorable day in the history of Bromley Football Club as we officially open our brand new Glyn Beverly stand," said Mr Dolke.

"For those of you who haven't had the pleasure of meeting Glyn, he was the chairman here in the 80s and the 90s before he sold the club to us in 2001.

"He then took on the mantle of club president. This was a role that he fully embraced and as a true football person representing Bromley Football Club in various boardrooms and the occasional bar or two.

"What Glyn has seen in the past 18 years has been three promotions and the club establishing itself in the National League with a full-time status.

"I can assure Glyn that the journey will continue and we will try to take this club to the Football League.

"I'd finally like to thank Glyn for giving us the platform to build on his legacy and become the club that we are today.

"I'm enormously proud to be opening the stand on behalf of the Beverly family and everyone connected with Bromley Football Club, thank you very much for being here today.

"I officially open the Glyn Beverly stand."

Numerous former Bromley players attended the ceremony, including former captain Frank Coles joining former manager George Wakeling.

Micky Brown, Pat Gordon, Simon Osborn and Grant Watts were also some of the club's former players to attend.

Current manager Neil Smith is preparing for Bromley's fifth season in the fifth-tier of English football and has promised to make this the best one yet.
"For Glyn to support Charlton as well, for us to beat Palace and opening the stand in his honour, was a massive day today," Smith told www.bromleyfc.tv.

"I said to the boys it's a big occasion because his family have always been here and supportive. The ex-players that were coming down as well. We wanted to put on a show as well but at the same time it was to mark that great man's time here and where we are now, he was a part of that.

"It shows the emotion, it always shows the togetherness this club has. The players' coming back to show their respect to Glyn as well and Jerry playing under him and taking the club over from him.

"You just see from that stand itself where this club wants to go and together with the supporters' and the ex-players. I've said from day one, are part of this clubs history and we honour them as well.

"We want to make it a special season his year. It's going to be very, very tough and we've got a lot of work to do but the players' have put their part in today and got a good result."

Bromley continue their pre-season preparations with a trip to Vanarama National League South side Dartford on Tuesday 23 July (19:45).

Bromley travel to newly-promoted Chorley on the opening day of the Vanarama National League season (3 August) and welcome Ebbsfleet United to a revitalised Hayes Lane three days later.

Visit Bromley's website: www.bromleyfc.tv