Everyone's now looking at us maybe with a different eye than they had before, says Bromley boss Neil Smith
Wednesday 16th August 2017
BROMLEY fans are waking up this morning coming to terms with their side humiliating Leyton Orient 6-1 at Hayes Lane last night.
Ravens manager Neil Smith pulled off his home clubs biggest ever scalp thrashing a club that spent 112 years in The Football League and were playing only their fourth game as a non-league club.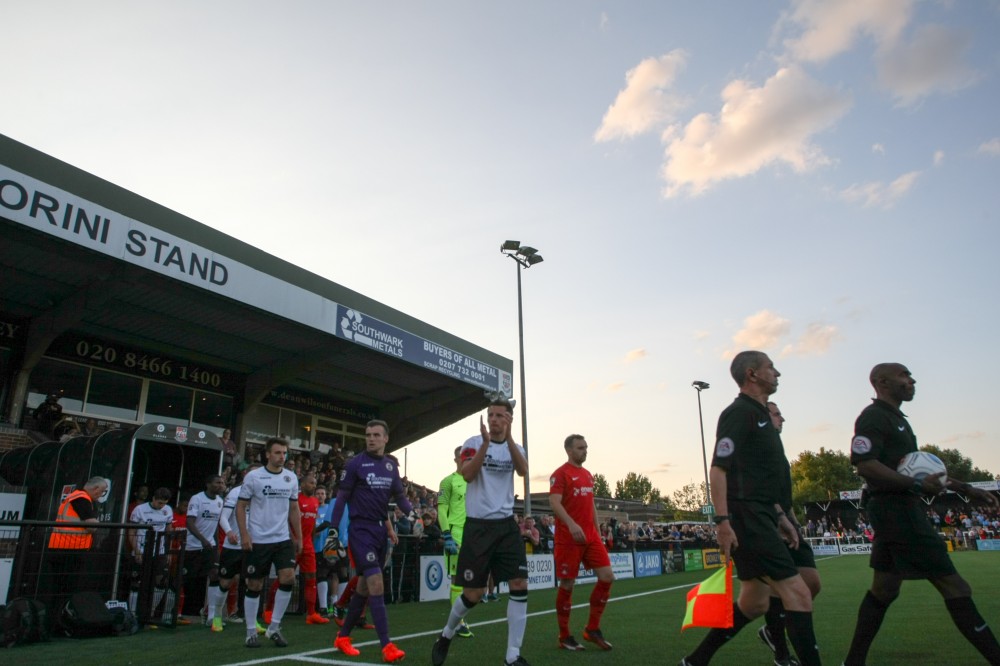 Bromley captain Jack Holland leads out Bromley for their first ever League game against Leyton Orient. What was to follow during the next 90 minutes will go down in folklore.
Photo: Ed Boyden - www.edboydenphotos.co.uk

Fans that saw their side lose nearly every week as they struggled in the Ryman League Division One just couldn't believe what they witnessed as Little Old Bromley pulled off their greatest ever performance in their 125-year history in front of 3,346 fans at Hayes Lane.

Striker George Porter, 25, was recalled by Smith to face his old club, and he headed in Frankie Sutherland's left-wing cross, to give Bromley a tenth minute lead.

Then it just got better and better and better.

Fans favourite, local hero Jack Holland headed in from Sutherland's corner as Bromley went into the break leading Leyton Orient 2-0.

What was to follow in the second half will live in the memory of fans for ever as brilliant Bromley tore Leyton Orient apart with a counter-attacking game at pace.

Josh Ress capped off an impressive performance in midfield by hooking in the third goal after Charlie Grainger palmed away Louis Dennis' fierce drive on the counter attack.

The fourth goal was a copy-cat goal. Grainger palmed away another Dennis' fierce drive on the counter attack and this time former Tranmere Rovers winger Adam Mekki tucked home his first goal for the club in a similar spot.

Leyton Orient pulled a goal back through Macauley Bonne's fine finish, before Holland stroked home another quality corner from Sutherland, before running over to player-coach Alan Dunne to celebrate.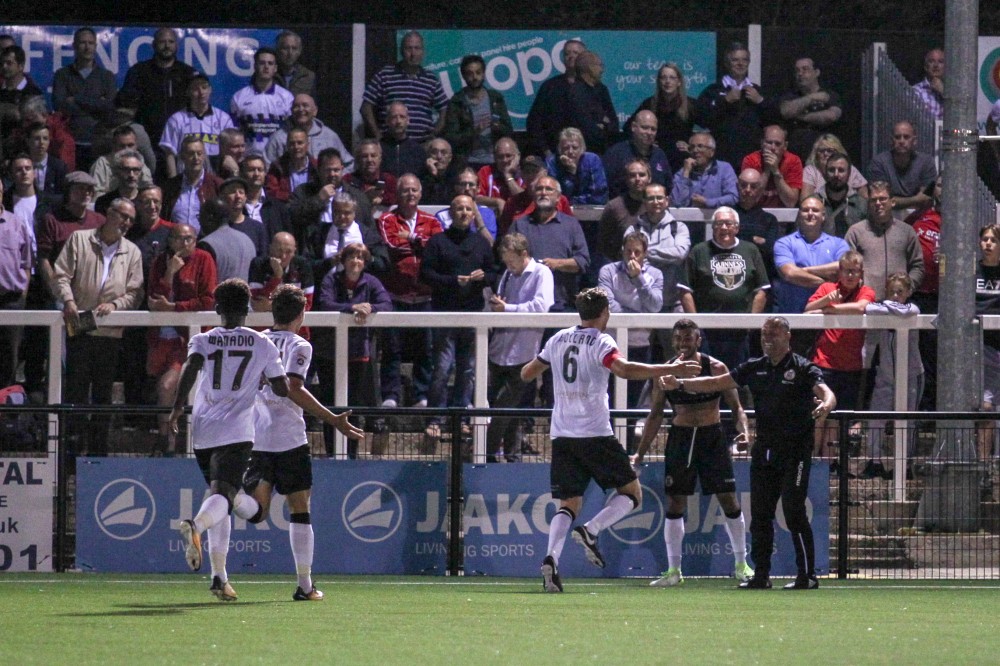 Bromley captain Jack Holland runs over to player-coach Alan Dunne, who worked on set-piece routines during their three training sessions before last night's famous victory.
Photo: Ed Boyden - www.edboydenphotos.co.uk

Charlie Lee's suicidal back-pass let in substitute striker Brett Williams who rounded Grainger to slot into the bottom near corner of an empty goal to send Hayes Lane into a state of bedlam and shock.

Bromley 6. Leyton Orient 1.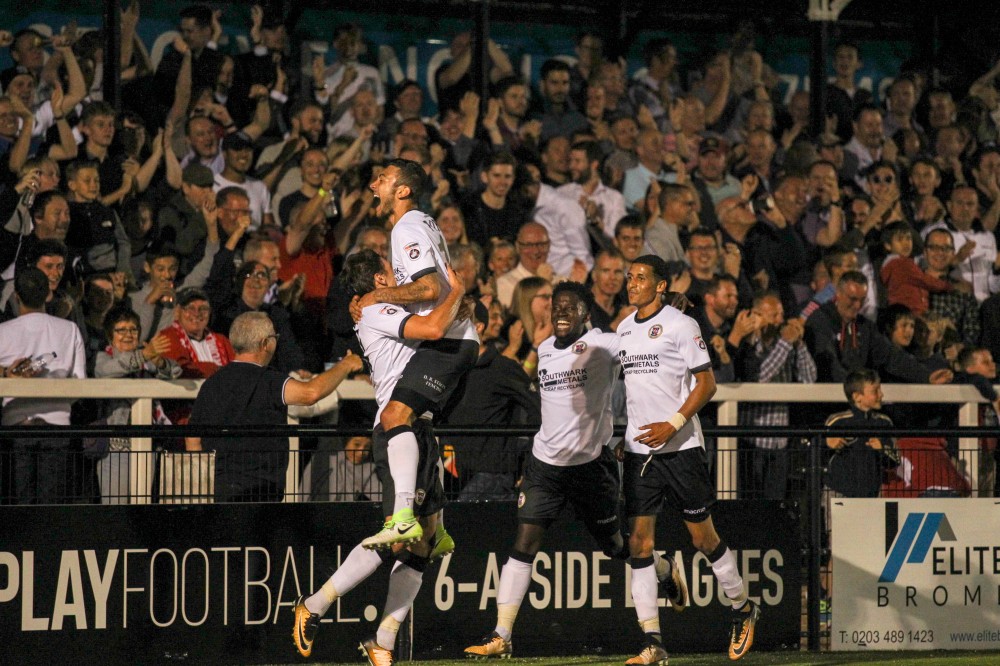 YOU CAN BE HEROES JUST FOR ONE DAY: Hayes Lane erupts as Bromley thrash Leyton Orient 6-1 on a memorable, proud night at the iconic old stadium as Bromley celebrate their greatest result in their 125-year history.
Photo: Ed Boyden - www.edboydenphotos.co.uk

Smith now faces a challenge to keep his players' feet on the ground at training on Thursday morning as they prepare for another relegated side in Hartlepool United on Saturday.

Bromley climbed to fourth-place in the Vanarama National League table with 8 points from four games, a couple of points adrift of leaders Aldershot Town and unbeaten.

It is the first time in their history that they are above Leyton Orient in the pecking order.

"It's going to be difficult against Hartlepool, it's another League club but we're going to enjoy last night for a little bit but they're already preparing for Hartlepool now," said Smith.

"We'll come out on Thursday, start training and see what bodies we've got and start again.

"This is one game, this is three points have been earnt and I think we thoroughly deserved it but it's not the league, we've got to go again and Hartlepool will be another difficult game."

Leyton Orient just couldn't live with Bromley's desire to win the game.

"What pleased me was their energy, their enthusiasm. They listened to directions, they listened to instructions and then to a man they did their job," said Smith.

"That's for the supporters. I've been here six years now. I think that's the first time I can say that's for you This is for the supporters, they've been immense since I've walked through the door and it's nice to give something back."

While Leyton Orient slipped down the table to 11th-place on five points from four games, Hartlepool United, who went down from League Two with them last season, were held to a 1-1 home draw by Chester and are in the bottom six with two points.

Smith added: "It's another tough one, they're going to come here, they're coming, probably a strut and a position of we are a League club but they're playing against us, same division. We deserve to play against them now. We'll give them the utmost respect that they deserve and they thoroughly do. It's going to be about us, not Hartlepool."

Bromley won the Conference South title in 2015 to play the likes of giants like Leyton Orient and Hartlepool United.

The Ravens finished their first campaign dining at non-league's top table in 14th place on 60 points and last season secured a personal best finish of tenth on 62 points.

Smith targets a top-seven finish this time around to qualify for the extended play-offs at the end of the season.

"Of course, I want to be there, I want this club to be in and around it," said Smith, who went to school down Hayes Lane at The Ravensbourne School.

"But we don't want this to be just a one-off. We want this all the time now and it's up to me to get the players to deliver every week and there is pressure on it but I'll do my utmost and my very best to make sure we're in and around it come the end of the season.

"But it's early days, we're not going to shout from the rooftops. We've got a hell of a lot of work to do and it just means everyone's looking at us maybe with a different eye than they had before last night."

Holland described last night's game as second to the club winning the Conference South title – the clubs first title in 54 years.

"The thing with the management and the gaffer he never lets us get too ahead of ourselves or too down so we knew what we had to do to get the result that we wanted," said the central defender who lives down the road in West Wickham.

"Look, from what I saw no-one's given us a chance in this league from the start but we know in that dressing room we have a squad that have put a big statement out in this league.

"We're not going to let it go to our heads. We're going to keep kicking on and we're going to make the naysayers think twice."

Looking ahead to Hartlepool's visit to Hayes Lane on Saturday, Holland said: "We come back in on Thursday, we put this one behind us now. We can enjoy it and put it behind us and we get together again and do what is needed to win on Saturday.

"We do NOT lose. That's the big thing this year, we do NOT lose, especially at home, so we're going to do everything in our power to get us ready and take it to Hartlepool on Saturday."

Bromley have now played 96 National League games and have only been live on BT Sport twice – losing 3-1 at home to Altrincham in their first season and a 2-1 win at Macclesfield Town last season.

Now it's time for BT Sport to sit up and smell the coffee that Bromley mean business this season as they come face to face with 13 club's with previous Football League experience.

Holland welcomes the extra publicity to showcase Bromley's talent.

"It's always great playing on TV because of just the buzz around the place and getting on is really good but on TV or off the TV we're here to do a job. I don't care if we're on the TV and we're playing in front of millions or we're playing in front of our own fans, we'll do the same thing week in week out, that's all that matters to be honest.

"A win of that magnitude, I'm going to enjoy it until we come in Thursday morning and then we start training but I'm over the moon."

All photographs courtesy of Ed Boyden - www.edboydenphotos.co.uk

Visit Bromley's website: www.bromleyfc.tv

Bromley v Hartlepool United
Vanarama National League
Saturday 19th August 2017
Kick Off 3:00pm
at Hayes Lane, Bromley, Kent BR2 9EF