Bromley boss Neil Smith targets play-off dream: This club can reach and achieve whatever it wants to achieve
Sunday 16th July 2017
BROMLEY manager Neil Smith says he wants to make the club's 125th anniversary season a special one by challenging for the play-offs.


The Ravens won their first League title in 54 years when they won the last ever Conference South title in April 2015 under previous manager Mark Goldberg, before Smith took over eight months later and the club finished in fourteenth-place in the Vanarama National League.

Smith's first full season in charge saw him guide his home-town club to a personal best finish in the top ten with a record 64 points last season, which exceeded all expectations among the Hayes Lane faithful.

Smith and his coaches Mark Hammond, Glyn Shimel, Alan Dunne and club captain Jack Holland (pictured below, photo courtesy of Bromley FC) met the club's season ticket holders at a meet the manager event at Hayes Lane last week and Smith set the tone for the club's aspirations for the season ahead.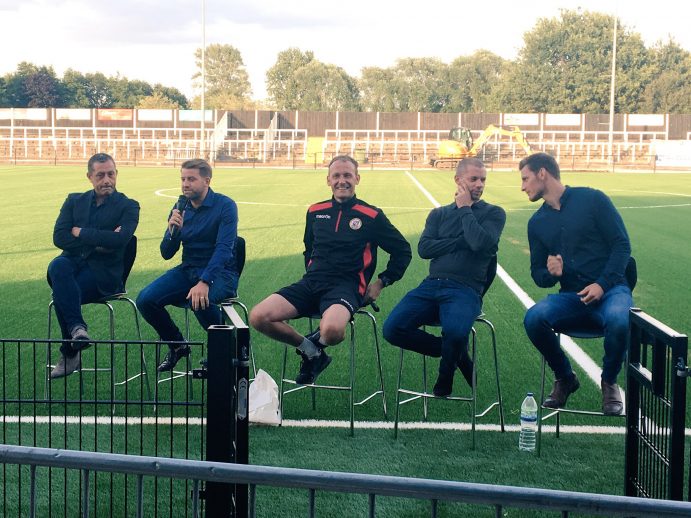 The club have confirmed that a record breaking 400 season tickets have been sold ahead of the club's third season in the top flight of non-league football.

"Last season was a great season for us to come tenth. I think most people had us down to come 20th and fight relegation and to actually end up where we did was phenomenal, said Smith, the event was filmed and broadcasted on www.bromleyfc.tv.

"I know some of the players have left, we've got a new set of guys come in, they're good people, they want to learn, they want to be here for the right reasons and I think that gives us a head start from what we had last season when we did have a few difficulties during the course of the season.

"In my own way I'd like to say thanks to last season to Mark Hammond, Glyn Shimel, Alan Dunne and Jack Holland because without these guys we wouldn't have succeeded. They've been fantastic. I'm really pleased to have them on board.

"Dunny isn't just a player, he's one of my coaches also. We've also got Ben Chorley as well with his experience. We're going to be a young, enthusiastic side with a lot of energy but sometimes you've just got to calm that energy down.

"I'm looking forward to next season. I'm going to need your support, we're going to need your support because there will be difficult times. It's going to be a tough season. The League's phenomenal. You've got the likes of Leyton Orient coming against you, Hartlepool, obviously the teams that are already up there and there abouts, your Tranmere Rovers. It's a phenomenal league to be in.

"I said to the boys we can achieve anything that we want to achieve. It will be difficult, there will be tough times, but we've got to be able to come through those and we can't do that without your support as well.

"When they are difficult times that's when we need your support. When it's going well, it's easy to support the club. When you were having those difficult times your support last season was phenomenal. We didn't have the best of starts but you kept with us, you stayed with it.

"The last game against Gateshead away when we gave a debut to a 17-year-old boy (Aiden Enver) from the Academy that just topped my season off. That means we are going places, we are doing things right. That's the foundation of this club. We want to generate our own players. We want Bromley players playing for Bromley Football Club. We want you to be able to say you knew them when they were kids going to the local school across the road."

When the club won the Conference South title Goldberg's plan at the time was to stay in the National League in season one, consolidate in season two and challenge their bigger rivals for promotion in season three.

"I generally hope and believe we can give you something to cheer about that might just be a little bit more special than last season," promised Smith, who begins his new campaign at home to bogey-side Eastleigh at Hayes Lane on Saturday, 5 August.

"We finished off well, we know it's going to be a tough start to the season but we'll be giving everything we've got right until the last game of the season."

The club have splashed out on an artificial pitch at Hayes Lane to join trailblazers Maidstone United and bitter rivals Sutton United in having an non-grass playing surface in the National League.

"The progression this club has made in the time (six seasons) I've been here shows there's a foundation at this club now," said Smith.

"If anything was to go wrong there's a foundation, it can carry on, no matter what.

"There's been a lot of hard work going on off-the-pitch, as well as on it. This club has to survive and has to be prepared if anything happens there's this (artificial pitch) for ever.

"This club is sustainable on its own. It doesn't need anybody coming in to try to shift it up again. This club, hopefully, now has a foundation to work on.

"You have been here for ever, you have seen the bad times and now hopefully you're seeing the good times. You're seeing this club grow and I think the energy that is around it at the moment, we've got to keep it going.

"It's not just this year but the next 5-10 years, this club can reach and achieve whatever it wants to achieve and with your support I really believe we can do that."

Artificial pitches are prohibited in the EFL (English Football League) but Smith has a plan should his side win promotion in April 2018.

"We get promoted, it gets ripped up! That's what will happen but until we do get that we need to generate (money) to get a better team. We need to bring in the money.

"I think it's only the Premier League or the Championship clubs who are really going to put any obstacles up (having artificial pitches in the EFL). I think the teams below that they need to generate money.

"It needs a club from this level to go up with the 3G to see whether they will have it on board, whether they will make a change. I think until that happens there will be big obstacles."

Bromley finished 13 points adrift of seventh-placed Barrow last season and Smith sees the National League granting an extra two play-off places as a good thing for club's like Bromley to enhance their promotion dream into League Two for the first time in their history.

Smith said: "Anything that brings the chances of getting us up, the middle section. We know there's some massive club's in this division, they've got financial backing beyond what we've got so the fact now it's gone from fifth to seventh gives us a chance, it gives you something to fight for right until the end of the season.

"Being 10th last year, the difference in points is what we have to negate.

"It should be three-up-three-down. I don't think the League above us is any stronger than what we've got in here especially in the top half but until that happens just to give us that opportunity is just so much better because it gives us a chance all the way through the season."

Visit Bromley's website: www.bromleyfc.tv