Gillingham swoop for Bromley midfielder Josh Rees: Like any professional I want to compete at the highest level possible and therefore the opportunity provided could not be turned down
Tuesday 12th June 2018
JOSH REES says Gillingham's offer of a two-year deal to become a League One footballer was too good to turn down.
Bromley have now lost their two highest goalscorers to League One clubs this summer after 21-goal attacker Louis Dennis also signed a two-year contract, at Portsmouth, just three days after their Wembley heartbreak.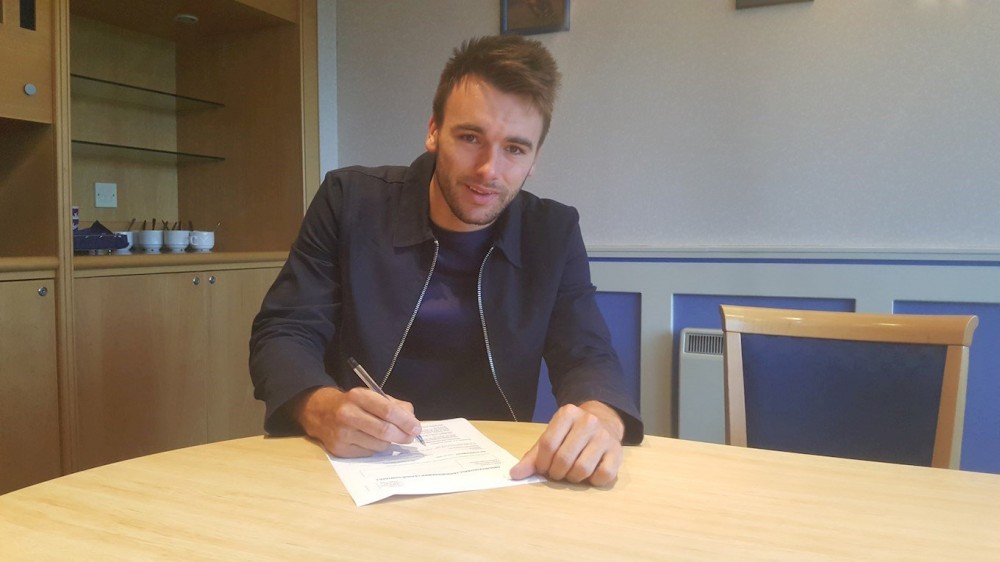 Gillingham have signed midfielder Josh Rees on a two-year contract following an impressive campaign at Bromley in the Vanarama National League.
Photo: Gillingham FC

Rees, 24, signed for Bromley in July 2017 from Vanarama National League South Chelmsford City and he went on to score 20 goals for the Ravens from midfield.

Bromley manager Neil Smith told www.bromleyfc.tv: "I am delighted for Josh. He has been a fantastic player for us this season and I am delighted that another Bromley player will be getting the chance to play League One football next season."

Rees issued a statement on his Twitter account to reflect on his successful season at Hayes Lane.

Smith guided his home-town club to a personal best ninth-place finish in the Vanarama National League on a club record of 70 points. They missed out on the play-offs by just four points and suffered a heartbreaking FA Trophy Final defeat to Brackley Town on 20 May.

The Ravens took the lead through Omar Bugiel but Roger Johnson's own-goal with just 19 seconds from the final whistle gifted Brackley Town the equaliser before Bugiel and Jack Holland both missed penalties as Bromley lost 5-4 on penalties.

"To all the staff at the club, thank you for providing a working environment that allowed me to improve as a player on a daily basis," said Rees.

"Your commitment on and off the pitch was a testament to the football club and it resulted in a memorable season full of highs.

"To the fans who were with us at every stage of the season, your support home and away was fantastic and even though like many of you, I'm still hurting from the result at Wembley. I hope you all had a great day out and it will live long in the memory.

"It was the least you all deserved for the commitment you showed to the team over the course of the season.

"Last but by no means least, my team mates. Although it's only lasted a season I feel that I was part of a very special group of players. Not just for the talent and skill I'd witness regularly in training and in games, but the spirit within the team and the constant steam of jokes that would be coming from the changing room. It was a pleasure to work alongside you all.

"This season has been my best as a professional and the opportunity for progression has arisen. Like any professional I want to compete at the highest level possible and therefore the opportunity provided could not be turned down."

The former Arsenal and Nottingham Forest player signed his two-year contract on Monday before completing his medical today.

On completing the move to Priestfield, Rees told www.gillinghamfootballclub.com: "I'm really pleased; once the manager showed interest I was set on coming here. It's a good club with solid foundations in this league.
"I'm at a good age, I've worked hard to get back to where I wanted to be and this is a great club to be at."
Gillingham manager Steve Lovell added: "Josh is a player I have had my eye on for some time now; he's quick, confident in possession and is always looking to get forward.
"He played a pivotal part in Bromley's successes last season, he was one of the highest scoring midfielders in the country and we are very much looking forward to working with him."

Bromley have given holding midfielder Frankie Raymond, 25, a new contract, having impressed during his first season at Hayes Lane following his arrival from Dagenham & Redbridge last summer.

Raymond, who runs the gym at his old club Glebe in Chislehurst, made 47 appearances for Bromley last season, scoring three goals.

Set-piece specialist, Raymond told www.bromleyfc.tv: "I'm absolutely delighted! With the season we had last year, I think it's good to keep as much of the squad together as possible. Hopefully we can push on even more. I spoke to Neil earlier on in the summer before we both went on holiday. As soon as I came back I went straight to meet him to sign, there was no other club I wanted to be at."

Boss Smith added: "Frankie was superb last season. He's a great player and one who's committed to the club. He's a local boy too and to have him on board after the season he had last year will put us in good stead for the upcoming campaign."

Bromley losing two players to a couple of League One clubs shows just how far the club have come and what a brilliant job Smith has done at Hayes Lane. It also proves that there are quality footballers plying their trade in the fifth-tier of English football.
Bromley squad 2018-2019:
Goalkeeper: David Gregory
Defenders: Jordan Higgs; Jack Holland; Jake Goodman; Dan Johnson
Midfielders: Bobby-Joe Taylor, Frankie Raymond, Kyle De Silva, Adam Mekki
Striker: George Porter

Visit Bromley's website: www.bromleyfc.tv