Jeremy Dolke stands down as Bromley chairman: I couldn't be handing the chairmanship to a more suitable person. Robin Stanton-Gleaves has the drive to push it to the next level in a business-like manner
Friday 02nd August 2019
BROMLEY have confirmed that Jeremy Dolke has handed over the chairmanship of the club to fellow director Robin Stanton-Gleaves.
The Hayes Lane outfit are preparing for their fifth campaign in the top-flight of non-league football and travel to newly-promoted side Chorley in the Vanarama National League tomorrow.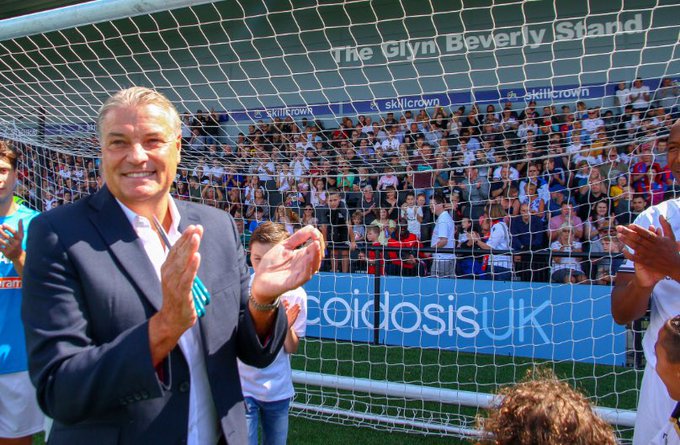 Jeremy Dolke has taken his home-town club from the Isthmian League Division One South to the top-tier of non-league football during his 18 years' in charge of Bromley.
Photo: Bromley FC

The club has announced that Stanton-Gleaves has been appointed chairman, while Jon Plassard has been appointed vice-chairman. Mr Dolke has been handed the title of director of football while Paul Greenwood becomes vice-president in a major boardroom shake-up, announced on the eve of the new season.

A club statement said: "Since becoming chairman in 2001 Jeremy Dolke, alongside wife Julia, have overseen a remarkable turnaround for the Ravens from part-time football to full-time football with no relegations and three promotions to the summit of Non-League.

"They also oversaw the building of the Venue Suite, 3G training pitches and most importantly regained the freehold of the stadium in 2006, helping to secure the long term future of Bromley Football Club."

Mr Dolke told www.bromleyfv.tv: "It's been a long journey from becoming chairman of Bromley Football Club in 2001. We've had three promotions along the way, 2005 to the Ryman Premier, 2007 to the National League South and 2015 to the National League.

"The promotion that meant the most to me was 2007, as we pushed the boundaries to get there, even if it was the hard way through the play-offs. With all the success and highs were some challenging times and lows behind the scenes, particularly the promotion season in 2015.

"Julia supported me throughout the whole journey and without that support the club would not be what it is today."

Mr Dolke added: "I couldn't be handing the chairmanship to a more suitable person. Robin's been my business partner for four years now and loves this club. He has the drive to push it to the next level in a business-like manner."
Mr Dolke takes up his new role of director of football with immediate effect and in addition to overseeing football affairs will also remain the main commercial lead for the club as he continues to foster and develop relationships with the club's commercial partners and sponsors.
"I'm looking forward to my new role within the club and it's one I'll fully embrace. I will continue to represent our club with the same energy and passion I have had for the past 18 years and will enjoy continuing to work with our proud partners," said Mr Dolke.

Manager Neil Smith added: "I would just like to say thank you to Jerry, Julia and the whole of Jerry's family in all of their support to myself and my staff.

"You are always there for me to call on when I need advice. You have been a massive credit to Bromley FC and will always be a part of this great club."

Kris Hollidge, who played for Bromley during its Isthmian League Division One South days, said on Twitter: "Congratulations! The job you have done from taking the club from the bottom of the Ryman League Division One South to the upper reaches of the National League is nothing short of a fairy tale. Wish you the best of luck in the new role."

Visit Bromley's website: www.bromleyfc.tv