We have committed to meeting 100% of salaries for staff and players and to honour their contractual agreements up until the 31st May, says Bromley chairman Robin Stanton-Gleaves
Wednesday 01st April 2020
BROMLEY chairman Robin Stanton-Gleaves says he is committed to paying all of his players and club staff their entire salaries until the end of May.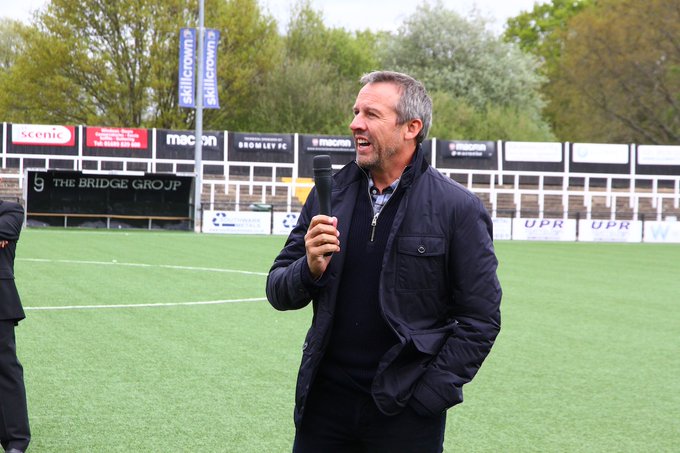 National League club Bromley have issued a statement this evening saying the board at the Hayes Lane club will support manager Neil Smith, his management team, players and club employees, during this shut-down due to the coronavirus outbreak.

"Firstly, I hope that you and your loved ones are keeping safe and well as we continue to collectively battle against this virus and to follow Government advice and stay in our homes," Stanton-Gleaves (above) said in a statement posted on www.bromleyfc.tv.

"I write to you at this time to update you on the actions we are taking following the recent announcement from the National League and the Government.
"The combination of the Government lockdown and the indefinite suspension of the season by the National League has obviously left ourselves in the unprecedented situation of having almost every revenue channel available to us turned off with the Club forced to cease all operations.

"As this is the case the Club have taken the opportunity of the Government's Coronavirus Job Retention Scheme to furlough employees unable to work as of 1st April.
"Myself and the board of directors have committed to meeting 100% of salaries for staff and players and to honour their contractual agreements up until the 31st May.

"We will obviously continue to review this as and when further advice and updates are received from the Government.

"We also look forward to an update from the National League as soon as possible on how the season will be concluded.
"Everyone affected by these temporary arrangements are fully supportive and understand the situation we find ourselves in and they look forward to returning to work at the earliest possible opportunity.
"Myself and the board are committed to making all the necessary decisions moving forward, in the best interest of our beloved football club, so that we can come out the other side of this alive and ready to go again.
"On behalf of the Club I'd like to thank you all for your continued support during this unprecedented and challenging time. We would also like to extend a special thanks to our loyal sponsors for their continued support.
"Stay safe and continue to support one another."

Visit Bromley's website: www.bromleyfc.tv