Bromley 2-1 Crystal Palace - We'll give it everything that we've got to be in and around the play-offs come the end of the season, says Bromley boss Neil Smith
Saturday 29th July 2017
Bromley

2 – 1

Crystal Palace

Location
Hayes Lane, Bromley, Kent BR2 9EF
Kickoff
29/07/2017 15:00
BROMLEY 2-1 CRYSTAL PALACE
Pre-Season Friendly
Saturday 29th July 2017
Stephen McCartney reports from Hayes Lane

BROMLEY manager Neil Smith says his new side will give it everything that they've got to become a surprise package in the Vanarama National League this season by grabbing a top-seven play-off spot.
The Ravens gave their new 3G artificial pitch at Hayes Lane the seal of approval as they claimed the local bragging rights over their Premier League neighbours Crystal Palace, watched by a crowd of 1,774.

Bromley were the better side during the first half against a Crystal Palace midfield that contained Jonny Williams, 23, who came off the bench to play for Wales against Portugal in the European Championships Semi-Finals last summer.

The Vanarama National League hosts took the lead through Louis Dennis, 24, who has been converted from a winger into a striker by Smith this summer.

Crystal Palace grabbed an equaliser through substitute Giovanni McGregor in the second half.

But this pre-season friendly turned ugly following a flashpoint off-the-ball when ex Millwall full-back Alan Dunne clashed with Crystal Palace striker Andre Coker, which started a melee and referee Lee Brennan had no option but to send off Bromley striker George Porter, who threw a punch at Coker, who was also sent-off.

The Eagles switched off and Bromley delivered the knock-out blow when former Gillingham and Cambridge United striker Ben Williamson, 28, guided home his header with time running out.

Smith, who guided his home-town club to a tenth-placed finish last season, was delighted with his side's performance, seven days before big-spending Eastleigh come calling in the Vanarama National League.

He said: "We're classed as non-league but we're as good as full-time as we can be. We've got players coming in setting a standard and being in the League as well. I think sometimes we might be taken a little bit lightly from some of the pro club's but not today from Crystal Palace, I think they showed us a lot of respect.

"I thought first half we passed it around well, we kept our shape well, scored a very good goal from Louis Dennis and even the trialist at the end, Ben Williamson, I know everything had gone on but I still thought it was a fantastic finish and a great ball from Iffy (Allen).

"What I'm looking for is competition for places for next week because that's when it all really starts and I think there's a few people doing well for themselves."

Bromley were to be denied the lead after only 91 seconds when Dennis unleashed a left-footed drive from 25-yards, which forced goalkeeper Kleton Perntreou to dive to his left to push behind for a corner.

It's good to see that Bromley have signed plenty of flair players, who will blossom on their new carpet.

"It's just nice for the supporters to see what we're trying to achieve down here, the style of football we're trying to play as well," said Smith.

"It's a little bit different to the long ball. We've got that up our sleeve if and when we need it but I think when you're playing on a pitch like that, you want to get it down and play and we've got the players to do it."

Crystal Palace offered very little during the first half. A driving run from Williams set-up a chance for Jordan Mutch, but the midfielder's right-footed drive from 25-yards flashed harmlessly wide.

Former Glebe and Dagenham & Redbridge central midfielder Frankie Raymond found left-winger Adam Mekki – the first player to join Bromley from Tranmere Rovers in 125 years – and he slipped the ball through to Dennis, who's low drive deflected past the foot of the near post after doing a couple of step-overs as he aimed to squeeze his shot into the bottom near corner.

Bromley were to be denied the lead in the 25th minute when former Dartford winger Luke Wanadio floated over a deep cross from the right towards the edge of the box where former Torquay United striker Brett Williams's over-head kick was tipped over by Perntreou, underneath his crossbar.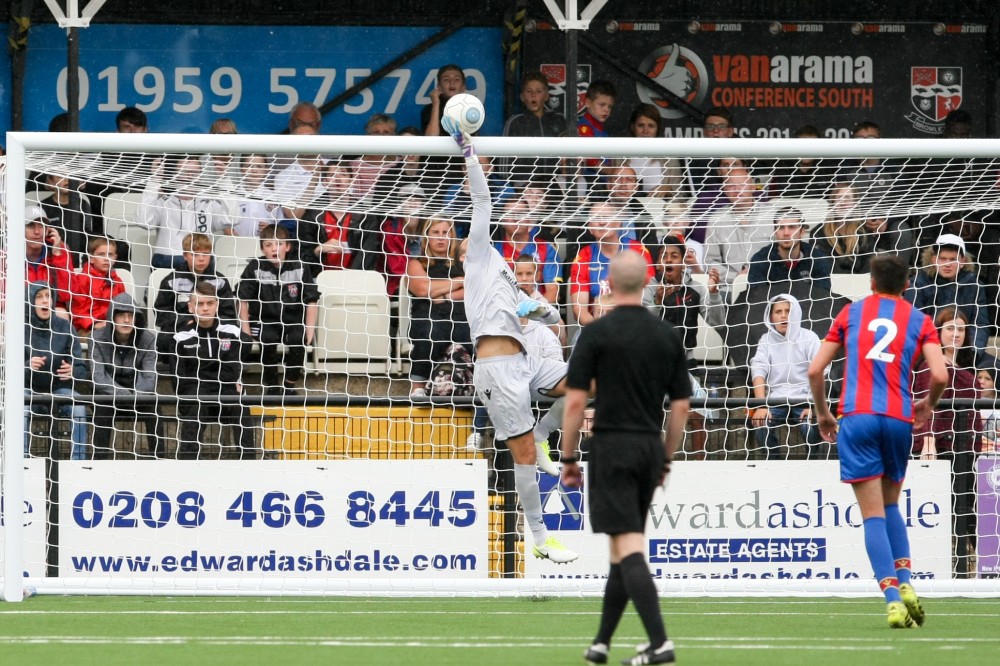 SAVE: Crystal Palace keeper Kleton Perntreou denies
Bromley striker Brett Williamson (out of picture).
Photo: Edmund Boyden - http://www.edboydenphotos.co.uk


Smith said: "It was very close. It seemed to be the slowest overhead kick I've ever seen, I must admit! I think Pele did a quicker one in The Great Escape or whatever it was but he's done well. He's come in. He's a target man. He can link up well, he's got mobility as well and we need him more in the box."

Bromley goalkeeper David Gregory had a quiet first half against his old club and the former Cambridge United stopper dived to his right to see Luke Dreher flash his shot past the far post from 22-yards, after Williams' picked out winger Levi Lumeka out on the right with a sublime pass.

Bromley deserved their lead when it duly arrived in the 37th minute of a game that in truth lacked the tempo of a blood and thunder League fixture.

Crystal Palace gave Bromley a helping hand as central defender Tyler Brown slipped the ball straight to Rees in the final third and he threaded the ball through to Dennis, who bent his left-footed shot around the keeper to find the bottom far corner from 15-yards.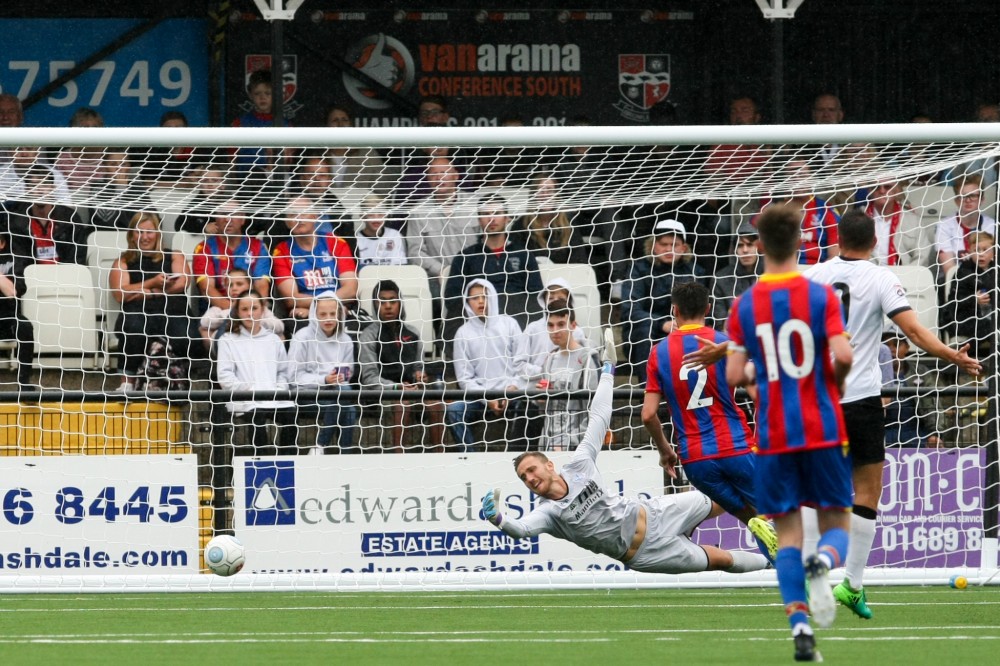 GOAL: Bromley striker Louis Dennis (white shirt) gives
his side the lead against Crystal Palace.
Photo: Edmund Boyden - http://www.edboydenphotos.co.uk

Smith's decision to turn Dennis into a striker has clearly paid off this summer.

He said: "I think Louis has always been a number 10, that's always trying to find him that right time to give him that chance. This year was the time and I think he's proved it. I think he's scored four goals in pre-season. I think he looks very comfortable in that position, very balanced. He can go left or right, long may it continue but I thought all the players did extremely well.

"It was a great finish. We went for the high press at that time because we could. We done it high up and dispatched the ball very well and Louis does what Louis does, great finish!"

Smith made eight changes at the interval, explaining that he wanted all 22 players to experience the new pitch and historic day for the 125-year-old famous non-league club.

"It was an occasion for the club and an occasion for the supporters and an occasion for the players," said Smith.

"I wanted to give everybody a taste going into next week. I didn't want to just play a certain few, I wanted everyone to enjoy that moment on a new pitch in front of a big crowd and I think I got everything I wanted out of it."

Bromley were to be denied a second goal after only 52 seconds when Wanadio whipped in a cross from the left, the ball was knocked down by Jordan Higgs and Williamson stroked his low right-footed drive, which was saved low to his left by substitute keeper Dion Curtis Henry.

"Ben Williamson will always hit the target, if I can get something done I'll be trying my hardest to get him on board but until that crosses the line, we'll see," revealed Smith.

Crystal Palace grabbed an equaliser in the 64th minute, when they showed some energy going forward.

Mutch's driving run saw him roll the ball out to left-back James Daly, who delivered a deep cross towards the far post which was knocked down by Lumeka and McGregor swept his shot into the bottom left-hand corner from eight-yards.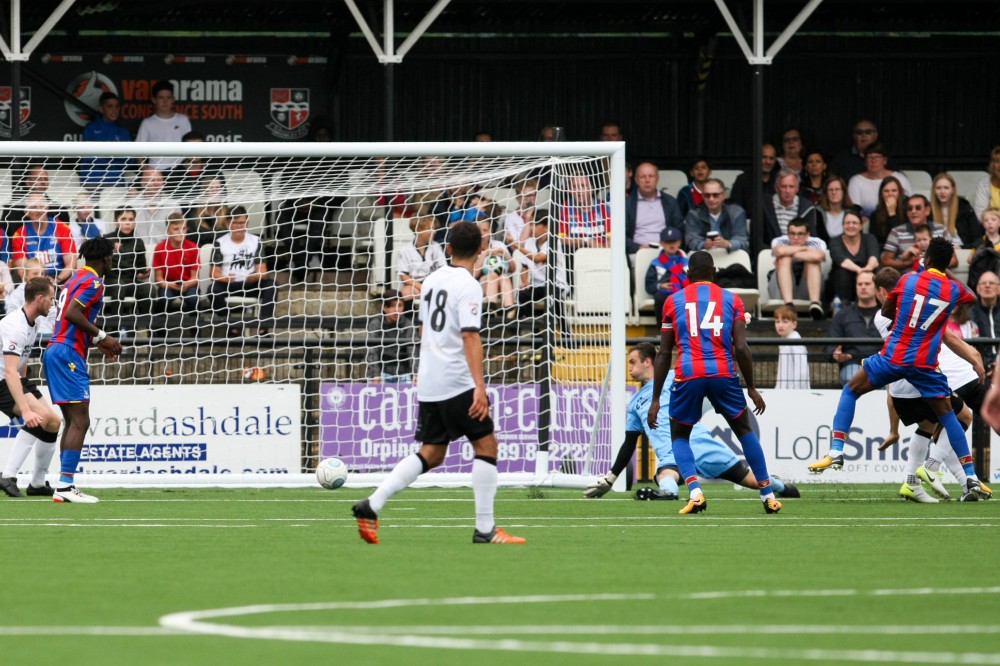 LIFELINE: Giovanni McGregor (number 17) levells for
Crystal Palace.
Photo: Edmund Boyden - http://www.edboydenphotos.co.uk

"It was a disappointing goal in our eyes because it was preventable but the lad took it well," said Smith.

"It's a shame to give a goal because I wanted a clean sheet with all that amount of changes it was always going to be difficult."

Crystal Palace stepped up a gear following the goal and Mutch was given space to hit a curling shot across goal and past the diving Gregory and far post.

Smith said: "Jordan Mutch is a first team player, Jonny Williams is not only a first team player, he's played in European Championships with Wales. They are quality players and all those players have been knocking on the door for Crystal Palace no doubt so to have so few shots from them, I think it was fantastic defensive work from our team."

Bromley Academy product, Aiden Enver teed up a chance for Porter, but his right-footed shot from 25-yards was comfortably held by the Palace keeper.

The energetic Lumeka played the ball inside to Mutch, who hit a left-footed drive from 22-yards, which forced Gregory to dive to his right to push the ball away towards safety.

"David didn't have a lot to do, we were saying that he's still to be tested in all the games that we've played," admitted Smith.

"I know we had a behind-closed-doors game against Millwall (where we drew 3-3) and it was a little bit different and they were scrappy goals. I think he's done absolutely fantastic since he's walked through the door so long may it continue that he doesn't have a lot to do!"

Gregory made way for another former Crystal Palace keeper in the shape of Oliver Pain, who had his fingers stung by Hiram Boateng, who went for goal with a left-footed free-kick from 35-yards.

Crystal Palace clipped the top of the crossbar through Lumeka's cross-come-shot from the left, which sailed over Pain's shoulder after he retrieved a deep, deep driven corner from McGregor in the final 13 minutes.

"They're all very, very good players, I'll keep saying it. You don't play for Crystal Palace if you're a bad player and they've got a bright future. All those kids coming on for Crystal Palace, especially for a man like Frank De Boer, who wants to bring players through, so we knew it was going to be tough. They were energetic, they were quick and in the end, we matched it."

There were, however, unsavoury scenes following Dunne and Coker's flashpoint off the ball and Smith confirmed that Porter's three-match suspension will kick in for the opening match of the season after punching Coker within the melee.

Referee Brennan showed Porter a straight red-card and Coker attempted to hide in the away dug-out before he was sent-off too. Dunne, surprisingly escaped any punishment.

When asked about the incident, Smith replied: "I'm a little bit embarrassed about what's happened. We'll deal with that on Monday but yes, disappointing.

"We're just watching it now. I don't want to comment on it too much until I've sat down and watched it closely but until then I thought it was a very good game, competitive with a little bit of niggles out there but nothing too much and then it obviously blew up.

"I'll look at it a little bit later and give an opinion of it then but I thought up until then I thought the boys had done fantastically. I'll look at the positives and I thought the first half we were outstanding."

Bromley claimed a morale-boosting victory by scoring the winning goal with 43 minutes and 42 seconds on the clock.

Donnell Anderson, 17, replaced Chris Smith, who has been with Ipswich Town since the age of eight.

Anderson clipped a long ball out of defence which released former Wrexham winger Iffy Allen, who delivered a peach of a cross for Williamson to guide his free-header into the right-hand corner.

"The ball came from Donnell, one of our young Academy boys, 17, a great ball into the corner. Iffy got on the end of it, put a great ball in and Ben Williamson doesn't need many chances to score a goal! It was a great finish and a great ending to a good game up until the incident."

Smith has signed 16 players on contract and said previously that he will be having an 18-man squad this season.

The Bromley boss says he will sit down with match-winner Williamson to try to add the striker to his threadbare squad.

"We'll have a talk tomorrow, I don't think he did himself no harm at all. He's been in for the last couple of weeks. He's been with a couple of League club's as well that are knocking on his door but for some reason he seems to love it here so if I can get across the door I'll be trying my utmost because he brings that experience that we might need come this season.

"I've got a squad of 16 players at the moment. That's not going to last for the whole season so there are other places up for grabs."

Chris Smith came in for the injured Jack Holland and the manager added: "He's done fantastically well since he's come in at the beginning of pre-season. Again, there's a few conversations to have, hopefully we can get something done before the start of next week."

Bromley travel to AFC Croydon Athletic (Monday) and Greenwich Borough (Wednesday) in the final week of pre-season.

Smith revealed: They'll probably be more, a couple of trialists, sort of last chance and Academy boys. My first team boys won't be involved in that. I can't afford to pick up any injuries. We'll be working very hard on our team, shape and play so we won't be playing in those."

Bromley kick-off their campaign next Saturday, looking to improve on their record of only ever beating Eastleigh on two occasions.

"Yes, looking forward to it," said Smith.

"It's been a long time coming down. We've had a tough pre-season, we've got another week, we'll put a hell of a lot of work in.

"The pressure's on them because they're telling everybody they need to get promotion and with the finances and everything else that goes with it, they need to do it."

Bromley have made their intensions known, and are aiming for a top-seven play-off spot this season.

"It's going to be very, very difficult and if we can get anywhere near what we did (last season) will be fantastic," said Smith, who comes up against eight former Football League club's in their first 13 League outings.

"Like I said, my personal goals, I always want to try and better myself but realistically we know it's going to be a tough one this season.

"If there's automatic and the next six are play-off places, I want to be in and amongst it. It gives everybody a chance from halfway upwards and if I can be up there we'll give it everything that we've got to try to be in and around it come the end of the season."

Bromley: David Gregory (Oliver Pain 72), Ben Wynter (Alan Dunne 46), Tyrone Sterling (Kristian Campbell 46), Frankie Raymond (Jordan Higgs 46), Ben Chorley (Daniel Johnson 46), Chris Smith (Donnell Anderson 80), Luke Wanadio (Aiden Enver 62), Josh Rees (Frankie Sutherland 46), Brett Williams (Ben Williamson 46), Louis Dennis (George Porter 46), Adam Mekki (Iffy Allen 46).

Goals: Louis Dennis 37, Ben Williamson 89

Sent Off: George Porter 86

Crystal Palace: Kleton Perntreou (Dion Curtis Henry 46), Sam Woods, James Daly, Noor Hussin (Hiram Boateng 46), Nikola Tavares, Tyler Brown, Levi Lumwka, Jonny Williams (Giovanni McGregor 46), Andre Coker, Luke Dreher (Kian Flanagan), Jordan Mutch (Joseph Hungbo 71).

Goal: Giovanni McGregor 64

Sent Off: Andre Coker 87

Attendance: 1,774
Referee: Mr Lee Brennan (Westminster, London SW1)
Assistants: Mr Craig Kissi (Lambeth, London SE11) & Mr Peter Cruise (Rochester)
Fourth Official: Mr Ian Bentley (West Wickham)

Photographs courtesy of Edmund Boyden:
http://www.edboydenphotos.co.uk

Coverage Sponsored by: