Bromley 2-1 Boreham Wood - Let's get the rest of the job done, says title-chasing Bromley boss Mark Goldberg
Saturday 04th April 2015
Bromley

2 – 1

Boreham Wood

Location
Priestfield Stadium, Redfern Avenue, Gillingham, Kent ME7 4DD
Kickoff
04/04/2015 15:00
BROMLEY 2-1 BOREHAM WOOD
Vanarama Conference South
Saturday 4 April 2015
Stephen McCartney reports from Hayes Lane

BROMLEY manager Mark Goldberg has challenged his side to get the job done and claim the Vanarama Conference South title in their last four games of the season.

The Lillywhites came from behind to knock Boreham Wood off the summit to claim a vital 2-1 win in front of the league's largest crowd of the season of 2,035 fans at an excitable Hayes Lane.

Ian Allinson's side got themselves off to a great start by taking an early lead through Josh Hill's header, but Bromley hit back in style, roared on by a passionate crowded North Bank terrace.

Anthony Cook held his nerve to score from the penalty spot to keep the title dream alive, before Bradley Goldberg slotted home the winner with nine minutes or normal time remaining.

Bromley are now two points clear at the top with four games to go and are agonisingly close to claiming their first league title since the Isthmian League crown was claimed on the last day of the season back in 1961.

"Obviously delighted that we got the win," said Mark Goldberg, after putting his beloved Bromley on the brink of greatness, following his side's 21st league win of the season.

"I think we conceded a very sloppy goal in the first half but I still felt that we were well in the game in the first half, probably created the better chances.

"I was pleased with the fact that we controlled the midfield battle in the first half, especially kicking up hill.

"Having said that, we were forced to make a change slightly earlier than I was going to. We was always going to bring Jamie Slabber on and go with two up front in the second half, kicking downhill but I was forced to do it at half-time but I think that it worked for us.

"We looked sharp straight from the off in the second half. We created all kinds of problems for them and we could have gone ahead earlier than we did.

"But it takes big players like Cookie to do what he did from nothing. He gave us a penalty and we're delighted that he put the penalty away because we've been disappointing with penalties recently and then obviously great to get the winner."

Bromley created the first chance of the game inside the opening three minutes.

Ali Fuseini battled hard to win the ball to play the ball to Cook, who linked up well with Ugo Udoji, the right-back driving in a cross but Bradley Goldberg hooked his downward shot into James Russell's hands.

But Boreham Wood opened the scoring with 13:14 on the clock, courtesy of central defender Josh Hill's first league goal of the campaign.

Daryl McMahon swung in a corner from the right into a crowded six-yard box and Hill glanced his free-header into the left-hand corner from six-yards.

Goldberg said: "It was just sloppy play. Danny Waldren let his man go. He said he slipped but I'm still disappointed in the fact. I'm disappointed for Danny as well because he's such a great captain, such an important part of our team and sorry for him but he let his man go and it cost us!"

Fuseini clipped a free-kick into the Boreham Wood penalty area from inside the centre circle but Rob Swaine came up from the back to send his towering header down and harmlessly past the near post.

Cook unleashed a right-footed deflected angled drive from just outside the corner of the penalty area, which flashed just past the foot of the near post, before the ball came out to him on the edge of the box but he steered his next shot across goal and wide.

Cook posed a threat to the Boreham Wood defence and the tasty-winger cracked a right-footed free-kick dipping just over the crossbar from 28-yards.

Boreham Wood squandered an excellent chance to kill off their title rivals as early as the 26th minute.

McMahon clipped a cross towards the far post where winger Ricky Shakes nipped in front of his marker to head straight at Bromley keeper Alan Julian, who made a comfortable save.

Goldberg admitted: "What time was this? I don't think game over necessarily. There was a long way to go and we were going to kick down(hill) in the second half but it is true that goals do, if you go 2-0 down, it does affect your confidence but we came in at half-time 2-0 down and I was quite satisfied with that."

Bromley also went close within a minute of that glaring miss.

Cook swung in a corner from the left and Swaine rose at the far post to direct his towering header looping just over the crossbar.

Bromley keeper Julian kept his side in the game in the 38th minute, diving low to his left and using a strong left hand to prevent McMahon finding the bottom near corner with his left-footed free-kick from 35-yards.

Nothing seemed to be falling for Bromley and a fine diagonal pass found Danny Waldren (who was playing in behind lone striker Goldberg), but Goldberg or Moses Ademola failed to captailise on the chance at the far post.

Bromley's best chance of the first half arrived in injury-time.

Fusini powered a stunning right-footed drive from 25-yards, which was destined to crash into the top left-hand corner of the net but the diving Russell used his left hand to push the ball up and over the bar.

Goldberg added: "We had a couple of chances in the first half, but the truth is that I didn't think they went in at half-time deserving being 1-0 up, but I think they went in 1-0 up because of a sloppy goal.

"I said to keep believing! The plan that we had for today, for me, wasn't not working other than the sloppy goal that we gave away so now let's go second half and still believe that we can turn it around – and we did!"

Goldberg shuffled his pack during the early stages of the second half. On came Jamie Slabber at the break for Waldren, while inspirational skipper Swaine was forced off through injury so substitute Paul Rodgers slotted in at right-back and Ugo Udoji shuffled across to partner Jack Holland at the heart of defence.

"We did that at Whitehawk and Ugo did a great job so we had that planned anyway for today," said Goldberg, their defeat in Brighton being their only league defeat of the season on the road.

"Rob Swaine played with an injury and I'm afraid it didn't work for us today. Possibly we shouldn't have played him. I hope he's not out for too long!"

With that make-shift back line, it was important that Bromley kept the ball in the Boreham Wood half of the pitch.

Fuseini rolled the ball out wide to Ademola on the right and the winger cut into the box before pulling the ball back to Cook, whose deflected curler sailed just over the bar from 20-yards after 51 minutes.

McMahon drilled an angled drive from the corner of the box on the hour which forced Julian to beat the ball away at his near post.

McMahon then swung in a corner from the right and with plenty of bodies in the six-yard box Julian pounced on the ball at Callum Reynolds' feet after the Boreham Wood central defender tried to get the ball from underneath his feet to score.

But Bromley accepted a 63rd minute lifeline when referee Ashvin Degnarain pointed to spot after Cook went down much to Boreham Wood right-back Ben Nunn's despair.

Cook stepped up and held his nerve and found the bottom left-hand corner, despite Russell diving to his right and getting his hand to the ball.

"I get very nervous now when we have penalties at home," admitted Goldberg, after Louis Dennis skied a last-gasp penalty at the end of their last home game, which they went down to a 1-0 defeat to basement side Staines Town.

"He did the job, thankfully! He won the penalty and good luck to him, he took the penalty and scored!"

There was an almighty relief when Cook converted his second goal for Bromley and that was the sign for Bromley to go for the kill.

There was agony, however, when a sweeping move was not finished off by substitute Pierre Joseph-Dubois.

Udoji played the ball up to Goldberg and Slabber's fine reverse pass put the Frenchman through on goal but Russell moved smartly off his line to make a fine save.

"When we were one-all, I felt we could possibly nick it but I would have taken a draw today. I just didn't want to lose it," added Goldberg.

Boreham Wood boss Allinson made a triple substitution with seventeen minutes left and substitute Graeme Montgomery's angled drive from the left was saved low by Julian to his left.

It felt like Bromley's title hopes were disappearing when Fuseini failed to get his name on the scoresheet.

Reece Prestedge (now stand-in captain) swung in a corner from the right towards the far post where Fuseini directed his free header straight at Russell, who gobbled the ball up to his left.

But the long-suffering Hayes Lane faithful were sent into raptures when Goldberg's sixth goal for the club since his return won them the game with nine minutes left.

Just why Holland was in an advanced position turned out to be a stroke of genius as he played a sublime low through ball to put Goldberg through on goal.

With the home fans roaring him on, Goldberg maintained his composure and as Russell advanced off his line, swept his right-footed shot across the keeper to place his right-footed shot into the bottom far corner from eight-yards.

The boss said: "He found some great space Brad, didn't he?

"Jack Holland, I mean, perfect ball by Jack Holland. We've been lacking that final ball all season where Brad has found those kind of spaces and we haven't quite managed to get him in.

"He's got him in but Brad still had a bit to do, didn't he?

"But he showed composure today and that's what we needed and he's won the game for us."

The 21-year-old striker, who is on loan from League Two side Dagenham & Redbridge until the end of the season, admitted his winning goal was his biggest in a Bromley shirt.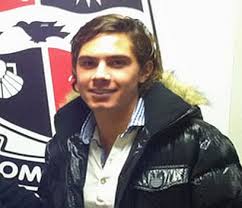 HERO: Bradley Goldberg says encouragement from the Hayes Lane faithful inspired him to score his most important goal for Bromley.
Photo: www.bromleyfc.net

Striker Goldberg, who used to watch the club from the Hayes Lane terraces as a youngster, said: "Unbelievable! To beat our rivals 2-1 at home really should give us the advantage now hopefully to go into the last few games and fingers crossed we can do it.

"I think it's probably the most important one I've scored, hopefully anyway. We have to make it count now.

"I just kept my eye on the ball, keep the eye on the bobble and then send the keeper the wrong way and put it in the corner – it was nice for it to go in.

"Every game now is still a cup final. We've just to take it game-by-game and give it everything that we've got now.

"The crowd were brilliant. They were behind us the whole way, even though we were 1-0 down. They gave us the encouragement and spirit to keep going and thankfully we turned it around for them.

"Now we've got to go again. Monday's just as important as it was today so we just have to just go again, take it game by game and make sure we get the job done."

Boreham Wood spent the rest of the game throwing the kitchen sink at the new league leaders and fine saves from Julian and a huge slice of luck, got Bromley over the line.

Ben Herd clipped a deep free-kick into the Bromley penalty area and Hill's header was expertly pushed away by Julian, high to his right.

You just felt it was going to be Bromley's day when Lee Angol, the League's leading marksman, found space inside the Bromley area but dragged his shot across goal and along the goal-line from a very tight angle.

Boss Goldberg added: "They nearly did come close but all credit to the boys. They showed how much they wanted to win it today, didn't they?

"We really grounded it out and we deserved to be hanging in there."

And when the quiet Angol smashed his right-footed volley high over the bar from 25-yards, the final whistle brought massive celebrations from an expectant Hayes Lane faithful.

Bromley travel to fourth-from-bottom Maidenhead United on Easter Monday, before hosting Eastbourne Borough (11 April) and Weston-super-Mare (18 April), before travelling to Gosport Borough on the last day of the season.

"I think it's a massive win and it puts us into a stronger position going into Maidenhead on Monday, but we've still got a lot to do still," said boss Goldberg.

"We've got to win on Monday, we've got to get a minimum of a draw on Monday and then keep going.

"It's going to be a tough game down there. They always give us a hard game especially at their place.

"I always fear going there for some reason but we're going to go there now a lot more confident.

"We've got to believe that we can go and get the points.

"I think it's an important strategic win in the right direction. Let's just enjoy today and let's get the rest of the job done over the next few weeks."

Bromley: Alan Julian, Ugo Udoji, Joe Anderson, Ali Fuseini, Rob Swaine (Paul Rodgers 49), Jack Holland, Moses Ademola (Pierre Joseph-Dubois 67), Reece Prestedge, Danny Waldren (Jamie Slabber 46), Bradley Goldberg, Anthony Cook.
Subs: Louis Dennis, Adam Birchall

Goals: Anthony Cook 63 (penalty), Bradley Goldberg 81

Booked: Ugo Udoji 35, Anthony Cook 39, Alan Julian 83

Boreham Wood: James Russell, Ben Nunn, Ben Herd, Sam Cox, Josh Hill, Callum Reynolds, Scott Thomas (Matthew Wichelow 73), Ricky Shakes, Lee Angol, Junior Morais (Charlie Walker 73), Daryl McMahon (Graeme Montgomery 73).
Subs: Luke Garrard, Ben Martin

Goal: Josh Hill 14

Booked: Sam Cox 85

Attendance: 2,035
Referee: Mr Ashvin Degnarain (Luton, Bedfordshire)
Assistants: Mr Garry Maskell (Westcliff-on-Sea, Essex) & Ms L May