Bromley 0-1 Bristol Rovers - I just wanted to get a goal for the supporters to celebrate but the league is now the important thing, says proud Bromley boss Neil Smith
Tuesday 19th November 2019
Bromley

0 – 1

Bristol Rovers

Location
Hayes Lane, Bromley, Kent BR2 9EF
Kickoff
19/11/2019 19:45
BROMLEY 0-1 BRISTOL ROVERS
The Emirates FA Cup First Round Replay
Tuesday 19 November 2019
Stephen McCartney reports from Hayes Lane

NEIL SMITH says he is proud to be the manager of Bromley tonight – despite a laughing linesman costing his side a shot at FA Cup glory.
Bromley came away from the Memorial Ground with a deserved second bite of the cherry after Chris Bush's late equaliser earned a 1-1 draw on Sunday10 November and tonight's lucrative replay, which was witnessed by a sold-out Hayes Lane and in front of the BT Sport cameras, which banked both club's £33,750 in broadcasting fees.

Bristol Rovers boss Graham Coughlan made six changes to the side that played so poorly at home, notably goalkeeper Jordi Van Stappershoef and striker Jonson Clarke-Harris, 25, who bundled in the only goal of the game inside the opening three minutes to break Bromley's hearts.

However, Bromley were to be denied an equaliser three minutes before half-time when a Bristol Rovers' defender played Michael Cheek onside but an offside flag was raised before the striker skipped past the keeper and slid the ball into the bottom near corner.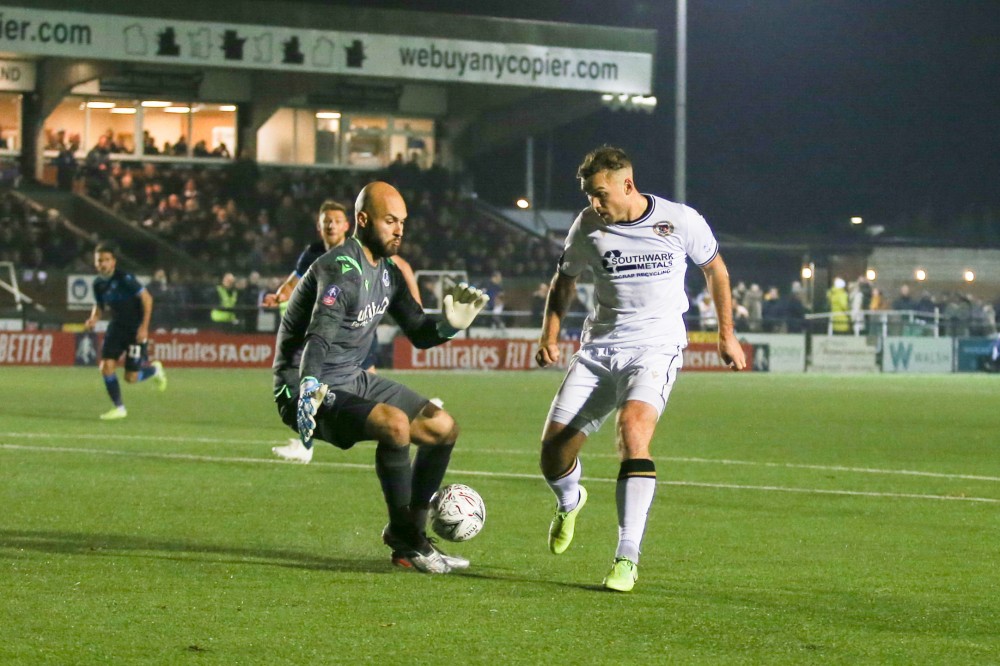 CONTROVERSY: Bromley striker Michael Cheek had a perfect goal ruled out by a laughing linesman - but television replays show one Bristol Rovers' defender was playing him onside.
Photo: Edmund Boyden - www.edboydenphotos.co.uk

Bromley went into their biggest FA Cup tie sitting in second-place in the Vanarama National League table with 37 points from 21 games.

Barrow leapfrogged them at the summit – also with 37 points but with a game in hand – after Bromley fought back from being 3-0 down to claim a point here against Harrogate Town on Saturday.

Bristol Rovers were sitting in tenth-place in the League One table, having collected 25 points from their 16 league outings.

But over two games, there was no massive gap between the two sides, which shows the progress that has been made by Smith and his squad but Bromley's curse of conceding an early goal in The FA Cup First Round cost them again.

"Frustrating, we gifted them a goal and they didn't have to earnt it again and then we had the chances, obviously a goal disallowed, but I thought we played really well and I'm really proud of them," said Smith.

"I don't think if you we're watching that as a neutral you didn't know whose who. Billy Bingham and Frankie Raymond were unbelievable in midfield. Josh Rees did well. I could go through the whole team. I don't think anyone made a mistake apart from the first minute when Chris Bush just needed to clear his lines but then after that we were absolutely dominant!"

There was a belief that Smith's class of 2019 were good enough to beat Football League opposition for the first time in The FA Cup and celebrate their first win at this stage of the competition since 1945.

Bristol Rovers' winning goal came with only two minutes and 27 seconds on the clock, following a mistake from Bromley centre-half Bush.

Bush gave the ball away in the defensive third and the ball was pounced on by Bristol Rovers' midfielder Ollie Clarke, who was given time and space to whip in a delicious cross towards the edge of the six-yard box from the right channel, which wasn't dealt with by three Bromley defenders or goalkeeper Ryan Huddart and Clarke-Harris bundled the ball over the line into the bottom right-hand corner despite Joe Kizzi's desire to slide in and attempt to clear the ball off the line.

"He just bundled it in and the thing is I don't even know if it was him or if it was Kizzi (who scored it), added Smith.

"We've seen that on the tele and poor old Ryan Huddart, he can't do anything because he's wrong-footed because it comes across him and then he tries to flap it out but the linesman couldn't wait to flag it up that it had gone over the line as well, not good!"

Bromley responded from that early set-back and started to dominate proceedings, which delighted Smith.

"After that, I thought we were brilliant. I thought we were dominant. We had a tempo. I thought maybe the final ball, the execution of the shot was a little bit lacking but other than that they never gave up for me."

Josh Rees played the ball out to Kizzi, who cracked a right-footed drive, towards goal from 25-yards, which deflected off Bristol Rovers' centre-half Alfie Kilgour and bounced into the hands of Van Stappershoef.

Bromley's left-back Sam Wood then fed Luke Coulson- who was outstanding during the first half - and he cut in from the left wing before drilling a right-footed angled drive flashing past the near post from 25-yards.

Bromley are a threat from set-pieces and they went close to equalising in the 15th minute.

Frankie Raymond swung in a deep left-footed corner from the right and Jack Holland headed the ball down at the far post and Coulson retrieved the ball before linking up with Reeco Hackett-Fairchild on the wing, before Coulson cut onto his right-foot before whipping in a great cross for Cheek, who rose above his man six-yards from goal and his effort deflected over the crossbar.

Smith said: "I thought we got into situations. I'm not saying they were great chances but they were situations where we should've done better. Maybe we panicked, maybe we snatched at it but we're putting it into the right areas. It was just waiting for someone to get on the end of it."

Bristol Rovers missed a glorious chance to double their lead in the 17th minute.

Rollin Menayese escaped down the right and played the ball to wing-back Mark Little on the overlap and he put in a low cross along the edge of the 18-yard box for winger Liam Sercombe to hit a first time shot high over the crossbar.

Clarke-Harris pinged a deep cross which was met by Tom Nichols' rasping drive from just outside the corner of the Bromley box, which flew straight down Huddart's throat for a comfortably catch at his near post.

Bristol Rovers went close to killing off Bromley at the halfway point when Clarke swept a diagonal pass over to Clarke-Harris, who brought the ball down before cutting inside and out and flashing his right-footed angled drive just past the foot of the far post from just inside the corner of the box.

"He just whipped it in with his right-foot, he's got a good left-foot, he's cut inside and it's just flashed across. We're standing right behind it. We knew it wasn't going in. It didn't trouble Ryan at all," added Smith.

Bromley built-up their next move patiently as Wood played the ball into Rees, who put in a cross into the box but Hackett-Fairchild's left-footed shot on the turn from just inside the box was comfortably caught by the visiting keeper.

Bromley keeper Huddart often stayed on his line, failing to pluck Sercombe's free-kick from the right-wing out of the air, but he received a lucky break when the ball ricochet off Rovers' defender Menayese and rolled just past the foot of the left-hand post from inside the six-yard box.

Bristol Rovers keeper Van Stappershoef started to take his time at taking goal-kicks 35 minutes into the game and he got away without getting a booking on two occasions.

A poor goal-kick from Bromley keeper Huddart nearly put his team-mates in trouble as winger Sercombe intercepted an intended pass towards Kizzi but Bromley centre-half Holland saved his team-mates bacon by cutting across his own box to smash the ball into touch.

Bromley kept banging on the door and another chance came the Lillwhites' way in the 39th minute.

Bush pinged a long diagonal ball out of defence and Hackett-Fairchild's first touch was quality and he whipped in a great cross from the right which forced Bristol Rovers' centre-half Tony Craig to slide in to scoop the ball over the crossbar from inside his own six-yard box.

Then came the controversial moment that will haunt Bromley when they had a perfect goal ruled out for offside by a laughing linesman in the 42nd minute.

Bromley play in white. The photograph below, taken from BT Sport's live coverage, clearly shows Bromley striker Cheek was being played onside by one, maybe two Bristol Rovers defenders, left-wing-back Luke Leahy at the top of the picture and the nearest defender to Cheek being Kilgour.

Coulson split open the defence with a perfectly weighted right-footed pass, Cheek won the footrace with his marker Kilgour, who was playing him onside, the flag went up, Cheek kept composed to skip past the goalkeeper, took three touches before sliding the ball into the bottom left-hand corner from very close range and Hayes Lane erupted before despair took over.

Cheek signalled for VAR – which isn't available at a National League stadium in The FA Cup First Round – and the linesman felt costing Bromley a stab at FA Cup glory was something to have a laugh about!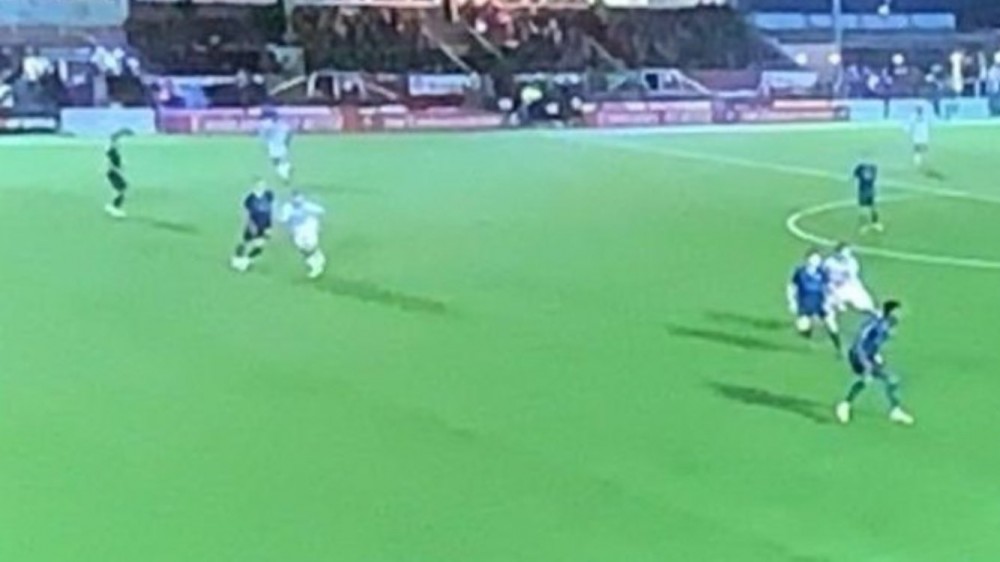 ROBBED: Bromley striker Michael Cheek is clearly onside when latching onto Luke Coulson's through ball.
Photo: BT Sport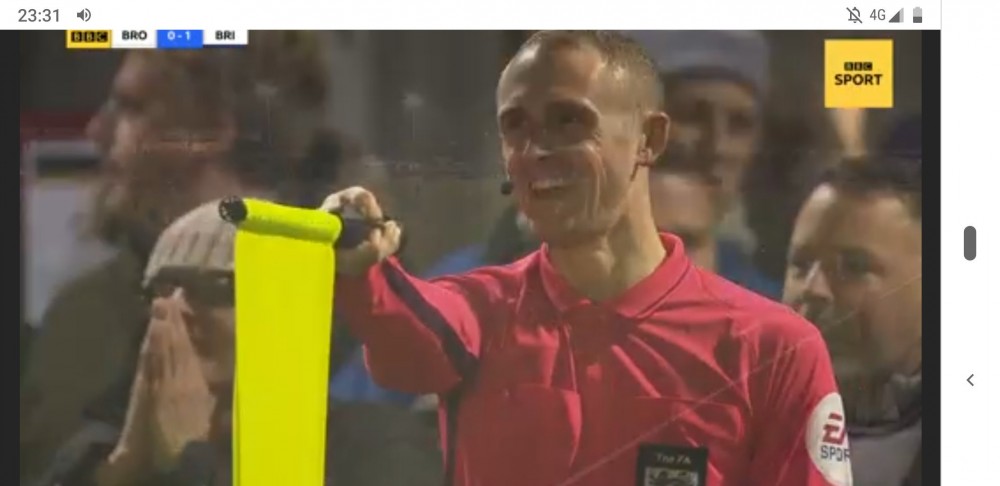 This linesman sees the funny side as his COSTLY MISTAKE sends Bromley crashing out of The FA Cup.
Photo: BBC Sport

"He's onside, not even by a yard, it's two yards! The linesman was very quick to flag. I think he just guessed, wrong decision," said Smith.

The big club's always get the big decisions go for them and this was a prime example!

"Whether they get caught up in it, it's a League club against a non-league club and the non-league club always get the second decision, for me," added the Bromley boss.

"I called it earlier in the half. It was the way the linesman was so quick and you talk to the fourth official and he went 'no, he was offside', and you watch it and you're going 'well, he isn't, is he!' so therefore 'you didn't see it, you just guessed!'.

"Now is it because it's a League side that you were defending and it was a non-league side that was scoring, so I hope not. He made a genuine error, our centre-half made an error so maybe the linesman that time did."

Bromley put that shocking decision behind them and created one final chance during an impressive first half performance.

In a three-v-three counter-attack, Rees released Coulson down the left and he cut inside and unleashed a right-footed angled drive which was beaten away by the visiting keeper.

When asked his thoughts at the break, Smith said: "Just keep doing the same! We said make no more mistakes, don't give them something to grab onto and go for it!

"Just keep doing what you were doing and we'll create and I generally believed we'd score a goal."

Bromley should have equalised inside the opening eight minutes of the second half when Raymond headed the ball forward from midfield, it was hooked forward by Holland (who had stayed up for a set-piece) but Hackett-Fairchild lacked composure by smashing a half-volley over the bar from the right-hand side of the box.

Smith said: "That's what I'm saying, a great position. If that's Coulson and it's on his right-foot, does he do better?

"I thought Reeco had a good game. He got himself into positions, he just needed that composure to keep it low and hit the target. It's a basic shot from a forward but he snatched at it and it's gone over but I generally believed he was still going to get another chance."

Bristol Rovers captain Clarke shrugged off Billy Bingham before lashing a right-footed shot from 30-yards, rising harmlessly over the Bromley crossbar.

Bristol Rovers created an opening on the hour-mark when left-back Leahy floated in a cross into the Bromley box for Clarke-Harris to cushion his header down and into Huddart's gloves for a comfortable save.

"It was never going to be a goal," added Smith.

Coughlan's men then slammed the door shut in Bromley's faces but Hayes Lane erupted with 28 minutes and 54 seconds on the clock when the ball bounced over the line following Bush's fifth (of seven) long throw of the night.

Bush wiped the ball with a towel before launching the ball into the box in from the right and no one managed to get a touch to the ball as the ball bounced into the top far corner and the goal was correctly agonisingly chalked off.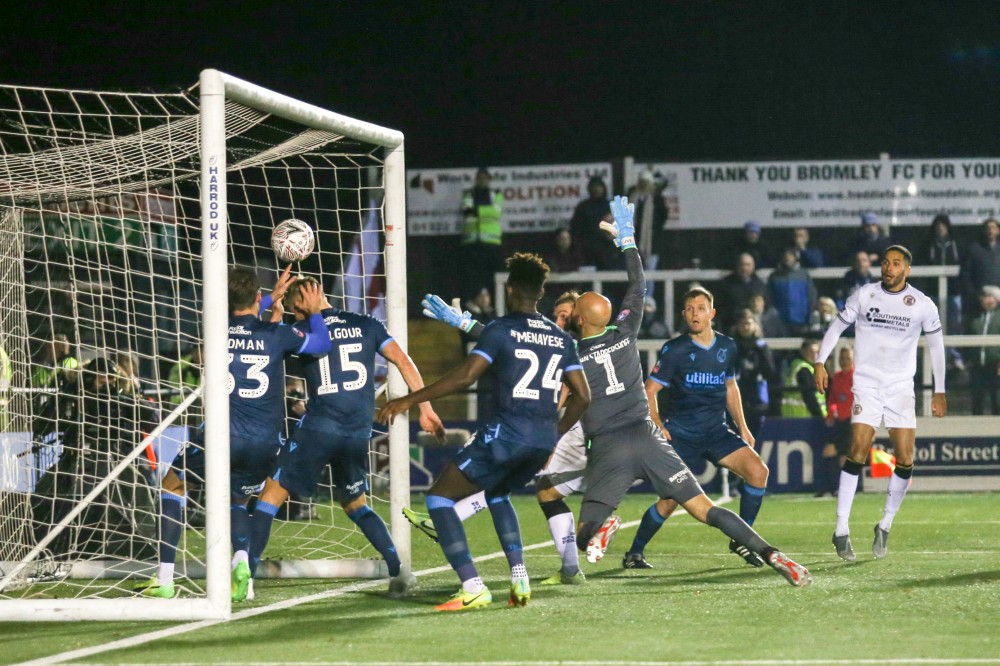 AGONY: Bristol Rovers get away with it as Chris Bush's long throw bounces into the net but is correctly ruled out because no one got a touch to it.
Photo: Edmund Boyden www.edboydenphotos.co.uk

"Cheeky said he got a touch but whether he did or he didn't, I don't know," added Smith.

Brave Bromley kept plugging away and created three late chances inside the final five minutes of normal time.

Coulson swung in a free-kick from the right, Holland headed the ball across the box and Hackett-Fairchild sliced his volley harmlessly wide as he lacked composure again when a chance had to be taken.

Wood clipped the ball down the left channel and Coulson cut inside to stab his right-footed half-volley past the left-hand post from 16-yards.

"By then you're just hoping something happens, rather than create," admitted Smith.

Bristol Rovers slowed the game down and denied Bromley with 51:05 on the clock when substitute holding midfielder Rarmani Edmonds-Green released Coulson down the left, he cut inside but his angled shot was comfortably gathered by Van Stappershoef, as he dropped down to his knees to make a comfortable save in his midriff.

A crowd of 4,558 packed into Hayes Lane – which opened in 1938 – and Smith thanked them for their support.

"I'm just chuffed, so pleased with the supporters. They got behind us but we gave them something to get behind us as well.

"I'm just proud to be the manager of this club, proud of the supporters, proud of the players. We've had a little Cup run, we were never going to win The FA Cup. You want to have a little Cup run and just generate some money for this club and give something back and I think we ticked all the boxes there.

"To go to Bristol Rovers and get a result with 10 men and earn a replay with the TV cameras here, full-house, that should bring a bit of money to the club that we might need during the season.

"I'm disappointed because I thought we deserved to take it to extra-time. I just wanted to get a goal for the supporters to celebrate but the league is now the important thing."

Bromley travel to their bitter-rivals Sutton United (bottom four with 19 points from 20 games) on Saturday and then travel to Smith's old club Woking on Tuesday 26 November (eight-place with 32 points from 21 games), before Yeovil Town visit Hayes Lane on Saturday 30 November.

Bristol Rovers can now look forward to hosting League Two side Plymouth Argyle on Sunday 1 December 2019 – but they got away with it in these two games against Bromley!

Smith wants to bring more nights like this to his home-town club - with promotion to League Two being the aim.

He said: "Just a big thank you to the supporters. Please come again, get behind us, please support this club, support the players because you can see what they're giving back. We didn't give up today, we never gave up and we'll take this season for as long as we can right to the end, giving our best!

"That's what I want, that's exactly what I want. We're now averaging over 2,000 a game. I want that to be 2,500 and 3,000 as early as we can because I think this club can accommodate it. I think we're ready, I think we're ready for that support to get behind us and show what we can do."

Bromley: Ryan Huddart, Joe Kizzi, Sam Wood, Frankie Raymond (Rarmani Edmonds-Green 70), Chris Bush, Jack Holland, Luke Coulson, Billy Bingham, Michael Cheek, Josh Rees (Michael Klass 89), Reeco Hackett-Fairchild (Adam Mekki 88).
Subs: Jordan Higgs, Alan Dunne, Ollie Tanner, Tarek Najia

Booked: Frankie Raymond 65

Bristol Rovers: Jordi Van Stappershoef, Mark Little (Alex Rodman 59), Luke Leahy, Tony Craig, Alfie Kilgour, Rollin Menayese, Liam Sercombe, Abu Ogogo, Jonson Clarke-Harris, Tom Nichols (Victor Adeboyejo 72), Ollie Clarke.
Subs: Ed Upson, Tyler Smith, Michael Kelly, Kyle Bennett, Alexis Andre-Jnr

Goal: Jonson Clarke-Harris 3

Booked: Rollin Menayese 70

Attendance: 4,558 (240 away)
Referee: Mr Christopher Pollard
Assistants: Mr Matthew Lee & Mr Daniel Cook
Fourth Official: Mr Gavin Ward

Photographs courtesy of Edmund Boyden - www.edboydenphotos.co.uk