The next target is Stuart Zanone's record so I'll give it a right good go, says Ashford United's two-goal hero Shaun Welford
Sunday 09th April 2017
ASHFORD UNITED'S two-goal hero Shaun Welford says throwing away last season's runners-up medal in the bin in the dressing room inspired him to help the club win the Kent Reliance Senior Trophy for the first time today.


Cray Valley took the lead after only 140 seconds when defender Laurence Collins swept the ball into the net from 12-yards after Jamie Wood slipped the ball into his path following Jason Thompson's free-kick.

Welford equalised with a clinical finish in the 26th minute from 15-yards after being played in by Jason Goodchild.

But Welford, the six foot two targetman, planted a trademark header into the back of the net from six-yards to clinch the trophy after Millers' goalkeeper Jordan Carey failed to cut out a deep quality cross in to the box by right-back George Savage.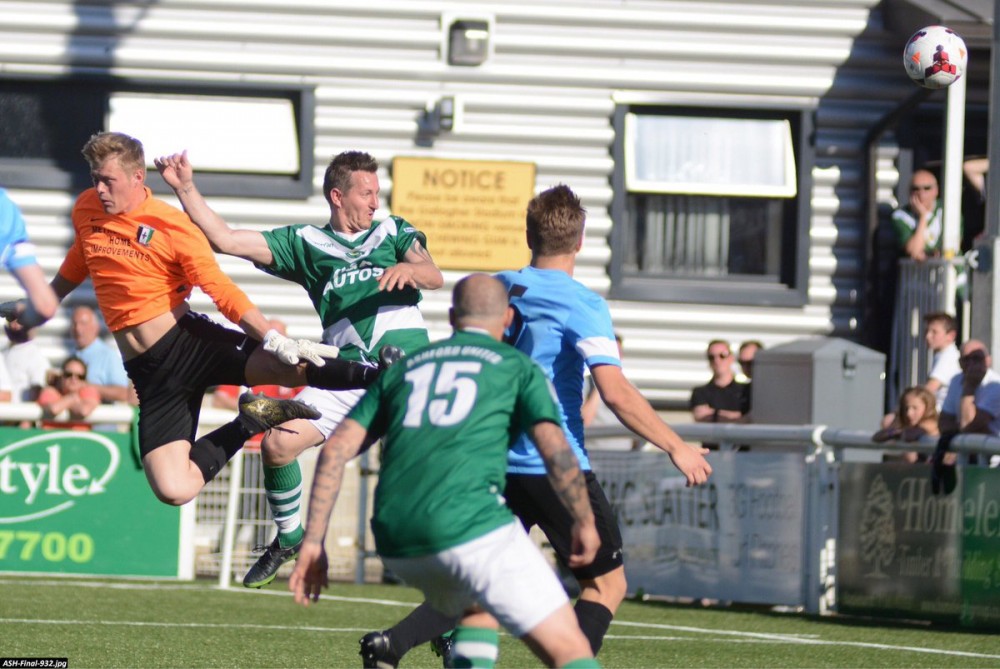 WINNER: Cray Valley goalkeeper Jordan Carey fails to gather George Savage's cross and Shaun Welford heads home the winning goal as
Ashford United won the Kent Reliance Senior Trophy for the first time with a 2-1 win at Maidstone United today.
Photo: Ian Scammell - www.oysterbayphotography.co.uk

Welford, 37, was keen to bury the ghost of last years' final, losing 7-6 to Sheppey United after a goal-less draw after 90 minutes exactly a year ago today.

"I had 12 months of pain really since last year's final," revealed Welford.

"I hate losing any football match but a final plays on your mind a little bit more.

"In the team talk before the match I got my losers medal from last year and I threw it in the bin and that spurred the boys on a bit.

"It's been in my bag for a year. It didn't take any pride of place at all because second is the first loser in my book so I'm over the moon, ecstatic, love it, love it, I'm well happy, we needed that one."

The mercury rose to 23 degrees for the game, which saw 726 fans flock through the turnstiles at Maidstone United.

Welford, who emerged from the dressing rooms wiping off the sweat off his back, said: "It was so hot out there. It was so sticky, it was hard to breath but in the end hard work prevailed.

"I'm nearly 38, it's about 38 degrees out there on that pitch. That 3G pitch deflects the heat and it holds a bit so your feet are on fire. It's hard to breath, it's so hot. It's 90 minutes on a big pitch, three games in a week. It's hard but looking at that trophy, it's brilliant."

Reflecting on scoring twice in his home town, the former Maidstone United man said: "Do you know what, every time I come down here, I score. It's been a good stomping ground for me. I played here, I scored the first Maidstone goal here actually. It's been kind to me this ground. When I came down with Hythe a couple of times, I scored and today I scored a couple. I've got fond memories of the place."

Welford is a threat in the air and it was no surprise that he planted home a header after a mistake from keeper Carey.

"He's probably got a lot of publicity over the last few weeks and fair play, he's not a bad keeper to be fair, he's done well," said Welford.

"He's come for it, great cross, great cross (from George Savage) and I'm thinking this is a deep one. This is coming back post and the keepers went for it and I think oh there's a chance here, he's going to miss that and it's just guiding it in after that.

"That's bread and butter for me, that's what I've done for 20 years!"

When asked how many career goals have been headed goals, Welford replied: "Most of my goals are headers. If they're not headed goals they're penalties so it's a hell of a lot but that's what I'm in there for. I'm big, six foot two, 16 stone, I'm going to win a lot of headers and it's put me in good stead over the years , my head, it's earnt me a good career to be fair."

Welford has now scored 41 goals this season, which is a personal best since scoring 38 goals in the league above for Ryman League Division One South side Hythe Town.

Welford, meanwhile, has only four more games to smash journey-man striker Stuart Zanone's 47-goal record goalscoring haul for Ashford United during the 2014-15 season.

"Yes, 47, so 41 now, that's seven goals in four games, it's possible, it's possible," said Welford.

"As a striker you've got to set targets. When you start the season it's 20 goals. You want to get to 20, that's the first one and if you get 20 early on you try to get 30. My personal record was 38 goals so I've seen it in my sights.

"The next target is Stuart Zanone's record so I'll give it a right good go."

Welford, who previously won the Kent League title with Ramsgate (2004-05) and the Ryman League Division One South 12 months later, and whilst at Dover Athletic clinched back-to-back Ryman League titles (2008 and 2009), looks back on a successful playing career.

"I've got a nice compilation of cut outs of various press cuttings and snippets. I've got a nice scrapbook just for the memories. I've got a log of goals. It's nice to look back on things, even my Sunday League career as well, I've got the newspaper cut-outs."

Ashford United host relegation threatened Fisher on Saturday, are away to tenants Canterbury City on Easter Monday, before travelling to Croydon (22 April) before completing their double chasing season with a home game against Rochester United seven days later.

"They're all tough games coming up. We play teams down at the bottom fighting for their lives. I'm going to give it a good damn go. I think I'll be taking penalties, free-kicks, corners, the lot, come the last couple of games."

Ashford United lead the Southern Counties East Football League Premier Division table by three points on 80 and Crowborough Athletic travel to Whitstable Town on Tuesday night to eat up their game in hand.

This exciting title race is going right down to the wire. Both Ashford United and Crowborough Athletic may finish the campaign level on points and if they do then the title will go to Ashford United because their goal-difference at present is +13 in their favour.

"I'm hoping after that battle last Tuesday night down at Whitstable where we've seen their pitch and how they play and we're hoping they do us a massive favour when Crowborough go down there on Tuesday and we get this title sown up on Bank Holiday Monday," said Welford.

"It will be nice to get it sown up. I don't want it to go to the last game of the season. I'd like it to be won by then – if we're going to win it, that is.

"But the lads are full of confidence now. We've had a good result against Crowborough (3-1) and a good result against Whitstable (2-0) and we've won the Cup Final so you can imagine the confidence of the boys is sky high."

Welford thanked Ashford's fans who came to Maidstone in their droves and gave their players' excellent vocal support making it feel like a home game.

"How good were they? How good were they? Outstanding," he said.

"It is the old adage, they were the 12th man and I think they're unbelievable for 90 minutes, voices, loud. It's unbelievable. Do you know what? They deserve it because everywhere we go they're the loudest fans. They out-sing the home fans everywhere we go and they deserve it so that was for them as well."

Visit Ashford United's website: www.ashfordunitedfc.com

Ashford United v Fisher
Southern Counties East Football League Premier Division
Saturday 15th April 2017
Kick Off 3:00pm
at Homelands Stadium, Ashford Road, Kingsnorth, Ashford, Kent TN26 1NJ