We have to deliver what's required, says Bromley boss Mark Goldberg
Friday 03rd April 2015
BROMLEY manager Mark Goldberg has issued a rallying cry to the Hayes Lane faithful ahead of the club's make-or-break title showdown against Boreham Wood tomorrow.
The Lillywhites lost top spot to the Hertfordshire outfit last weekend after their 2-2 draw at Bath City, while Boreham Wood claimed a 1-0 win over their local rivals Hemel Hempstead Town, to move one point clear at the top of the Vanarama Conference South table.

Bromley MUST-WIN all of their remaining five league games to bury the ghost of 1961 – the last time that the famous club claimed the league title – the Isthmian League top-flight (the Ryman Premier League in today's money), during the days of two points for a win.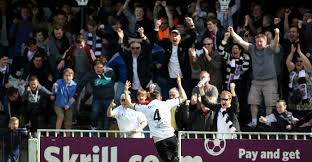 PASSION: Bromley boss Mark Goldberg has challenged the Hayes Lane faithful to cheer on his side for their MUST-WIN title showdown against Boreham Wood
Photo: www.bromleyfc.net

Goldberg admits it's now time for his players' to deliver.

"Yes, every game we go into it, it's the most important game of the season, but this certainly has got to be up there with the most important game so far as manager of the club," said Goldberg.

"I wouldn't say that the team has lost any confidence (losing top-spot). If anything, it's probably taken a little bit of pressure off the team.

"We now go into the game as underdogs and we've got to show that we've still got resilience in us and there's strength and the will to want to get promoted."

Bromley have the best away record in the Vanarama Conference South, having won 12, drawn five and lost once on the road this term.

But at Hayes Lane, they are ranked in ninth-place, having won eight, drawn two and lost seven league games.

Goldberg admits this must turn around and has challenged the quiet Hayes Lane faithful to raise their voices.

"I think there has been a pressure that we put on ourselves to perform when we do have a big home crowd and not to disappoint," said the boss.

"One does play with a little bit more freedom and less pressure away from home.

"The condition of the pitches away has worked in our favour and we haven't really learnt how to play on our own pitch. There's a lot of combinations as to why our form has been better away.

"If we're going to get promoted we have to deal with it very quickly now. In our last five games, we've got three home games and we can't make any excuses.

"We have to deliver what's required.

"We have had some good performances at home and we just have to mirror those ones."

When asked what the Hayes Lane faithful can do for his side tomorrow, Goldberg replied: "I think it's really a question of what we do now on the pitch!

"We have to make sure that we compete in the middle of the park. It's where the game is going to be won or lost on Saturday and we have to make sure that we set ourselves out in the right way.

"Hopefully we'll make the fans keep cheering us on as the game goes on. We do believe there will be a big crowd there and hopefully it will be one of those days that we earn their support. At the end of the day we don't have any right, we have to earn the right for the supporters to cheer us.
"Hopefully we go into the game set-up right and we have the will and the desire and the confidence within the camp to believe that we can get the win that we want.

"We've got five Cup Finals to a certain extent. The next five games and massive games – Saturday being a six-pointer is the biggest of them all.

"It's the biggest game since I've been manager. It's why we're in the game for games like this.

"The fact that we're in that position we set out in the beginning of the season to be in with a chance to win the league with five games to go. We're in that position. We want to embrace that position and make sure if it doesn't go our way, it won't be through the lack of preparation or effort.

"I'm expecting them to be very strong in the middle of the park and they've also got a natural goalscorer in Lee Angol, who's the leading goalscorer in the league and we have to contain him.

"We have to make sure we don't lose it in the middle of the park. I think if we can set ourselves out in the way that we control the middle of the park we've also got game winners in our squad and it should be a highly competitive game and both teams will believe they can win it."

Bromley were serious title contenders last term but finished in third-place with 80 points from 42 games, losing out on the title to big-spending Eastleigh (86 points), while bitter-rivals Sutton United finished runners-up.




SO CLOSE: Bromley lost out to Eastleigh in last season's Conference South title race by six points
Photo: www.dailyecho.co.uk

The Lillywhites' promotion dream was left in tatters by their Kent rivals Ebbsfleet United, who won the first leg 4-0 at Stonebridge Road, before Bromley restored pride with a 1-0 win at Hayes Lane.

Failure to win tomorrow, then the club's title dream will once again shatter into a million pieces and leave the long-suffering Hayes Lane faithful in despair.

Goldberg said: "If we have to go through the play-off route then we'll have to deal with it at the time but we've got an opportunity to win it in the next five games. We're not thinking about any further at the moment than on Saturday's game. As we've all said, it's a six-pointer and very important for us."

It really is time to deliver!

Visit Bromley's website: www.bromleyfc.net

Bromley v Boreham Wood
Vanarama Conference South
Easter Saturday 4th April 2015
Kick Off 3:00pm
at Hayes Lane, Bromley, Kent BR2 9EF

Article published: 14:40 – Good Friday, 3 April 2015